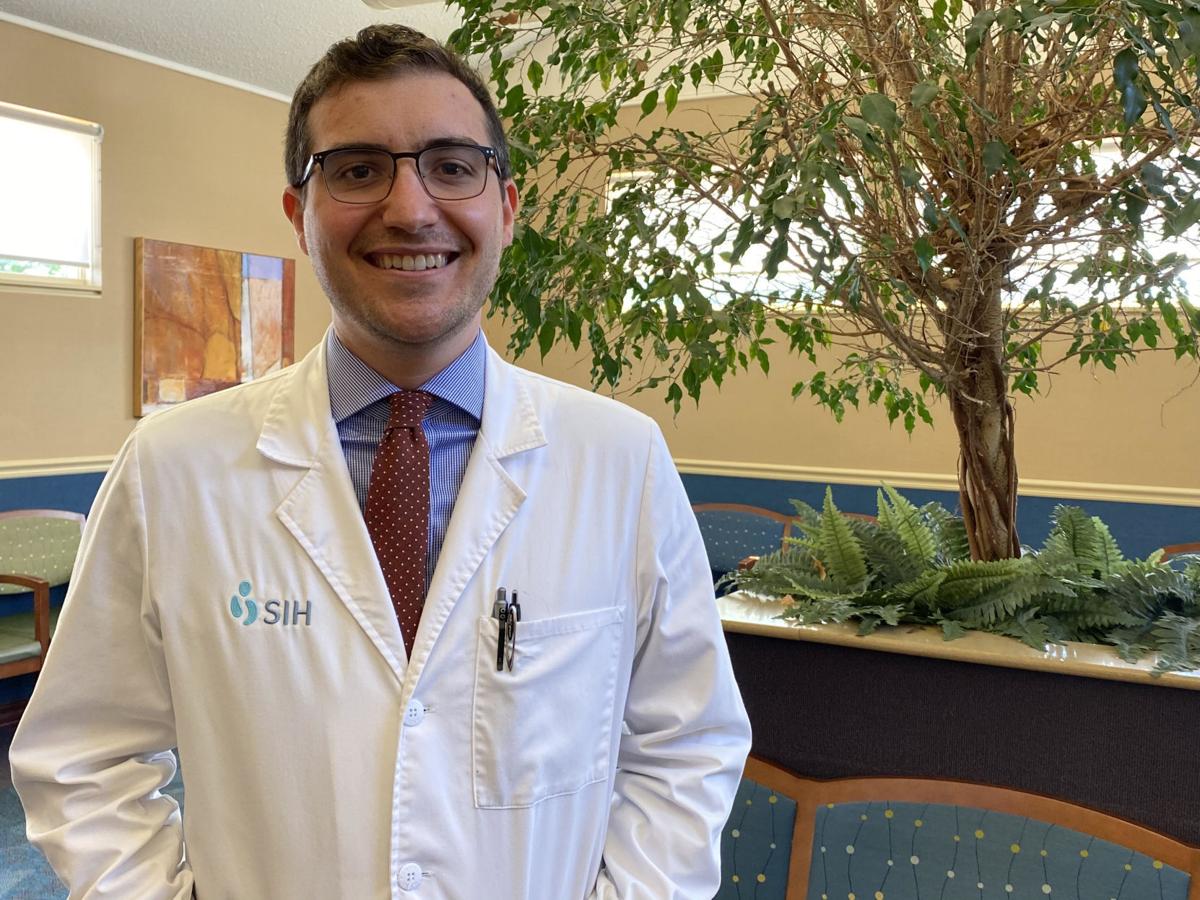 If Jason West wasn't known as Dr. West, he perhaps might be called Pastor West. Before becoming a physician, he thought about being a minister.
Inspirational writer Lailah Gifty Akita's quote, "Service to humanity is service to God," may best describe Dr. West.
He grew up in Harrisburg and returned to his hometown to practice family medicine like many of his colleagues at SIH Primary Care Harrisburg.
Dr. West became intrigued with the medical field as a junior in high school.
"I tore my ACL playing football and had to have it repaired. That process really introduced me to the medical field in a way that I had never been. It helped me see that being a physician was a career path where I could use my interest in science to help serve people. That's really what led me to wanting to be a doctor," he said.
Dr. West chose family medicine because he didn't want to be limited on the type of patient he saw based on age, gender or condition.
"I also had some great family doctors over the years that really helped me see the value of how important family medicine is," said Dr. West.
One interesting part of Dr. West's practice is that he treats patients with addiction. 
"I started doing this in late 2019 and have really become very passionate about it. It's very rewarding to help those that have a substance use disorder, especially here at home where we have been affected greatly by the opioid epidemic. It's something I hope to do more of in the future in terms of helping people improve not just their health, but also their lives."
Coming full circle
Dr. West cites his place on the medical staff at SIH Primary Care Harrisburg as something very special.  
"In the summer of 2008, I worked as an intern here scanning insurance information and entering vaccination records into the computer. It's been very rewarding to be back working with the same wonderful patients and some of the great coworkers that I had back then. I definitely don't miss the scanning though," he laughed.
He views longtime Harrisburg physicians Larry Jones, who is now retired, and Dr. Matthew Winkleman as role models and major influences on his career.
"Ultimately though, my parents, Dean and Trudy West, get the most credit. I'm not even sure if I can adequately articulate the effect they have had on my life and I mean that in the best way possible. I am the person I am today because of all the time they put into raising me and it was not always as easy as I would like to think," added Dr. West.
Dr. Winkleman said it has been such a joy having Dr. West join the group.
"He continues in a long line of physicians with deep roots in the community that has been the key to the success of SIH Primary Care Harrisburg. He has a degree of compassion and empathy that makes him stand out and I am very excited about how he will serve the patients of southeastern Illinois for years to come," he said.
The bond between the two physicians is strong. In fact, a canvas print of Dr. Winkleman providing care to a teenage Jason West hangs over Dr. West's office desk today.
Education and training
Dr. West attended the University of Illinois at Urbana-Champaign for his undergraduate degree and then went to SIU School of Medicine for his medical degree. He completed his training in Evansville, Indiana.
After living in several communities during his education and training, Dr. West said returning to Southern Illinois was not a hard decision for him and his wife, Angela. The couple has been married for six years.
"I really can't say enough about her. She is the backbone of our family and the best person I know. We have a 14-month-old daughter who is very much like her mother, thankfully, and is as sweet as can be. That being said, she keeps us busy these days running around the house and getting into every cabinet within reach," he said.
Dr. West said between work and investing his time in parenting when he's home, he doesn't have a lot of time for hobbies.
"It's a busy season of life, but one that I wouldn't trade for the world. Otherwise, I am involved in my local church and really enjoy that. I also enjoy reading and jogging."
If you pulled up Dr. West's Spotify music account, you might be surprised to learn he is a huge Taylor Swift fan.
"Her music would come up pretty fast," he said.
Dr. West said he and his wife were able to attend a Taylor Swift concert a few years back, which he calls "a great memory and a lot of fun."
As he continues to grow his practice, Dr. West expresses gratitude for serving his community.
"This area is home for us. We love the people here and that's what makes the community so special. Harrisburg is definitely home," he said.