Along Clark Trail in Herrin sits the bright and inviting home of Ryan and Katie Baker. The couple, who share the home with their two sons, enjoy the simplistic beauty of their dwelling and its lush grounds, especially after a refreshing remodel and the expert interior design of Katie, who left her corporate career to pursue her dreams of working as an artist and small-business owner. Ryan, who works as a registered nurse, is happy to let Katie enjoy the freedom to lovingly and expertly decorate each room of the abode, while also improving the structure with some very crafty DIY projects.
The three-bedroom, three-bathroom suburban ranch home, which was built in 1989 and purchased by the Bakers in 2013, is a U-shaped structure with a columned front porch, open living area, and several large windows, which is characteristic of many ranch-style homes and their desired connection to the outdoors.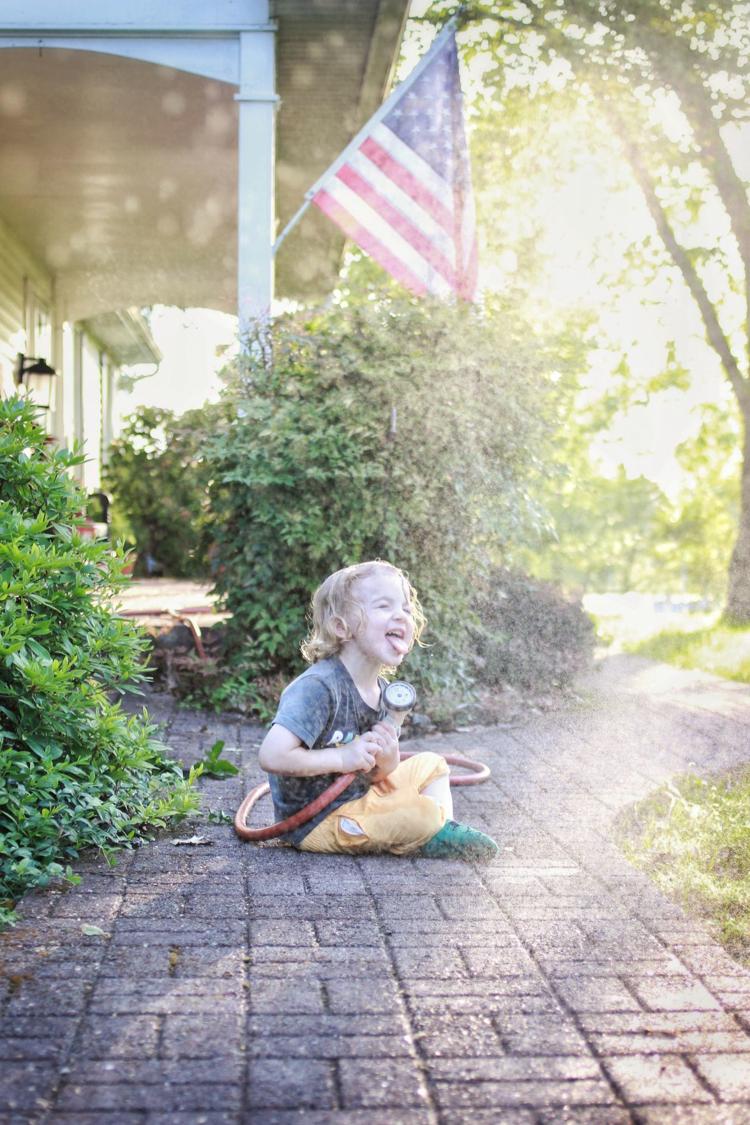 A winding brick pathway, surrounded by a variety of lush shrubs, trees, and flowering vines, leads visitors from the driveway to the cheery front entrance, flanked by picture windows all along the expanse of the front face of the home. Mature trees are abundant in the yard, creating a cheery glow of green, filtered light for the Bakers to enjoy a quiet cup of coffee on the bench outside the front door, and plentiful shady space for sons Jack and Henry to cavort on the back lawn.
The entryway just inside the front door opens up straight ahead into a spacious living room, with two looming vertical windows and one, higher horizontal window on each side of a gas fireplace. Just to the right of the entryway is a formal dining room with a splendid double picture window spanning most of the north wall.
Just beyond the space where the dining room and living room intersect is a commodious kitchen with gleaming granite counter tops, crisp cabinetry, and a perfectly placed skylight for letting in nature's beautiful glow. At the rear of the home, just off the kitchen, is a sunny breakfast nook, with more soaring windows and a glass door leading out to a serene stone patio. On the opposite side of the home are two bedrooms, a bathroom, and the master suite with a full, luxurious bathroom and another glass door leading out to the patio space.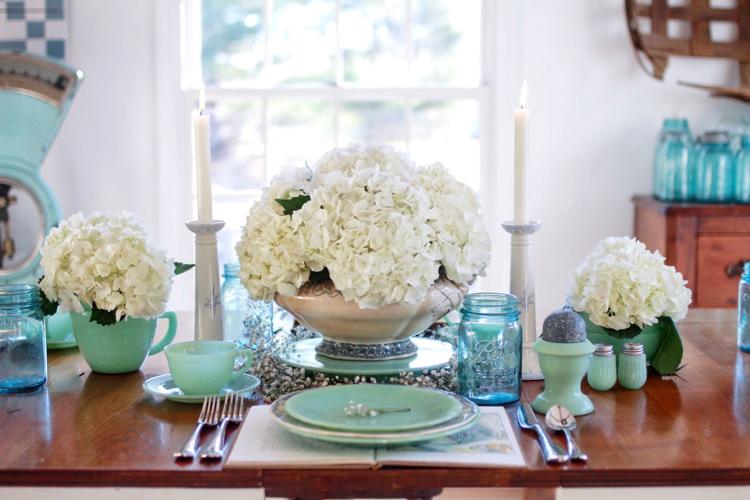 Before moving in, the Bakers hired a local contractor to perform a somewhat substantial remodel. A set of cabinets was removed in the kitchen and a window was created in the space to open up into the living room. The master bedroom also received a complete makeover.
While the structure of the home is top-notch, the remodel, along with a fresh coat of white paint and new hardware, created a much brighter, open concept in the common areas and allowed for some updates in the kitchen and bathroom. But the real work began soon after the remodel, when Katie began searching for and collecting the impeccable antiques that now adorn each room of the house. While traveling for her previous job, she would often stop to shop and really began to explore her style and love for design.
"I absolutely love to decorate. I was traveling everywhere and I would just go in random antique stores. As I have gotten more stuff, I am more selective now in what I buy. I usually go antique-ing with a purpose," said Katie.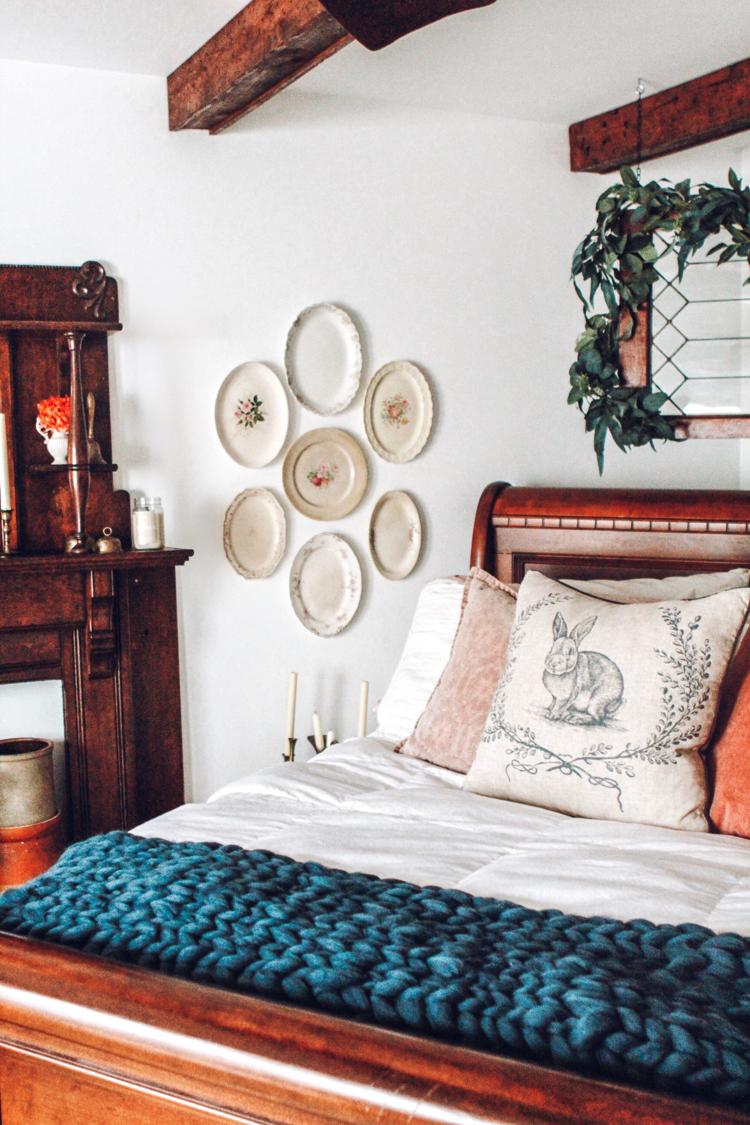 And that choosiness has resulted in some beautiful and rare pieces of antique furniture along with several collections of items ranging from vintage oil paintings to blue Mason jars.
In the entryway of the home sit two pristine turn-of-the century chairs that originally came from a shoe store but were recovered from under a carport. The chairs work with every season and decor, and are an exquisite find, garnering compliments from all who encounter them. In the dining room, a collection of Windsor chairs surround the table, which were collected over time, with Katie's practiced eye. The solid wood chairs, with angled legs and curved backs, are stunning additions to the space.
"Windsors are super hard to find, especially really good ones so it took time," remarked Katie.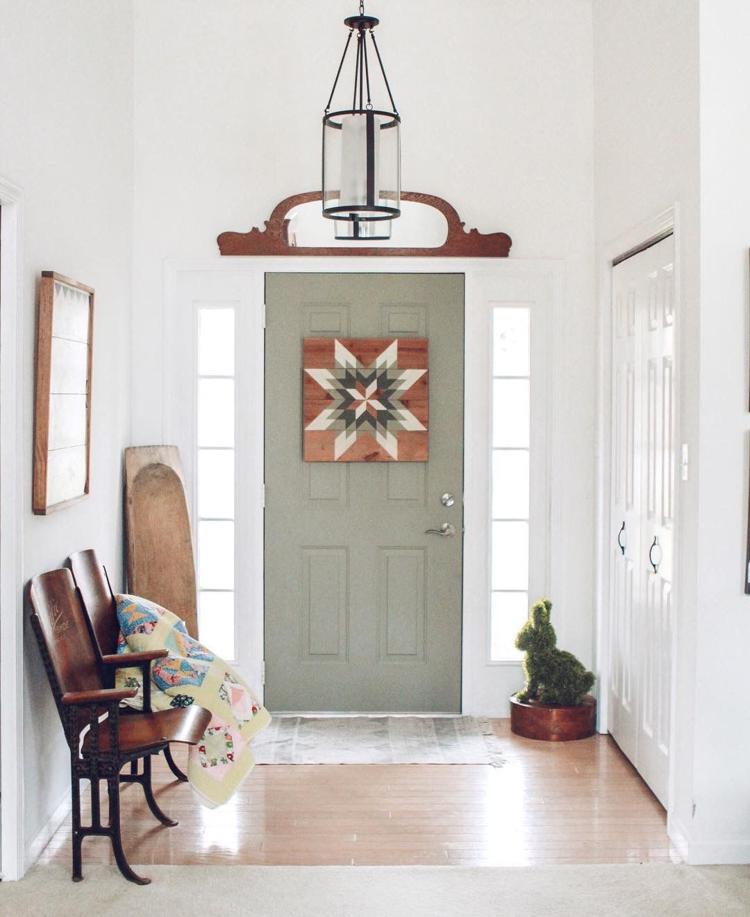 In the breakfast nook, the decor changes throughout the year to correspond with the seasons and holidays, but many of the pieces are used continually, being appropriate for all periods. The vintage table, which belonged to Ryan's grandmother, is paired with antique Bentwood chairs. A tobacco basket adorns the wall just above a hefty mint-green Stimpson scale, which adds superb utilitarian charm.
"The date on it says 1907. This one came from an antique store in Chicago. It weighs almost 500 pounds. I move it everywhere, so I know," adds Katie.
While most of the home is decorated in a primitive style, with salt crocks, Colonial furniture, and vintage Americana items like a 48-star flag, the master bedroom deviates from that theme in that it is purely Victorian, with an ornate mantel, which Katie salvaged from a historical home, a pastel floral plate collection displayed artfully on the wall, and a Queen Anne stained glass window hanging in the picture window.
One of the Bakers' most beloved pieces of antique furniture is the pre-Civil War cabinet in the living room that displays a beautiful quilt collection through the glass windows of the upper doors. Everything on the 1830s piece is original and came from the home of an antique dealer who also adored the cabinet.
Several items in the home have a meaning or history, whether they have been passed down in Ryan's or Katie's families, or found at an estate sale. Katie proudly displays her mother's cherished family Bible that is several hundred years old. An oil painting of her great-great-grandfather not only looks right at home among the decor, but also is also a piece of history that is totally unique.
"I like to fill my home with things that tell a story. I buy what I like and what makes me happy and that's what I want in our home," said Katie.
Katie, along with the unwavering assistance of Ryan's parents, Joe and Connie Baker, has also acquired multiple collections of smaller antique items, such as Ironstone pottery, Jadeite dishes, and blue Mason jars, all of which are integrated into the interior design of the home. Joe and Connie, who own Rosebud Antique Mall in Carterville, are a fantastic resource for Katie and encourage her desire to find meaningful, historically significant pieces for the home.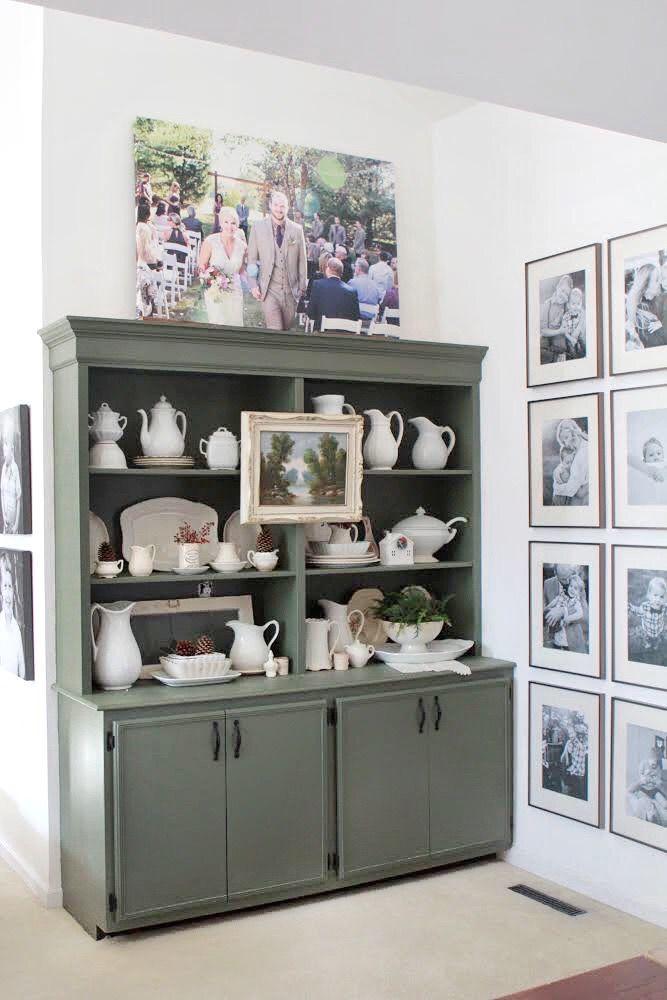 "Not only do they have a good eye in picking, but they know the history. All the information that I have learned from them is invaluable," Katie said.
Ironstone, which originated in England and has had many different makers throughout the last 300-plus years, is impossible to find as a set, so Katie has spent hours and hours searching for pieces to add to her collection, which is beautifully displayed on the bayberry built-in cabinet in the dining room.
"It's impossible to find old Ironstone sets. The first thing I do when I see a plate, or a pitcher, or a bowl, is flip it over and look for a marking. There's obviously hundreds of different makers of ironstone, but English Ironstone tends to be more yellowish in color and American tends to be more white," Katie said.
Jadeite, which is mid-century glass tableware made of jade-green opaque milk glass, is another beautiful collection featured in the Baker home. Whether used in place settings atop the table in the breakfast nook, or artfully arranged on a shelf, Jadeite is another item that can take years to cultivate a set worthy of bragging rights. With a mix of modern, or fantasy, Jadeite, and older pieces in circulation, it takes some searching and identifying to know what is what.
"It's just like Ironstone, you flip it over, look for some sort of marking that will tell you who the maker is, and that helps you date it and put a value on it," Katie said.
Katie completed numerous do-it-yourself projects in the home varying in size and difficulty, but all with outstanding results. For added visual appeal, she painted the front door and shutters a rich black. Inside, Katie added crown molding to the built-in cabinet in the dining room and painted it, along with the inside of the front door, with gorgeous, matte-finish Fusion Mineral Paint, of which she is a specialist and retailer.
Katie painted the dated linoleum floors in the laundry room and powder room to create a more modern look, making a black-and-white checkered pattern in the laundry room, with a pure white floor outlined with gold in the powder room. That powder room was also outfitted with custom shiplap boards installed where wallpaper once was.
A larger project was the construction and installation of wood beams in the breakfast nook and the master bedroom. Using various sizes of common boards, a saw, drill, hammer and wood stain, Katie installed the three-sided box structures to the ceilings of both rooms, adding stunning architectural detail for minimal cost and just a fair amount of elbow grease.
"I made the beams and hung them all by myself. I got on a ladder and held them over my head and screwed them into the ceiling. I did the bedroom first because it was easier and because it doesn't have a pitch. It was my practice run," Katie said.
Some of the most striking decorative items in the Baker home are the barn quilts designed and painted by Katie as part of her business, Baker Nest Design Co. In 2017, Katie began the venture, stemming from her love of history, woodworking, and "all things vintique" with the idea to encourage the use of barn quilts and American folk art in home decor.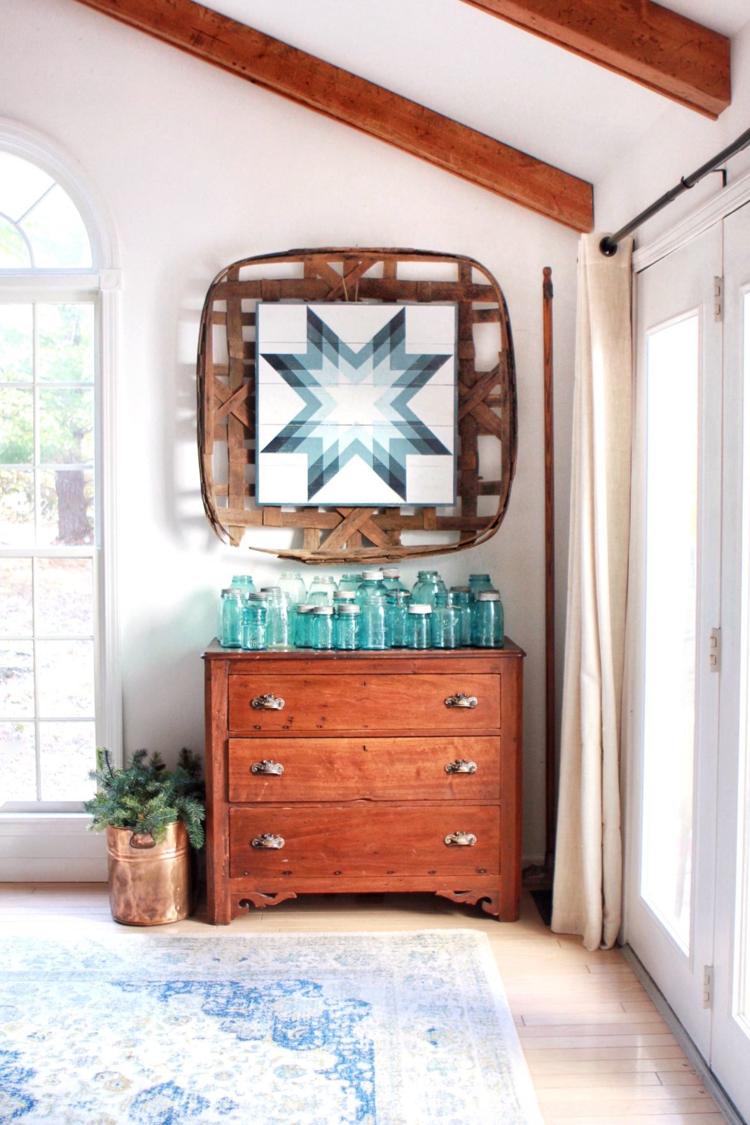 The idea has blossomed enormously. She teaches group barn quilt courses, where participants are taught the pattern, painting, and finishing processes. Katie has also been a presenter at several Country Living Magazine Fairs on the topic of barn quilts. She still designs and creates barn quilts to sell to her loyal following of customers and sells custom pattern books for the crafty individuals looking to try their hand at the artistic process. The Meadow Star hanging on the inside of the front door, the beautiful variation of the Lone Star design hung over the pair of chairs in the entryway, and the Winter Star pattern displayed atop the tobacco basket in the breakfast nook are just a few examples of the innovative design concept that Katie is passionate about.
The Baker home, a remarkable example of recent suburban ranch architecture, is full of beloved family treasures, historically significant antique finds, and tasteful design. While many may only hope to find a few worthwhile items to display at home, Katie Baker has managed to not only aggregate quite an impressive collection, but also incorporate that collection into her family's extraordinary living space.
Be the first to know
Get local news delivered to your inbox!