Donald Hutson's office at the Veterans Affairs Medical Center in Marion is down a long hall in a non-descript building behind what many would consider the campus's main building. It's a pretty non-descript office, too. A few military accommodations are on the wall above a desk, spotless except for a name plate, inbox and computer, all arranged with military precision. Surrounding a conference table is artwork — George Washington rallying troops during the American Revolution — and mementos of Hutson's previous assignments. Two bookcases hold volumes on leadership from Stephen Covey, John Maxwell and Jim Collins. In all, it's a no-frills office, and it is perfect for its inhabitant.
Hutson took the reins of the Marion VA medical center in December 2013. He is a retired lieutenant colonel who managed an Army hospital at Fort Stewart, Georgia, and private sector facilities in Tennessee and Mississippi before moving to Marion.
Share with us the Don Hutson story.
I grew up in northern Mississippi, a small town called Corinth. I went to the University of Mississippi on an Army ROTC scholarship. When I finished, I owed the Army four years of my life, but I wound up giving almost 21. I spent the first part of my career as a medical service corps officer in field units. I spent some time in the 25th infantry division, the 101st Airborne division and went to Desert Shield/Desert Storm.
About midway through my career, I obtained my master's in health care administration, then spent most of the rest of my career in Army hospitals and contracting offices. I retired in 2006 and went to work in the private sector as a CEO of a faith-based, not-for-profit hospital in Union City, Tennessee, then in Oxford, Mississippi. I wanted to rejoin the federal service and joined the VA. That's what brought me to Marion.
I am a veteran, so I can identify with veterans and their needs. Also, in my private sector experience, I believe I gained a lot of valuable knowledge in customer service, patient satisfaction and physician satisfaction. All of those things together, I believe, have allowed us to greatly enhance the work we do here at the Marion VA.
VA hospitals across the nation have recently been under some scrutiny. What challenges are you facing here?
The Marion VA hospital faces the same challenges most rural hospitals face. Physician recruitment is big. Any hospital in a small town would face those same challenges. Being responsive to the ever-changing health-care environment presents challenges, too. As with any hospital, we're constantly focused on obtaining higher and higher levels of quality and access, operating efficiently — that's not to say cheaply. We believe it costs less to get something done right the first time. We're focused on the cost, the quality and the access to health care.
As an executive officer, how do you describe your leadership style?
I am transparent; what you see is what you get. The leaders I have admired and respected over the years were present, transparent and genuine. I love to be present where the work is being done in the hospital. It's easy to get trapped behind the desk, but real leaders have to be present with their staff in the workplace. I don't want us to ever be one of those organizations where people could say, "I've worked here for two years, and I've never seen the boss." I want to know and have a comfortable rapport with our staff, because I find they have the solutions to the challenges we face. In our case, I also visit with patients in waiting rooms and in their rooms.
When I was working at a hospital in Tennessee, I was in one of the wards, and a nurse asked me what I was doing there. She told me that usually the CEOs don't visit. I wanted her to know I was not uppity or too good to be there, and that I put my pants on one leg at a time like everybody else. She said, "Oh, we know you do. We just want to make sure you know you do." That has stuck with me.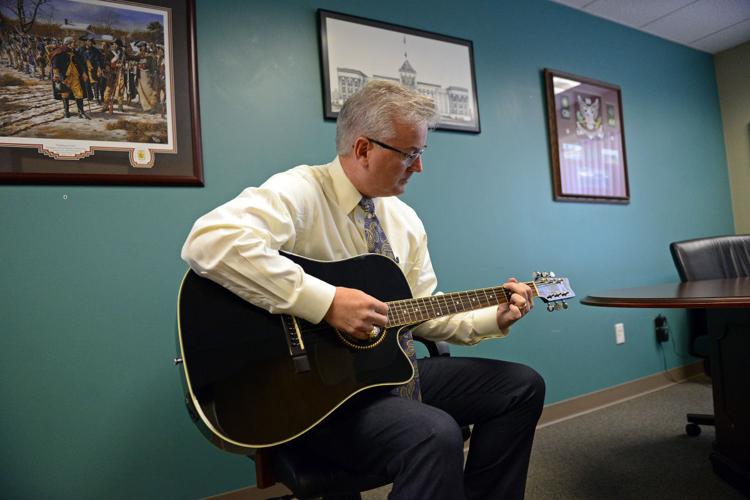 You have free articles remaining.
Keep reading for FREE!
Enjoy more articles by signing up or logging in. No credit card required.
You are not afraid to be out among staff, patients and in the community. You even portrayed Frankie Valli at the Hospice of Southern Illinois Red Carpet Gala. You seem to have taken to Southern Illinois.
Honestly, this is a great area for me, where you get to know the people, where the people you encounter at work are also the people you encounter at church, at the store, at ball games and local events. Community is very important to our family, and we enjoy getting to know people and taking part in events.
I was once told by a gentleman on a hospital board of directors, "For people to know and trust the hospital, they need to know and trust the hospital administrator." I took that to heart and decided I want the community to know and trust the hospital, so I want to put myself out there in the community, so we can have the conversations that are important.
Tell us about your family.
I have the privilege to be married to my soulmate and best friend. Sandy and I had our first date when I was 18, and she was 16. It was a blind date and turned out very, very well. We have a 17-year-old son and a 10-year-old son. Our 17-year-old is going to be a senior at Carterville High School this fall, and our 10-year-old is going to be in the fifth grade at Carterville Intermediate School. We attend First Baptist Church in Carterville.
When you're not working or singing like Frankie Vali, what else do you enjoy?
Nobody sings like Frankie Valli. (Laughs) I'm a big country music fan, and I love to play music. Sandy and I often are in the porch swing, me with my guitar doing a little front porch picking. We like to exercise, too — we joined the gym — and we've joined a dinner group out of Herrin, where we've learned bocce. We had never played that before. Now, we really enjoy it.
You have a guitar in your office. Is that for decoration or part of your job?
Oh, I play some events here at the hospital from time to time. We had a hospital picnic not long ago, and we had a local band come in. They let me do nine or 10 songs with them. Later in the day, some of our employees and I played together. We have a lot of fun.
You have mentioned your involvement in church and that you've worked in faith-based organizations. What role do your beliefs play?
My faith is important to me. Sandy and I begin and end each day with prayer. This is a very important part of keeping God first in our marriage and our lives. Even though I'm working in a federal organization, the principles of my faith guide how I conduct myself and how I go about decision making.