Joseph Brown's résumé tells an impressive story. He's earned post-graduate degrees from John Hopkins and Yale; he's taught at the University of Virginia, Xavier University of Louisiana, Creighton University and, now, SIU. He's published books, poetry and scholarly articles. He's a thespian and an ordained Jesuit priest.
But those words can't explain what really makes Brown's story so impressive. Those stories have to come from the man himself — a man raised in segregated East St. Louis who thrived through life's challenges to overcome the odds, desegregating a school district and a seminary in the process. He'd face many obstacles, faltering and even falling at points, but always embraced a resilient spirit and persevering.
His life's journeys and experiences would take him from his East St. Louis roots to Wisconsin with his family, Minnesota for the seminary, back to St. Louis for undergraduate studies, and elsewhere across the country. But, in the end, Brown returned to Southern Illinois, where he helped build and expand the legacy of Southern Illinois University's Africana Studies department, serving as its chairman for several years. Now serving as a professor, he still holds onto the mission he had when he arrived, a mission fueled by a lifetime of extraordinary experiences, obstacles, sorrow, joy and success.
This is his story, in his own words.
How formative were your childhood years in shaping the man you would become?
My childhood was very formative in a positive way, a very truthful way. I had to experience some very bad things in my life, and I had to carry those with me for a very long time. But I also experienced some very, very positive and powerfully formative things.
Being raised in a family with my mother, father, older sister, older brother and younger sister, and being very close to both sets of grandparents, I was in the middle of a community. And while it becomes a cliché to talk about the old, traditional, black communities where everyone knows one another and cares for everybody, that was really true. Neighborhoods meant something; everywhere you went, people knew you. So while people talk about how bad East St. Louis is — and God knows it has its problems — I never felt afraid.
My education was extraordinary. I will never, ever, ever be unappreciative of what my grade school did for me during my first six years of education. I have said the foundational educational skills I got prepared me for everything I ever did in high school, college or post-graduate work. I was encouraged to read, to write and to be creative.
I'm not trying to make this some Technicolor movie with a beautiful soundtrack. There were some very painful parts in my life in those days. I had to see pain and suffering in my family; I had to see my brother's problems with addiction.
When I finally went back to graduate school at the age of 35 to get my Ph.D. at Yale, it was amazing to me how much I had grown up knowing. My environment had educated and prepared for me the education I was going to get at Yale. The songs my grandmother sang, the stories my other grandmother and grandfather told, the music my brother introduced me to — even though most of the records he introduced me to he'd stolen from other people — and the stories, the history that my father and my mother taught me.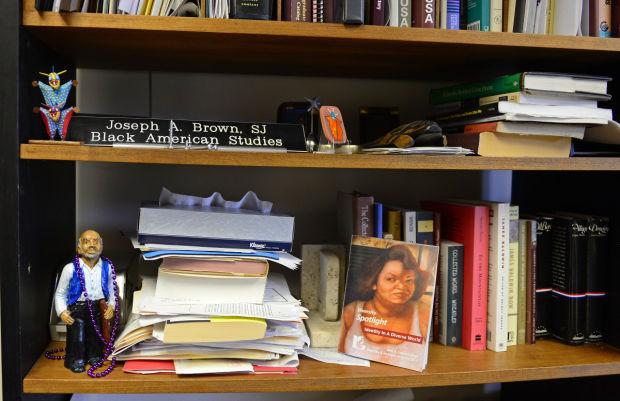 I grew up in a house where we had at least two newspapers a day and one or two news magazines a week. I grew up knowing about the world. I couldn't have gone into an educational laboratory and gotten a better education preparation.
Of all the interests developed as a youth, did any stand out the most to you or feel like a calling?
I remember very well when I was in the seventh grade, reading The Saturday Evening Post; my father got it every week. I was lying on the floor one evening, reading it, and there were some poems in it. I decided I was going to try and write one. I went and got some paper, and I sat down and tried to write a poem. I turned around, showed it to my father, and he read it and said, "That's really good, son. You really ought to keep doing that." You couldn't take that away from me; that was a creative gift in which my imagination was being connected with to a whole world of writing.
By the time I was a sophomore in high school, I started publishing. When I went into the seminary, while some parts of it were painful in terms of having to adapt to a different kind of cultural setting, I knew I had my poetry. I knew that no matter how bad off I've ever been at any point in my life, I've had my art.
When I had a nervous breakdown during my fourth year in seminary, when I came out of the more intense medical intervention, I immediately ended up in a play -- acting, doing costumes and choreography for this play we did in the seminary. That pulled me up incredibly, so I've always known that something about art was going to help me.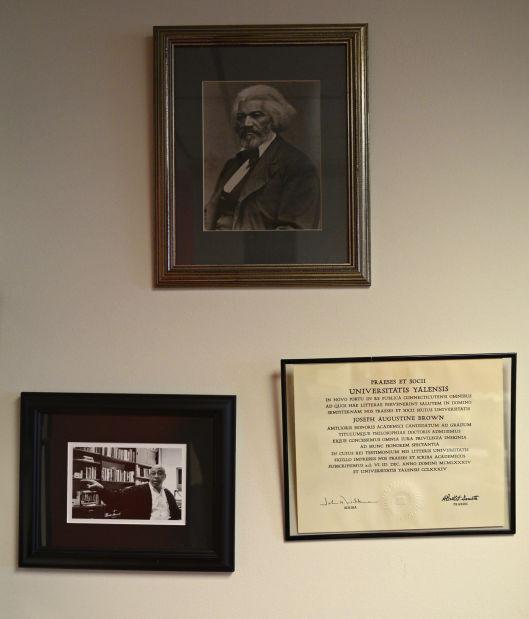 In the past you've talked about reading comic books to classmates on the schoolyard and mentoring peers to prepare for upcoming exams. Did you know at the time you wanted to be a teacher or were they simply seeds planted to grow later in life?
Both. I had teachers all day long, but I didn't know what they really did; they just showed up. But I was always being taught by people everywhere -- in the home, in the neighborhood, in church, in school.
But when I was a sophomore in high school, I decided I wanted to be a teacher, and that has never deviated. I was impressed with people who loved sharing knowledge. I was able to see they loved what they were doing, and the love they had and the hard work they put into it was enough for me to say, "I think I can do this."
You mentioned the seminary. What led you down that path?
I knew from reading history books that the Jesuits, the Society of Jesus, were priests and teachers. But I didn't ever say, "I think I'm going to be a priest," not once. There are a lot of people in my life who have said, "We knew that's what you always wanted to do," and I keep wondering, "Did I ever tell you that?" So I think there's always a case where people in the community see some of your talents that you have to grow into seeing yourself.
There was this day when a visiting priest from Notre Dame University came to talk to the senior boys in my high school about vocations. When I got in there, I told him I wanted to be a teacher. He told me that Jesuits were teachers. He said I might be interested, but I told him I didn't really think so, but if I was ever going to do something like that, I would probably be a Jesuit. That wasn't exactly claiming I wanted to run off and join the priesthood!
He told the principal, who then got me out of class that afternoon and asked, "What is this I hear about you wanting to be a Jesuit?" I looked at him and said "I never said that." (But) he made an appointment for me to be interviewed by the Jesuits in Milwaukee. When I told my mother there was this meeting in Milwaukee, and she started crying, saying, "This makes me so happy; we've been praying for this for years."
I was interviewed by three or four priests; we talked about this, that and everything else, and I went back home. About a month later, my family got a letter saying I'd been accepted into the Society of Jesus. It was kind of like a collective that had altogether discerned that this is what I was going to do, and all I needed to do was stand still and let them tell me what to do.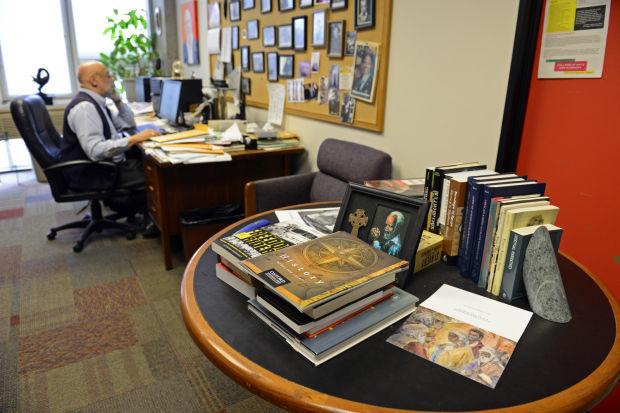 My sister and I had already desegregated a school system, and it wasn't that much of a shock to me to desegregate a seminary, so I think I was better equipped than some might have been at that point to go into that social change. It was the early 1960s; people were making changes to society, culture and institutions all over the place. I was part of that generation, and that's what I was doing.
What did it mean to you to be an active part of that social change?
I think that's one of the main reasons I had so much intense pressure on me that I finally did have a collapse. I was trying my best to absorb all kinds of ignorance and confusion, and I was trying to be somebody who could bridge the gaps, who could just be all things to all people. No 18-, 19- or 20-year-old should have to do that, especially when I had no support system.
I had to wake up when I crashed into a brick wall and say, "Now what do you do?" That's when I decided I had to start educating myself. I did my homework, but I'd also be reading everything I could on the black social movements of the 1960s. My father was very helpful; even while I was away at a seminary in Minnesota, he was sending me James Baldwin, Claude Brown, books and music and essays I should be reading about what was going on in America. He just understood that I needed to be well educated in what was going on in the world.
You have degrees from John Hopkins and Yale and have taught all over the country. What brought you to Southern Illinois and what has your time here meant?
I was fired from the last job I had, based on some political underhanded behaviors. I was trying to keep a program alive and independent; the president of the university didn't want me to be doing that. It was a very painful moment in my life. It was probably one of the most devastating things I ever went through. This was in 1994. I had to live as an independent scholar, meaning I could not get an academic job anywhere, even in the network of Jesuit colleges. So I wrote a couple of books, did workshops, wrote articles and maintained myself for almost three years. One day, I read in the Chronicle of Higher Education that there was a job opening at Southern Illinois University in Carbondale.
Sitting in New Orleans, as far away as possible from the rest of my family, I decided I would apply for it. I got the call to come interview in the spring of 1997. There were two of us who were finalists, and they offered the job to the other candidate. About a month after, I received a phone call saying the first candidate had not worked out, and they wanted to know if I was still interested in the job. I came here in August 1997.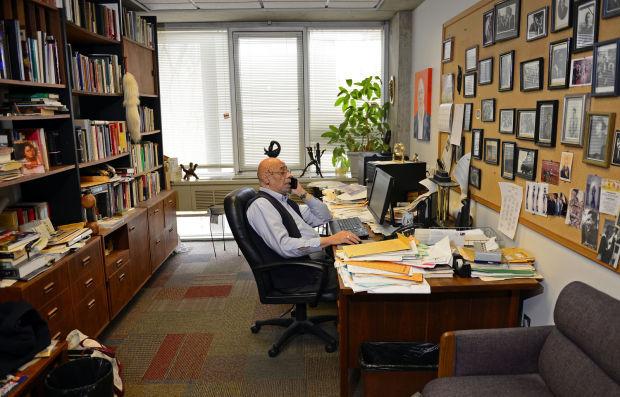 I had a very clear sense that I had to build this program into something that would be respectable and with integrity. The Black American Studies program had been here since about 1971. It was only a minor, not a major or department. I came here with my own game plan to build the program so it could become a major with as much academic respect and integrity as any other. I found intense university opposition to that, but I pushed on, hired faculty, hired administrative staff and taught every kind of class I could imagine so we'd have classes on the books that would be broad enough to be the foundation of a major.
In 2000, I became a full professor with tenure. I came here, and while I thought it would take five years, it took 13 to get the major.
In your eyes, what makes Southern Illinois a special place?
I've had family here in Southern Illinois, from East St. Louis to Cairo, since before the turn of the 20th century. My father's family has lived in Collinsville and Edwardsville since the 1880s and 1890s, and my mother and father lived in Mound City for a while in the 1930s. The roots have always been in Southern Illinois, so I'm very comfortable in this region.
Part of my real emphasis in graduate school has been African American history and religious studies, so with African American history, which is really American history, you couldn't get a better place to be than Southern Illinois.
Because of my other professional identity as a priest, I have managed to go all through Southern Illinois in ways that a lot of the other faculty maybe wouldn't have available to them. By participating in church services in Cobden, Johnston City and Du Quoin, and Martin Luther King Days in Cairo, I have managed to be very much available to this entire region. If you delight in knowing people, wherever you are is going to be OK.
What does your future hold?
Because of institutional changes at SIU in recent years, I see the challenge to once again build up Africana Studies, and I think my dream of making it legitimate, competitive and respected has not changed. I think we have enough institutional challenges that the dream still needs to have a lot of energy and focus, so I don't have any plans other than I'm here until I'm not here.
I have never changed my feeling about teaching since I was 15 years old; that's 55 years of saying I want to be a teacher. And every semester when I walk into a new classroom, I enjoy being around a group of young people who teach me as much as I teach them. I really enjoy teaching, and I really enjoy the students at SIU.
More than 51 years ago, the son of a Georgia pastor climbed the steps of the Lincoln Memoria…
D. Gorton looked on with fear and apprehension March 7, 1965, as a two- column line of prote…
Southern Illinois, generally speaking, is torn between the influences to the North and South…