Carl Cottingham's mother was not impressed with his attempts at quilting. As a youngster, he knew winter was coming when his mother, aunts and friends would rearrange the furniture in the Cottingham's Hamilton County home to make room for the annual quilting project.
Every year, quilting sessions would be a way to not only create a means of staying warm but also an opportunity for socializing as well as an outlet for creativity. Cottingham often would try to join in, but his mother wouldn't allow it.
"She never would accept my quilting. She said I made the stitches too big and too irregular," he recalled.
Surprisingly enough, the 80-year-old Carterville resident has gained attention as a creator of quilts, made not with fabric and stiches, but rather with wooden and paint.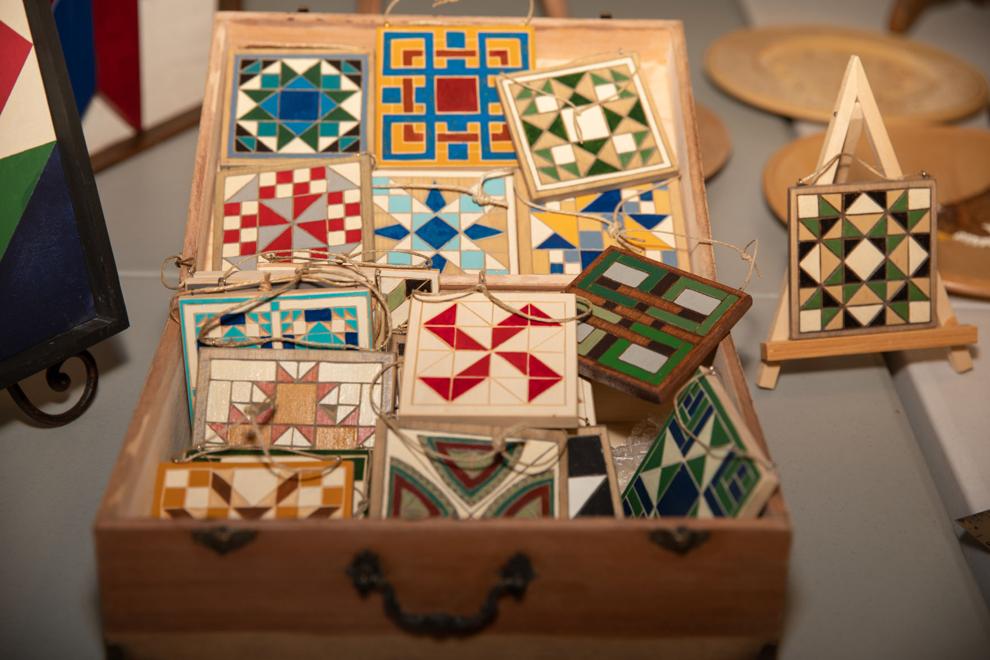 The origins of these works of art known as barn quilts is not completely clear – some trace the beginnings to quilt-like patterns painted on barns in New England in the 19th Century. Many others believe the first barn quilt – a geometric block painted to resemble a section of a quilt – was created in Adams County, Ohio about two decades ago as one woman's tribute to her grandmother. Regardless, the outdoor adornment has generated a following with more than 7,000 barn quilts included in organized "Barn Quilt Trails," mapped collections of decorated buildings in a county or region.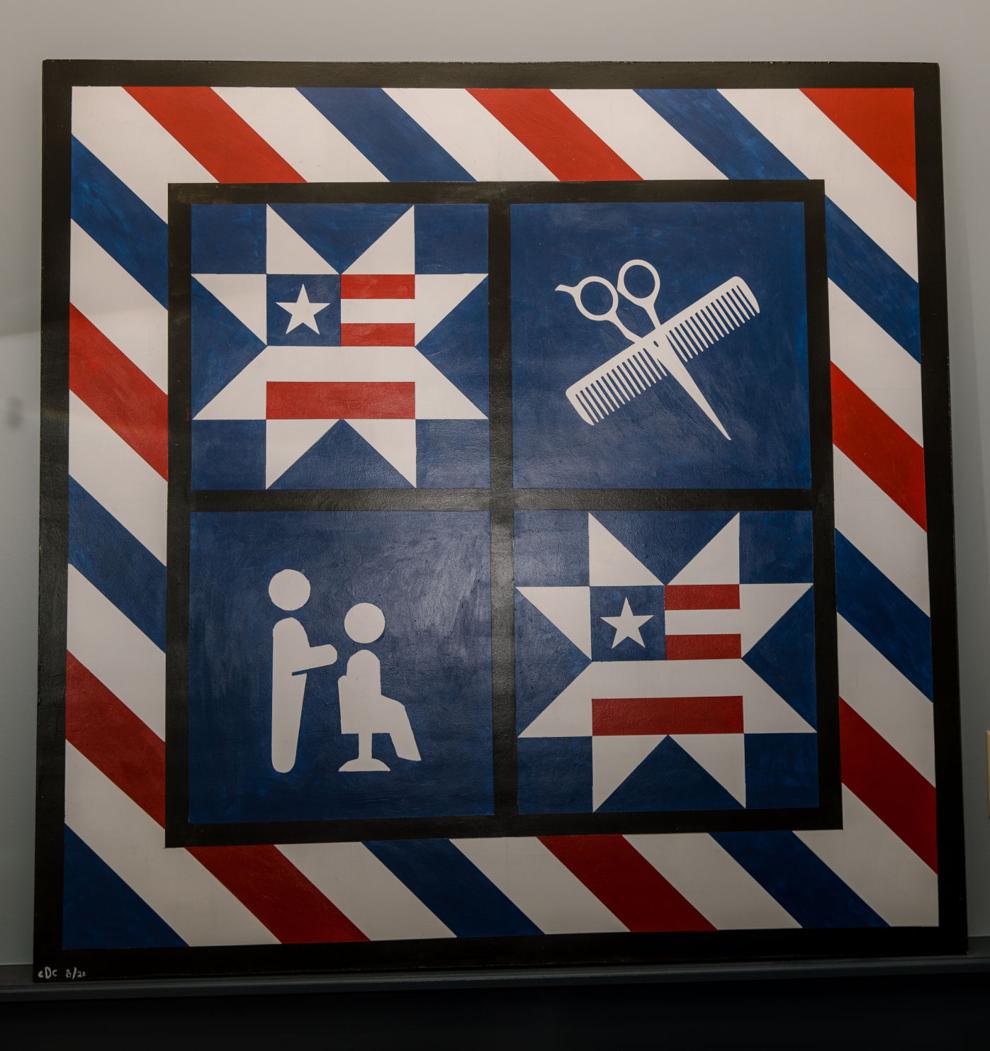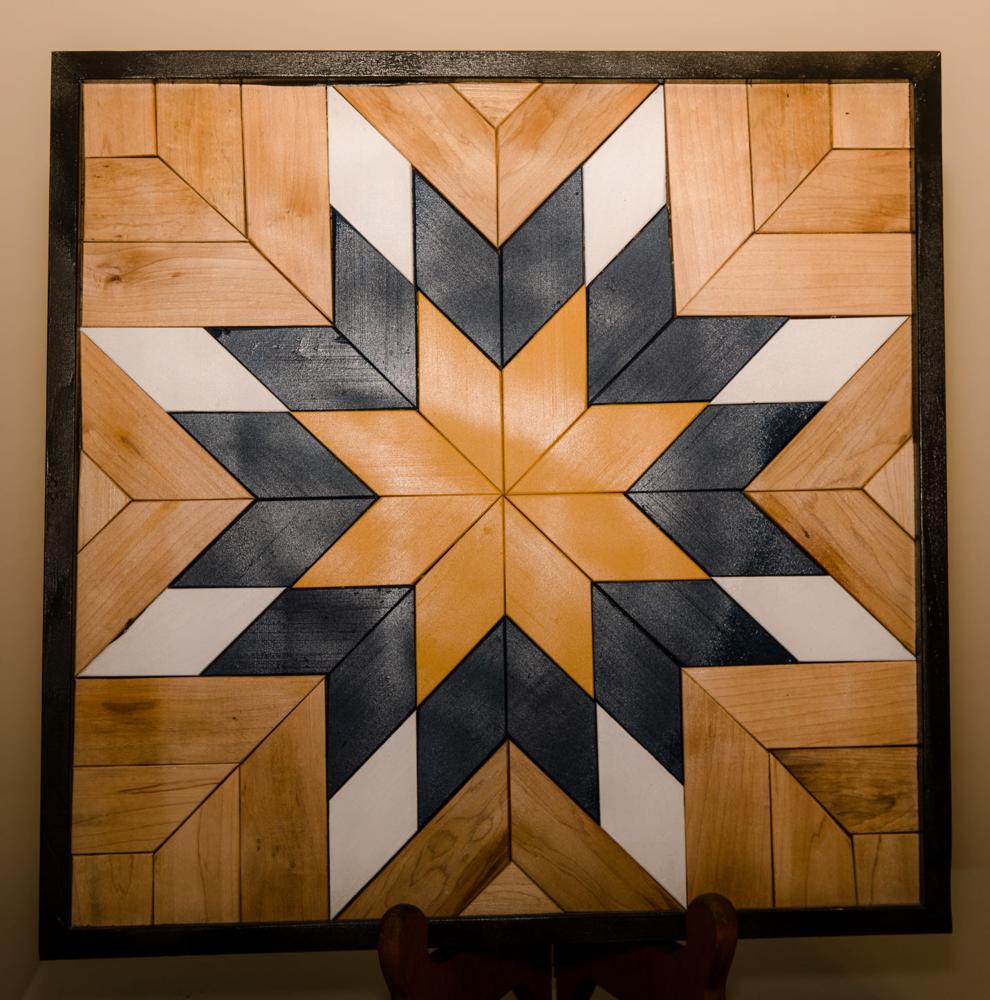 Cottingham's interest in creating barn quilts began about 10 years ago on a trip to Northern Indiana.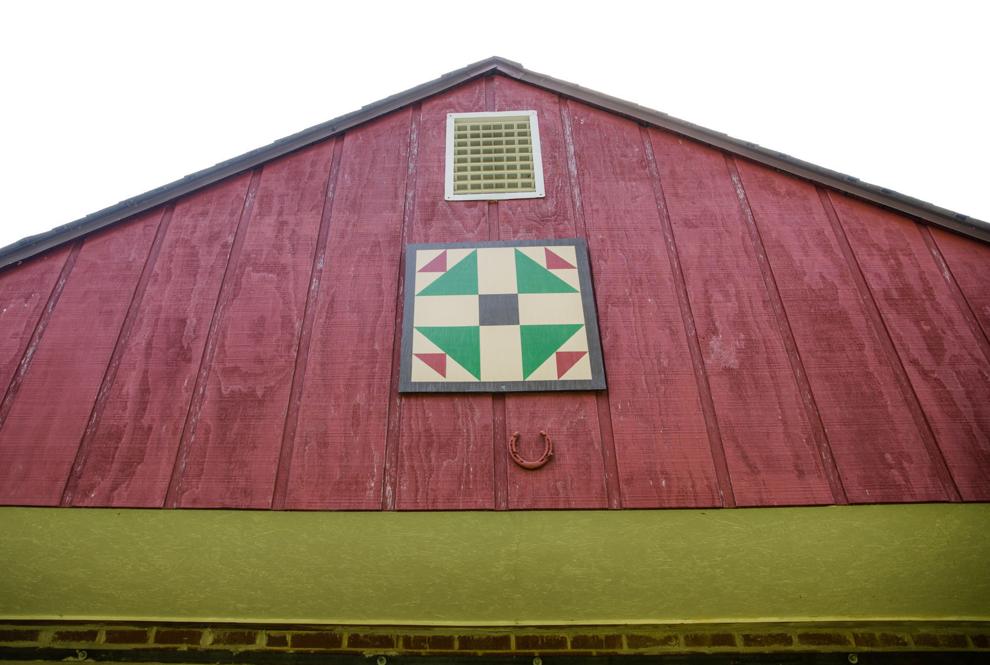 After a couple more trips to see the artwork and enrolling in a workshop to learn how the barn quilts were made, Cottingham began creating his own. Today, from his workshop inside The House of Busifingers, a Carterville craft store he owns with his wife Nanette, he makes a variety of barn and wood quilts including small Christmas-ornament sized ones he hand carves and paints to ornate mosaics of reclaimed wood as well as the traditional barn quilts.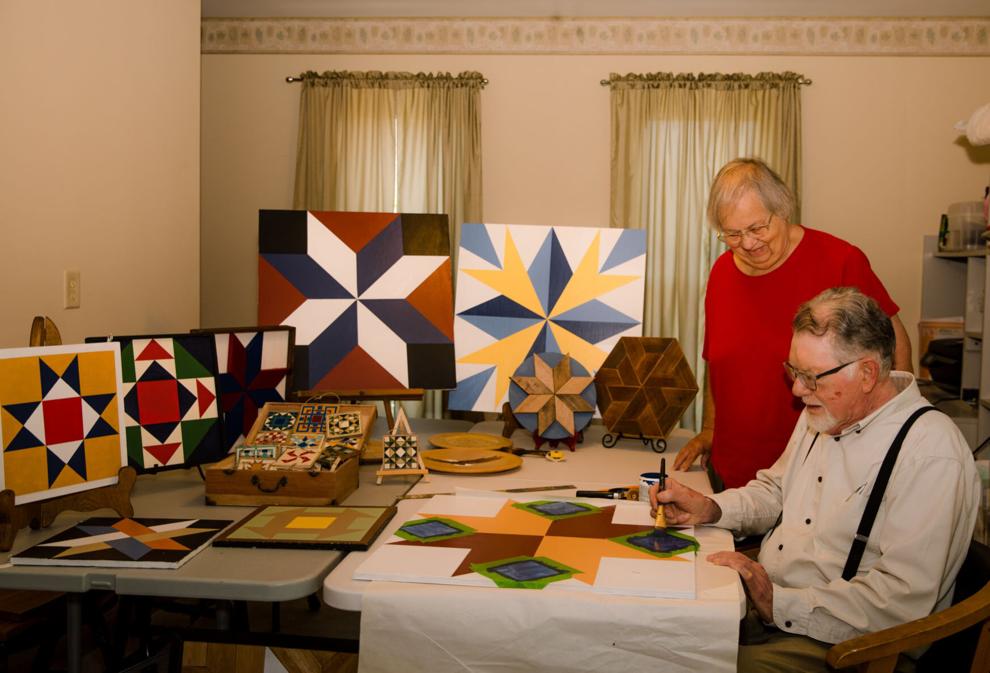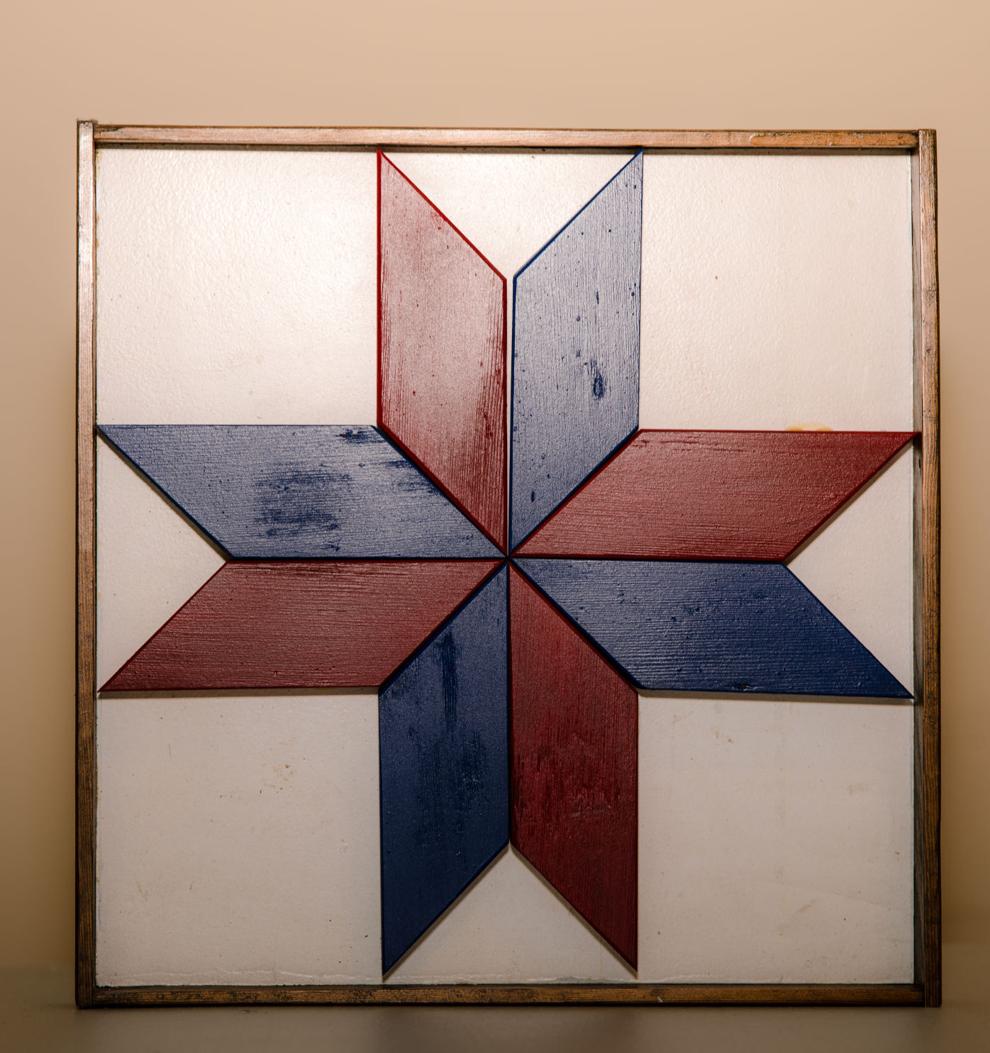 Cottingham, who retired in 1996 after serving as dean for learning resources at John A. Logan College, sells his creations in the store, at craft shows across the region and does special commissioned work. Most of the traditional barn quilts are four square feet, decorated with geometric designs and hand-painted with outdoor paint. They retail for less than $75. His largest work to date was nearly eight feet wide and is on display near Malone's Day Care Center in downtown Carterville. The smaller ones can be found in a variety of settings, both indoors and out.
"Around here we don't have very many barns, so they put them on houses, sheds and other places," he said. "I think it's popular just because of the love of quilts and the simple beauty of it," he explained. "It's art. It's folk art and there's a sort of charm in the patterns and the colors."
Each piece is unique and takes Cottingham a few hours to layout, paint and finish, paying close attention to the measurements and pattern. He has started his own workshops a few years, teaching others the techniques and tricks to producing their own barn quilts, always sharing his love of the artform.
Cottingham said he will continue to build and paint barn quilts as long as he is able.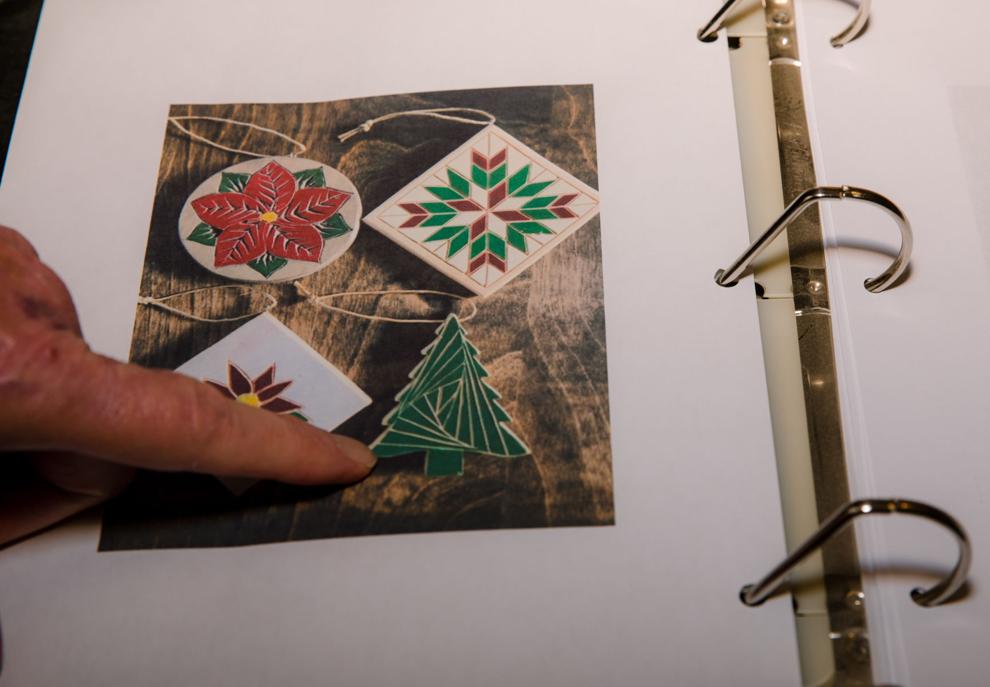 "I just can't imagine doing anything else," he said. "Certainly not anything that would be any more fun. Some people have this kind of creative urge and I guess I'm one of those people. It runs in my family. My mother was like that."
And what would his mother – the woman who wouldn't let young Cottingham become a quilter – think about his work now?
"I think she would get a kick out of it," he said. "I guess I am a quilter now, but in a different medium."