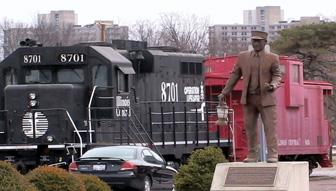 CARBONDALE - There are five other incorporated U.S. cities outside Illinois named Carbondale, but it's unlikely they have a founder as ambitious - or as disliked - as Daniel Harmon Brush.
In 1853, Brush, then a 30-year-old Murphysboro resident, gathered a team of investors to purchase the land that would become Carbondale. The name was a nod to the element on the periodic table, a primary component of coal, which fueled the train engines of the day and breathed life into the town.
Gumption aside, Brush wasn't exactly the friendly type.
"He was not a man who found it easy to get along with almost anybody, including his own family," said David Kenney, a local historian. "He was not well-liked."
Brush was a soldier, politician and wealthy businessman who owned at various times a general store, a sawmill, a construction company and a telegraph service. A devoted member of the Whig Party, he served in numerous local elected seats, including county clerk for Williamson County, a position that gave him ample insight into investment opportunities.
In the book "Growing Up with Southern Illinois: The Pioneer Memoirs of Daniel H. Brush," author John Y. Simon reveals Brush to be a complex and, perhaps, paranoid character.
Throughout his memoirs, Brush goes into the details of his feuds with those he felt crossed him. At points, he references the "hounds aimed at my destruction" and his "scheming enemies." The aim of one of his adversaries, he writes, "was to gloat over the ruin he was going to bring down upon my devoted head and tantalize me as a cat does a captured mouse before giving it the mortal crush."
Memoirs also reveal a man whose business and financial holdings were of paramount importance. The book is peppered with recitations of trades and business dealings, complete with exact dollar figures.
If it weren't for Brush's surly nature and his devotion to the dollar, Carbondale might never have been.
It was a feud with his brother-in-law's family in Murphysboro that forced him to look elsewhere to find a town to live in. That family's patriarch was Dr. John Logan, father of Civil War Gen. John A. Logan.
With powerful adversaries facing him in Murphysboro, Brush sought to strike out on his own, and with the railroad companies looking to lay tracks in the region, he had his opportunity.
"The Illinois Central Railroad was surveying the line," Kenney said. "So he came over on horseback and found the stakes (used to mark the future location of the line). And he found what he thought was an ideal site."
What Brush found, Kenney said, was "primitive frontier country."
What he saw was opportunity.
After approaching the chief railroad engineer in the region, Brush persuaded him to locate a proposed station in Carbondale - in part by cutting the engineer in on the subsequent land deal - and then proceeded to buy 360 acres around the tracks.
Located between two county seats, Marion and Murphysboro, and two proposed railroad stations in Makanda and De Soto, the location proved to be ideal.
The arrival of a teachers' college in the 1850s - the future Southern Illinois University Carbondale - helped ensure the town's survival as the coal and railroad industries eventually faded.
Brush's death in 1890 came shortly before the commercial coal boom and an era of immense train traffic in Carbondale. The number of tracks running through the city swelled to seven, said Kenney.
History may not look with fondness upon Brush's personality, but Kenney said no one can deny his impact on Carbondale.
"There was a time you could go to the depot anytime of day or night and within two hours you could get a train to Chicago, New Orleans or St. Louis," he said. "That was all because of him."
Be the first to know
Get local news delivered to your inbox!