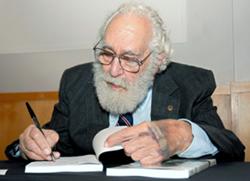 CARBONDALE -Longtime and well-known Southern Illinoisan photographer, writer, editor and columnist Ben Gelman died Saturday in Carbondale. He was 86.
Friends of Gelman said he not only made a lasting impression on them, but on the entire Southern Illinois region. A native of New York, Gelman moved to Carbondale in 1956 to begin his career with The Southern Illinoisan. He started as a photographer and climbed the ladder to Sunday news editor.
Gelman, who also was an avid bird watcher, wrote the well-known column, Byline BG, which was later turned into a book.
Laraine Wright, Gelman's friend, said she has found "hundreds and hundreds of letters and cards that people sent him" while cleaning out his residence. He and Virginia, his wife of 59 years, lived in Makanda before they moved to the Rehab and Care Center in February.
"He saved them all," she said of the letters. "He received a tremendous amount of feedback. They were very important to him."
Gelman, a one-time Pulitzer Prize nominee, left The Southern in 1982 to work for Southern Illinois University Carbondale. He served as the editor of the weekly university paper, SIUCourier, before retiring in 1995.
John Gardner, who worked with Gelman as former editor and publisher of The Southern, said Gelman was "a marvelous interviewer."
"He could talk to university presidents and then some coal miner," Gardner said. "He really related wonderfully to people."
Even though Gelman was a New York native, Gardner said, he quickly became a Southern Illinoisan, knowing the entire region from Carbondale to the most remote areas in Shawnee National Forest.
"It truly is a great loss for the region and the newspaper," he said.
But, it wasn't just his work that his friends said they would remember.
For Wright, it was Gelman's love and knowledge of birds. Wright, who worked with Gelman at the SIUCourier, recalled Gelman giving her a bird lesson on her first day of work.
"I never had seen Canada geese and they were flying overhead," she said. Wright called them Canadian geese and he quietly corrected her, saying, 'those are called Canada geese," she said, adding that after that, Gelman invited her along on bird-watching trips.
"It completely changed my life," Wright said. "Now every trip I take has to do with seeing birds."
Pete Brown knew Gelman since he moved to Carbondale and said it didn't take him long to realize that Gelman was "truly a Renaissance man."
"He could do anything and he knew everything about everything," Brown said. "It was really amazing."
Brown said Gelman was truly a master of all trades. He had many interests, including the outdoors, birds, plants and golfing.
Over the years, Gelman won a few golf tournaments and several newspaper awards for his photographs. In 2005, Gelman received the Service to Southern Illinois Award from the SIU Alumni Association's Jackson County chapter. Earlier this month, the Carbondale Lions Club honored him with the David Kenney Award for outstanding service to the region.
Brown said one of his favorite memories of Gelman was when they were riding back from an assignment in New Salem.
"So, here's this New York guy and he broke into a big, strong vocal rendition of a country song. I just cracked up," Brown said. "I mentioned this to him at the nursing home and I told him that he was ad-libbing country songs. He said "ad-lib, hell. It was 'Wabash Cannonball' and I remembered every bit of it."
Gelman is survived by his wife, Virginia, and his brother, Murray Gell-Mann, of California. As of Sunday night, no plans had been made for a memorial or a funeral. Check The Southern's Web site for updates.