McLEANSBORO — A brown sofa divides the room, which has full-sized bed on one side, a queen on the other side. A wooden table that seats six is in another corner of the room, which is lined with other pieces of furniture and art. Various boxes and other assorted items are stacked around the edge of the room, where winter jackets and shirts hang from a rail in the ceiling.
On another wall is an electric range top and a double sink and two microwaves and a grill on a counter. A few feet away, behind the open front door and behind closed curtains, are two self-contained portable toilets.
For a year, this space — large enough to house two vehicles —has been home to Bonnie Willmore, her husband, Tommie, and her adult son.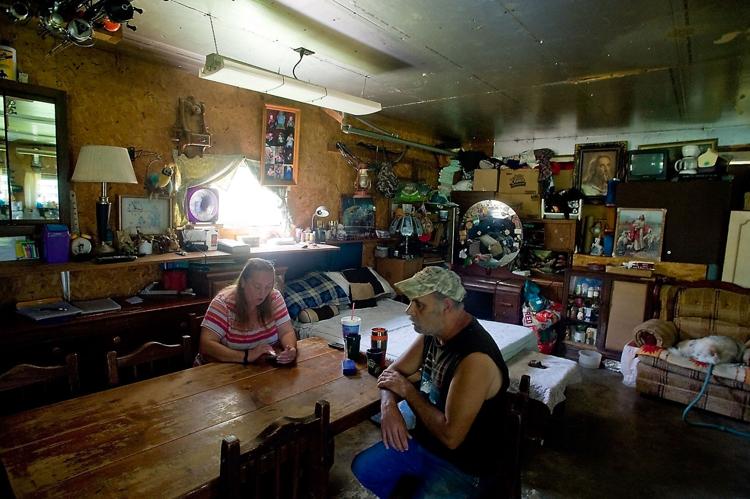 Her home is also the standalone garage behind a one-story house near the center of McLeansboro, which apparently views occupancy in the garage as a violation of city code.
According to a letter addressed to the homeowner Theresa Robertson: "You need to direct that family to another residence that is suitable for living. I would suggest that they contact a social agency or a church to see if another place can be found for them ASAP."
The letter said the family had 15 days from July 28, 2015, the date of the letter, to leave.
She wants the city to give her more time to move from the garage.
"Show me the same respect that I've shown them for 15 years," Willmore said. "I don't think that's much to ask. If they can just let me be. When I can get on my feet, I'll move on."
That letter is from Steve Lapington, zoning administrator for the city of McLeansboro. Lapington could not be reached Wednesday evening for comment. The mayor of McLeansboro, Dick Dietz, did not have information about the matter.
Robertson said she has not spoken to Lapington.
"They needed a place to live, they were homeless," Robertson said. "I've known Bonnie most of my life, and I offered them my garage as a temporary place to stay."
At this point, the Willmores have no place into which to move. When they move, they will be in the family's 1993 Chevy Lumina, which does not reverse and overheats.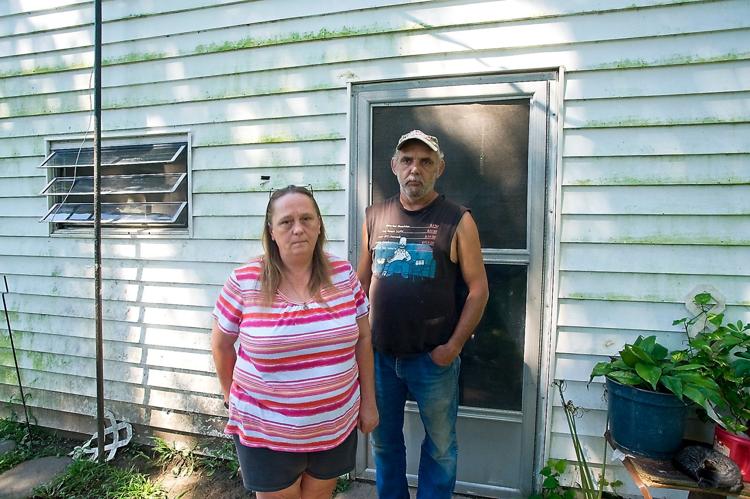 "It chugs, but that's where we'll be," Bonnie Willmore said.
Willmore contacted State Rep. Brandon Phelps, whose staff sent her an application for the Hamilton County Housing Authority. She has also set up a GoFundMe account to raise money to move into a new home and her husband is selling antiques — an 1881 cooling board, a cast-iron, wood-burning stove, round Coca Cola table with no chairs and other items — that he was allowed to salvage from a house being torn down.
Over what she said was the past year, the woman whose garage the family is living in has been sent $150 from the $245 allotment Willmore gets from the Township's General Assistance Fund.
The money helped pay for electricity and water that the Willmores used; they had running water at the sink in the garage and bathed and showered in the Robertsons' home.
The Willmores became homeless back in July 2014, when they were ordered to leave their home. That house had been lost to pay for her father's February 2004 funeral expenses and settle his back property taxes.
Bonnie Willmore had worked as a licensed emergency medical technician for 15 years, until 2008, when she began to experience anxiety. She has been turned down once for disability benefits, but plans to re-apply for them for anxiety, post traumatic stress syndrome and back issues.
Her husband is not able to hold a steady job because of anxiety issues and also is seeking disability benefits. Her 25-year-old son works sporadically.
"We just need a home — some place we can call home," Bonnie said. "I would turn anything into a home if I had to. To me, I had turned this into a home."