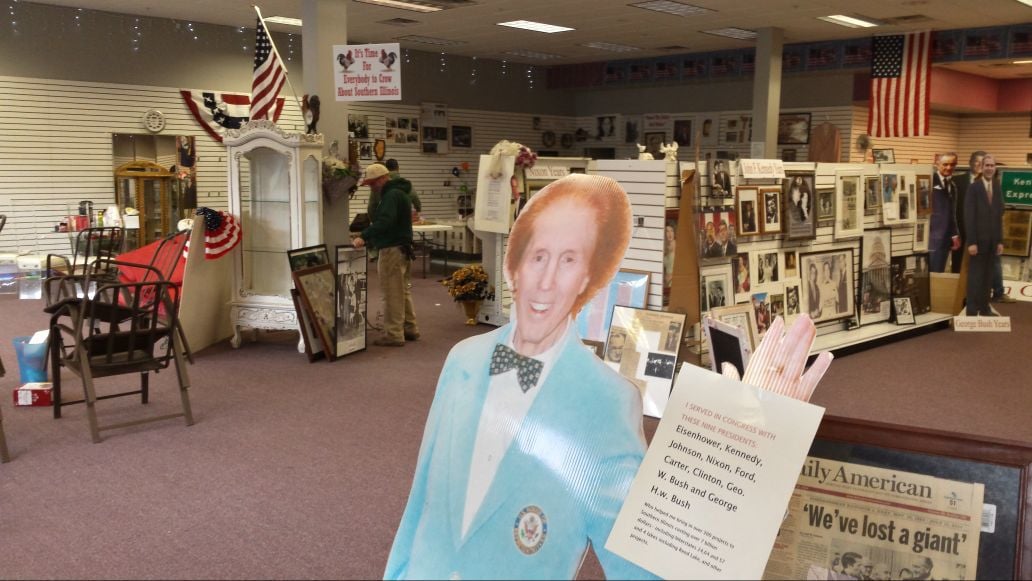 WEST FRANKFORT — The Rev. Margaret "Toedy" Holley-Gray, former Congressman Kenneth J. Gray's widow, is happy the museum bearing the congressman's name in Marion has closed.
Its contents, on display at the Illinois Star Centre Mall since the Ken Gray Presidential Museum opened there in 2010, are returning to Gray's hometown of West Frankfort, Holley-Gray said.
"I'm excited about it. I can't even be sad I'm so excited about it," Holley-Gray said, days removed from the museum's closing on Saturday.
Holley-Gray has donated the congressman's collection to Morthland College in West Frankfort. College officials said some of the materials will be displayed primarily in its library, but not under the auspices of a museum.
The college's goal will be to preserve the artifacts, which includes letters, newspaper clippings and photos of presidents he served under and even those he didn't, including Abraham Lincoln, said Stephanie Parton, the college's vice president of campus development.
MARION — Mayor Bob Butler said he keeps hoping the owners of the Marion mall will "take thei…
There is more to the collection, much more, so much that Holley-Gray has never been able to count it all. It could be a presidential pen used to sign federal legislation into law or trinkets Gray purchased symbolic of the nation's history or his own interests, from his days serving in the U.S. Army Air Corps to his admiration of Elvis Presley.
Gray was known as the "Prince of Pork" for securing federal projects in Southern Illinois, including the development of Interstate 57 and Rend Lake. Gray died July 12, 2014, and was buried at East Fork Cemetery in West Frankfort. He was 89.
Holley-Gray said time constraints on her outside the museum and limited help has made maintaining its visiting hours difficult. A supporter of Morthland College, she was pleased administrators there agreed to adopt the Gray collection.
"Kenny loved Southern Illinois, but he loved his hometown of West Frankfort. That's just where it ought to be," she said. Gray, she noted, had opened several museums in West Frankfort over time, including one showing off his collection of antique cars. The Marion site became available in part because mall officials did not charge the museum for rent.
On Wednesday, staff from Morthland College began packing the materials for their move. Parton said one goal for the collection is to seek grants that will enable the college to digitally record the collection for preservation.
Kenneth J. Gray was more than a champion of Southern Illinois, those close to the 24-year U.…
Though there will no longer be a museum, those records would be available to students and the public, she said.
"We are interested in preserving this history for the community," Parton said.
Nick Shelton, a business administration major at Morthland College and a physical plant employee there, said he believes the student body will benefit from the collection.
"It's still a young school, but as the student population grows I think more people from out of the area will learn more about more than just the man but the community. He was a good man. He did a lot for the area," the 21-year-old Benton native said.
Be the first to know
Get local news delivered to your inbox!