CARBONDALE — Josh Hewlett knows he has a lifetime of work ahead of him.
He is 20 months sober, after five years of methamphetamine addiction that littered his life with missed opportunities, scarred relationships and violated trust.
His mission now, he told The Southern, is to pick up the pieces.
Only a few months out of prison and a rehabilitative halfway house, he is reminded constantly that sobriety takes effort.
The same energy he once put into plotting robberies, scoring drugs and maintaining a network of enablers, he must now put into staying sober, and building trust with his family.
But he is ready for that work.
Hewlett, 28, grew up poor, one of four siblings. His family moved around Southern Illinois constantly, including short stints in homeless shelters. He lost his twin brother, who was born severely disabled, at age 7.
"Josh is a people person, through and through. Ever since he was a toddler he never met a stranger," remembers his mom, Kristen Howard. "There were times when I was working three jobs to make sure there was a roof over our heads, and I wasn't always able to give him the supervision he needed. But sometimes as a single mom you don't have a choice."
Hewlett first got drunk with his father, a man he didn't meet until he was 12. He continued to smoke weed and drink throughout high school with friends and family members.
At the same time, he excelled in sports. He was a three-sport athlete at Herrin and Johnston City high schools, captain of his wrestling team and an all-conference safety in football.
But he broke his wrist in 2008 at the beginning of his senior season, putting him out for 18 weeks.
"He was looking at the possibility of scholarships, and now all the sudden he was done," Howard said. "That was really hard on him, and I think his addiction started with the pain pills he was given for his wrist."
His passion taken from him, Hewlett dropped out of school, got a job at Wendy's and began training as an MMA fighter.
The training cleaned him up, and he excelled, going undefeated as an amateur, then fighting professionally in Israel, which aired on Pay-Per View in November of 2010.
He still remembers waking up in a glamorous hotel and working out on the beaches along the Mediterranean Sea.
But he put fighting aside upon his return to the states.
In March 2011, his first child was born, a son.
At 19 years old, he was overwhelmed.
"Finding out I had a son, instead of me wanting to better myself, it went the other way around," he said. "I started realizing what it takes to be a father and I couldn't handle it. I was one of those guys who didn't come around. I wasn't grown up yet."
He started partying and took up with a new woman.
When that relationship failed, he turned to drugs, beginning with MDMA and ecstasy, and then meth.
After a month of snorting, he was shooting up.
"Once I found methamphetamine, it was kind of over with," he said. "I was in such a daze, my feet were walking and my head wasn't directing them where to go."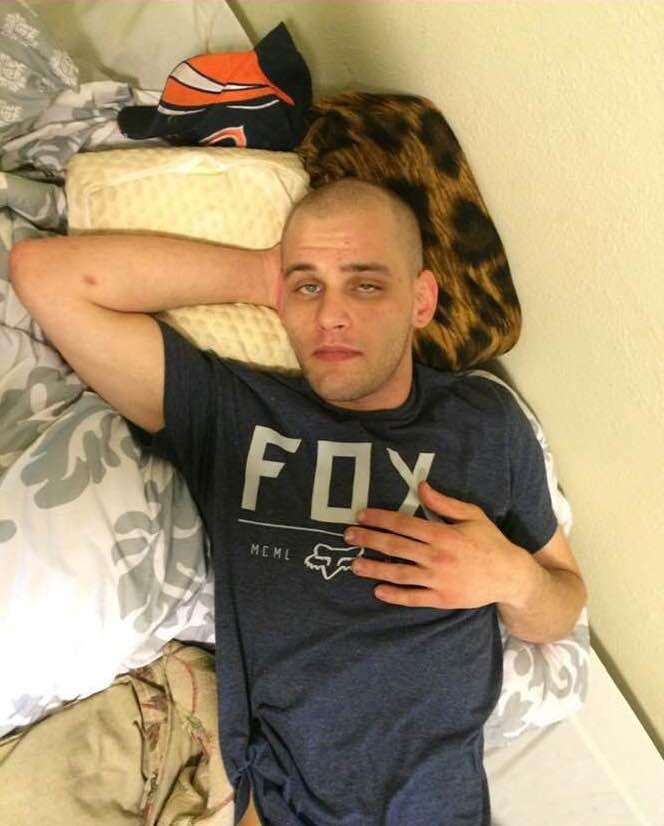 Gradually, Howard said, she began to see her son less and less.
"It went from me hearing from him at least once a week, to him disappearing, to hearing stories, to seeing him one day and it just broke my heart," she said. "I did not know who my own child was."
To sustain his drug use and compulsive gambling, Hewlett turned to crime.
"If I would go into a place that had slot machines, I would leave broke, and the thoughts in my head would go to finding money somewhere," he said.
That meant robbing people, hurting people and ripping off other users and dealers.
"That stuff wasn't me," he said.
Looking back, Hewlett describes his mentality with a dark joke he used to use.
"I used to say that one out of every four houses was a meth cook and three out of every four houses was a police officer," he said.
He was gripped by constant, drug-induced paranoia, and tempted by the constant availability of drugs in Southern Illinois.
"I know in a second that I could get it now," he said. "It's incredibly easy. It's ridiculous."
Meth's availability in Southern Illinois has grown significantly over the last decade, said Doug Dorley, an agent with the DEA's St. Louis division, in a 2017 interview with the Belleville News-Democrat.
Its use has escalated more still in the last year, Gateway Foundation of Carbondale Executive Director A'nna Jurich told radio station KMOX, as stiff controls on opioids push users toward other drugs.
In 2015, Hewlett fled Southern Illinois to escape an arrest warrant.
"I took 12 numbers out of my phone, threw it into a lake, stole a car and headed for West Virginia," to meet up with a girl he knew, he told The Southern.
That turned into a three-month binge. He sold the stolen car, a nearly new Camaro, to a drug dealer, for $500 and two eight balls of meth.
He was arrested two weeks after returning to Southern Illinois, when police found him passed out in a stolen truck in Lake of Egypt, he said. He weighed 130 pounds, 25 below his old fighting weight and at least 40 pounds below where he's now comfortable.
You have free articles remaining.
Keep reading for FREE!
Enjoy more articles by signing up or logging in. No credit card required.
When he was released from county jail seven months later, Howard sought to keep him close, bringing him along on work trips as a traveling nurse. But again, she lost her son to drugs and street life.
"An addict is never going to get help unless they're ready," she said. "My spirit was dying watching my children die and knowing there was nothing I could do to stop it."
But things changed when Hewlett was convicted of a felony burglary in 2017. Rather than fight his case, he quickly accepted a plea deal including mandatory prison time.
"I wanted to go to prison," he said, "I was ready to get out."
On Oct. 3, 2017, he entered the Southwestern Illinois Correctional Center, in East St. Louis, where he would spend 14 months getting clean.
"Prison saved my life," he said.
He endured a month of torturous physical withdrawal: overwhelming fatigue, soreness, and depression.
"I was constantly hungry, but I had almost forgotten how to eat," he remembers. "I would bite my tongue several times during each meal."
Then, he built a routine for himself, which has carried over to life on the outside.
He began each day with meditation and exercise. He went to school for three hours a day, and attended group counseling at night. He read books on mindfulness, healthy socialization and self-love.
Now, when Hewlett sees photos of himself from before, starved, hollow-eyed and shifty, he sees a different person.
"Back then, I felt like I didn't care if I was living or dying," he said.
In the few months since Hewlett's release, he has continued his momentum.
He has a steady job as a server at O'Charley's in Marion, and a house in Johnston City where his three children can visit him. He has cured the Hepatitis C he contracted from IV use. Next week, he will graduate with his GED, and plans to pursue social work or counseling in college.
In rehab, Hewlett grasped the intense discipline it takes to live as a recovering addict.
One key lesson, he said: "Put sobriety over everything. Over family, over friends, over your job, over everything."
That commitment has been tested frequently since he got out. By the old acquaintances he must block from his phone when they text him to see if he's looking for drugs. By the emotional strain of romantic struggles.
By the cleaning job he felt forced to quit after just a month at a hotel where signs of drug use were everywhere.
"When I would run into an empty baggie or an IV, I would do the right thing: walk out and grab somebody else to clean the room," he said. "But the big issue was me walking down those hallways, and those people just being on the other side of the door. It was me knowing that all it would take is a knock and they would let me right in. That just got to be too much."
He doesn't know if the desire to use will ever go away.
But slowly, it is getting easier to deny.
That's largely thanks to his support system.
Whenever Hewlett feels without purpose or worth, he calls a loved one to put him back on an even keel.
"A lot of people, they have a family that does drugs. Every single person they know does drugs," he said. "For me it's different. I have my mom, my dad, my grandparents. I'm so grateful for that. My mom has been with me through everything."
Hewlett is the second of Howard's children to emerge from a struggle with addiction. She considers it a miracle, even as she can feel their ongoing battles to stay sober.
"With the failed attempts before at sobriety, it was very hard for me to trust Josh. But seeing the physical and mental changes in him, I don't just trust him, I have trust in him," she said. "Every step he takes, I am gladly right there with him because I believe without a shadow of a doubt that this is my new son."
After years of living with the expectation that she would soon bury her son, Howard has hope.
"I see a brighter future for myself and everyone involved," she said. "Sometimes I have to pinch myself."
But, some things will take much more time and work to set right.
Hewlett sees each of his three children only once or twice a week. One spent time in foster care, but is now back with her mother.
"It's scary to think that my son is almost used to me not being around," Hewlett said. "When I used to come around, the look that he would give me ..."
It takes Hewlett's words away and brings tears to his eyes.
Even now, as he becomes a consistent presence in his son's life, attending baseball games, he can still feel a distance between them, and hears the reserve in the boy's voice when they talk on the phone.
He sees his youngest daughter on Mondays and on Thursdays too, when his middle daughter, comes to visit.
"Right now, my children are all happy, and that's what's most important," he said. "But of course I would love to have them with me more."
He doesn't know how he'll get there, he said. But he knows he will try.
"With a lot of hard work you can fix almost anything. It might take a long time and a lot of effort but it can happen," Hewlett said. "I've still got a long way to go. The only thing I can do is try. Giving up is just not an option for me. I've worked too hard."
Since leaving prison, his morning routine has a new component. Immediately upon waking, he texts his loved ones good morning: His mom, his dad, the mothers of his children.
It reminds him of the support system he has behind him.
And it reminds them that he isn't giving up.
A previous version of this article falsely stated that one of Hewlett's children remains in foster care, and inaccurately described why. It was also inaccurate about the frequency of Hewlett's visits with his children. The Southern deeply regrets these errors.