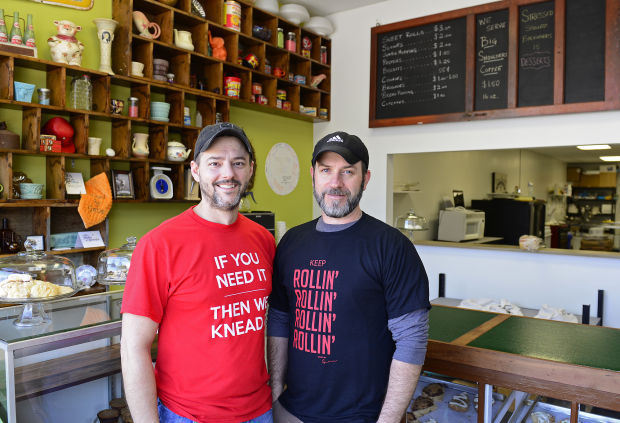 DU QUOIN -- A year-old bakery will be the first business to benefit from a more than 25-year-old ordinance that allows commercial buildings to be purchased for not more than $100. Baked by Gene owners Scott Latta and Gene Krone will purchase the building next to their current location at 22 N. Division St. for $100.
Du Quoin Mayor Rex Duncan said the law that allows the sale is part of the city's enterprise zone ordinance that dates back to 1989.
"It's kind of a neat way to get some of these old store buildings back into productive use," Duncan said.
Duncan said the current owner of a commercial building who wants to be relieved of it can deed the building to city. If there is an interested party for that building, the city will transfer the deed to the designated zone organization, which is Du Quoin Community Development Corporation, a 501(c)3 charity, Du Quoin Community Development Corporation. They enter into a contract for deed with the business, in this case Baked by Gene. The lower floor must be developed for commercial purposes.
Baked by Gene will work with city to make sure the building meets code.
After a year, the deed will be transferred to the new owners for an amount not to exceed $100 through the contract for deed.
"Rather than have the challenge of having to buy the property, the receiving business can invest in improvements in the property," Duncan said. "I'd rather sell it for $100 than sit and watch another building fall."
Latta said they want to develop a bistro-style restaurant, serving coffee, tea and sandwiches. Right now, the building is in pretty rough shape, Latta said. He joked that they will have to evict the building's current residents, about 20 birds who roost there. It also needs a new staircase and roof. 
Krone and Latta have experience with this kind of project. Their bakery's current location is the former Purcell Plumbing and Electric building. The shop is decorated with shelves once used to house pipe fittings. 
"Everything is reclaimed and repurposed," Latta said. "It's been a lot of work, but we've really enjoyed it." 
Baked by Gene started selling baked goods in Du Quoin on Jan. 20, 2014, while the current building was under construction. They used a commercial kitchen down the street from their building for baking and sold goods on the street. The grand opening of the bakery was Labor Day weekend.
Today, Krone and Latta offer artisan breads, cinnamon rolls, scones, cookies and cakes. They make a limited number of sandwiches each Friday, and they must be ordered in advance for pickup at noon Friday.
"We do everything from scratch," Latta said. "We both have a passion for cooking and baking."
Baked by Gene also supplies all the sourdough bread for the St. Nicholas Brewery and has had inquiries from a couple other restaurants.
"I want to grow naturally and slowly and not fail like other businesses," Latta said.
The "shopsteading" program will allow Baked by Gene to grow a little more.
"We hope we're riding the crest of a wave of revitalization of this town," Latta said. 
Get local news delivered to your inbox!
Subscribe to our Daily Headlines newsletter.