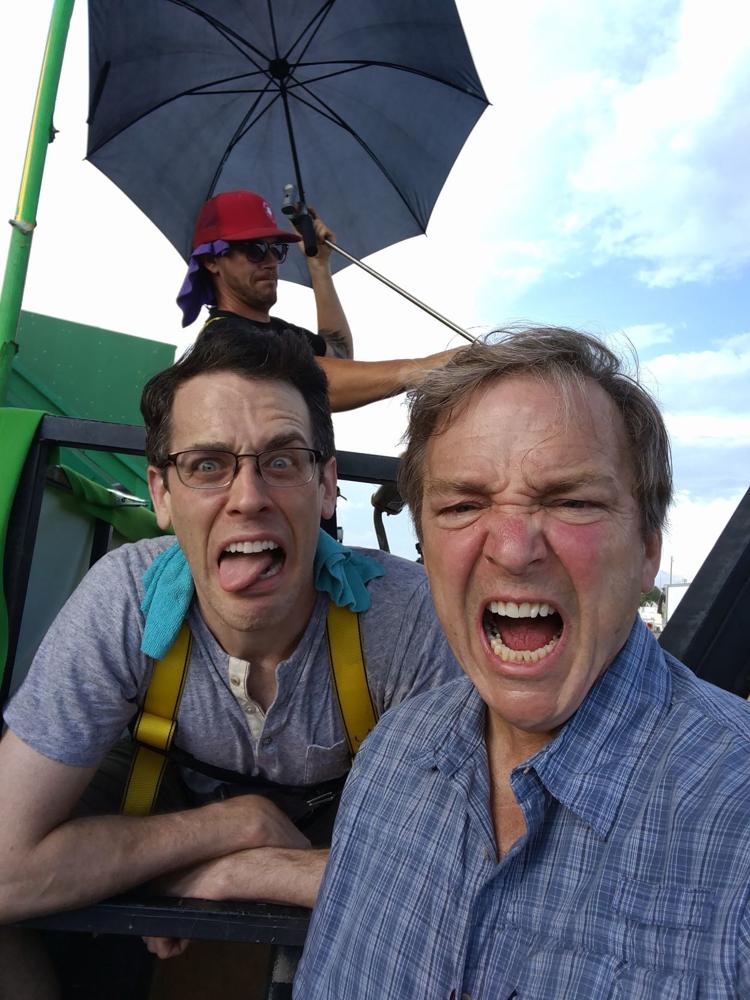 "It doesn't get any better than this."
That is a comment used several times by former Southern Illinois University student Brian Colin, the man who created arcade game "Rampage," which has now been turned into a blockbuster movie starting Dwayne "The Rock" Johnson.
It was a video game that was almost never made, but it launched into one of most popular arcade games of its time. His role in the game's development landed Colin a role as an extra in the film, an invite to the movie's premiere, and a chance to socialize with movie stars at a private party.
"It doesn't get any better than that," Colin said.
In 1986, Colin was working for Bally/Midway in Franklin Park when he came up with the concept of "Rampage" and its background animation. He said he and others figured out a way to design the game, but were still turned away by management. Colin said he went to upper management and they liked the concept, but he was told no because they didn't want the main character as a bad guy, or fighting the police and army.
Even though the idea was not on management's radar, Colin continued to work on the game with co-designer Jeff Nauman. He said within weeks of working on the game, all of the old management team was replaced with one guy from outside of the video game industry.
Colin and Nauman pitched the idea to the new boss, and "Rampage" was green-lit.
"If I have given up at any point, it wouldn't have happened," he said. "There was no way I was going to give up on this."
The characters in "Rampage" are not bad guys, Colin says, but victims. George took a bad experimental drug that turned him into a giant gorilla, Lizzie swam in a polluted lake and was transformed into a giant lizard and Ralph ate a bad hot dog and became a giant wolf.
However, once the turn is over in the video game, the creatures turn back into their human forms and scurry off the screen, naked and in shame.
"I wanted to make a game where the player never actually died," he said. 
The game starts in Peoria, with the object to cause as much destruction as possible. Carbondale is even a featured level after the characters make their way around the world.
Colin said he had to put parts of Southern Illinois, especially Carbondale, in the game because of his time at SIU.
"It was a big part of my life," he said. "Coming from Chicago and coming down there and discovering the Shawnee National Forest, it was a beautiful place."
While enrolled at SIU, he majored in film production and created the animated film "In Search of a Plot," which won several international awards, he said. 
"Rampage" isn't the only shout-out to Southern Illinois in a Brian Colin video game. In "Arctic Stud Poker Run," Colin has an entire level based in Makanda. He also mentions WIDB Radio, the student-run radio station at SIU, in several games, with the most notable being "Arch Rivals," a basketball game where the players are encouraged to foul one another.
Colin said he has also created a winery modeled after Blue Sky in a game.
More than 30 years later, Colin said he received an email from the Chicago casting office for the "Rampage" movie, which invited him to be an extra because of his involvement with the video game. He said he accepted and was one of several terrified residents running through the streets. However, his scene was left on the cutting room floor after additional editing was needed.
He said he was hoping for a director's cut DVD extra where he can see himself on camera.
A few months after his film debut, Colin got a call from "Rampage" producer John Rickard. He said he got an invite to the last week of shooting, where he got to meet Johnson, Naomie Harris, and Jason Liles, who plays George in the film.
Later on, Colin said he got another call from Rickard, which came with an invite to the movie premiere, where he was called out by one of the actors as the creator of the video game. As he was being flooded by fans, he said he was thinking, "it doesn't get any better than this."
Colin said after the premiere, he received an invite to an exclusive after-party with all the stars and those working on the movie. He said the hardest part of the whole experience was trying not to "geek out completely," and making small talk with celebrities.
"Unforgettable," he said about the entire experience.
Colin said he liked how the movie turned out and kept the humanity of the character, which was a bonus to him. He said there are a number of Easter eggs in the film that throw back to the video game.
Colin is still making video games. In the early '90s, he was part of forming the company Game Refuge. He said the company is in the process of finishing "General Chaos 2," a sequel to a popular 1994 Sega Genesis video game.