MURPHYSBORO — For Southern Illinois' river communities, it's all-hands-on-deck.
And, that goes for prisoners, too.
Inmates from correctional facilities across the state have helped keep waters from swollen rivers at bay.
A lot of this aid has come in the form of sandbagging. Inmates from Shawnee Correctional Center in Vienna and the Murphysboro Life Skills Re-Entry Center have worked for days, filling thousands of sandbags to be trucked to communities in need.
In Murphysboro, men have worked in steady shifts since Monday to fill bags with rain being the only thing standing in their way. Assistant Warden Anita Ramsey said the shifts have started at 7 a.m. and go until about 8:30 or 9 p.m. As of Friday, she said they had filled 17,600 bags.
Outside the facility, more than two dozen men worked assembly lines shoveling, portioning and tying off sandbags.
"Ten!" men shout for the tally takers as they toss bags into ever-growing heaps around them.
The radio played "Uptown Funk" and a group sang along.
When a reporter for The Southern arrived, men came from all sides, each wanting their name associated with a good deed.
"We want our contribution to any community to be more than our crimes," Joseph Mapp said, taking a break with a cup of blue Gatorade. He said society has the wrong impression of people who are incarcerated. When discussing whether or not he and his fellow workers should be called offenders or inmates he offered another word.
Mapp said many, especially at the minimum-security re-entry center, spend a lot of time thinking about how to give back.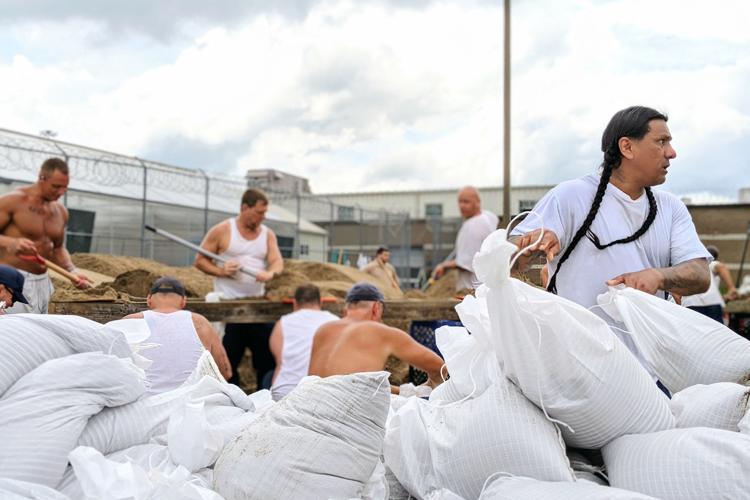 "We always sit back and wonder how we can contribute," Mapp said.
"With the crimes I committed, I'm just happy to (have the opportunity) to give back," Al Pacino said.
Murphysboro isn't the only facility helping out. A 60-man crew at Shawnee Correctional Facility has worked similar hours since May 29 to fill bags, according to an email from Mark Shumake, assistant chief engineer at the prison.
You have free articles remaining.
The sentiment and spirit at Shawnee is similar to Murphysboro.
"These staff and inmate workers have worked tirelessly for 14 hours a day without complaint and are willing continue this work until the need is over," Shumake wrote.
The willingness to do the work comes down to principles.
"It is the right thing to do and gives all involved a chance to give back and know they are helping those in need," Shumake said in his email.
Kevin Savage's daughter wants to be a cop, a career he said he would be proud of even despite his current incarceration. He said that by filling sand bags that might help someone save their home or town he hopes to impress something on his daughter.
"Dad can do nice things just like police officers do," he said.
Standing at the perimeter, watching the men work alongside correctional officers, Ramsey was proud.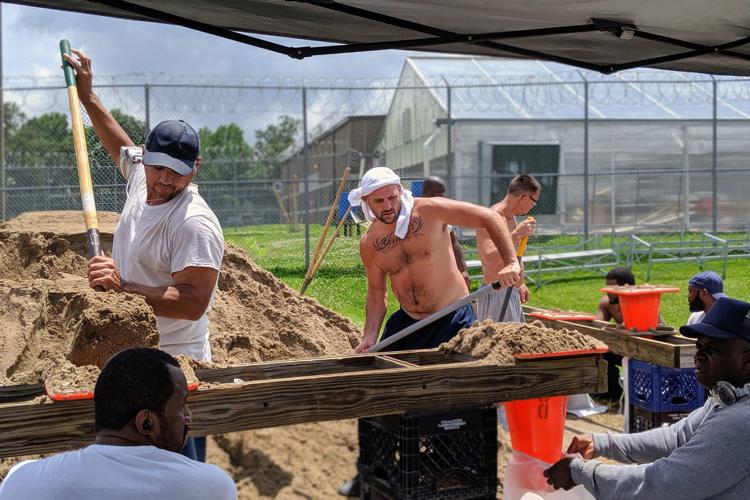 "These guys have really out-performed what I expected," she said.
Ramsey was also very defensive of the men she houses. She resented those on the outside who believe and complain that inmates are all talk and will just say anything to get sympathy.
"These are actual people helping people out in the community," she said. Because of the nature of the facility, no one with more than three years left on their sentence is housed there, she said no one there was earning "good time' or an early out.
The long and short of it, she said, was that these men had a genuine want to help.
"They didn't ask you guys to come here," she said referring to The Southern's presence.
"They've even asked to sign the bags," Ramsey said — she thought it would be really cool to see a bank of bags all filled and signed by IDOC offenders.
Ramsey said rehabilitating the men comes down to treating them as people and talking to them every day and showing them "hard work pays off."
Between filling bags, Mark Barber said this will not be the last time many of these men give of themselves.
"This is a preview of what's to come" he said.