CAIRO – After touring the Elmwood and McBride public housing properties that federal housing officials have been helping residents relocate from since April, Gov. Bruce Rauner said it was "very, very sad to see the condition of those apartments."
"Very sad," he said. "No one should ever live in those conditions. It's frankly outrageous."
Saturday's visit by the governor marked his first trip to Cairo since Housing and Urban Development officials, during an April 10 meeting, told residents of Cairo's family public housing complexes that they would have to relocate because the buildings are no longer safe.
During his visit, Rauner announced that members of his administration, working across various departments, have planned a jobs and resources fair for January. The event will take place from 11 a.m. to 4 p.m. on Jan. 10 at Mighty Rivers Regional Worship Center.
Rauner said that at the event, which will be open to all local citizens, state officials will be on hand to discuss employment opportunities in Pulaski and Alexander counties. The goal is to help match people looking for work with the businesses looking to hire, he said. If additional training is needed to fill available positions, Rauner said staff will work with residents to connect them to job-training resources in the region.
Rauner started his deep Southern Illinois tour on Saturday in Mound City, where he participated in a Wreaths Across America Day ceremony at the Mound City National Cemetery. Afterward, he briefly toured the McBride and Elmwood complexes and stopped by Shemwell's Barbecue, Cairo's locally famed eatery, where he chatted with residents and ordered a lunch to go.
Terri Childs, a longtime resident of McBride, said she spoke briefly with the governor and he wished her a Merry Christmas and mentioned the job fair. Childs said she told him that she hopes he can help partner with HUD to bring more housing to Cairo. She questioned whether he was just there for a photo opportunity, but said she hopes it becomes more than that for Rauner.
"He told me they were going to do a job fair," Childs said. "I told him, 'I have a job. I've had mine for 23 years." Childs is a teacher's aide at Cairo Unit District 1. She has her eyes on a house in Cairo that she wants to buy. Childs said she will find out in the next few weeks if the bank will approve her loan.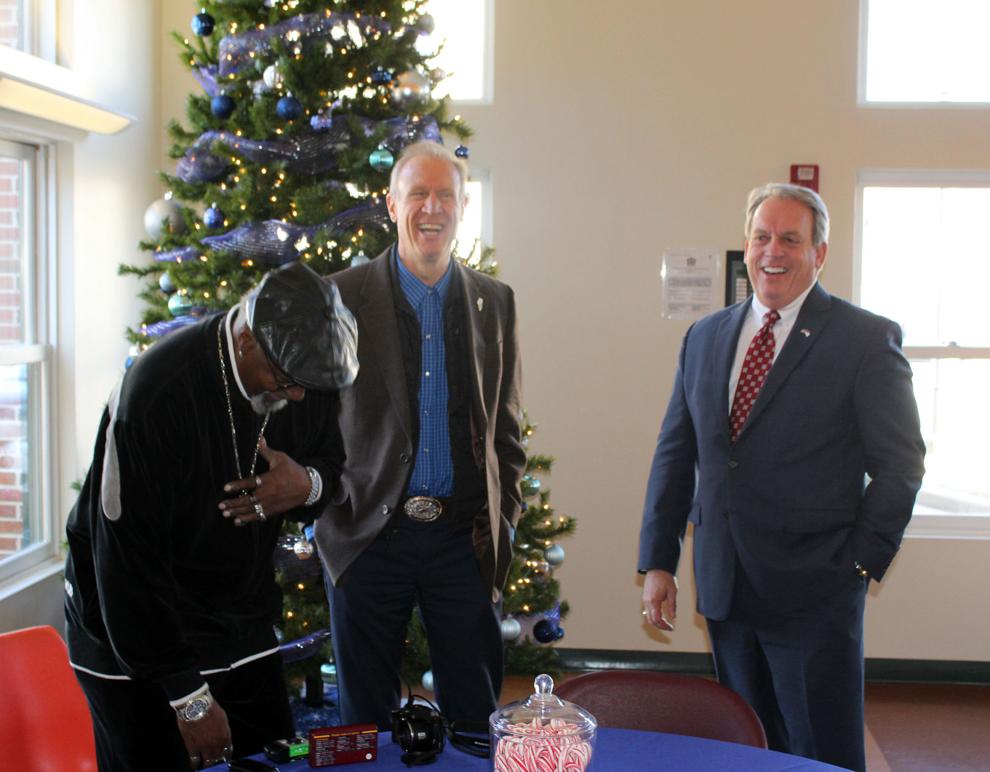 Rauner closed out his day in Cairo with a tour of Little Egypt Estates, a 10-unit apartment complex owned and managed by Marion-based Shawnee Enterprises Inc., and a conversation with one of its owners, Jim Covey.
Before leaving town, he also sat down for an interview with The Southern Illinoisan.
Rauner did not offer any concrete plans to address the dire economic conditions facing the city, or dearth of affordable housing. He discussed the pro-business agenda he's been pushing since taking office, such as workers' compensation and property tax reform, and regulatory relief for businesses.
The governor said Illinois has not been competitive for decades, and that because of the bad business climate, Indiana is siphoning off jobs that belong in Illinois. But Rauner's aggressive approach to pushing his so-called Turnaround Agenda right out the gate in early 2015 led to an epic showdown in Springfield with House Speaker Michael Madigan, D-Chicago.
The standoff resulted in a budget stalemate that went on for more than two years, ending, at least temporarily, with a budget deal in July. In the meantime, the fragile economy of Southern Illinois was hammered by the lack of a budget deal, which hit particularly hard at some of the region's primary employers, including Southern Illinois University and medical providers. 
The governor, in his reelection bid, is facing a primary opponent in state Rep. Jeanne Ives next year. Most Illinoisans are anticipating a spirited 2018 general election, as well, as the two leading candidates from their respective parties, Rauner on the Republican side, and J.B. Pritzker on the Democratic ticket, are both personally wealthy. What's been dubbed the anticipated "Battle of the Billionaires" is predicted to be the costliest gubernatorial race in U.S. history.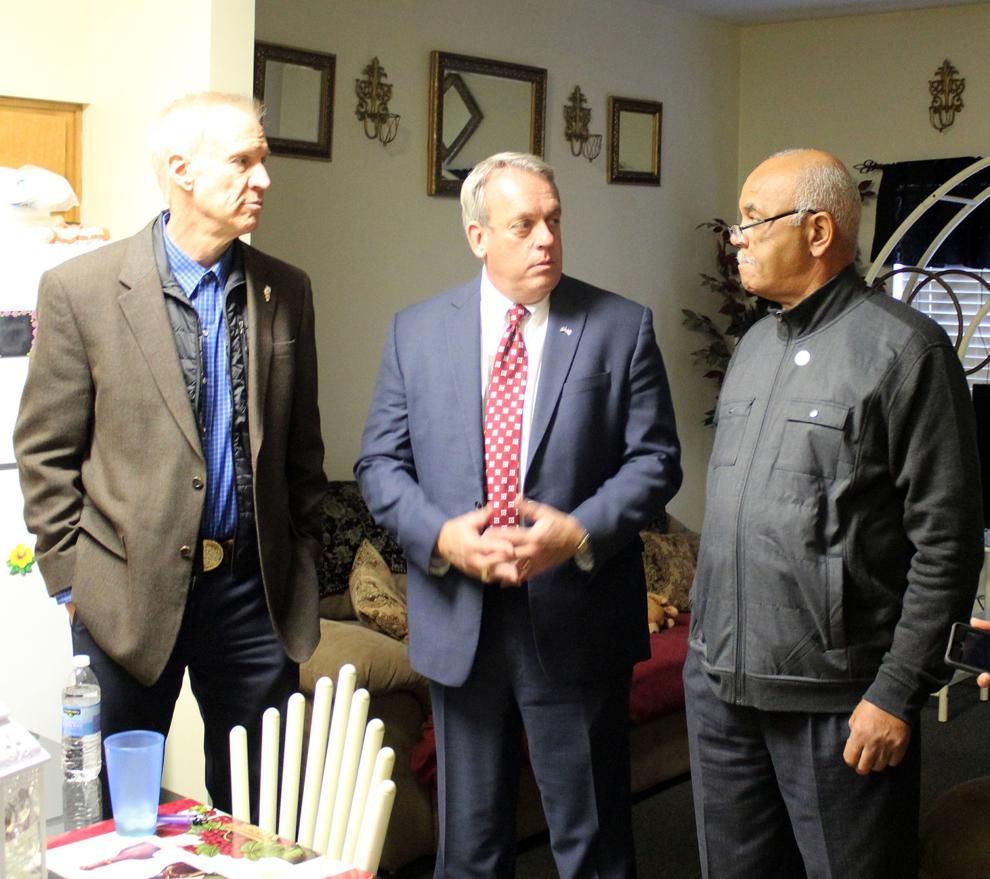 Rauner said his staff at the Illinois Housing Development Authority conducted an assessment of available affordable housing in Cairo after HUD's April 10 announcement that it would begin relocating residents from Elmwood and McBride. He said the survey found that there are not many available homes that would meet the requirements of HUD's voucher program. The governor's downstate aide said one local entrepreneur is currently working with IHDA in an attempt to make a few more units available in Cairo.
Rauner also said he was encouraged to hear that the owners of Little Egypt Estates always have their eyes open for additional potential projects that might add to the availability of homes where people could utilize their vouchers within the city. Rauner said he was impressed by the work of Marion-based Shawnee Enterprises, which is the largest private provider of affordable housing in Cairo, and also owns developments elsewhere in the region. Rauner noted that he signed a five-year extension of the Illinois affordable housing tax credit program, in 2016, and is encouraging his staff to work closely with any local entrepreneurs.
Beyond housing, Rauner said solutions have to focus more on improving the economic standing of not only Cairo, but the greater Southern Illinois region as well.
"The real answer is more economic growth, more economic opportunity. If we don't have that, we will never have the investment, and we're going to have so much need for people who are in poverty, we'll never catch up. That's the answer," Rauner said. "And the reality is that Illinois has not been competitive in our economy for decades. That's the genesis of all of this problem. That's exactly what our administration is working to change every day."
State Sen. Dale Fowler, R-Harrisburg, who accompanied the governor on Saturday along with Cairo Mayor Tyrone Coleman, said efforts are moving along to bring a river port operation to Cairo. Fowler said he's been encouraged by the momentum. "We're inching forward," he said.
Fowler said he recently met with SIU Carbondale Chancellor Carlo Montemagno, and the university has agreed to help with putting together a business and marketing plan for the planned port.
People have talked about building an inland river terminal in Cairo for years and years, a fact Rauner noted. But Rauner said he sees the potential, and is interested in the project. Asked if he intended for the state to pony up financial resources for the port, Rauner said that a team of people are meeting about the project, but no decisions have been made to date.
"It's been a long grind," the governor said. "But persistence is the key."
618-351-5079
On Twitter: @MollyParkerSI ​