CAIRO — Loretta Collier walked through her front door at McBride Place on Tuesday evening and headed toward her little Christmas tree that she bought on sale at the Dollar General.
It's a humble little tree, standing only about a foot tall. Collier explained that she has a bigger tree, but that it overcrowded the living room. This one feels just right, she said, as she plugged it in and the multicolored lights sprang to life. It cast a warm glow onto the nearby curio cabinet full of collectible angels and old family pictures that belonged to her mother.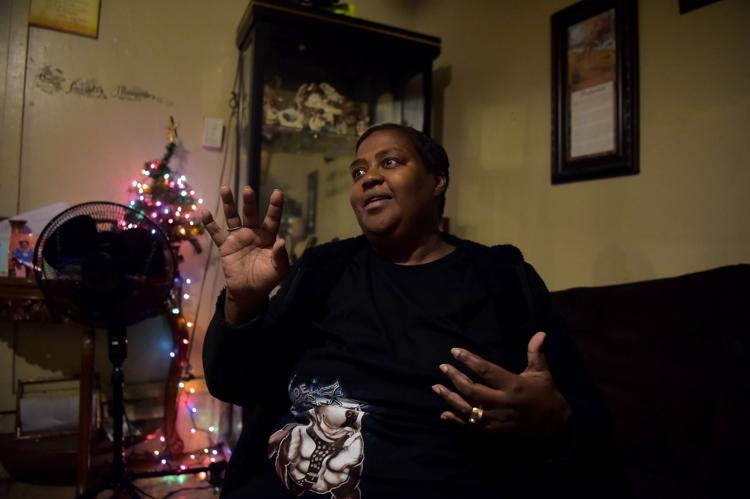 "It's pretty when you light it up," Collier said, and then she began to tell stories about how much her mother, Norma Jean Childs, loved Christmas and collectible angels. "This is my mother's cabinet. I didn't take nothing out of it," she said.
At one point, there were probably close to 150 miniature angles throughout the apartment, Collier explained, laughing a little at the thought of all those angels — in the living room, the kitchen, even the bathroom.
Her mother died in 2010, and Collier said she likes to think the angels she held on to in her mom's cabinet keep watch over the family. She pointed to a framed picture of her mom, and encouraged a closer look. "Everybody says we resemble each other. What do you think?" she said, with a warm smile on her face.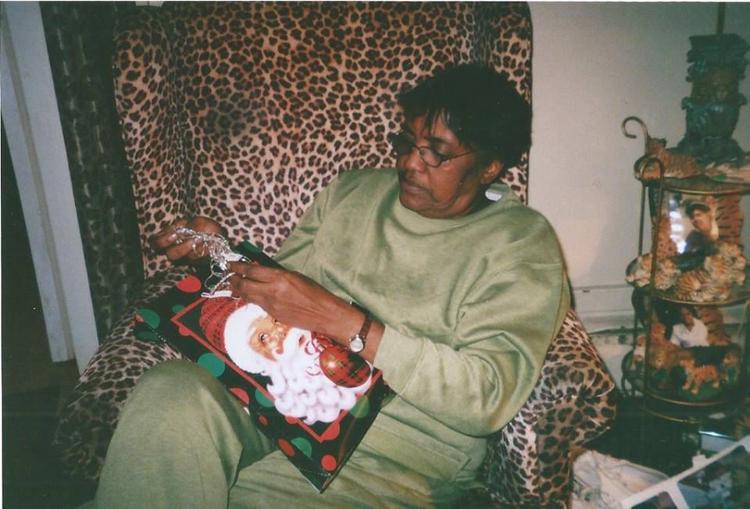 It was nearly a half a century ago when Norma Jean moved Collier and her brothers and sisters — there were 10 of them in total — into Apartment No. 622 at McBride — a number just about everyone in the family knows by heart to this day. Collier, who is 53, said she was just 6 years old when the family moved from their home on 33rd Street in Cairo because they needed more space.
At the time of her mom's passing, Collier and her children had been living in a different apartment at the McBride complex. Because she didn't think it would feel right for another family to live here, Collier asked if she could move into her mom's place, where she was raised. 
As a child, and then as an adult raising children of her own, Collier has spent countless Christmases inside No. 622, though this will likely be her last.
By sometime next year, if all goes as planned, federal housing officials will have assisted all residents of McBride, and nearby Elmwood, in relocating to other places.
The 75-year-old complexes are no longer considered safe, and Housing and Urban Development officials have said it's too costly to renovate them. They also do not plan to build new public housing in Cairo, so some families have been moving to other nearby communities.
CAIRO — A gathering of Cairo residents erupted in anger Monday night as federal housing officials informed them that close to 200 families res…
At first, Collier was upset about having to relocate. She has grieved, but since that time, her sadness and anger have given way to acceptance. As she was preparing this week for a final Christmas here, Collier said she was feeling "high on life" after getting a clean bill of health following a recent stroke that left her in the hospital for four days, and a new van to replace one that she said was recently shot up.
What's important, she said, is that everyone in the family stays in touch with one another — that's what their mother would have wanted most. 
"I just think like this. As long as we are all together, we'll be all right. We'll get over not being here," she said. Collier said she will take the memories with her wherever she goes.
Counting blessings 
Every Christmas, Collier said, her mom made sure that they celebrated the holiday together with gifts and plenty of good food. Pointing to the kitchen, Collier said she could still picture her mom standing over the stove cooking, and the smell of warm food wafting throughout the apartment.
"We'd have chitlins, a big ham, a big turkey. Right in this apartment, and all 10 of us was here for Christmas," Collier said.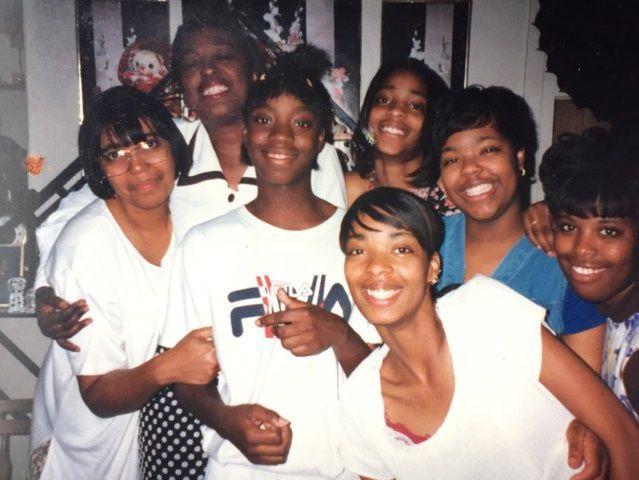 "They said we was poor, but we didn't know it because we always had stuff for Christmas. Easter, too, we'd have big pretty dresses like everybody else," Collier said. "We didn't know that we was poor until we growed up and people said we was.
"We had everything that everybody else had. And the most important thing of all was we had love."
Collier's oldest daughter, Anedra Collier, lives in the same complex with children of her own, as does her sister Terri Childs and her children. One of their brothers, Jeff Childs, works for the housing authority, and a sister, Lisa Thomas Childs, is the principal at Cairo Junior/Senior High School. They have other family members near and far, and all of them have remained close to one another over the years.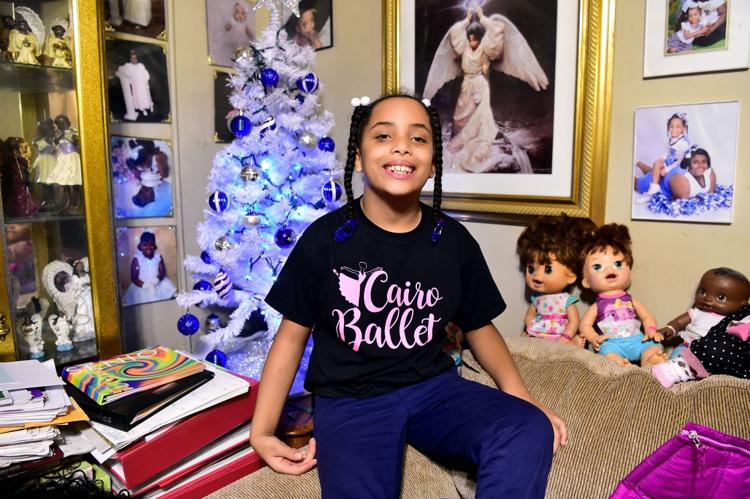 On Tuesday evening, Lisa, Loretta, Terri and several other family members gathered at Terri's apartment to put the finishing touches on gift bags for the children to give their teachers on Wednesday, which was the last day of school before the holiday break. They crowded into the living room, laughing and telling old stories and listening to the children talk.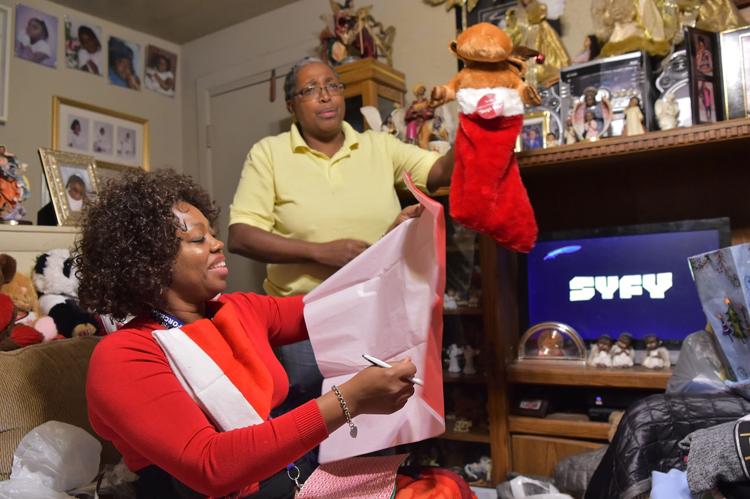 The little things 
Terri Childs, who also lives at McBride, said she felt blessed to have a full house and everyone still nearby, even though she had recently come down with something and wasn't feeling well that particular day. She showed off her white Christmas tree decorated with sparkling bright blue ornaments. She laughed with delight while pushing a button on the bear hanging on her door, causing it to play "Jingle Bells."
The children love it, she said. Childs said that for her, it's the little things that bring a smile, and most of all being with her family, that make Christmas special. Childs' home also is decorated with several of the angels that belonged to their mother.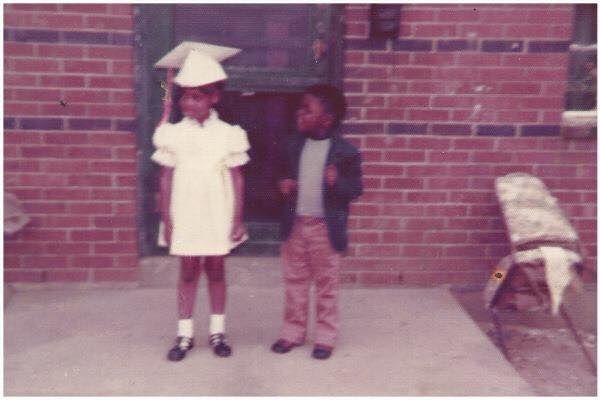 Lisa Childs Thomas, who also was raised at No. 622 at McBride, though doesn't live at the complex now, said their mother was full of love for her children and grandchildren, and always wanted everyone to feel special and come together at the holidays.
"Christmas was always special to us. That's why it's my favorite holiday" said Thomas, who was a preschooler when her mom moved the family into the apartment where her sister Loretta Collier now lives. As the siblings grew older, Thomas said those who had moved away would try to make it home almost every year for Christmas, which delighted their mother.
Many memories 
"Momma would buy gifts for each of her children, and when all of her children became adults, she would buy gifts for each of her children's family, even though she was on a fixed income," she said. "If you were without children, we got personal gifts. I loved that." Being at McBride brings all those wonderful memories of their mom flooding back, she said.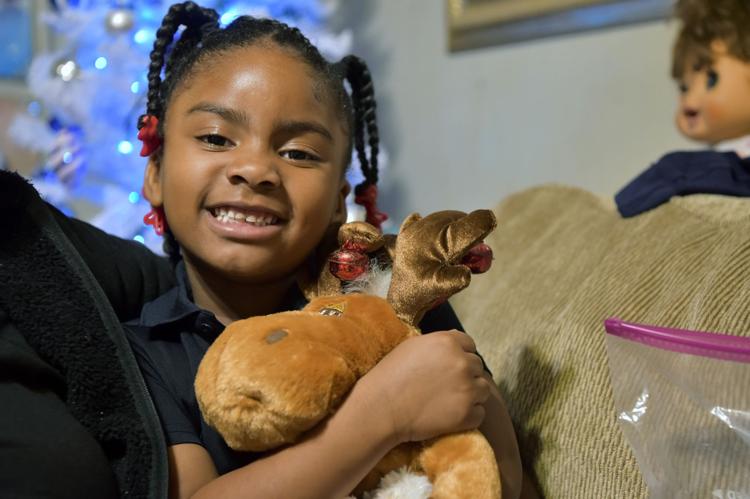 Thomas said it was hard to watch Housing and Urban Development officials board up the units at Elmwood that have been recently vacated. She said she's glad they have not started doing that at McBride in large numbers. HUD spokesman Jereon Brown said the units had to be boarded up at Elmwood because there were reports of people living illegally at the units and stealing things from empty apartments. It was done to protect the safety of the families who remain, he said.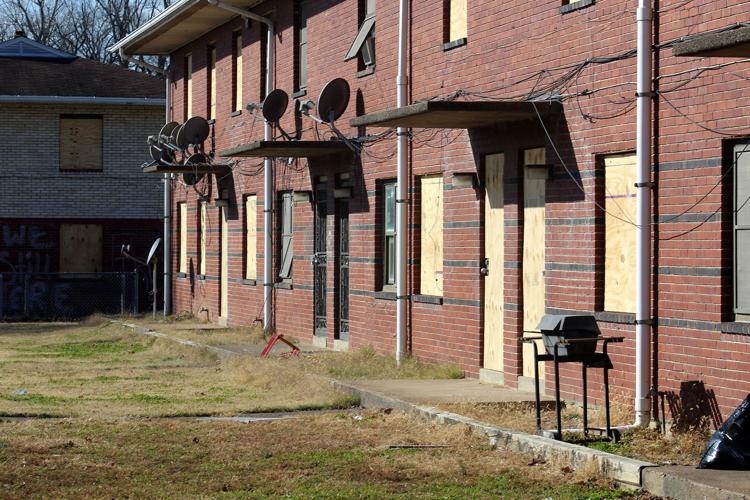 While a deadline has not been set for people to move, Brown said the agency's goal is to return the Alexander County Housing Authority back to local control by the end of 2018, after everyone has been relocated and the complexes secured. HUD has not made clear when the complexes will be demolished. 
Brown said federal officials understand that some families want to wait until the end of the school year in May 2018 before making a move, and that will be accommodated to the extent it is possible. So far, about half of the 185 families who were living at McBride and nearby Elmwood when HUD officials announced the relocation plan on April 10, already have moved.
Looking ahead 
Collier is hoping to stay at McBride until her 18-year-old daughter Aaliyah Collier graduates from Cairo High in the spring. Then, she said she's hoping to find a place that's close to her older daughter, Anedra Collier, once she gets settled in a new place. Anedra, who has eight children, said the main challenge to her relocation is that it's difficult to find a five-bedroom place within the price range she can afford with her rent voucher to accommodate her large family.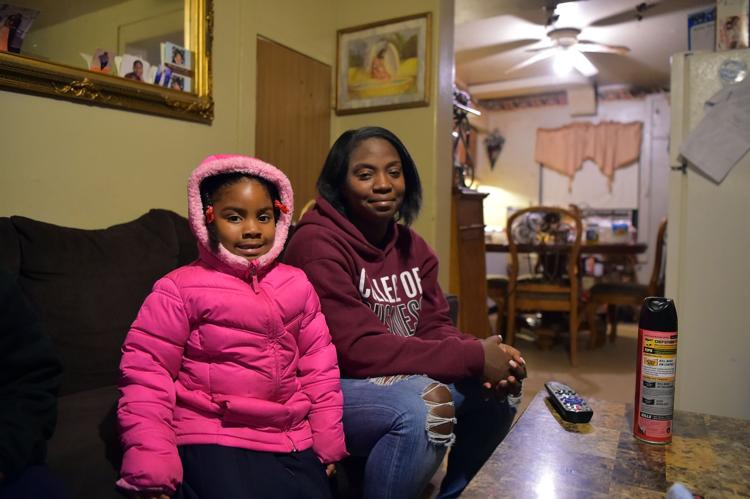 Anedra Collier, a 2002 graduate of Cairo High who served in Iraq after 9/11, said she wants to move to Williamson or Jackson counties so that she can be closer to Southern Illinois University Carbondale. She is scheduled to graduate in May with an undergraduate degree in finance, and then plans to continue on for a master's degree in the same subject. Between a newborn, starting a new job at the Dollar General store in Mounds, serving as a drill sergeant in the Army Reserves, and attending classes Monday through Thursday, Anedra also said she's had a hard time fitting house-hunting into her schedule.
But she's hoping for a breakthrough in early 2018.
Anedra Collier's McBride apartment is not far from her mom's, where she was hanging out on Tuesday evening with her children. Though she has been anxious to move, and hopes that her children will have access to more and better opportunities in Marion or Carbondale, she said it's still sad to think of spending a final Christmas in the apartment that was her grandmother's, and where her great-grandmother also lived for a period of time, as she has many happy memories here. 
"But bigger and better things are ahead," she said.