WASHINGTON – Before a Senate panel on Wednesday, U.S. Sen. Dick Durbin told Housing and Urban Development Secretary Ben Carson that the housing crisis in Cairo is "Exhibit A in mismanagement in Washington and locally."
"It is a disaster," said Durbin, D-Illinois, before a subcommittee hearing that was primarily about President Donald Trump's proposed budget for the federal housing and community development agency.
"It is," Carson responded, as Durbin continued his comments.
"Public housing built in the 1940s, neither of us would even consider staying a night, overnight, in this miserable, filthy, rat-infested, bug-infested, mold-infested, awful situation — none of us — and yet, our American citizens, people we represent, are living there," Durbin said.
"You made the right decision to get rid of these old housing units. But there's an obvious question in Cairo, Illinois: 'What's next?' And we need, I need, some assurances from you today, on the record, here in Washington D.C., that I can take home to Illinois. I need to make sure No. 1 that you have a vision of what you want these families to have when it's all over."
"After all the mismanagement — and it was not on your watch, it predated you — after all the mismanagement in Washington, and all of this mismanagement locally, what can we promise these residents once we tear down these miserable old housing units, what can we promise them today?"
Carson told Durbin he appreciated his "steadfastness in this" and said that HUD officials have examined "virtually every option that there is" for affordable housing options in the city but continue to come up short. 
"This, unfortunately, is a dying community," Carson said. "People don't have jobs there. There's really no support for public-private partnerships and you have a housing development that through years of neglect, has deteriorated into an unlivable atmosphere."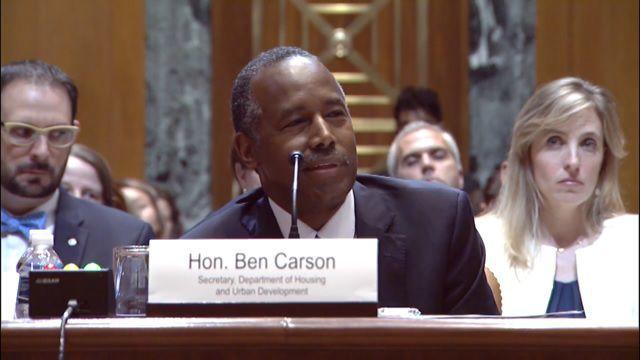 Carson said that HUD is providing vouchers for all of the affected residents to assist in their relocation. About 185 families call the Elmwood Place and McBride Place developments home. "They can move to any place they want in the country and be supported," he said. "And we have provided people to come and help them, to counsel them" in the moving process.
Cairo Councilwoman and Mayor Pro Tem Connie Williams said she finds it offensive that Carson, before a Senate panel, would call Cairo dying when he's never even taken the time to visit the city. "I would be more than happy to invite Secretary Carson to come to the thriving small town of Cairo," she said. "Since he has never been there, how can he say if it's dying or not. Where does he get his information from?"
Williams said the public housing situation facing Cairo is due to "fraud and neglect" and not something inherently wrong with the community of Cairo or its people. There are many successful people living in Cairo, as well as many who are from Cairo and return to visit family and friends, she said.
"It was negligent on HUD's part as well and they need to fix it instead of keep passing the buck. I'm totally offended by Secretary Carson's words because he's never even been to Cairo."
During the hearing, after Carson's comments on Cairo's plight, Durbin said he's heard from numerous people who want to move out of their dilapidated housing units but remain in the city. "That's been their home forever and ever," he said. "And you and I may look at it and say, 'Well that isn't a very promising community.' This is still home for many of these folks and they want to be near their families there."
Durbin said Cairo's future is hanging in the balance of what happens in the coming months related to the public housing crisis.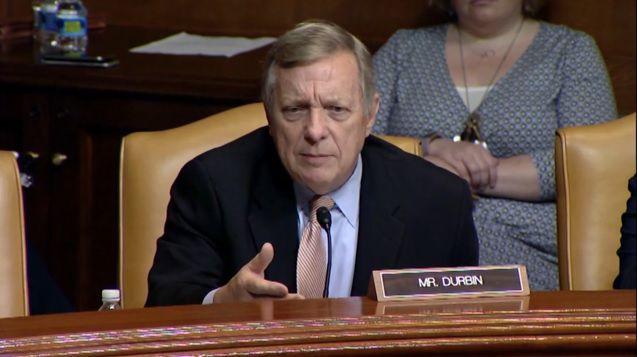 "You say it's a dying community. If we're not careful, HUD can kill this community and here's what I mean," Durbin said. "If we had all of the people in those two units leave Cairo, Illinois, it would cut the school enrollment in half. That would be the end of their school system. And it truly would be the end of this community."
To that, Carson responded: "Like I've said, as I continue to say, if someone can find a solution that is better than the one that we have, I'm all ears — completely." 
No substantive issues were resolved during the roughly five-minute back-and-forth between Carson and Durbin. Still, the conversation brings further national attention to the devastating living conditions that roughly 20 percent of Cairo's residents have endured for years with near silence, until only recently, from the political class.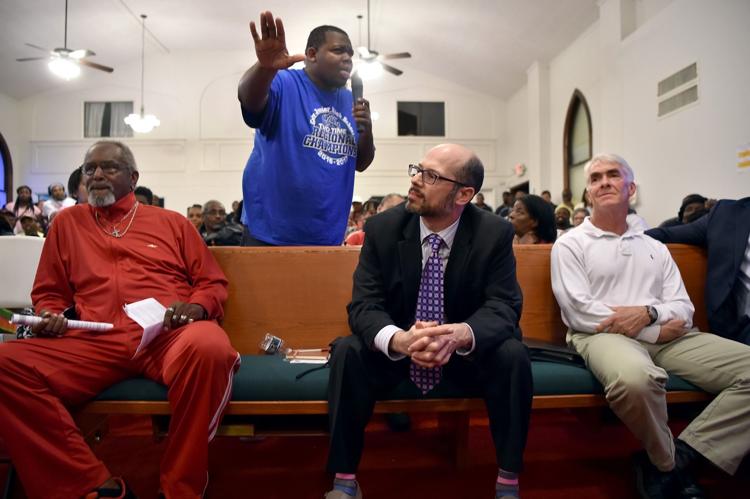 In part, that's because problems were outright ignored at times. And in more recent history, red flags raised by officials in HUD's Region V office in Chicago were buried in layers of bureaucracy up the chain in Washington, and substantive corrective action blocked by government inertia, the newspaper's extensive review of the situation has found, based on public records and conversations with numerous officials familiar with the situation.
During the hearing, Durbin further asked the HUD secretary, on the job since March, whether he was willing to commit to an internal review of HUD's actions from top to bottom to determine if there was wrongdoing concerning oversight of the ACHA, and make the findings public.
"We are already doing that across the country," Carson responded to Durbin, in a hearing of the Subcommittee on Transportation, Housing and Urban Development, and Related Agencies. A recording was posted to YouTube by Durbin's staff and shared with the newspaper, which was not in attendance at the hearing in Washington.
Though Carson did not directly address whether an internal HUD review of the situation would be made public, he told Durbin that the agency has examined the department's inspection process.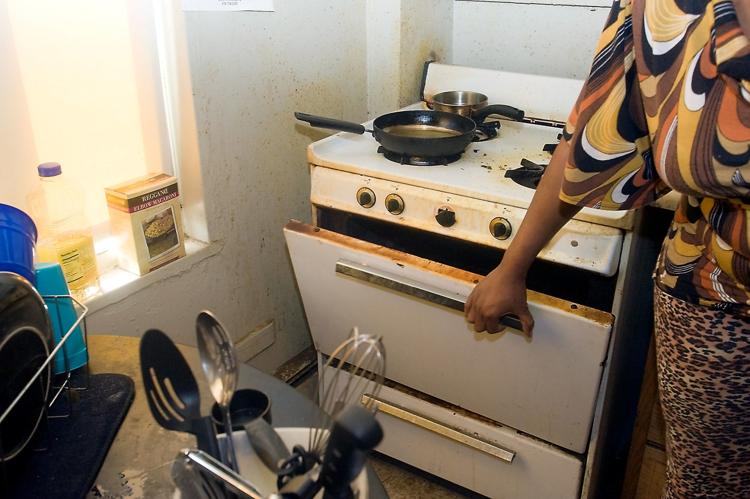 Carson said that, across the country, HUD has decertified 42 inspectors for falling below standards, is working with the existing inspectors and hiring more to improve the process. "This is something that is totally unacceptable to me and we're going to get it taken care of," he said.
Though HUD placed the ACHA into federal receivership on Feb. 22, 2016, the agency had knowledge of problems — both related to financial mismanagement and housing conditions — dating back to at least 2010. One of the major criticisms concerning the situation in Cairo is why HUD waited so long to take substantive corrective action, given the horrid conditions of the ACHA's units did not happen overnight.
The developments house predominately African-American families in one of America's poorest cities. In total, about 400 people live in the two developments slated for future demolition, about half of them children.
Durbin said his office is assisting in a survey of the 185 affected families to find out what they want to do, be it stay in Cairo or relocate to other areas. He also said his office is assisting in an effort to create an inventory of available affording housing in Cairo, and communicating with homeowners about whether they would be interested in renting under the voucher program, which subsidizes a qualified person's rent, with the tenant paying 30 percent of his or her income. 
Meanwhile, the process of moving people out is already underway. 
Jim Cunningham, deputy regional administrator of HUD's Region V public housing office based in Chicago, said that Tenant Protection Vouchers that residents were promised would be available to assist with their move have been officially approved by HUD.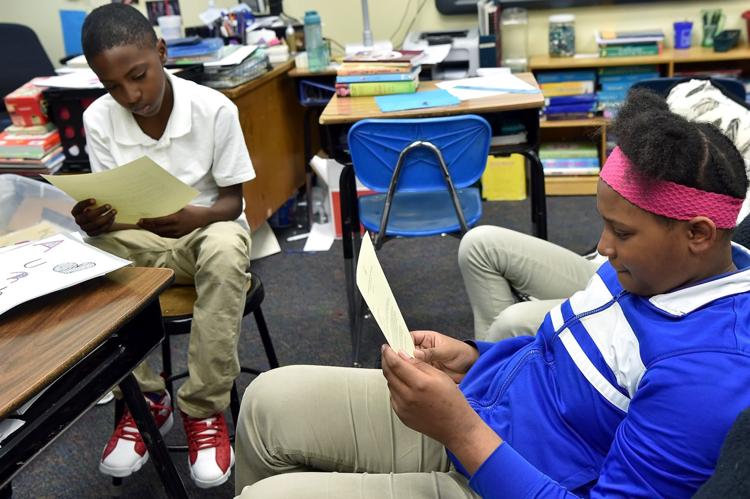 They are being managed by the Menard County Housing Authority headquartered in Petersburg, about 30 miles north of Springfield. That housing authority was chosen to manage the vouchers because it oversees Housing Choice Vouchers (commonly known as Section 8) in areas of Illinois where a local housing authority does not participate in that program, including in Cairo.
Applications for the relocation vouchers were made available on Monday, and it will take a week or two for the housing authority to process them, Cunningham said. "Once that happens, they will set up briefings with each of the families and actually issue them the vouchers. Then the search process begins."
The ACHA, under HUD's authority, has contracted with Atlanta-based CVR Associates to provide relocation counseling to residents. Typically, once a qualifying individual has been provided a Housing Choice Voucher, he or she has 120 days to locate a private home that will accept the voucher. But Cunningham said that in this situation, HUD is going to be flexible with the timeline, and numerous extensions can be offered to residents who need more time to finalize their plans.