CAIRO — U.S. Rep. Mike Bost said the fact that Housing and Urban Development Secretary Ben Carson is traveling to Cairo on Tuesday to meet with public housing residents and community leaders in this beleaguered but optimistic city struggling with a housing crisis and longstanding economic woes speaks volumes about his character and leadership style.
"I admire him for coming. I thank him for coming at my request. This is something …you know how long we've been working on this. From the day that your article broke, it hit my doorstep … and my son asked me, 'Have you read this?' and then we were out running trying to help where we could."
Bost, R-Murphysboro, was referencing The Southern Illinoisan's Aug. 23, 2015, story titled "Chaos in Cairo" that kicked off an investigative series entering a third year about alleged mismanagement of the Alexander County Housing Authority and the effect that, and the overall aging housing stock, is having directly on public housing residents, and indirectly on the overall viability of Illinois' southernmost city. Six months later, on Feb. 22, 2016, HUD removed the local management and placed the housing authority into administrative receivership.
"But the fact that the head — the head — is going to have boots on the ground and be able to see firsthand so that he can make decisions … no one can say after this, 'Well, we're not sure the secretary's informed.'"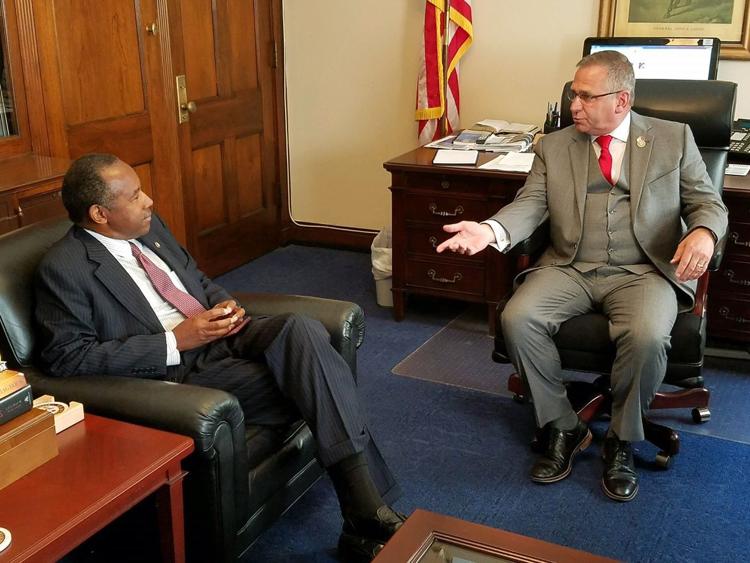 Secretary Carson is scheduled to arrive in Cairo on Tuesday morning and take a tour of the city with Mayor Tyrone Coleman before joining other community leaders for a private, invite-only conversation, according to his spokesman, Jerry Brown. After that, he is scheduled to travel to the Cairo Junior/Senior High School to hear from public housing residents. All residents of Elmwood and McBride are invited to the gathering with Carson at noon, Brown said.
Bost said that after several conversations with Carson, he believes that his compassion for the public housing residents of Cairo is genuine. He noted that shortly after assuming office, Carson made addressing the horrid living conditions a top priority of his administration and dedicated numerous high level officials to the cause — to a degree that had not taken place before he arrived. "He's not here for the media coverage and from what I know of him, he's not one who will try to do this to just simply say, 'Look, we're here,' the political thing."
Several residents and a city leader said they hope that what Bost says is true -- that it's about more than showmanship. Mayor Coleman said he plans to ask Carson to apologize to the community for calling Cairo "dying" during a Senate hearing and also hopes that by seeing it for himself, he changes his mind about that. A resident he may visit in her home said she hopes he takes time to listen to the problems she's having with working through the relocation process, even as she's prepared to move ahead with selecting another community in which to live.  
Bost said he believes Carson understands the economic dynamics of Cairo and the surrounding southernmost region of Southern Illinois, and he said that the secretary is truly interested in studying the situation to come to the best possible solution for all involved. That doesn't mean there will not be pain, Bost said — that's inevitable given how far south the situation has gone — and it doesn't mean there will be a promise for new housing in Cairo. But Bost said he believes Carson's heart is in the right place in wanting to arrive at an outcome that balances compassion and common sense.
"This is a guy that in his lifetime sees problems and tries to figure out how to fix them, and remember, whether it's conjoined twins or brain surgery, he comes and wants to see the problem, analyze the problem and then figure out what needs to be done," Bost said of Carson, of Detroit, who grew up in poverty in Detroit and rose to prominence as a renowned pediatric neurosurgeon. "And I think that that is exactly what we need now at the leadership helm so that the people who have already been here — you know, and they have, they've been working to try to figure this out, through the department — know that now the person that is over them has come. He hasn't just heard from them (his staff) and rendered paperwork and read the different things about what's going on. He is going to meet one-on-one with the people to listen and I think it's a very good thing."
Bost said that for Carson it is "more than about housing" as it is for him and other local, state and federal officials; he said it's about the overall economic health of the region, as well as making sure that wherever residents land, that they are in a place that affords job and educational opportunities to them and their children so that a greater percentage of people can eventually move out of public housing.
On April 10, HUD officials under Carson's leadership announced that they would begin moving about 185 families — close to 400 people — from two large housing complexes, Elmwood and McBride, that were constructed in the early 1940s. Residents had long complained of inadequate housing conditions including infestation, inadequate heating and plumbing, mold and a host of other issues.
But when federal housing officials told the residents that most would have to relocate to communities outside of Cairo because of a shortage of affordable housing in their own city, many expressed disappointment, anger, fear and sadness. For some families, Cairo generally and the housing complexes specifically have been home for generations. The residents were told they would receive Tenant Protection Vouchers, which work the same as HUD's Housing Choice Vouchers in subsidizing rent payments for a private landlord.
Because upwards of 40 percent of the children who attend Cairo Unit School District 1 live at Elmwood and McBride, school officials have expressed concern about their ability to keep the doors open into the future, or even if they can, they worry about being able to provide the same level of educational services to the children who remain since state aid is based on population count. Many others also have expressed concerns about how the eventual demolition of Elmwood and McBride will affect the overall town and what level of resources will be kept intact for the families that remain.
At issue, according to HUD officials and public housing experts, is that the federal government years ago moved away from building solely publicly funded housing complexes, and instead partners with the private sector to create mixed-income developments. HUD's Brown said the move to public/private partnerships is a matter of simple math at the core — there are a lot of needs and not enough funding. "There are 3,200 PHAs nationwide and most, if not all, have capital needs," Brown said. "If you look back at HUD funding for public housing throughout the past decade or so, you'll notice that capital funding has remained the same for years while the housing stock is aging and the need increasing."
The problem is that in an economically depressed city such as Cairo, it's proven nearly impossible to secure a private developer to partner with the government on such an endeavor. Bost said he supports that concept, but he also said he wrestles with how it applies to rural America because he said it's likely many small communities throughout his district would struggle with the same issue if and when their public housing stock reaches a point where it's no longer habitable.
Bost said he believes that for Carson to truly grasp the full complexity of the situation, it's critical he see it first-hand, and that's why he's glad to see he's doing so. "To try to explain it to someone who hasn't been there, they don't understand," he said.
Bost said he first reached out to invite Carson to Cairo in late March, at the request of The Southern Illinoisan, as the newspaper sought to hold a public forum in Cairo after publishing an article in late February titled "People still live here," about the fact that residents were continuing to live in horrible conditions a year after HUD's takeover and that the federal housing agency had yet to provide a clear path forward for remedying the situation.
U.S. Sens. Dick Durbin and Tammy Duckworth, Illinois' two Democratic senators, also invited Carson to Cairo around the same time, in early April.
The three asked Carson again to visit Cairo during two separate meetings with him in Washington in mid-July. In a July 20 letter that Duckworth's staff provided to the newspaper, the senators wrote to Carson that they "are pleased that you are committed to joining us in traveling to Cairo to witness firsthand the unacceptable and outrageous public housing conditions, and to hear directly from families in Cairo."
Ben Garmisa, spokesman for Sen. Duckworth, said the senator plans to be in attendance at the resident portion of the meeting on Tuesday. Other public officials who have indicated they plan to attend include state Sen. Dale Fowler, whose district includes Cairo and who has taken a particular interest in trying to land an inland port in the city, and Gov. Bruce Rauner's government affairs manager, Kristy Stephenson. The governor will not be in attendance, according to his spokeswoman Laurel Patrick.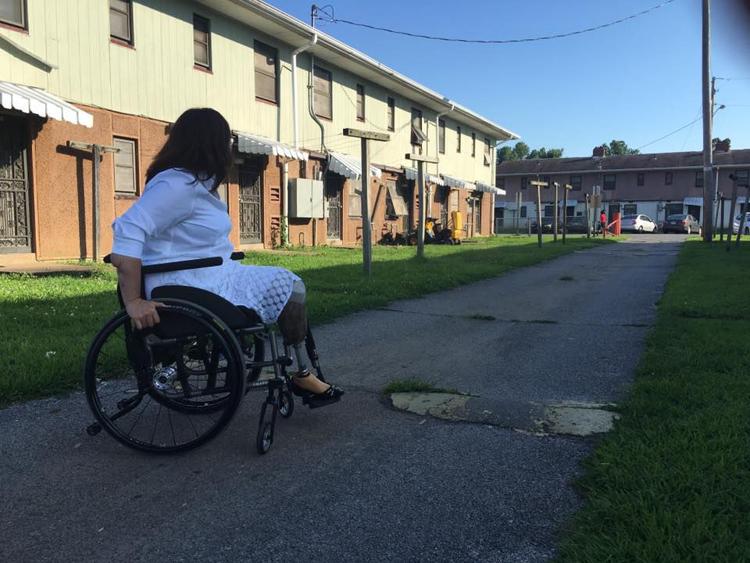 An aide to Sen. Durbin also said he will not be able to attend Tuesday's visit, but that senior aides in his office will be there. Both Duckworth and Durbin, through their media representatives, relayed frustration that they were not notified of Carson's visit sooner.
"Senators Durbin and Duckworth have repeatedly asked Secretary Carson to visit Cairo with them in order to better understand the grave situation facing the ACHA residents. So we were hopeful when Secretary Carson accepted our invitation during our meeting last month," Durbin's office wrote in a statement emailed to The Southern Illinoisan. "But Secretary Carson and his aides at HUD were extremely secretive in the planning and announcement of this trip, giving our offices little advanced warning and never once asking for our input in the planning of this trip.
"We have only asked that we work together in an open and honest way to help the families and residents of Cairo. Unfortunately, HUD and others have injected politics into this, which is not helpful for the residents."
Durbin has visited Cairo on several occasions to meet with residents since this past February when HUD, then under the administration of President Barack Obama, placed the housing authority into receivership. When Durbin visited for a meeting with residents in April, shortly after HUD announced its relocation plan, Durbin was asked by a resident of Elmwood Place if there was something he could do to have Cairo declared a state of emergency as a means of allocating federal funding for new housing here.
"Well, I can try that, but I'll be honest. It's hard, hard, hard with this new administration," he said. "The budget they came out with for this department, Housing and Urban Development, is not a very kind budget. It cuts. It doesn't add anything so I don't want to create any false hope here."
A few days prior, Towanda Macon, a HUD administrator working in Cairo, told residents that she, on behalf of the ACHA, had made an application for funding for renovations of Elmwood and McBride about a year prior and had been denied. This was prior to the transition of the presidency from Barack Obama to Donald Trump. Asked at that time if he had made a request to Obama for funding, Durbin said he had not — and that he had not been made aware of the grant application. The two are close politically, and Obama visited Cairo with Durbin when then state-Sen. Obama was running for the U.S. Senate in 2004. Durbin had also previously told the newspaper that HUD, under the Obama administration, had done the right thing in taking over the ACHA and that he believed they were making progress toward improving living conditions. Durbin and Duckworth both voted against Caron's confirmation for HUD secretary.
Since assuming office in January, Duckworth also has visited Cairo, and several residents said they believed she was fighting to help them find solutions. One resident said she was touched because Duckworth gave her a personal phone number and said to call her if she needed anything, or just to talk. Garmisa said Duckworth rearranged her schedule last minute because she believes it is important that everyone come together to solve the problem facing Cairo's citizens. But she also was disappointed by how the trip came together. "After three separate requests from Senators Durbin and Duckworth for Secretary Carson to visit Cairo and hear directly from Elmwood and McBride residents, the senators appreciate that he is finally taking them up on their repeated invitations.
"While advance notice of this trip could have enabled both senators to join the secretary in Cairo, Senator Duckworth will be there and looks forward to making sure the secretary sees — in person — the perseverance, grit and optimism of Cairo's residents, and to remind the secretary that everyone, at all levels of government, must work together to help these hardworking Illinoisans rebuild their community and economy."
Brown, with HUD, said that there was not an intention to leave anyone out — he said the secretary wanted to meet with and hear from Cairo residents much like Sens. Duckworth and Durbin have done on several occasions.
Brown said HUD's sole aim for the trip is to keep the focus on the public housing residents who are facing a difficult situation. "He's the first HUD secretary to visit there and he's doing it for the residents," Brown said.