CAIRO — During a visit to Cairo on Tuesday, Housing and Urban Development Secretary Ben Carson said that in his career as a physician, he often took on "very, very difficult cases" including people others had deemed too far gone to save. Through creative approaches, rare procedures, "and by the grace of God," he sometimes was able to save their lives, he said.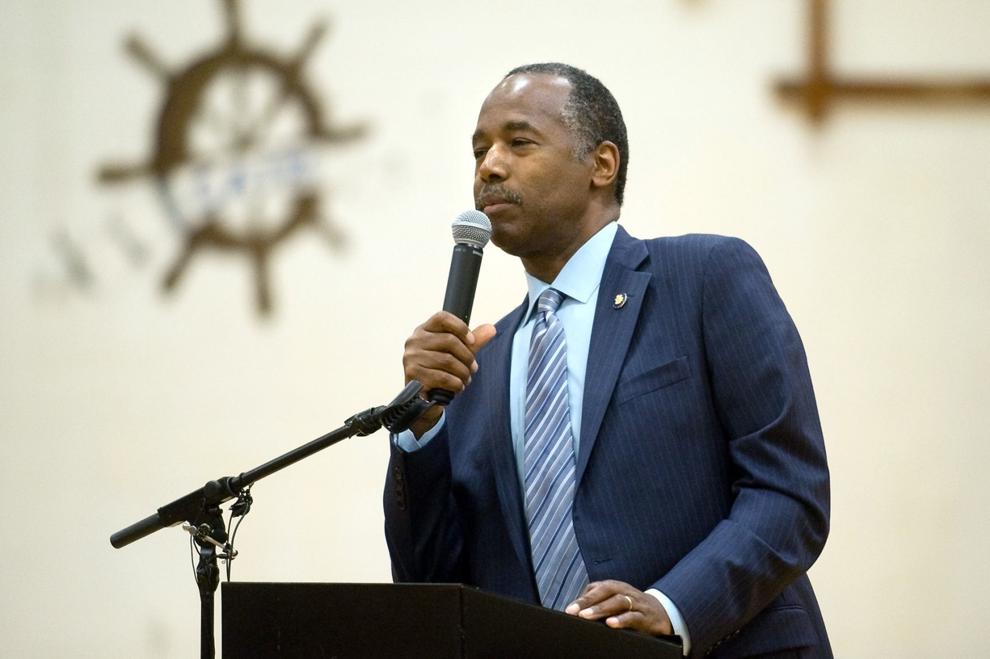 Carson was roundly criticized by the citizens of Cairo — where a man-made crisis has placed public housing residents and an entire historic city in jeopardy — when in June he described the community as "dying" and with limited options during a Senate hearing in Washington. After touring the city and meeting with public housing residents and community leaders, Carson again affirmed that the patient — Cairo — is in serious trouble but added, "I think by the grace of God it's possible to save this place as well."
The crowd of local residents at Cairo Junior/Senior High School, where he spoke at noon, met his optimistic twist on the disheartening diagnosis he provided two months prior with applause.
Still, the path forward remains unclear. Much of what was offered to the citizens of Cairo was of the nature of hope and optimism and a commitment by Carson to do the best he could.
For example, Carson said the HUD team assigned to Cairo is working hard to keep as many people in Cairo as possible who are being displaced from two sprawling World War II complexes — Elmwood and McBride — constructed in the 1940s that have fallen into extreme disrepair, because of their age and decades of neglect.
He also said that his team would take a holistic approach to dealing with the crisis.
As federal housing officials continue the process of moving people out of unsafe housing conditions, he said HUD, under his direction, will continue to work alongside city leaders to see if there's still the potential to attract private investors to partner with the government to build new affordable housing in Cairo.
While federal HUD officials tried for more than a year to secure a private partner unsuccessfully, Carson said he hopes his visit helps elevate the opportunities that exist here at the confluence of the rivers. He said one of the things he's thought about is with more national exposure and a good marketing plan "would it be possible to help the rest of the nation to recognize the opportunity that exists in this area." While the math may not add up for the private sector to invest in new housing in Cairo with the economic situation as it stands currently, perhaps they would change their mind if they can see the potential for growth in the near future, he said.
Carson said the city's location at the confluence of the Mississippi and Ohio rivers, the active, viable rail system in the region and the interstate highway system "make this area a prime candidate for economic development." But what he did not promise was federal money to achieve these goals. "We generally do not have right now the ability to simply say, 'There's a problem, let's put $100 million there …" he said.
Carson did commit to discussing the economic potential in Alexander County with other cabinet members and President Donald Trump.
In an interview with the newspaper prior to the meeting with public housing residents at the gymnasium, Carson — reminded that rural Southern Illinois joined other parts of Middle America in overwhelmingly supporting Trump, and that much of that support was because of the president's promises on the campaign trail to rejuvenate rural economies, a promise people are anxiously waiting to see come to fruition, said: "I think this is certainly one of the areas we will talk about, absolutely." Carson also noted that he sits on a cross departmental team focused on solutions to improve rural communities with leaders of the departments of Agriculture and Transportation, the Federal Communications Commission and others.
"The potential for commerce is significant in this area," he said. "I think probably a lot of people don't know about that. The same things that led to it becoming economically viable a half century ago, those same factors still exist, and I hope they can develop a good marketing plan. I hope some of the attention that being here brings to this place will cause some people to look down here. I hope that the state of Illinois will recognize the tremendous upside potential to them if this once again becomes a viable area."
State Sen. Dale Fowler said he was pleased that Carson responded enthusiastically to the efforts of city and utility company leaders to develop an inland river port terminal here. "He knew a little bit about it. He knows a lot more now. I had an opportunity to speak with him personally and I talked to him about that and he sees the potential here and that's what is so encouraging," Fowler said.
Cairo Councilwoman Connie Williams said she's taking a wait-and-see approach to Carson's visit, to find out how it translates into results. "I don't think it's hurtful," she said of the visit. "I'm glad he did come so that he could see what our community is really about … But I don't know how helpful it's going to be at this point."
In introducing Carson, Mayor Tyrone Coleman thanked God for the HUD secretary's visit. He said he was honored to stand next to Carson at the podium and "grateful that he has made the decision to come to our great community to get a look for himself."
But Coleman said he also wished that Carson would have come before HUD officials announced the relocation plan of Elmwood and McBride residents on April 10 without a viable solution for alternative housing for those who wanted to remain in Cairo. Ten families have been relocated from the housing facilities as of Tuesday, according to HUD.
"Despite our current challenge and given our history of being a resilient community, at the end of this challenge, I'm certain that this community will once again triumph victoriously," he said.
Sen. Tammy Duckworth, who despite late notice of the meeting said she rearranged her schedule to get here, said she did so because this is a priority for her — and that she's committed to working with Carson and his team at HUD despite being from opposite political parties. "This community is one that feels like it has not had the champions who have followed through. I think they have a lot of voices who sympathize and have the best of intentions but I don't feel like there's been the follow through that needs to be done."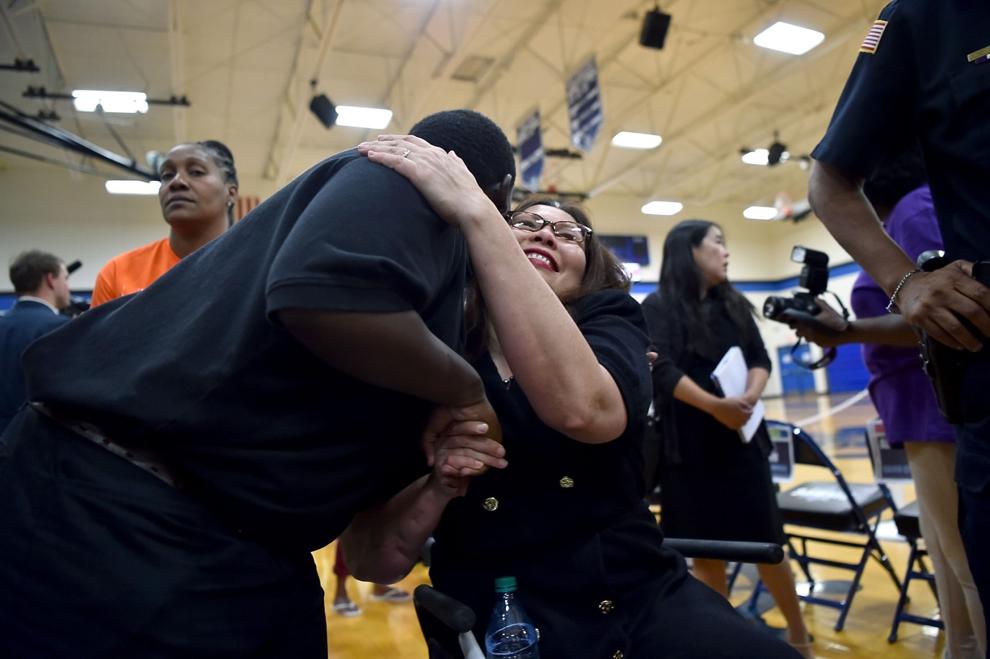 Duckworth said she's committed to the follow through and "drilling down to the nitty gritty" to fully understand the scope of the housing crisis, the Cairo community and the economy of the deep south region of Illinois. Sen. Dick Durbin was not able to make the event on last-minute notice, but senior aides from his office attended. In a statement after the event, Durbin said, in an emailed statement, that he was glad Carson came to Cairo to see the crisis up close. "This is a tragic situation that has impacted so many innocent people," Durbin said. "We must ensure that all parties are held responsible and that the people of Cairo are given every tool and resource necessary to find a safe and clean place to live — and we'll continue working hard to ensure that."
Rep. Mike Bost said in a news release he was invited by Carson to the public forum and that the visit was an important step in saving Cairo.
"I appreciate Secretary Carson accepting our invitation to visit Cairo," Bost said in the news release. "These were tough conversations, but it was important that federal housing officials be able to put a face to these stories of struggle. That's why I knew there was no substitute for having the secretary on the ground with us in Cairo. I am hopeful that this continued dialogue will spur new solutions to save Cairo and help these families transition to safer and more stable living conditions."
Carson also addressed the alleged mismanagement that led to the situation, including the failure of HUD in its oversight role to stop the alleged mismanagement earlier and to flag the unsafe living conditions sooner. He said that as a result of situations such as the one that transpired in Cairo, 42 inspectors have been let go. HUD spokesman Jereon Brown previously told the newspaper that those fired were contract inspectors who were terminated because of inconsistencies from one inspection report to another, and/or inconsistencies between inspection results and actual conditions.
It appears the latter case may have transpired in Cairo, where the condition of the housing stock has clearly been in a state of decline for years, and likely had become unsafe long before HUD flagged it as such. In aiming to improve the inspection process, Carson is replacing the contract inspectors with career inspectors, Brown said.
Carson said other changes also are afoot to make sure that different departments within HUD communicate with one another.
"What I've seen here (in Cairo) is not something that just popped up in the last year or two or ten or 20," Carson said after touring the complexes. "Obviously, there's been a lot of stuff going on here for a long time and people have turned a blind eye to it. So there's plenty of blame to go around — no question about it. There's blame at HUD as well."
In addressing the public housing residents, Carson said he sympathizes with the desire of many to remain in their hometown. He said hearing people talk about how much they don't want to leave reminds him of his own experiences when as a young boy, his parents divorced, and his mother could no longer afford their home in Detroit. Though it was a humble home, Carson called it "paradise."
"…all of the sudden we had to move to another state, and move from place to place just trying to make it while my mother was working two and three jobs," he said. But he said it was always his dream "to get back to that place." Six years later, he said he was thrilled when the family was able to return to Detroit. "So I know what it means to have a place that is home for you and to want to keep that place," he said. "So I'm not coming at you from a completely oblivious standpoint."
Kandi Holder, a resident of McBride Court, said she didn't know what to make of Carson's talk because she struggled to hear most of it. "I couldn't hear him. That's the honest to God truth," said Holder, who asked Carson what he would do to make sure HUD does a better job in the future of making sure local housing authorities are doing their jobs properly.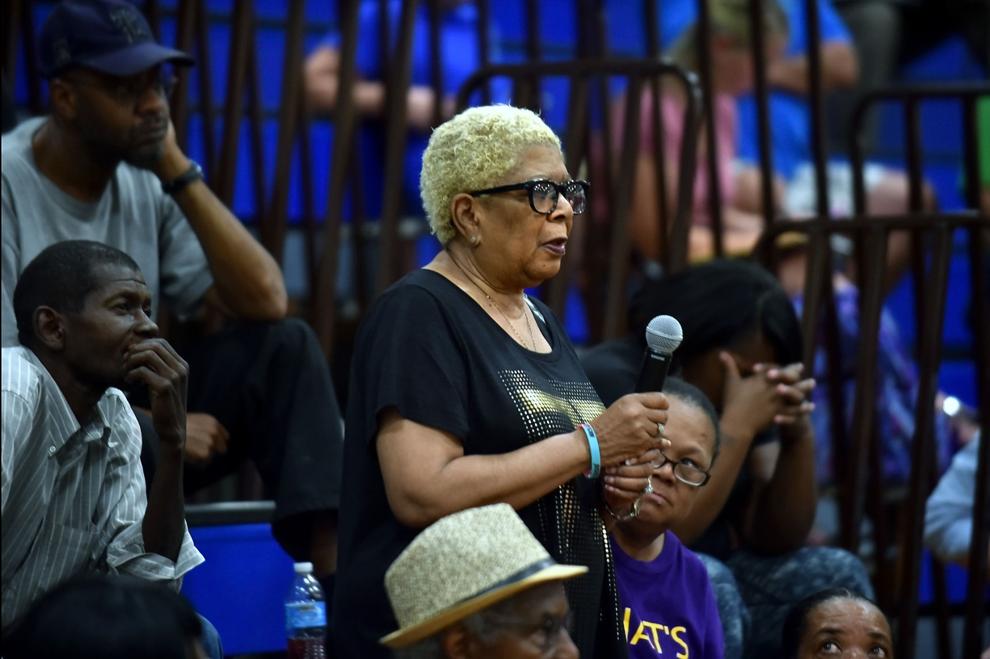 During his introduction, Carson was instructed by a shout from the crowd to speak up as the poor acoustics of the gym and Carson's soft voice made it difficult to hear him from the audience. "Can you hear me now?" he asked at one point, and while the sound quality improved some, many residents said they only caught bits and pieces of his comments.
Kristen Simelton, a resident of Elmwood, said she doesn't entirely know what to make of Carson's conversation with public housing residents because she also could not hear most of it.
"But from what I heard in his interview with you, I hope he is really looking to help," she said, referencing an audio recording The Southern Illinoisan posted online of a telephone interview with Carson this past week in advance of his trip.
Simelton lives at the complex with several of her grown children. One daughter has moved to Herrin, and her son is looking at relocating to Cape Girardeau. She helps take care of her grandchildren, and is struggling emotionally with being torn away from them if she ends up in another city and her other daughter stays in Cairo. "I'm really, really, really looking at this as an opportunity," she said. But at the same time, she said, "I'm sad because I don't want to go." She said that if she does have to leave Cairo for now, she hopes to be able to return to a city one day that is thriving.
618-351-5079
On Twitter: @MollyParkerSI ​