CAIRO — It's been four months since HUD officials announced that about 400 residents would have to move out of their failing housing complexes in Cairo and relocate to other communities.
While some of the shock has worn off since the announcement, confusion and uncertainty have taken its place.
Coretta Cornelius, a McBride Place resident, said it's hard to get a clear answer about what options are available for the public housing residents whose complexes are slated for demolition and want to remain in the city.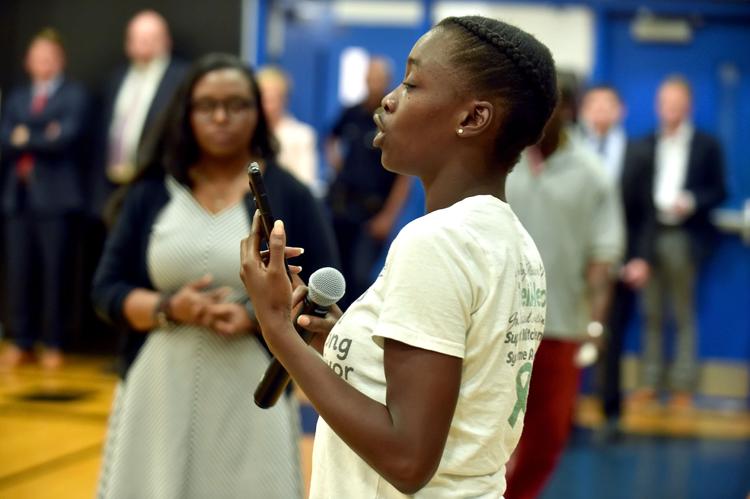 "There's no reason why we should be hanging with this stuff over our heads after four months," said Cornelius, who shares her apartment with her 4-year-old daughter and is hoping to be able to stay in Cairo. "They need to clear it up. It's been four months."
On April 10, HUD officials called residents of Elmwood and McBride to a meeting to tell them that the complexes they call home are slated for eventual demolition, and that they would be provided relocation vouchers and assistance with finding other homes — though mostly outside of Cairo. After repeated calls that he visit the historical city before going through with a plan that could threaten its existence, HUD Secretary Ben Carson visited Cairo on Aug. 8, just shy of four months from the day that his staff delivered what many residents of the city perceived as a one-two punch: the buildings will be leveled because they were too far gone to save, and HUD does not have plans to rebuild public housing in Cairo.
At a town hall style meeting at the Cairo Junior/Senior High School, Carson told residents that after driving around the city with Mayor Tyrone Coleman, it was clear that the city faced steep challenges. But he told residents, to resounding applause, "I think by the grace of God it's possible to save this place."
While visiting Cairo, Carson also said he recommitted his staff to continuing to work with the city to see if more options could be secured for people who want to remain in Cairo.
Though, Carson said the long-term plan for Cairo requires a balance of logic and compassion — and he offered no additional federal money to reverse the decision that was previously announced by his staff.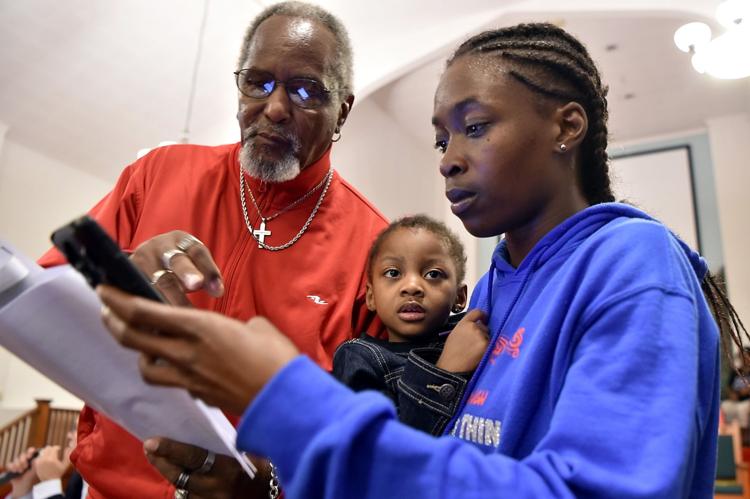 "You just told us about your devoutness," Cornelius said, characterizing how she interpreted Carson's message of hope and faith in an economic revival that would allow residents to return one day to their beloved city. "You said you would have people help us to rebuild, and that you would do your best. How can we even believe that when you didn't try to help us prior to that?" she said.
Cornelius said she's also heard of and read about city officials' plans to secure a private developer to build new housing in Cairo. But she said it isn't clear to her if new housing will be available to residents being relocated from Elmwood and McBride, and if so, whether it will be built before they have to relocate – or whether it would be built at all.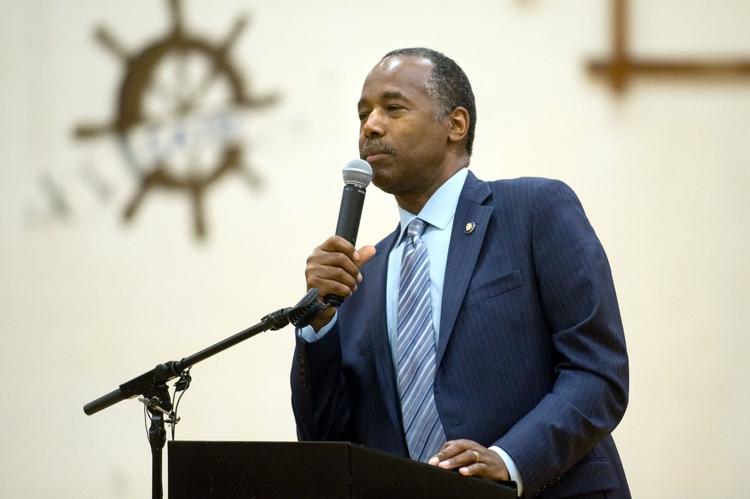 "All it's really been to me is mixed messages," she said.
HUD: Residents encouraged to move before winter
HUD spokesman Jereon Brown said that the federal housing agency is exploring additional options as a result of Carson's visit and a brainstorming session with community leaders. Still, he said that residents are still being encouraged to move — and to do so before cold weather arrives in a matter of months. Regardless of what others may have read into the hopeful message by Carson, or what people are hearing from other local and federal elected leaders, Brown said that HUD's overarching plan has not changed.
"Unfortunately, we can't control the message from anyone else," Brown said. "We've done this before so we realize that lives and futures can be affected by the decision. Ultimately it comes down to who they believe."
Brown said one of the reasons they are encouraging families to move before winter is because the Alexander County Housing Authority, which is being run by HUD administrators in receivership, may not have the funds to repair or replace the aging boilers that heat the developments if they fail. He noted that residents were told in April they no longer had to pay rent — and many had stopped paying months prior to that in protest of their housing conditions and alleged mismanagement by past housing authority managers. This lack of payment to the ACHA further aggravates the deteriorated financial condition of the housing authority.
"We're working on some financial models, weighing options, comparing footprints, but for now, repairing boilers, if extensive work is required, is not financially feasible," he said.
For a number of years, residents have complained of inadequate heating systems forcing them to heat their homes with their ovens, which is extremely dangerous in any situation and especially where people live in such close quarters.
It was no different this past winter, even though by that point, HUD had been in control of the ACHA's operations for close to a year. Brown said the issue for this winter is that the ACHA still faces fiscal uncertainty and HUD administrators overseeing the local housing authority are trying to prioritize limited funds to improve the developments that can be salvaged.
"I'm not sure that it makes logical sense to repair units slated eventually for demolition when we have other units in better condition that are also in desperate need of maintenance," Brown said. "The newer units will be around longer so it actually makes more sense to repair those. That may not be seen as a compassionate answer, but it will help the seniors residing in those (other) complexes."
Resident: 'We will fight. We will protest'
Though the suggestion that residents move by winter was not characterized as a deadline, it's the first time HUD has said the agency might not be able to maintain even the most basic of life and safety elements — primarily keeping the heat on — into the months ahead as temperatures drop.
Brown said that HUD would not recommend any residents use their ovens to heat their apartments. "It's an extremely dangerous practice," he said. "Instead, we'd encourage moving and keeping the family safe."
Elmwood resident Steven Tarver, who is heading up a grassroots group called Men of Power, Women of Strength along with his brother, Shawn Tarver, the owner of Talk of the Town nightclub, said residents have not been informed that HUD may not have the funds to maintain heating systems throughout the winter. He's among residents refusing to move while holding out hope for new housing in Cairo. "They're not telling the residents none of that," he said. "Winter is right around the corner. I ain't going nowhere."
Tarver said he's refused to sign up for his relocation voucher, and he's also encouraging other residents not to sign "a contract with the devil" – that's how he describes HUD's offer — because of what he sees as the federal agency's culpability in a crisis that has culminated in displacing several hundred people from a city in which they want to remain. There are some residents who have said they are eager to move, and thankful for access to vouchers that are in short supply across the country. But for others, Cairo is the only place they want to call home.
"I don't see the winter thing being the truth," he said. Tarver said he supports the demolition of Elmwood and McBride, but not before new housing is built. If that doesn't happen, "we will fight," he said. "We will protest. That's when we'll get to locking down the streets and all that stuff I wanted to do two or three months ago."
Tarver also noted that the voucher paperwork shows residents have 330 days to find a place to live from the date of issuance, close to a year. "That is well past winter so they can't tell people they have to move by winter if the last thing you tell people is they have 330 days."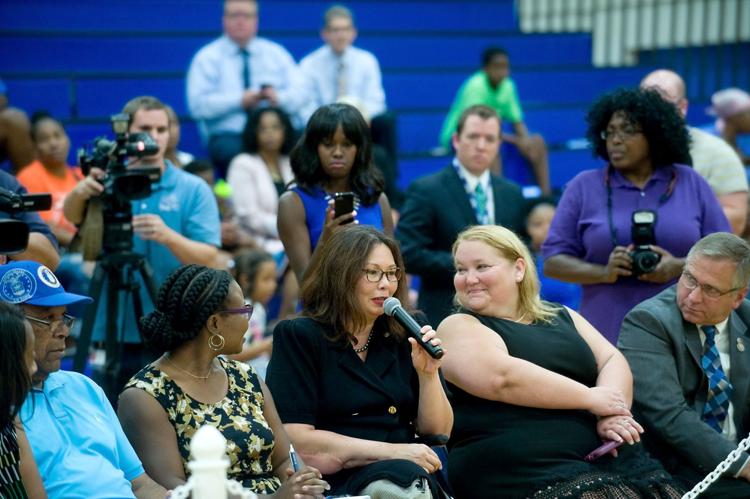 In early July, U.S. Sen. Tammy Duckworth, D-Ill., stated in a press release after meeting with Carson in Washington about the Cairo housing crisis that she was successful in urging HUD, on behalf of the tenants, for an extended relocation period of 330 days from 150 days.
But in addition to residents who say they are digging in their heels and refusing to move without options made available in Cairo, even some residents who want to move have complained that the company HUD has entered into a contract with for relocation services has been slow getting services up and running. There have been challenges to arranging trips around their schedules to see housing options in other cities, and there have been some issues with residents finding private landlords that will accept their vouchers, several residents have told the newspaper.
As of earlier this month, HUD officials said that only 10 of about 185 families had been relocated. Because of Cairo's isolated location at the bottom tip of Illinois at the border of Kentucky and Missouri, moving that many people in such a short amount of time amounts to a logistical challenge of epic proportion — even when removing from the equation that there are residents resisting a forced relocation from a place that has been home for many of their families for generations. Most of the communities that residents are eyeing for potential relocation — Paducah, Cape Girardeau, Carbondale and Marion, among others — are close to or in excess of an hour away.
Brown did not say what HUD would do if the ACHA doesn't have the funds and residents remain in the housing complexes and the temperatures drop, which could happen within just a few short months. HUD officials are brainstorming all options, he said.
For example, Brown said that as a result of the ideas volleyed about during Carson's visit, HUD is also exploring whether certain building rows at Elmwood and McBride are in such condition that residents could remain there a few additional months, and whether those rows can be disconnected from the overall plumbing, electrical and heating systems of the developments to save on maintenance costs. That's still an uncertainty, he said.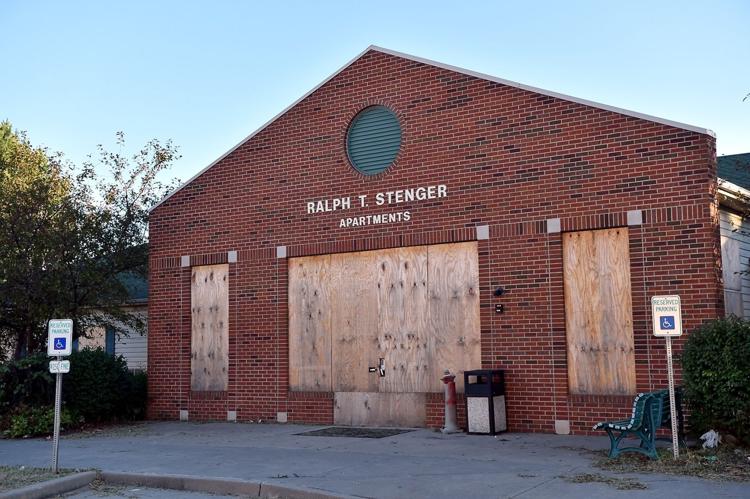 HUD also is continuing to search for a nonprofit manager of what is known as the Stenger Building that once housed people with mental illnesses but that has been vacant since the Delta Center closed in the fall of 2015. That building has 10 units, but they are primarily one-bedroom units and not spacious enough to house large families.
HUD also has asked Alexander County to hand over about $400,000 in federal grant funds in its possession to renovate a housing development in nearby Thebes, where there are six units unoccupied. While those units are in need of repairs prior to families moving in, the entire building also likely has issues that need to be addressed in the short term, Brown said. Repairs are anticipated to cost about $15,000 per unit, he said.
County board chair responds with criticism, questions
Alexander County Board Chairman Chalen Tatum responded in a letter to HUD's request for the funds by making several critical statements of and posing numerous questions to the federal housing officials running the AHCA in Cairo. "Your team came in and took over ACHA over 18 months ago," Tatum wrote in his letter to ACHA co-administrator Towanda Macon. "You stated that everything was being mismanaged and money was wasted. You have failed to mention that HUD hired private contractors every year to do inspections on units and every year they passed.
"Also, HUD had audits conducted every year and ACHA passed the audits. When ACHA was being ran locally, all monthly bills were paid and no employees were laid off and they had all their benefits." (Tatum's father, Bill Tatum, is a former employee of the housing authority. Bill Tatum received one of the retirement buyouts — for $15,000 and full benefits until age 65 — that have been called into question by HUD.)
HUD recently laid off the full-time staff at the ACHA and told workers they could reapply for part-time jobs without benefits. In doing so, HUD broke a contract with the Local 773 union that represents workers, which in turn filed an unfair labor practice complaint with the Illinois Labor Relations Board. Executive Director Kim Stevens confirmed that the complaint had been received and said it can take in excess of a year for such complaints to work their way through the process.
Ultimately, an administrative law judge could hear the case. If the ruling is in favor of employees, the ACHA could be ordered to provide payments to employees to make up for lost wages and benefits. Stevens said she could not address this specific case, and was only offering examples of how these types of cases can play out.
Chalen Tatum asked HUD to outline how much the agency is spending on motel costs, rent, mileage, food and other expenses for its staff that is working in Cairo. And he also asked HUD to clarify the confusion concerning whether residents can stay in Elmwood and McBride through the winter months.
"You told me the tenants had to be out prior to winter due to heating problems; now I have heard that there is no time frame to be moved out," he wrote. Tatum requested HUD answer these and other questions prior to the county board's next meeting on Tuesday, at which time he said the three-member board would discuss the request to turn over the county's Community Development Block Grant money to rehab the Thebes units.
CDBG grants come from HUD, but are allocated by the state through a competitive process for most downstate communities. It was unclear to the newspaper at press time for what purpose the CDBG funds were originally allocated to Alexander County.
Brown said HUD officials are continuing to brainstorm all their options while waiting to find out whether the county wants to participate in the project. But, he added, "The elephant in the room is the housing authority is teetering on bankruptcy."
Cold weather in Southern Illinois can set in as early as late September, and certainly into October and November.
Cairo mayor says relax, HUD can't do that
Mayor Coleman said he's learned throughout this process that there are things HUD may say to encourage people to leave by winter, but also things they cannot legally do — such as leave people in housing developments without heat.
That would jeopardize their safety either forcing them to live in the cold, or to use their ovens to heat their homes, which could expose children to open heat and/or possibly lead to carbon monoxide poisoning, which can be deadly. Coleman said he's positive that if residents are living at Elmwood and McBride, HUD will figure out a way to make sure the heating systems are working.
Residents have carbon monoxide detectors installed in their units. But one resident last winter explained to the newspaper that her carbon monoxide detector did not work, apparently because it was jammed with cockroach larvae. When the newspaper made numerous visits to Elmwood and McBride in late 2016 and into early 2017 — at times when the temperature was below freezing, most residents had their ovens on with their doors open.
Several moms said they were aware it was dangerous, but said they decided it was better than their babies and young children being so cold they could not sleep or get sick because they were not warm. Several residents said they did not regularly check their carbon monoxide detectors and could not say whether they were in working condition. At the time, Cairo's fire chief called the situation alarming.
Coleman said the city has secured private housing developers that will provide homes for as many residents of Elmwood and McBride who want to stay. He said if residents want to utilize their vouchers and move, they should. But he said if people want to stay, he's becoming more confident every day they will have that option.
Coleman said he doesn't want to make a promise he can't live up to, but said that at this point, a Chicago-based company called Amerisafe is poised to start building any day now. He said he has checked out the company and believes they are trustworthy, and can only go on what they've promised. In a separate interview with Amerisafe's lead developer and a consultant, they indicated that they do plan to build in Cairo, and that they are waiting to finalize the financing for the deal before building.
Amerisafe does not have experience in building multi-family units, only single-family homes, but those associated with the company said they are confident they can pull off a large-scale construction deal anyway.
"All of these things that are happening now had to take place because of decisions that were made in the past," Coleman said of the compounding problems facing Cairo. "And so, there's a number of us here that's fighting back against all of this.
"This is a spiritual fight, and we're winning in the spiritual fight."
Gubernatorial hopeful Pawar joins Cairo's fight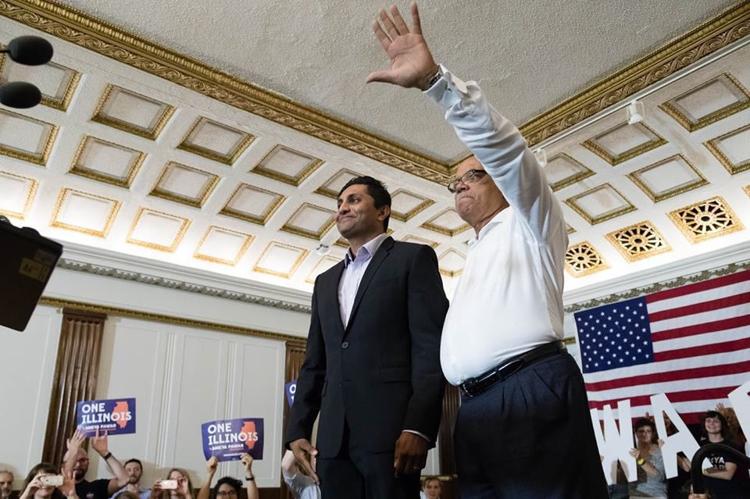 This past week, Democratic gubernatorial hopeful Ameya Pawar, one of eight candidates seeking the party nod in hopes of unseating Republican Gov. Bruce Rauner in 2018, announced that he had chosen Coleman as his running mate. Coleman called the announcement, and the spotlight its shining on Cairo, "a God thing."
Pawar, the alderman for the 47th Ward of the city of Chicago, said he chose Coleman as his running mate because he believes that Cairo embodies the spirit and struggle of neglected communities throughout parts of rural Illinois and urban cities and neighborhoods. "It's important that we put a spotlight on Cairo, it's an important that we put a spotlight on East St. Louis, and on the south and west sides of Chicago," he said.
Pawar said there's no reason that the state and federal government cannot come up with the money — he estimated $30 million to $40 million would do the job — to rebuild public housing in Cairo for the families who want to stay. To HUD's claim it can't be done because the economic conditions made it difficult to attract private investment, Pawar noted the size and scope of the federal budget and said: "Give me a break."
Pawar's candidacy represents a longshot bid in a crowded field with better financed candidates. But Pawar said if he's successful in the primary and then in unseating Rauner, the most likely GOP candidate in a 2018 matchup, he's committed to investing in new housing in Cairo — whether the federal government joins in the endeavor or not.
And in the meantime, Pawar said he's going to join Coleman in helping residents organize and fight back against what he sees as the federal government's misguided policies of "redlining" poor communities under the guise of telling people it's to their own benefit to move into areas with more resources.
"It's easy to say, 'Things are really bad here and go up and move somewhere else and then you can come back,'" Pawar said. "That's what happened in Chicago." Pawar said the result of years of HUD policies at play in Chicago intended to address substandard government-subsidized housing has been the suburbanization of poverty and gentrification of the city. He said Cairo is poised for rapid regrowth if government at all levels had the will to do what's right and invest in its infrastructure, such as new affordable housing and the development of an inland river port at the confluence of the Mississippi and Ohio rivers.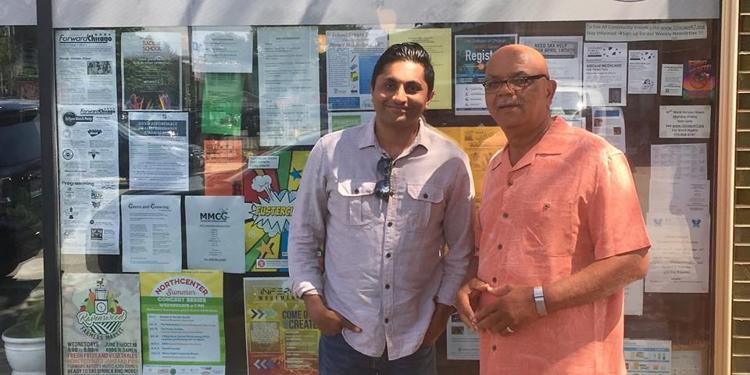 Pawar said people have been talking about these issues for years now but the political will has not been there to address the problems. He said it seems that every time a national media outlet such as NPR or the New York Times swoops in to write a story about the economic conditions and boarded up storefronts in towns like Cairo, a parade of politicians typically follow behind the headlines telling people how unfair it is what's happening to their communities and neighborhoods — and how they will be the hero who fixes it.
Then, nothing ever changes, he said. Pawar said he gives his word that he won't be just another in the decades-long parade making broken promises.
Pawar: Enough with the 'poverty tourism'
"I'm sick and tired of the poverty tourism," he said. "I'm sick and tired of letting communities wither on the vine when there are strong people and strong families there today who deserve the same level of investment that other communities around the state have."
Coleman reiterated a sentiment he's shared on numerous occasions: that Cairo is a city that overcomes. "Those things that the eyes can see would have a tendency to make people of no faith believe that's all that's to be," he said. "But I look beyond what I can see… God has already got this thing worked out."
A call for clarity
But Cornelius, the McBride resident, said she's having a hard time dealing with all the conflicting messages out there about what's going to happen. She wants to stay, but she said HUD, and other city and federal officials need to level with her and the other residents forced to make decisions for their families today — in the earthly realm.
"I'm not even sure it's true," she said of what she had heard about the possibility of new housing in Cairo. "This happened in April. It's August. There's been no groundbreaking, no nothing, so how do we know? You keep telling us it is coming but that's not getting us anywhere."
She's asking for a straightforward answer for what she sees as a rather straightforward question: what is the bottom line here for residents, and when will that line be drawn.