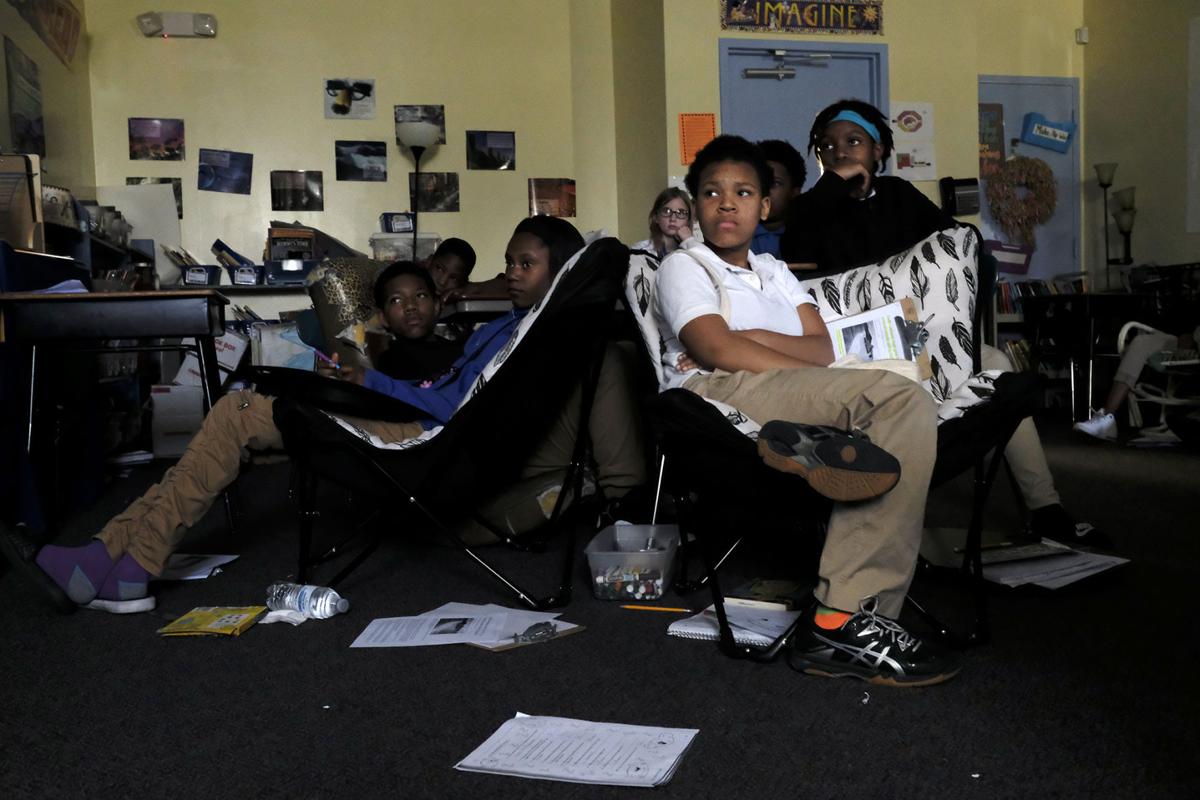 CAIRO — "Dear Ben Carson," sixth-grader Gabriella Lyas has a message for you: She wants to know how Housing and Urban Development can relocate nearly 400 residents from their homes without providing for new public housing within the city limits.
"The people who live there call that home and you aren't doing anything about it," reads the letter Gabriella wrote this past week to Carson, who was tapped by President Donald Trump to oversee a multi-billion-dollar federal housing agency and has been on the job about a month.
"I have a best friend who lives there and friends who live there. When they move, I will be heartbroken," continues the letter from the 11-year-old. "I have lived here for many years, this is my home."
Gabriella's letter is one of several concerning public housing in Cairo that will be mailed to Carson as part of a letter-writing campaign the sixth-grade class at Cairo Junior High mounted this week in an effort to save their school and community.
They hope to pull at the heartstrings of the renowned pediatric neurosurgeon who rose to prominence from poverty, and motivate him to bring justice to the people of Cairo — by holding alleged wrongdoers accountable and by making the situation right by providing new housing options within the city.
School children speak out   
In her letter, Latrece Brooker tells Carson that the discussions the students have had in class concerning the public housing conditions in their community — where many of the students live, including Latrece — "are not good."
"In what we've talked about, we were discussing about bug infestations, plumbing problems, and so much more," she writes. "People in housing apartments can't even leave their food unattended because (they're) scared there will be rodents to eat it instead of them. And most residents of housing can't even let (their) children play outside because they are too frightened they will get hurt."
"Residents of housing do not like the conditions in it, but they also don't want to move from their home town neither," continues the letter from Latrece.
In this deeply rooted, predominately African-American community at the bottom tip of Illinois, there were many tears shed — by parents and children, city leaders and school officials — after HUD officials announced Monday that they would begin relocating 185 families from the sprawling Elmwood and McBride family housing complexes they call home. In total, the move directly affects about 400 people, including children, as most units house more than one person, according to an estimate provided by HUD on Friday.  
Mary Beth Goff, a 14-year-veteran of Cairo public schools who teaches sixth grade, said she encouraged her students to wage a letter-writing campaign because she wanted to help them channel their sadness, anger, frustration, and fears about the future into positive actions that can provide a sense of empowerment.
Because much of the focus concerning the conditions of the complexes has been centered on infestation, plumbing problems and other structural issues leading to unsafe and unsanitary conditions, Goff said that some of the students have internalized feelings of shame, even though these longstanding structural issues are not the fault of renters, and should have been addressed long ago by the landlord, the Alexander County Housing Authority.
Goff said the students also carry with them the weight of the stress and frustration felt by their parents as they face having to uproot from their city — one that for many families has been home for generations — and start over again somewhere else.
A real-life civics lesson 
On Wednesday, Goff asked representatives of The Southern Illinoisan to talk about the newspaper's investigatory project concerning the Alexander County Housing Authority and its past managers, which began in August 2015 and has resulted in more than 50 stories, editorials and videos. The students have studied a few of the articles, Goff said.
Editor's Note: The following are letters and thoughts from sixth graders at Cairo Junior/Sen…
At the top of the discussion, the class watched a short documentary on the subject titled "People Still Live Here" (produced by Isaac Smith and Steve Matzker) that was published online in late February to accompany a story of the same name. Both pieces were about how little the conditions had improved in the complexes in the year since HUD seized control of the local housing authority and placed it under federal receivership.
As the students sat attentively watching the familiar faces and apartment units flash on the screen before them, a student in the back row began to cry. Goff brought her a tissue and wrapped her arms around her shoulders to provide her comfort.
Sixth grade is a time when many students begin to develop a deeper understanding about the world around them. They learn about how government works, and may hold mock press conferences, trials and elections to get a feel for American democracy. But in Cairo, students do not have the privilege of a mock run-through with this particular civic lesson.
"It's been a hard week," Goff said with a heaviness in her voice as she returned to her desk from comforting the student. "It's their life."
After the video ended, the students asked a variety of questions of the newspaper staff. Their inquiries included such topics as how journalists get their information, about how the stories on alleged mismanagement at the ACHA first came to light (a tip via email), and why no one has been held accountable.
Several of the students also weighed in on a discussion about the unfair and negative reputation they feel others who live outside of Cairo project onto the town, and how the media can play a role in perpetuating negative stereotypes about their community, but also in shattering those myths by shining light on the things they love about Cairo, and reporting accurately and fairly. The students asked thoughtful questions about what they could do to bring more attention to the good things going on in their community.
'Every single student is impacted' 
More than half of the students in Goff's class live at Elmwood and McBride a show-of-hands revealed.
"One of the most important things I want my students to know and understand is that they have a voice — they are not powerless in this situation," Goff said. "Literally every single student is impacted some way — either they are being forced to move or they are losing friends.
Student Paris Blake, in her letter to Carson, tells the cabinet-level secretary it is "not cool" that HUD is making people move from Cairo. "It will affect everyone, even those not living in public housing," she writes in her letter. Paris said her mom is concerned about losing her job if that many people leave Cairo. She also worries that the outcome of displacing people from Cairo will be "half of the school that is gone, and half of my friends that are gone."
"I hate that this is happening to my friends and their parents," her  letter reads.
Goff said that long before HUD announced its plans Monday to relocate families and eventually tear down Elmwood and McBride — the first major announcement the federal agency has made since taking over the housing authority more than a year ago — the class began the process of understanding housing, that it is a human right, and that in the United States, the conditions in Cairo public housing are inexcusable. Therefore, the students already understood that they are stakeholders in this situation, she said.
'Dear Ben Carson ... We need your help' 
In their letters, the students ask Carson why HUD cannot provide for new housing in Cairo before tearing down the old units, and why no one has been held held accountable for where the millions of dollars allocated in recent years for their upkeep and maintenance has gone, at least some of which former managers are alleged to have squandered on themselves. They also let him know how much they love their town — and all the people who call it home.
"Dear Ben Carson, The HUD is trying to tear down our public housing" starts a letter penned by student Keri Williams.
"I'm writing this letter so I can ask if you could help us," it continues. "Most people in our small town feel frustrated and mad. On the other hand, I am worried. I don't want all of my friends to move or leave.
"My class and I are trying very hard to save the public housing. I am writing this letter because we need your help, and if you don't do it our small town will be smaller than it already is."
Student Pircola Brazil tells Carson in her letter she hopes what she has written shows "how much I care."
"I feel horrible about this whole thing," her letter says. "Another thing is I'm sad about the HUD making us move away from family, friends, everybody we love and care about. Hopefully the plan for the future is that we would be happy where we are."
Pircola also tells Carson that she thinks the responsible parties should be held accountable for the housing crisis in Cairo. "I think something should happen, like them going to jail, or worse, them going to prison," she writes. "I think they should go to prison because they have ruined everything for everybody."
The students sat down at their school desks this week to write these heartfelt and heartbreaking letters against the backdrop of a classroom filled with books, brightly colored posters and possibilities.
"Instead of running the people out of the town, they should just build it up," Latrece tells Carson. "Housing conditions are horrible, but not as horrible as getting run out of it."
Gabriella closes her letter by writing, "If you haven't tried to do anything about (it), please try. I don't want to lose my home. We represent Cairo, we are Cairo."
Goff said the letters "were not written with expectation that they will change something," but with the intention that the "world needs to understand what has happened here."
"Our students are a powerful voice and deserve to be heard," she said. 
618-351-5079
On Twitter: @MollyParkerSI ​
Be the first to know
Get local news delivered to your inbox!