WASHINGTON — U.S. Sens. Dick Durbin and Tammy Duckworth sent a letter to President Donald Trump on Friday requesting he convene a task force comprised of all relevant cabinet members "to work on a strategy to address the housing, health, and economic crises confronting Cairo, Illinois."
"Cairo was once home to bustling industries that supported local communities but, over the past century, has suffered a steady economic decline. Shipping, railroad, and ferry industries, employing thousands of Midwest Americans, followed. But over time, these industries began to abandon the city due to new technology, innovation, and infrastructure, which led to the flight of jobs and the closing of community businesses such as banks, hospitals and stores."
"However, unlike many other similarly situated communities, the U.S. Department of Housing and Urban Development (HUD) had a role in Cairo's economic decline, and therefore, the federal government should play an active role in its recovery and revival."
HUD Secretary Ben Carson, when he visited Cairo on Aug. 8, committed to The Southern Illinoisan in an interview prior to meeting with public housing residents being relocated from their failing housing complexes that he would discuss the economic potential he saw in Alexander County with other cabinet members and President Donald Trump.
"I think this is certainly one of the areas we will talk about, absolutely," he said, when reminded in the wind-up to the question about his intentions to help Cairo's economy that rural Southern Illinois joined other parts of Middle America in overwhelmingly supporting Trump, and that much of that support was based on the president's promises on the campaign trail to rejuvenate rural economies.
Carson also noted that he sits on a committee the president called to specifically address the issues facing rural America, known as the Task Force on Agriculture and Rural Prosperity. In response to the newspaper's inquiry about whether Carson had taken Cairo's concerns to the task force, or to Trump, HUD spokesman Jereon Brown said he would have to inquire, but was unable to do so by deadline Friday. 
He did not immediately provide a comment on the letter from Durbin and Duckworth. The newspaper also was unsuccessful at reaching the White House communications team over the weekend.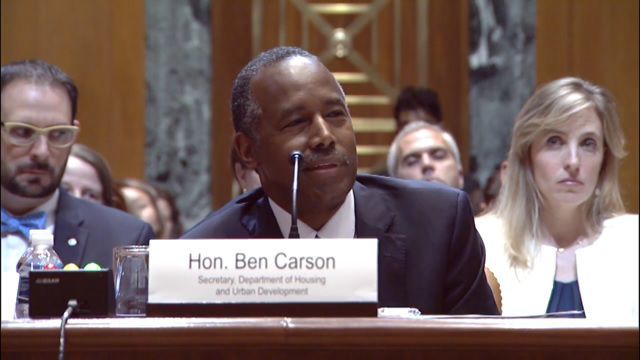 Carson and HUD officials have cited the lack of economic vitality in Cairo as the reason that the housing authority, under HUD administrative receivership, was unable to attract a private partner to build replacement housing for the Elmwood and McBride complexes that are no longer safe. Therefore, HUD officials announced on April 10 that they intended to offer residents emergency relocation vouchers, and that many of the 400 people who call those complexes home would have to move to areas outside of Cairo because of a lack of affordable housing in the city.
The decision came just a month after Carson was sworn in as HUD secretary. It represents one of the first major decisions with far-reaching effects to a rural community of the Trump administration. Roughly 15 percent of the city's already small population lives at Elmwood and McBride, and close to 40 percent of the school children call these complexes home. The relocation decision threatens to decimate the community, and many citizens do not want to leave the only home they've ever known.
Even some of the residents who say they are eager to take advantage of the opportunity to move to communities where there are more amenities say they might like to return to Cairo one day if the city's economic conditions improve.
The city has no grocery store or gas station, and there has been little residential housing construction in nearly half a century. But Cairo's size, at 2,400, is not unlike many of the communities that dot the rural landscape of Southern Illinois. Cairo is more economically destitute than most regional cities, but there are others that are not far behind.
"After visiting the community and meeting with residents and local officials, we witnessed firsthand their perseverance and optimism for revitalizing their hometown," the senators wrote, in their letter to Trump. "They made it clear to us — as they did to HUD Secretary Ben Carson during his recent visit — that they do not want to leave their community. However, they cannot and should not have to do it alone."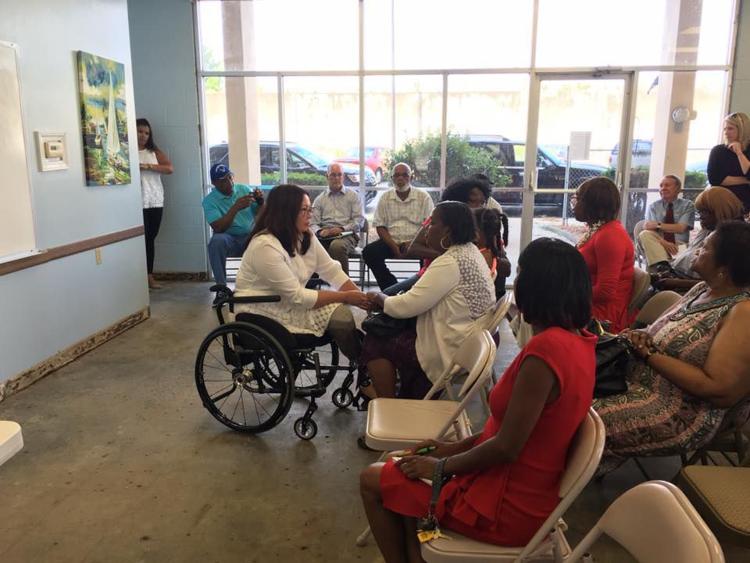 Carson was criticized by the citizens of Cairo when in June he described the community as "dying" and with limited options during a Senate hearing in Washington. After touring the city and meeting with public housing residents and community leaders during his August visit, Carson said it is obvious that Cairo faces serious challenges but compared the city to some of the patients he helped save as a neurosurgeon through creative approaches and prayer. "I think by the grace of God it's possible to save this place as well," he said during a forum at the city's high school gym with public housing residents.