TAMMS — Shorty after the election of President Donald Trump, Erin Malone penned a piece of personal and political reflection for The Nation challenging the common narrative about the rural-urban divide and more specifically the reasons behind it.
It struck a collective nerve in the midst of an outbreak of breathless analyses from the liberal coastal enclaves of the country speculating on how this — the election of Trump — happened against their uninformed predictions that it never could.
It was an outcome largely credited to enthusiastic voters across a wide swath of Middle America. Across rural regions, temperatures have been steadily rising in the face of collapsing and unstable economies, and the election, so one theory goes, was in large part about Trump's promises to help — or to shake up Washington bureaucrats, in the least. 
As the column was widely circulated on social media, Malone, who grew up in Tamms and today resides in Brooklyn, where she works as a communications director for a nonprofit organization, said she decided from there she wanted to do something more than just talk — or write, in her case — about the divide fueling so much angst from both corners. 
Together, in the wake of the conversations that followed her column, they created a grassroots organization known as Hometown Connect, which aims to inspire, empower and unite people with a connection to the small Alexander County communities near the bottom tip of Illinois that feed into the Egyptian School District — Tamms, Olive Branch, Elco, Hodges Park, Sandusky, Unity and Thebes — either because they still live in these communities or once did.
"Our goal is to connect people who are in small towns and the people who have moved away, to help these communities stay strong even as people have to move away," Malone said. "Our long-term vision is to make this a model that any small community could follow."
If all goes as planned, at the end of the summer, Kaelyn Watson will be gone.
The loosely formed group includes people who still call Tamms home, such as Egyptian Middle School math teacher and coach Latasha Mandrell; those who live throughout the broader Southern Illinois region, such as Derek McNelly, of Anna, who is employed by Southern Illinois University Carbondale as an information technology specialist; and people like Malone, who have migrated to urban centers, in part seeking more cultural opportunities and ideologically aligned people — that which she referenced in her column as the self-segregation based on ideals known as the "Big Sort" — but more so, Malone wrote, "because that's where the jobs are."
The group's goals are big and small. They include, in the short-term, making a difference in Tamms by exposing students to the career opportunities that exist after high school locally and elsewhere, through seminars at the school and an alumni directory, and connecting with students as mentors to help them navigate what's necessary for post-secondary education, training or job placement, depending on their goals.
"We have a lot of kids who fall into the same traps as their parents. I teach and I see a lot," Mandrell said. "A lot of our kids have no faith in themselves. They say, 'I'm not going to do anything. I'm not going to be anyone. I'm from Southern Illinois. What am I going to do?'"
After several discussions about the need in and around Tamms, the group members selected three pillars on which to focus their efforts among people both in and from their hometown: creating educational opportunities, building strong local economies and civic empowerment.
As to the economic challenges facing the community, Malone said that many of the discussions among the group were about the industries that have left over the years, as well as Illinois' first "supermax" prison that was a product of the tough-on-crime wave that swept the country in the 1990s, and closed 15 years after it opened, in January 2013, in the face of pressures from prisoner rights' organizations, as well as budget woes at the state level. It sits vacant on the edge of town today.
TAMMS -- The residents of Tamms have a hard time agreeing these days on the village's popula…
"All of those things have actually harmed the community when they go," Malone said, saying the focus, therefore, shifted to, "So, how do we create economic stability that does not leave the region at the whim of market forces?"
In her column that published Nov. 16, 2016, Malone wrote that in the aftermath of the election there was a "flurry of finger-pointing and hand-wringing by progressive folks" trying to make sense of Trump's victory of Democratic nominee Hillary Clinton.
"One common narrative is that 'we' urban liberals in blue enclaves live in a bubble and have no idea what 'they,' the struggling working class of Middle America, are facing. … You could easily place me in the urban, coastal, progressive bucket. I am one of the millions of small-town kids from the middle of the country who have settled on a coastal blue island."
"I live in New York and my career has taken me through three bastions of liberalism: academia, labor unions, and nonprofits. I'm an ardent Black Lives Matter activist. My story doesn't fit neatly into this idea of 'we' and 'they,' however, and it challenges a narrative that can cause us to write off communities that can be organized."
When The Nation published Malone's column, not only had the country just wrapped up a divisive presidential election that brought to the forefront divisions based on race, class and geography, but Malone had also recently experienced a serious challenge in her personal life as well, one she thought might change the course of the city life she had built 1,000 miles from her hometown. 
She had recently visited home for the first time in five years after receiving a phone call in the middle of the night from her brother. He called to report that their mom had been taken to the emergency room after he found her on the floor catatonic. Malone rushed home. 
As the doctors scrambled to figure out what was wrong, Malone said she faced the prospect of moving back to Tamms to help care for her mother, who had no health insurance. The prognosis wasn't good, and doctors warned them that if she survived, she might suffer brain damage and severe physical impairment, Malone recalled in her 2016 column. "I wondered where I would find work. I wondered where I would live. There wasn't much room in the house and there were no properties for rent." Malone's mom recovered after a medically induced coma; it turned out she had meningitis.
But Malone said that trip, after she was able to catch her breath from the scare with her mom and look around, and the conversations that took place as she reconnected with classmates after her column made the rounds, brought her home in another way. Malone said looking around, and hearing the concerns of those who stayed behind, harshly grounded her to the realities of what had been happening to the region that raised her since she left. "I don't think people in cities understand how bleak rural poverty can be," she wrote, in her column.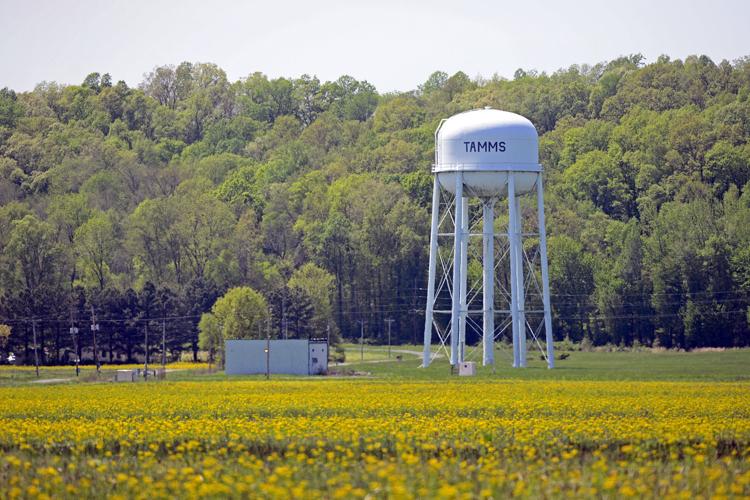 Malone, a 2000 Egyptian High graduate, said that in reconnecting with former classmates and friends, there were many "really beautiful moments" but also "really hard moments of realizing just how much the flight of people has harmed the community that I came from."
"That was the first of the shock of, oh, something bad is happening to the people that are left in this community. It's so hard." Reinvestment, she said, is the only way to rebuild sustainable small communities. "I think the best people to do that are the folks who call it home, that really care about it," she added.
But community doesn't have to just mean those who still live there, she said. Many people who move on consider the region that raised them home — and many people who live elsewhere have family who remain in Alexander County for a variety of reasons. "If we consider the community all of the people who have roots and connections to that area, it gives us this huge network of resources and knowledge and expertise and ideas of how to help sustain our communities," she said.
Malone said this model isn't new — the immigrant community has employed it for years. There are more than 6,000 so-called hometown associations connecting people who have moved to the United States back to their home communities in Mexico, for example, she said. In China and Latin America, there are rural to urban hometown associations, Malone said. "People don't think about rural communities as migratory communities but we are," she said.
Derek McNelly, a 2002 graduate of Egyptian High School, who grew up in an unincorporated area just outside of Tamms, said one thing he hopes to be able to do through Hometown Connect, at least in the short term, is help students nearing graduation think about what's next.
To that end, a career fair is scheduled for Thanksgiving week at the high school — when many return home to visit family — that they are calling a "Teach In" or "alumni takeover." McNelly said he didn't have a lot of direction or guidance at that age, and he knows there is a big need for it, especially with younger adults with whom the students may more readily identify.
"I didn't have anyone making sure I was doing xyz," he said. "College was supposed to start and I hadn't signed up. A friend of mine mentioned he was going to join the Air Force, and I was like, sounds like an OK plan." Though a decision made largely on a whim, McNelly credits the military with instilling the discipline in his life that got him through college upon his return. While serving his time stationed at Hurlburt Field, McNelly said he grew a bit homesick and knew he wanted to return to Southern Illinois.
It all started with a bean field and a big idea.
But he did not settle back in Thebes. It's too long of a haul to Carbondale, where he works at the university, and the school district doesn't have as large of an extracurricular menu to choose from for his children, he said. But McNelly said not everyone has the option of moving, and he wants to make sure that the children who live there are afforded the same opportunities as others throughout the region. "We don't have to have our kids leave to be somebody," he said.
But it really does take a village — or seven villages in the case of Egyptian School District. Mandrell, originally of Hodges Park and who now lives in Tamms with her husband, also an educator, said that exposing children to opportunities is half the battle.
Malone made note of this in her column, writing that one difference she sees in her gentrifying Brooklyn neighborhood and what she experienced in Tamms is "that kids regularly see people who are richer than them" in the city. "It might invoke in them anger or insecurity, but they can see people living the lives they dream of," she wrote. "In rural America, it can be hard to imagine anything different than what you grow up with."
"This is all they know," Mandrell said of many of the children of Tamms who live in poverty and whose parents cannot afford much travel outside of the county, let alone the region. "They don't get the opportunity to go elsewhere, other than maybe Cape Girardeau. They don't see anything else or others in their family who have moved on and become someone."
Mandrell said the long declining economic conditions of places such as Cairo and Tamms and the surrounding region is difficult to watch because there is so much beauty and history in this little spot, and she understands the connection to one's roots, too. "We want to keep people here. It's a beautiful place. We're trying to keep people here and bring things in" such as jobs and after-school programs, she said. But Mandrell is also a realist.
These notions that young people should move to where there are more opportunities, and that efforts should be made in the meantime to rebuild local economies are not mutually exclusive, she said
CAIRO — A gathering of Cairo residents erupted in anger Monday night as federal housing offi…
For example, she noted that many people are upset about Housing and Urban Development's plan to demolish two large public housing complexes in Cairo and offer families vouchers to relocate, primarily to cities outside the area because of a shortage of housing in Cairo, rather than rebuild. "I understand," she said. "But to me, I feel like this is a great opportunity for those people to go to other cities and be able to do better for themselves."
Mandrell said she encourages the Egyptian students with whom she interacts and who seek her advice to go to where the jobs are that they want, and not feel guilty about moving on.
"We want them to see there's something outside of Tamms, Illinois, that you can move on, and then you can come back, or try to bring help back to our community," she said.