THEBES — As the school bus came to a stop on Wednesday afternoon at Mary Alice Meadows, a dozen or so children spilled out. A small girl took off sprinting down the sidewalk, her backpack bouncing along with every stride of her tiny legs. A young boy showed off his athletic skills by leaping over the fence and bounding up to his parents' door, quickly throwing down his backpack and mounting his bicycle.
A group of slightly older children walked together, talking and laughing and kicking at the trash that has overtaken the sidewalk and grounds of their family public housing development managed by the Alexander County Housing Authority.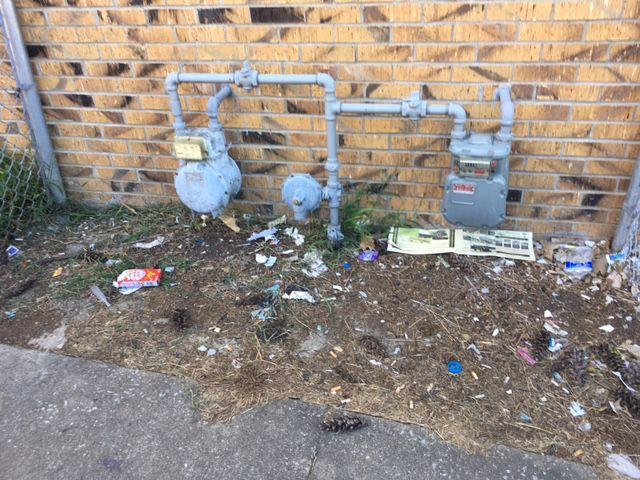 It was as if they had made a little game of the glaring neglect of the maintenance of the grounds: one child sent an empty pack of cigarettes flying into the grass; another instep kicked a plastic soda bottle.
Just around the corner, Amanda McHughs had set up an outdoor picnic for two of her boys, Konner, 3 and Noah, 8, — a superhero otherwise known by his mother as Captain America. As the boys ate corndogs, McHughs talked about how much she likes living at the Thebes apartment because it is quiet and relatively safe and the children can play outside together without major worries. It would be nice if the trash problem was addressed, but the apartments are clean and it's a good place to raise a family, she said.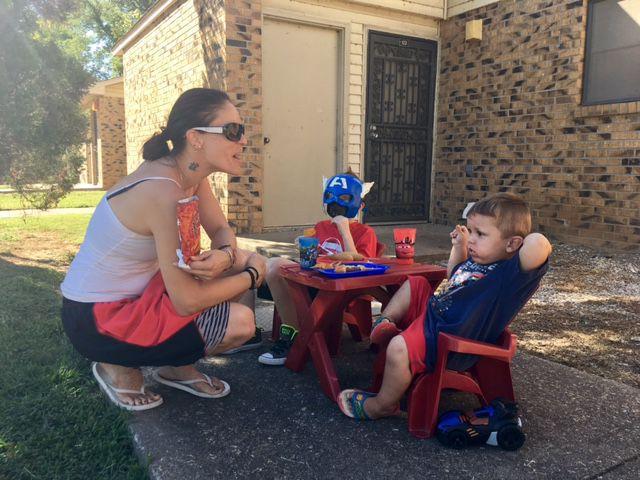 McHughs said there are rumors floating around that all public housing in the county may close — and that she and her boys would have to move. She hopes that's not the case, and HUD has not indicated that's the plan. Though, federal officials have said the housing authority is teetering on bankruptcy and that there are many uncertainties — including how they are going to pay for needed renovations to the Thebes projects the ACHA owns.
Uncertain future for Thebes projects
While most of the attention concerning the public housing crisis in Illinois' southernmost county has been focused on the extreme health and safety issues with the Elmwood and McBride projects in Cairo, the Mary Alice Meadows and Sunset Terrace homes in Thebes — about 20 miles northwest of Cairo — also have problems, and face an uncertain future, as well.
The buildings and grounds could use some immediate tender loving care — for instance, trash pickup and pressure washing could, at the very least, do wonders to improve the curb appeal.
But more extensive repairs and renovations also are needed, and sooner rather than later, according to HUD officials.
There are 14 vacant units that families cannot move into because they are uninhabitable, and they represent the only remaining large family units in the ACHA's housing portfolio. HUD would like to repair them and move families there who are being displaced from the Elmwood and McBride complexes in Cairo and want to remain nearby — though it's unclear how many families will be happy with Thebes over Cairo. Regardless, they are counting on the Alexander County Board to join with them in financing the facelift. And board members say they have another competing priority for the $500,000 fund they are sitting on: repair of the Len Small Levee, a section of which collapsed during the New Year's flood of 2016.
HUD's request is for HUD money — sort of
The request HUD made to the Alexander County Board was to tap into a fund controlled by the county and managed by Southern Five Regional Planning District. Decades ago, the money originated as HUD Community Development Block Grant funds that were allocated to the Illinois agency now known as Department of Commerce and Economic Opportunity.
The county originally received $915,000 to jumpstart two separate private economic development ventures in 1982 and 1984 as part of the Community Development Assistance Program, according to Southern Five's executive director, Tiffany George. The county established a revolving loan fund, with the idea that when the money was returned, other small businesses could tap into it to start up or expand.
What's left is $500,000. What's gone accounts for a mix of money paid out in administrative fees, in small part; money not recovered from private citizens in what is considered a high-risk lending program outside what banks would typically approve; and money allocated in the form of grants not intended to be paid back for public infrastructure improvements to assist business development, George said. HUD's request to Alexander County was to use $400,000 to repair the Thebes developments.
George said that in recent years the revolving loan funds were not being utilized much, not only in Alexander County but across the state. That was because other, less restrictive options from the U.S. Department of Agriculture and elsewhere became more popular, she said.
Because of that lack of use, the state began reviewing whether the money could be redirected to other needs. According to George, Southern Five received a letter from the state in October 2016 stating that HUD had advised the state DCEO that — per HUD notice — revolving loan funds awarded prior to 1992 "no longer hold a federal identity." Therefore, the letter further advised Southern Five that the funds could be redirected to an infrastructure project of need for the government entity controlling the funds, so long as it was signed off on by DCEO, George said.
It was around this time when the county board members opted to direct the funds to repair the levee, according to George and Board Chairman Chalen Tatum.
County board raises questions
The county board met this past Tuesday and briefly discussed HUD's request — which was made via letter on July 27 — during other business. The issue was not on the agenda, and no votes were taken by the three-member board.
After the meeting, Tatum and Vice Chair Joe Griggs spent about a half-hour discussing their concerns and questions about HUD's request with the newspaper.
Griggs said it was hard for him to tell if HUD really wanted the money, given that no federal housing officials have asked to be on the agenda of the county board's meetings since issuing the letter in late July. The board meets every other Tuesday and has met twice since the letter was sent by Towanda Macon, one of the HUD officials managing the ACHA in receivership.
The lack of communication also was frustrating for Tatum. Both noted that generally when people have a request of the board, they call the Alexander County Clerk's Office and ask for their issue or request to be placed on the agenda. Tatum was also peeved because HUD provided the newspaper a copy of the letter, at the newspaper's request, after it was brought up by HUD's special adviser to the secretary on Cairo, Maren Kasper, in an August interview, before he had a chance to read it. But it doesn't appear that was intentional as the newspaper did not receive the letter until a week after HUD said it was sent to Tatum.
Griggs said he was the one who actually received the letter and then forwarded it to Tatum. That was apparently part of the delay in Tatum reading it before a reporter called to ask him about it.
Tatum has responded to HUD with a letter of his own asking numerous questions about the Thebes projects, in addition to many other questions and statements that read more like a critique of HUD's 18-month tenure running the local housing authority. (Tatum worked for the housing authority for 17 years, until 2004, and his father also worked there a number of years, though neither are employed there now).
"I have asked you to attend our county board meetings to keep the county abreast of all issues, but your attendance has not happened," is one of the things Tatum complained about in his letter, saying that the city officials seemed more informed than the county officials about HUD's activities concerning the ACHA. "If you are unable to attend our board meetings, an email from you would be greatly appreciated."
Tatum also asked HUD to identify all the steps the agency has taken to save money since taking over the ACHA. Further, he noted that previously HUD asked the county for money to help replace locks at Elmwood and McBride. (At the time, shortly after HUD's takeover, the county declined to issue the funds and the city of Cairo provided the $150,000 in funds for lock repairs and infestation control via its revolving loan fund, according to the fund administrator.) "Then, you announce the closure of both housing units … the money spent for those upgrades cannot be recovered," Tatum wrote.
After Tuesday's county board meeting, Tatum said of HUD: "What they said is they are going to have us turn over the money instead of coming and talking to us."
Though, in the letter from Macon, the ACHA administrator, it was described as a request — not a threat. Jerry Brown, a spokesman with HUD, said the agency plans to respond to all of the county's questions concerning the request for the Community Development Block Grant funds.
It was not clear to the newspaper whether HUD intended to respond to Tatum's questions that were not directly related to the CDBG funds or attend the next board meeting on Sept. 5. Tatum also did not say whether he thought the county board would have a change of heart about the funds — even if HUD officials answered his questions and attended a county board meeting. But it would be a good place to start, he said.
A big federal agency in a small town
Numerous questions also have been raised about why HUD can't do more in Alexander County — and why a large federal agency needs to ask for help from one of the country's most destitute counties, which is struggling with a widening hole in its budget, and a widening hole in its levee.
The county had planned to tap into the funds to begin repair work this summer, but then heavy rains earlier this spring stretched the hole even bigger, said Alexander County Engineer Jeff Denny.
The changing landscape means the project has to be redesigned — again — and throws another big question mark on when the work will get underway. But Denny said it will happen, and the money will be needed when it does. Denny said he understands that the housing issues are serious, but said the levee repair is, too.
The Army Corps of Engineers will eventually have to address the fact that the levee breach could result in the cutting of a new channel across Dogtooth Bend. That could lead to a disruption in navigation for upstream barges, chocking off the Upper Mississippi. Denny said that the Corps isn't likely to let that happen. Even though the levee repair project has not scored high enough to secure federal Corps funds to date, he assumes that at some point in the not-too-distant future, there will be a partnership to address both issues. But it still will require a large contribution from the county and local farm owners, he said.
The levee primarily protects Olive Branch and four other small communities, about 150 homes and businesses and 20,000 acres of farmland.
The exchange between the county board and HUD and the questions and skepticism are among the awkward moments and conversations that have transpired of late. Some HUD officials have been here for a while now. But overall, the HUD officials are still, by many, considered outsiders — from the power centers of Washington and Chicago (though that's not entirely the case) — among country folks who have known each other for years in rural Alexander County, many of whom are connected not by six degrees of separation, but one.
Many in Alexander County discuss the federal government in dueling terms: they don't trust it but they also expect it to do a lot more than it has. Interestingly, Alexander County, for decades a Democratic stronghold, chose Donald Trump over Hillary Clinton in the presidential election. That was at least in part due to promises from Trump to do a little more to help rural economies. Prior to last year, Alexander County had endorsed only one other Republican presidential nominee since 1956 -- Richard Nixon in 1972. 
HUD is an agency with a $50 billion budget and some 8,000 employees — which is several thousand more people than live in Alexander County. HUD officials note that just because it's a large federal agency, doesn't mean they have endless amounts of money to pump into Alexander County. The agency supports programs in all 50 states, and provides oversight for 3,200 local housing authorities nationwide.
Still, the rub is apparent. Some of it appears to be driven by personality differences, and some of it by HUD misreading or disregarding local political norms. Though it has placed housing authorities into receivership before, and relocated residents on numerous other occasions, this situation is unique in many ways — including the insular nature of Alexander County politics, and how affected everyone and everything is by HUD's relocation decision given the fragile nature of the economy.
Spokesman: HUD understands county's concerns
HUD spokesman Brown said the federal agency understands the ACHA's concerns and competing priorities. "We'll still make the case for Thebes," he said. As for Plan B if the county doesn't want to partner in the repairs? "…we'll look for other options," Brown said.
But Brown described it as a tenuous financial situation. "If the housing authority had the funds, the request would not have been made," he said. "This is a housing authority that is struggling with years of deferred maintenance and lucrative settlements agreed to by a former executive director."
Cairo Unit School District Superintendent Andrea Evers said there have been some early talks about whether it would be possible for families that relocate to Thebes to continue to go to school in Cairo. Thebes children are in the Egyptian Community Unit School District, but Evers said it's possible they could still attend Cairo if they are considered displaced under the definition of the McKinney-Vento Homeless Assistance Act. But that's not a question that has been determined or discussed at length among the two school districts.
While that's a possibility, Evers said she doesn't understand why they would not just invest the $400,000 in Cairo.
"My thing is, why do it in Thebes?" she said. Evers said it seems that families would be even more isolated in Thebes, because at least they can walk to the Dollar General store in Cairo for some limited groceries. Like Cairo, Thebes does not have a grocery store. Evers said that in the private meeting she and others had with HUD Secretary Ben Carson, she suggested that instead of tearing down all of Elmwood and McBride, that HUD identify a few buildings that could be saved and use the money to renovate them.
"You look at like McBride, if you choose one building in each row, you'd have all kinds of green, pretty open space … Then you'd have some historical link to the original Pyramid Court and the original Elmwood and you could have those as nice properties." Brown said that HUD is reviewing all the ideas that were suggested, including this one. That review is in process.
But it's a big uncertainty because earlier architectural reviews of Elmwood and McBride that the newspaper has reviewed and written about revealed extensive underlying structural health and safety issues across all of the buildings, not just some of them.
McHughs, the Thebes resident, said there are vacant apartments on both sides of hers. She said that she would welcome new neighbors relocating from Cairo. McHughs said it would be nice to see a few upgrades to the developments, but that she really doesn't have any issues with how it looks now, either. "I pay $50 a month for a three-bedroom apartment. You can't beat that."
There have been a few security issues at the Thebes complexes recently. Macon, with HUD, said at this past week's board meeting that some problem tenants have been issued notices to vacate. She also said there's been increased cooperation between the housing authority and sheriff's office to address security concerns.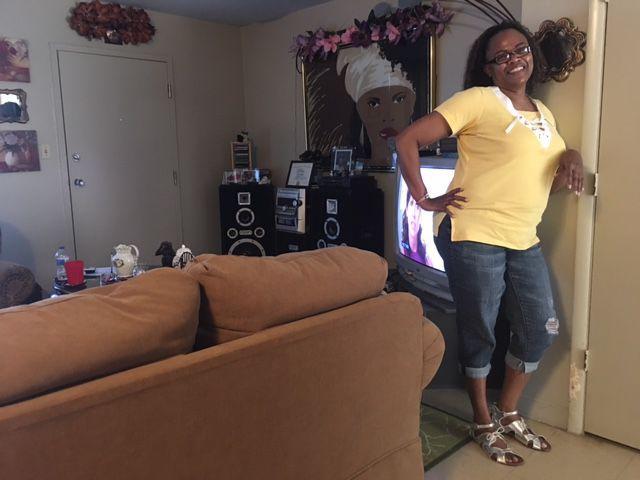 Michelle Baldwin agreed that it's a nice place to live. She said crime has not been a major concern of hers. Baldwin said she grew up at McBride, and returned to Elmwood to live for a while as an adult. She recently moved to Thebes, and said she was pleasantly surprised by how much she likes it. "Everybody gets along and it's quiet," she said. Baldwin is hoping it stays that way. 
Editor's Note: This story has been updated to correct the years in which Alexander County has supported a Republican nominee for president since 1956. Those years are 1972 when the county supported Nixon, and 2016, when it went for Trump. 
618-351-5079
On Twitter: @MollyParkerSI ​