CAIRO — In a return letter, Housing and Urban Development Director Ben Carson tells the junior high students of Cairo that he is "so impressed" by their devotion to their hometown and thanks the children for writing to him — but he offers no concrete solutions for providing new affordable housing to keep their families in the city of Cairo or secure the future of their school.
"You are living proof of the old saying, 'Home is where the heart is,'" reads Carson's letter addressed to the "students of Cairo Junior High."
The letter, along with a separate one to Superintendent Andrea Evers, was hand-delivered on Tuesday afternoon by Jereon Brown, HUD's Washington, D.C.-based general deputy assistant secretary for public affairs, who was in Cairo for a day of meetings.
"Despite our best efforts, we know that some families, your students included, may have to move outside of Cairo," concludes Carson's letter to Evers. "My hope would be they never forget their Cairo roots and the inspiration you've provided."
About two weeks ago, Cairo Junior High sixth-grade students, with the help of their teacher Mary Beth Goff, began a letter-writing campaign aimed at Carson asking him to help save their town and school by providing new affordable housing options within the city limits. 
A man-made housing crisis — created by a lack of appropriate stewardship and oversight, and alleged misspending of federal funds — threatens to displace from Cairo about 185 families comprising close to 400 people, many of them children. About half of Cairo Unit District 1's students live in public housing, specifically the Elmwood and McBride family housing complexes HUD says are no longer safe for habitation, according to Evers, the superintendent.
Goff read both letters to the students on Tuesday, and passed them around for the students to inspect. Prior to sharing Carson's letters, Goff and Evers prepared the students by saying that not every response will be what the students hoped for, and that doesn't mean they should give up their opportunity to fight for what they believe in and be heard.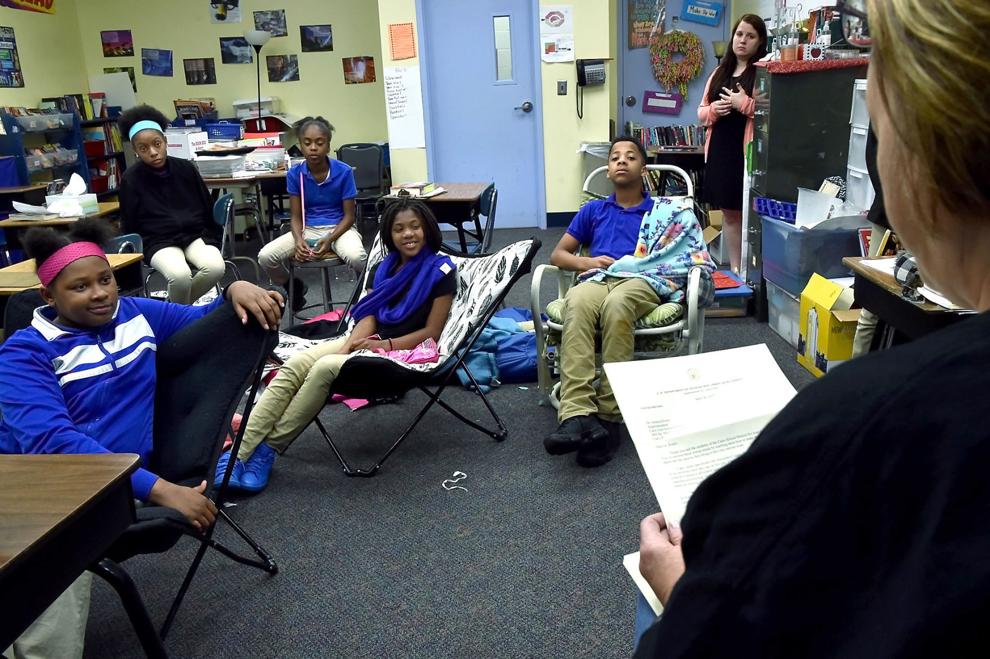 Carson tells the students the relocation decision came after a lot of consideration proved it to be the only option to provide affected families with "a safer, cleaner, healthier home."
"Since starting my new job at the U.S. Department of Housing and Urban Development (HUD), in Washington, D.C., the situation in Cairo has become very important to me," Carson writes. "I am working with very smart people who want to preserve affordable housing in Cairo.
"Sadly, many of the housing complexes there were built during World War II and have not been well cared for over the years. The problem is even more difficult because the Alexander County Housing Authority, which owns the public housing in Cairo, is facing financial challenges."
The students seemingly took the response letters from Carson in stride. They asked questions about what his words meant for them, and also asked questions about what was next and who else they could write to for help. Social movements take time and persistence and this should be viewed as a learning experience, the educators told their students.   
In the separate, longer letter to Evers, Carson said there are sadly limited viable options "for a nearly bankrupt housing authority." Because of that, Carson wrote that there are no "economically viable strategies" available to restore the ACHA's financial health. Hanging in the balance are not only the two developments that must be vacated, but also the ACHA's ability to continue to manage the other developments and scattered site public housing units it owns in Cairo and nearby Thebes. Carson said that "if there was another way" HUD would "exercise that option."
"Relocating families is not something we do without extensive thought, research, and candidly, a fair amount of hand-wringing," Carson's letter to Evers states. "We understand the deep ties and devotion for the place where one is born and raised. We can't feel what the people of Cairo feel, but please understand this is not a decision without feeling."
The students wrote the letters to Carson on the heels of HUD's April 10 announcement that the agency would begin helping people relocate from the McBride and Elmwood housing complexes that have fallen into extreme disrepair. They announced at the time that tenant protection vouchers and moving services would be provided to all of the residents of the two complexes and that everyone would eventually have to move out, though no deadline has been established.
"My class and I are trying very hard to save the public housing," wrote student Keri Williams to Carson. "I am writing this letter because we need your help, and if you don't do it our small town will be smaller than it already is."
Student Pircola Brazil wrote to Carson that she hoped he would see by their letters how much the students care about Cairo and their school. "I feel horrible about this whole thing," she told him. Gabriella Lyas closed her letter to Carson by pleading with him to please do something to help save the community. "I don't want to lose my home," she wrote. "We represent Cairo, we are Cairo."
"Residents of housing do not like the conditions in it, but they also don't want to move from their home town neither (sic)," student Latrece Brooker wrote in her letter to Carson.
Towanda Macon, a HUD administrator assigned to oversee the ACHA while it is in federal receivership, said during the April 10 community meeting announcing HUD's decision that efforts would be made to help as many people as possible find alternative housing options in Cairo. But she cautioned that because of a lack of affordable housing options in the city and the high cost of utilities, most people would likely have to relocate to other communities.
At that, many residents expressed anger and frustration. Several affected residents said that while they no longer want to live at the run-down Elmwood and McBride complexes, they had expected HUD would provide other living options in Cairo so that they would not be uprooted from family, friends, and for many — the only place their families have known as home for generations.
Even some residents who said they might want to take the opportunity to move expressed that there's a difference between making that decision on their own, and being forced out. With tensions running high, Goff, the teacher, said she wanted to help the students direct their frustration and sadness into an effort that would provide a sense of empowerment — and help them understand that despite the tragedy playing out in their town, they do have a voice. 
Some of the students shared their letters with The Southern, and read them on camera for a video the newspaper published on YouTube. That video was picked up by CNN and its affiliate HLN, and then circulated to a national audience on social media.
In addressing the school superintendent, Carson thanked her for "inspiring these young minds by teaching them how to make their voices heard." "I truly appreciate the passion you bring to this very serious issue," Carson's letter reads.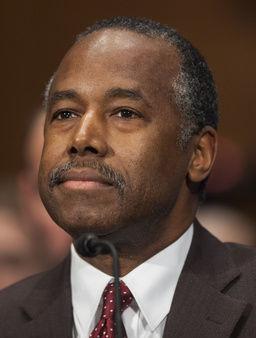 Carson said the housing situation in Cairo has been a priority of his since day one on the job. Carson is a renowned pediatric neurosurgeon who made an unsuccessful run in the crowded 2016 Republican presidential primary that gave its nod to Donald Trump. After being sworn in as president, Trump tapped Carson to the cabinet-level position overseeing the multibillion-dollar federal housing program. He was confirmed by the U.S. Senate on March 2.
U.S. Sen. Dick Durbin, D-Ill., voted against Carson's confirmation, saying previously he was concerned about his lack of experience related to managing an agency as large and complex as HUD. In Cairo this past week for a town hall meeting with residents, Durbin blamed the Trump administration for the fact that the federal government likely would not come to Cairo's rescue with significant funding despite Durbin's promise to do what he could to convince Trump and Carson of the need. 
Durbin said he was not aware that HUD's managers overseeing the ACHA had asked for funding from HUD while former President Barack Obama was still in office and had been denied. Durbin and Obama visited Cairo together in 2004 while Obama was running for U.S. Senate. An aide to Durbin, who was aware of the failed application, said the ACHA — under HUD's management — was previously denied for the grant funds it sought in early 2016 because it did not score high enough based on a number of factors the agency uses to prioritize spending.  
Carson said that "teams of experts" have been searching for viable alternative options for public housing in Cairo, including the possibilities of rebuilding or utilizing manufactured homes.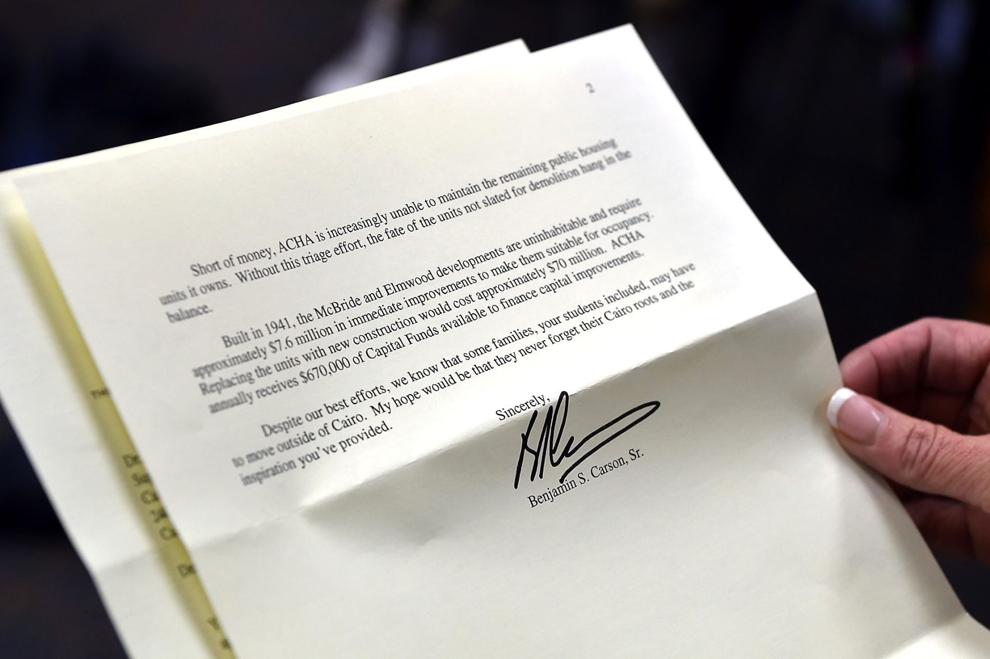 Carson blamed the lack of progress on the extreme financial situation facing the ACHA caused by generous employment and benefit agreements, and also the abnormally high utility costs in Cairo. Cairo Public Utility Co. is the city's exclusive electric and gas provider and operates under the terms of a 30-year agreement with the city of Cairo. That contract was inked by former Mayor James Wilson while he was serving a dual role as mayor and the director of the ACHA, a position he held for 24 years.
At present, Wilson is at the center of a federal probe into the ACHA's alleged mismanagement and misspending of federal funds, the results of which have not been publicly released. Carson told Evers that nearly half of ACHA's units are uninhabitable due to a backlog of deferred maintenance. Additionally, his letter states, a number of residents are no longer paying rent.
As of February, $218,000 in rent payments went uncollected, Carson writes. In other communications, HUD has stated that this is because of an unofficial rent strike by residents that began around the time HUD took over the housing authority. 
As a result of these factors, Carson told Evers the ACHA has "completely depleted its cash reserves and is unable to pay its bills." Some residents and community leaders have questioned why HUD, which is charged with oversight of local housing authorities, has not stepped up to make this right since agency officials in Chicago apparently had knowledge of problems in Cairo dating back at least seven years and did little while federal dollars continued to flow into the ACHA by the millions, according to records requested from HUD by former U.S. Sen. Mark Kirk, R-Illinois, and reviewed by the newspaper.
Carson did not address those questions in his letters to the superintendent or the students. 
— Richard Sitler contributed to this report 
618-351-5079
On Twitter: @MollyParkerSI ​