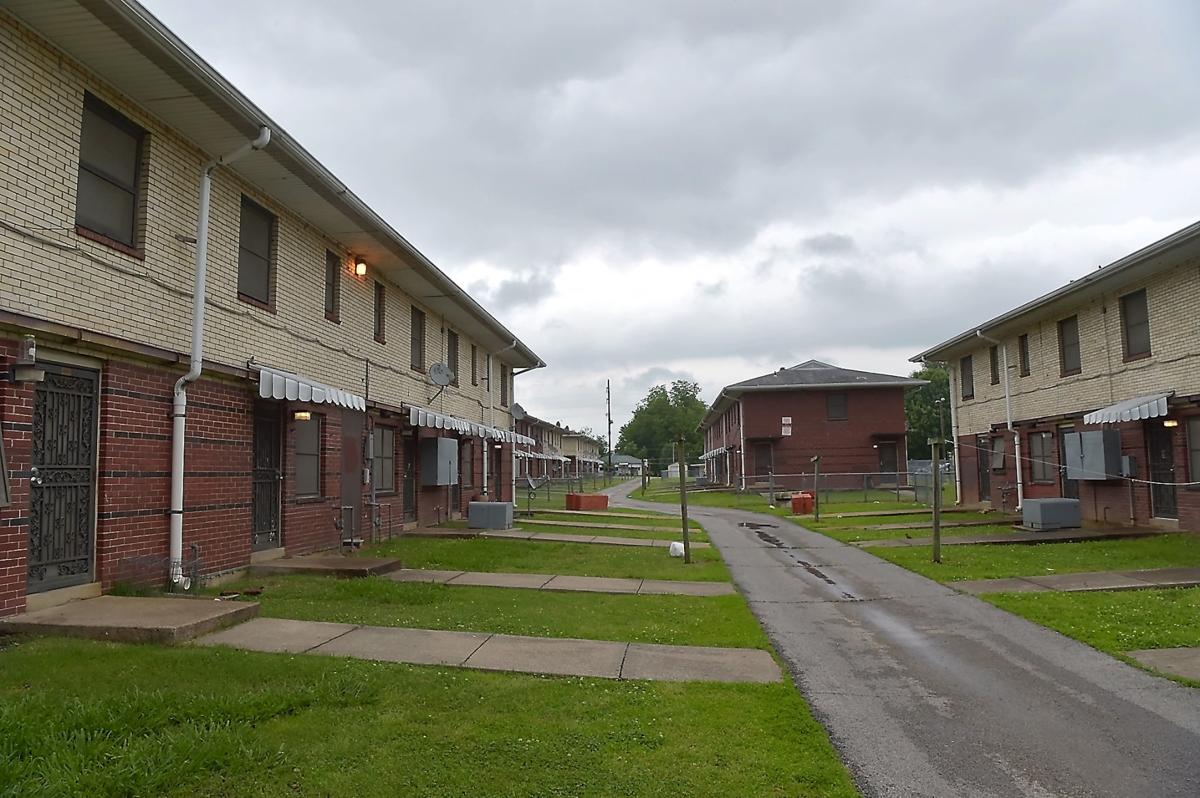 CAIRO — Housing and Urban Development has proposed an indefinite ban for two former ACHA executives and a three-year ban for a board member from participating in government programs.
The notices of proposed indefinite debarment — HUD's most serious compliance sanction — are dated Tuesday and were sent via certified overnight mail to James Wilson, who served as executive director of the housing authority from 1989 to 2013, and Martha Franklin, who served as executive director upon Wilson's retirement from April 2013 to March 2015, according to documents provided to the newspaper.
Prior to assuming the role of executive director, Franklin served a number of years as finance director and assistant executive director under Wilson.
Additionally, HUD proposed a three-year debarment for John Price, who served as a member of the ACHA's board until January 2015. He served on the board while simultaneously acting as the union representative for ACHA employees covered by a collective bargaining agreement between the housing authority and the Laborers' International Union of North America Local 773, which HUD claims represented a conflict of interest. Price is Local 773's secretary/treasurer.
"This is the first step in a process toward trying to hold these individuals accountable. Next, we plan to seek civil penalties," said Jereon Brown, HUD's general deputy assistant secretary for public affairs.
Brown declined to disclose what amount HUD might seek from the three individuals. He said it is a multi-step process and that will be made public at the appropriate time. 
According to HUD's rules and regulations, and as stated in the letters to Wilson, Franklin and Price, individuals who have been debarred by the federal housing agency have 30 days to request a hearing on the facts. If the allegations outlined in a proposed debarment are proven as fact, the agency also has the ability to sanction anyone who provided false certifications under the Program Fraud Civil Liberties Act.
Enacted by Congress in 1986, the act provides for an administrative remedy against any person who makes false, fictitious or fraudulent claims or statements. It is a civil matter — not a criminal charge. 
In addition to HUD's ability to disallow individuals from participating in a broad array of programs administered by federal agencies, the act additionally provides an administrative remedy to recoup financial loses when the alleged liability, per claim, is less than $150,000. If the allegations in a proposed debarment claim are proven fact, the act allows for an assessment against the individual of up to two times the alleged liability — up to $300,000 — as well as for monetary penalties up to $5,000 (a cap that agencies can adjust upward for inflation).
The assessment, double damages, plus penalty, can be applied for each proven false claim, according to HUD. HUD has outlined multiple claims against Wilson and Franklin.
Wilson said he's not concerned about potential financial assessments against him because he said that in his opinion there was no misappropriation of funds. 
Though the ACHA is an entity of local government, its operations rely largely on receipt of federal funds from HUD's Office of Public and Indian Housing, controlled by an Annual Contributions Contract between HUD and the housing authority.
In HUD's proposed debarment of Wilson, the agency's letter to him stated that he engaged in conduct while employed at the ACHA demonstrating a lack of responsibility and that under his control the agency "violated multiple HUD regulations and the ACC (Annual Contributions Contract) …" HUD alleges that Wilson did so by:
• making inter-program loans that obscured the financial status of the ACHA and its lowest preforming projects — Elmwood and McBride apartments;
• falsely certifying compliance with civil rights law;
• falsely certifying compliance with lead safety requirements;
• misusing federal funds to make payments to the chairperson of the board for the AHCA;
• and negotiating a consulting contract between himself and the ACHA during his tenure as executive director.
"This conduct resulted in a benefit to you, other ACHA staff, and the board at the expense of the projects and tenants," the letter states. "Your actions are evidence of serious irresponsibility and are cause for debarment …"
In regards to the claim he violated civil rights laws, HUD alleges Wilson's management practices perpetuated segregation of the ACHA's public housing developments and discriminatory employment practices in violation of Title VI of the Civil Rights Act and/or Fair Housing Act. He also is accused of failing to provide for an adequate number of units accessible to people with disabilities as required by the Rehabilitation Act.
As it relates to lead safety requirements, HUD claims Wilson failed to test for lead-based paint and provide appropriate remedies as was required for all developments built before 1978. Federal public housing regulations required the housing authority that was under his direction to ensure that workers conducting hazard reduction engage in lead-safe work practices and to conduct and treat hazards in homes where children younger than the age of 6 were identified as having elevated blood lead levels.
HUD claims that its review of ACHA records "did not reveal any documentation to support ACHA's compliance" with these regulations.
In a half-hour interview with The Southern Illinoisan, the first he has agreed to in nearly two years, since the newspaper began reporting on the housing conditions of ACHA-managed developments, Wilson said early Wednesday afternoon that he had not received the letter from HUD. He said he was not at home, so he doesn't know if a delivery attempt was made. 
Still, Wilson said he didn't need to review it first to comment. He said he is familiar with the debarment process and said that his plan of action will likely be to respond in writing to the letter denying the claims made against him. But Wilson said he doesn't intend to take it further than that because he is retired and has no interest in returning to work.
"I wouldn't ask for a hearing or anything because I don't see any reason to go through all that," he said. "That would take a lot of time and effort and like I said, I'd rather be doing other things ... I'm retired. I'm doing what retired people do. I mow the grass, plant flowers, play a little golf occasionally and go to baseball games, things like that. I'm doing the normal things you do when you're retired in the summertime — and trying to stay out of the heat ...
"So I would probably just respond to it and say I take exception to whatever it is that their findings are and say adios," he said.
As it relates to the claim of improper payments made to the chairperson of the board, HUD alleges the housing authority made improper payments totaling $8,000 to Irene McBride, a resident of Elmwood who served on the Elmwood Resident's Council and as chairwoman of the ACHA board. HUD also claims the housing authority made a payment of about $25,000 to the resident council without any accounting for the use of the funds.
The claims HUD makes against Franklin and Wilson are the same with one exception, that being the claim made against Wilson that it violated HUD's conflict of interest resolution for him to negotiate a consulting contract between himself and the ACHA during his tenure as executive director. As previously reported by the newspaper, the agreement in question between Wilson and the ACHA was for an 18-month consulting contract to commence upon his retirement in early 2013.
The consulting contract called for him to receive $2,500 a month for four hours of work a week — or about $156 an hour. After HUD declared the contract null and void in October 2013, the agency claims Wilson, again inappropriately, entered into a subsequent contract that month for a release of legal claims in exchange for full payment of the voided contract.
The newspaper does not have a phone number for Franklin. Wilson said her number is private and that she would not want him to share it, nor did he think she would be interested in responding to the newspaper's article concerning HUD's action against her.
As for Price, who at one time was a member of the ACHA board while also serving as the Local 773 representative for unionized employees, HUD claimed he also violated the federal agency's conflict of interest restriction.
"While serving as both a director of the ACHA and an officer of Local 773, you participated in negotiations of the contract with Local 773, voted on budgets which impacted the contract with Local 773, and participated in discussions of personnel matters which included union members," HUD wrote in the proposed debarment letter sent to Price. HUD further stated that in June, the agency sent a letter to the chair of the Alexander County Board identifying the conflict of interest and requesting that Price resign from the ACHA board, to which the Alexander County Board chairman has appointing power.
In response, Price resigned as the union representative for the ACHA but remained a board member. In September, HUD sent another letter to the Alexander County Board Chairman stating the conflict of interest remained and that Price needed to resign from the board.
HUD claims that despite the letters, Price continued to serve as a board member until January 2015.
The other above mentioned claims against Wilson and Franklin do not apply to Price. The newspaper reached out to Price for comment early Wednesday afternoon. He did not answer his cellphone nor immediately return a message left on his voicemail. Local 773 Business Manager Kevin Starr said he had not seen the letter or been made aware of HUD's latest action and therefore wanted to reserve comment until he could review the contents of the claim made against Price. 
Debarment is an executive branch action that is not related to the ongoing reviews by the HUD Office of Inspector General. While the Office of Inspector General routinely neither confirms nor denies that an investigation is taking place on any subject matter, Sens. Tammy Duckworth and Dick Durbin have said that HUD's investigatory arm is conducting both an investigation and audit concerning the ACHA.
In Cairo on Sunday, Duckworth said it's her understanding that HUD's investigation may be completed by August, though it's not clear at this point whether the outcome will be made public. She said that's why Illinois' two U.S. senators also requested the audit detailing what went wrong.
In February 2016, HUD placed the ACHA in administrative receivership and has been charged with its day-to-day operations since then. In doing so, the agency cited a "years-long pattern of financial and operational mismanagement, poor housing conditions, and alleged civil rights violations against the households the housing authority was responsible for assisting."
In April, HUD officials announced plans to relocate about 400 people, about half of them children, from two sprawling World War II-era housing complexes plagued with infestation, security concerns, environmental hazards including lead and exposed asbestos, inadequate plumbing and heating, and other issues compromising the safety of the families that call Elmwood and McBride home.
The Southern Illinoisan has documented the horrid living conditions and the mismanagement alleged by HUD and others for nearly two years. Federal officials including Durbin, Duckworth, U.S. Rep. Mike Bost and others have cited the newspaper's coverage, citing HUD and ACHA documents and interviews with numerous officials and residents familiar with the situation, in their repeated calls for responsible parties to be held accountable.
Wilson said he didn't think his side of the story has been fairly represented during the past two years while acknowledging he asked the newspaper in the fall of 2015 not to reach out to him for comment again because he felt initial stories printed in the fall of 2015 were slanted against his point of view. In agreeing to an interview on Wednesday, Wilson said there's plenty of blame to go around and more to the situation than has been revealed to date. "It will all come out in the wash," he said. 
"The whole thing in a nutshell, yeah, you could point the finger and say James Wilson wasn't the best executive director ever, although I had 24 pretty good years, I think," he said. "And you could say that HUD made some mistakes, which I'm sure they did as well, and go on from there."
"But I do know this. Since HUD has taken over the reins of the housing authority they have done an absolutely terrible, terrible, terrible job. And they have done a disservice to the tenants. They should have came in and built new housing or repaired what they have until they could get new housing built. They've done just a terrible job managing and running that housing authority. That's my opinion." 
This story will be updated as more information becomes available.
618-351-5079
On Twitter: @MollyParkerSI ​
Be the first to know
Get local news delivered to your inbox!