CARBONDALE — Sitting in his university office on Friday afternoon discussing the roots of parallel economic crises that have resulted in harsh social consequences for disadvantaged African Americans in East St. Louis and Cairo, Father Joseph Brown picked up the Bible from his desk and thumbed with ease to the book of Exodus.
"The great phrase out of Exodus is, 'the Pharaoh forgot,'" said Brown, who is a professor of Africana Studies at Southern Illinois University Carbondale and a Catholic priest.
He scanned the page for the exact passage he wanted to share in underlining his point — Exodus 2:23: "In the course of those many days the king of Egypt died and the people of Israel groaned under their bondage and cried out for help, and their cry under bondage came up to God, and God heard their groaning."
Looking up, he continued his line of thought. "Now, after 400 years of enslavement, the people of Israel who had gone down there as refugees, including one of whose members saved the economy of Egypt … But after 400 years it turned into, 'What can we do to get rid of these people or exploit them further because they don't belong here.
"Well, they helped you save yourselves."
The principal message of Exodus, Brown says, is one shared by Christians, Jews and Muslims alike. It's also his favorite.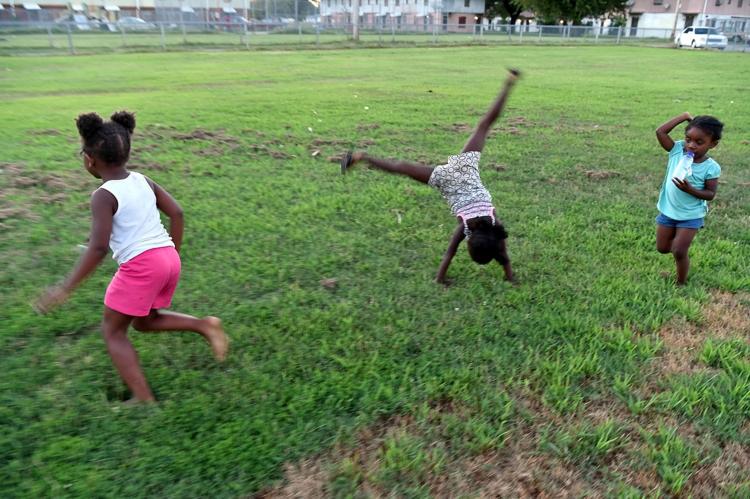 "Be kind and accepting to the stranger and the alien among you for you yourself were slaves in the land of Egypt. Do not oppress the widow and the orphan, for if you do, your children shall become orphans and your wives become widows, thus says the Lord," he recited, from memory.
In Cairo (pronounced CARE-O), so-named for Southern Illinois' long-ago given nickname of Egypt because of resemblances in landscape and agricultural economics, 'the Pharaoh' has forgotten, Brown said.
The roots of social problems in Cairo, East St. Louis
He said it his perception that the government failure at all levels went largely unnoticed because the people who call Elmwood and McBride home are viewed as "others" by the majority of people who could have, and should have said or done something much sooner. The two complexes are set to be torn down because years of neglect have made them unsafe.
Brown says the same goes for the low-income people who live in East St. Louis' many failing public housing complexes and in other poverty-stricken neighborhoods. Therefore, these communities have continued a downward economic spiral, he said.
East St. Louis is the city where he was born and lived until his teenage years. He considers it his hometown. As a young boy, he spent several years living with his grandparents at the East St. Louis Housing Authority's John Robinson Homes.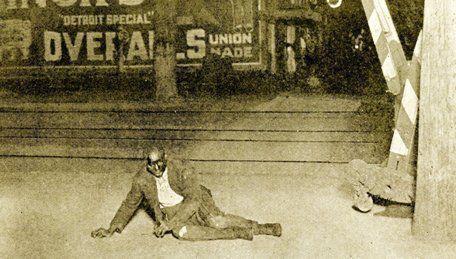 During this tumultuous period, the Illinois National Guard stood watch while a mob of violent and angry white people shot at, stabbed, beat and lynched numerous African-Americans.
Brown's parents also lived for a brief period of time in Cairo in the 1930s. Brown said it was common for black people of the time period to travel between these two cities. They hold great significance in African-American history, especially in the Midwest. Many of the African-American families that today respectively call Cairo and East St. Louis home are related. There are strong ties between the cities, he said.
Cairo is a much smaller community, of about 2,400, compared to East St. Louis' population of about 27,000. Further, Cairo also is more isolated, as the city at the bottom tip of Illinois is about an hour from the larger cities of Paducah, Cape Girardeau and Carbondale. But there are many common threads to the issues that have plagued these communities, Brown said.
Namely, racism was the primary driving force behind their economic downturns. Brown said that by 50 years after the 1917 race riots, most of the large employers had left in the city. "It wasn't white flight. It was business flight. There was no tax base left. So the people who had actually maintained the privilege of jobs in that city, there was nothing left for them," Brown said. Cairo faced many of the same issues, and saw the exiting of numerous other businesses in the wake of intense racial discord throughout the 1960s and 1970s. Both cities are near economic deserts.
What's left is two primary categories of employment for the people who stayed behind: the administration of welfare programs and the educational system, Brown said.
"It's the same dynamic," Brown said of the situation facing Cairo and East St. Louis. "Welfare and education — and they both provide jobs. But they do not provide jobs for the citizens, just for the people in those specific professions. And to say, 'Well, there's nothing we can do.'
"I don't want to hear people talk about encouraging business opportunities in the state of Illinois or the United States of America and not say our first priority is the places where there is none."
HUD controls housing agencies in East St. Louis, Cairo
In Cairo and East St. Louis, there has been such systemic failure concerning public housing — which is among the many social consequences of decades of private and government disinvestment — federal housing officials are administering the public housing agencies in both cities in what HUD calls administrative receivership.
Administrative receivership means federal officials ultimately are in charge of day-to-day operations rather than locals at the housing authorities. In both cities, a long history of corruption and mismanagement is part of the equation that prompted this government action, which is relatively rare when considering there are 3,200 housing authorities in the country. The East St. Louis Housing Authority has held that dubious distinction since 1985; the Alexander County Housing Authority since 2016.
Brown said the majority of people wrongly lay these local failures at the feet of those who live in the public housing. 
"Because this is America, people assume the condition they're living in must be due to their inferiority, their lack of discipline — their laziness, in other words — or some other moral defect, when the moral defect is not the victim but the perpetrator," Brown said.
"We do not see them as our sister, our brother, our daughter, our son, our mother or our father," he said. "We don't see them that way. And if we don't see them for who they are, we will never care about the hurt they have. Because we're not here to alleviate hurt. We're not here to challenge the causes of the pain, the discomfort or distress.
We are here to maintain good order and our jobs. That is the root cause."
Thousands of freed slaves sought refuge at site of McBride
The roots of the public housing crisis playing out in Cairo also has weighed heavy on the mind of Kerry Pimblott, author of "Faith in Black Power: Religion, Race and Resistance in Cairo, Illinois." Pimblott studied the Civil Rights Movement in Cairo while earning her doctoral degree in history, with an emphasis on African-American history, from the University of Illinois at Urbana-Champaign, which she was awarded in 2012. Presently, she is a lecturer in international history at the University of Manchester in England.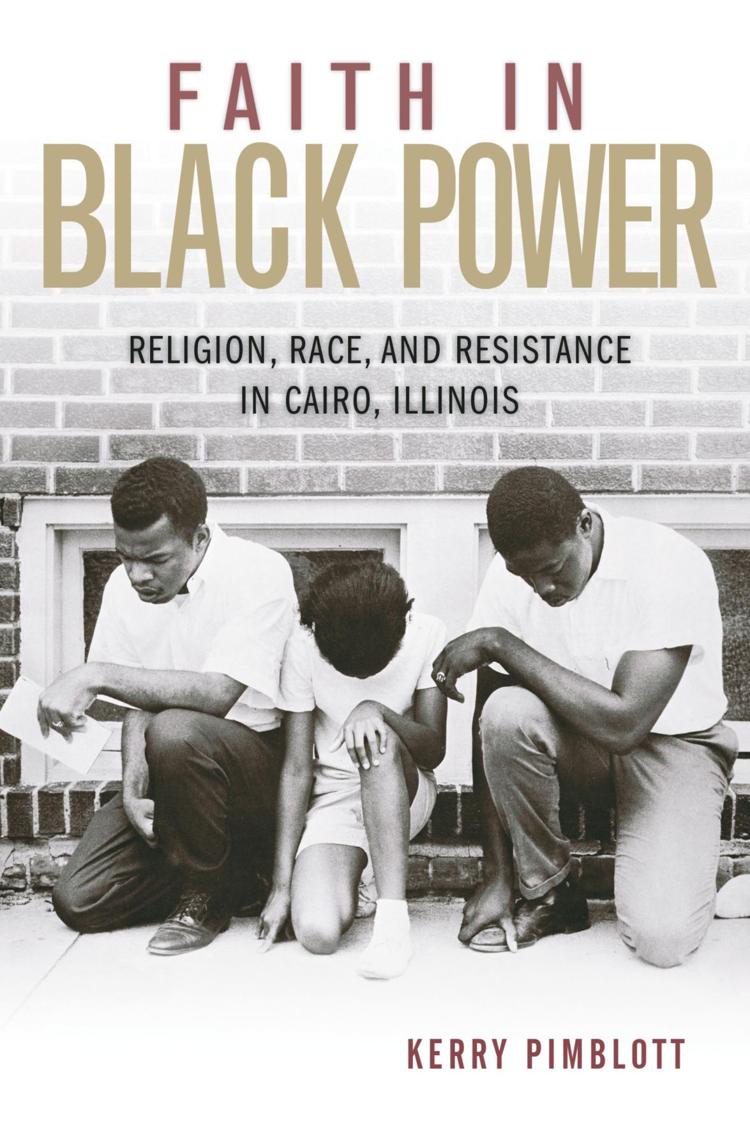 HUD does not plan to build new housing in Cairo because, federal officials say, they cannot attract a private developer to the table for the partnership it requires to do so. "On its face, the coming exodus could be viewed as a tragic but inevitable development for a declining river town," she wrote in her recent column. "But, history offers a longer and more complex story of racial discrimination, disinvestment, and resistance that I tell in my recent book …"
The above-mentioned book was published in December. In the book and column, Pimblott notes that the construction of Cairo's two family public housing complexes that HUD plans to eventually demolish began during World War II following the passage of the 1937 U.S. Housing Act.
Elmwood Place was designated for white residents and Pyramid Courts, which later was renamed McBride, was for black residents, she wrote. Segregated housing was common of the era, as were inequities in complexes for whites and blacks. Elmwood Place was built uptown in a mixed income neighborhood and made of nicer materials. Pyramid Court was constructed of cheaper wood-frame materials and placed downtown in an area more prone to flooding, adjacent to the Mississippi River levee on Cedar between 12 and 15th streets, according to Pimblott's research.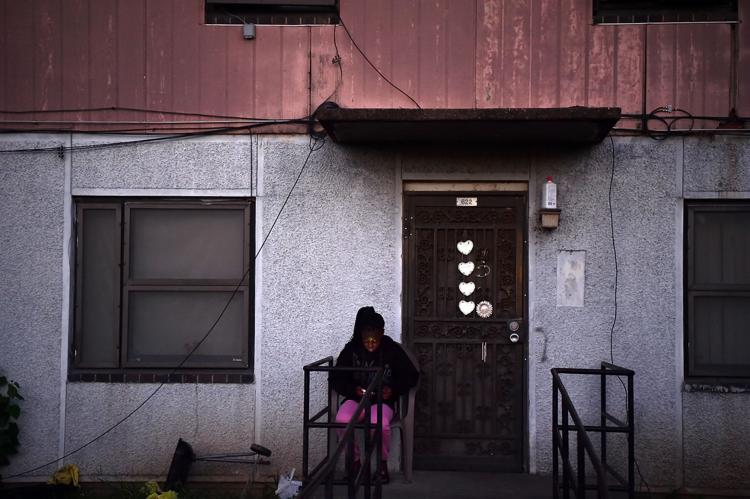 "This story of Jim Crow public housing is one familiar to many American cities," Pimblott's most recent column reads. "What is less known, however, is that the Pyramid Court's first residents in 1943 followed in the footsteps of an earlier generation of Black Carioites.
"During the Civil War, Cairo served as the headquarters for the Union's army and naval operations on the western front. After the Confiscation Acts of 1861 and 1862 and Lincoln's subsequent Emancipation Proclamation, African Americans fled the cotton fields of the Deep South and crossed federal lines in growing numbers. Many were transported northwards on the Mississippi River aboard steamers to Cairo."
According to Pimblott, more than 5,000 black people sought refuge in the Union's northernmost "contraband camp" located on 12th and Cedar Streets. She said her research revealed the camp was located at "the exact site of the contemporary McBride." This little-known fact seems to be all but forgotten or dismissed.
"Despite the proliferation of historical markers to Cairo's Civil War history, none commemorate the city's monumental significance to the thousands of formerly enslaved African Americans who took their first tentative steps toward freedom here," she writes.
Sadly, she also notes the site where McBride now sits, and from which families are being relocated as HUD prepares to raze the complex because of its squalor conditions, the people who lived there as recent freedmen more than 150 years prior also faced horrid living conditions.
Pimblott's research revealed that eyewitness accounts from abolitionists and missionaries showed that the Civil War refugees were bunked in "unsanitary, disease-ridden and overcrowded accommodations that the Quaker Levi Coffin described as granting 'none of the comforts and few of the necessities of life.'"
They laid the foundation of Cairo's black community
At the end of the war, many of the African Americans migrated north toward St. Louis and Chicago and other large cities. Still, Pimblott notes, many remained. The black population grew from 47 in 1860 to 1,849 in 1870, according to her research.
"Those that stayed were responsible for laying the foundations of Cairo's black community, building churches and fraternal orders, schools, unions and businesses," she writes. "In many cases, it was the direct descendants of this first generation of black Cairoites who carried their belongings into another federally sponsored housing initiative during WWII almost a century later." In a Skype interview with the newspaper this past week, Pimblott said she assumes that many of the people being relocated from McBride are descendants of the people who lived at the same site following the Civil War.
She noted that dating back decades, the residents of Pyramid Court, now McBride, were complaining to federal officials about inadequate housing in their city, most notably when the U.S. Civil Rights Commission held hearings there in 1972, according to the transcripts.
"I think one of the challenges is that really, from my perception, is people don't know the history of it," Pimblott said. "So people in the federal government I don't think would have passed the knowledge on to know how deeply there's been a failure.
"Beyond the public housing situation they now have to wrestle with, they wouldn't know that this was ever the federal government's responsibility and that they have failed on so many levels at so many points in history that make this such a systemic racist situation.
"And even if they did, they would just say, 'Well there's nothing we can do about the past and so now people just need to go on and find a solution that works for them in the present, not acknowledging that this isn't just a Cairo problem, that this is a problem all over the United States."
Pimblott said that unethical government practices have promoted "uninhabitable accommodations" that have gone unchecked by HUD, "even though we know in Cairo's case that people from those housing projects have come forward time and time again in different generations to complain about exactly the same housing concerns, which is roaches, vermin in their houses, infestation, plumbing issues, electrical issues, health concerns raised by family members."
She said that in her mind there's no question that the federal government must view the housing crisis in Cairo — and therefore its solution to it — through the long lens of history, even though new people have assumed leadership posts throughout the federal housing agency. In her view, that hasn't happened to date.
"I think it's just blindness on the part of government toward their responsibility and any real solutions to the problem," she said. She said the issues playing out in Cairo speak to the greater political inertia to deal with the failing public housing system in the United States. "It's bigger than Cairo."
No easy current-day answers to historical failures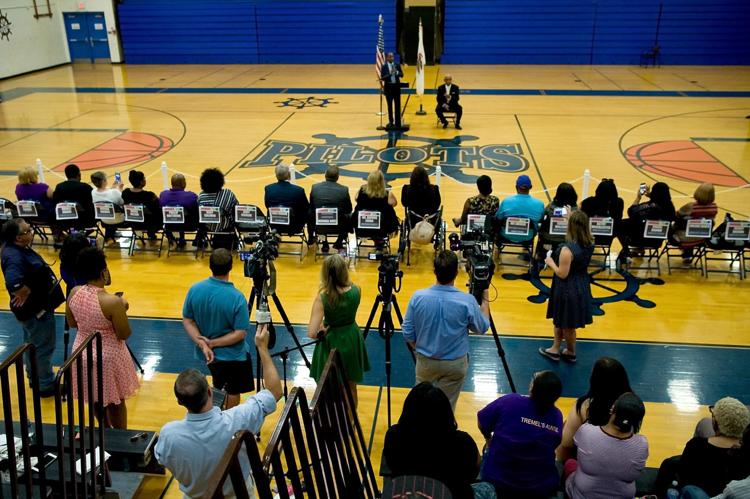 And it's bigger than East St. Louis, too. But these are two case examples of the ways in which decades of government failure and systemic racism and the resulting socioeconomic consequences can culminate in crises without any easy current-day answers.
St. Clair County State's Attorney Brendan Kelly said he's had numerous battles with HUD concerning the East St. Louis Housing Authority while working as a prosecutor and assistant prosecutor. Kelly is running in the Democratic primary for the 12th congressional district held by U.S. Rep. Mike Bost, which encompasses East St. Louis and Cairo.
He said those battles have been primarily over security and safety "and the constant delays in redeveloping the housing in East St. Louis to make it safe and to make it a place where the folks who need public housing have a decent place to live."
Kelly said he's most familiar with what's transpired in East St. Louis, but also has followed the news articles about the housing crisis in Cairo.
"I think HUD through both Republican and Democratic administrations has absolutely failed the people of Cairo, and they've absolutely failed the people of East St. Louis, he said.
Kelly said the federal government's approach to public housing, including its oversight function, has been a "complete failure" in both cities. Where it concerns HUD's relocation effort in Cairo, Kelly said, "I don't think the solution for the people of Cairo is to toss them to the wind."
"They love their home, they love their community, they love each other, and they should find a way for them to be able to stay there in the community," he said.
"And I think given how poorly HUD has treated them, and what HUD has failed to do through both Democratic and Republican administrations, they owe them that. They absolutely owe them the ability to stay in their home community."
HUD: There are limitations to agency's abilities to respond
In response to the criticism of HUD's work in Cairo and East St. Louis, HUD spokesman Jereon Brown said "opinions are always worth listening to." Still, he said there are limitations to what the federal housing agency can do to address the widespread economic issues in these communities. He said there is a nexus between economic conditions and housing. In previous interviews, he's said it's the economy that drives housing, and not the other way around. "It's also notable that they either ignored or were unknowledgeable about HUD's budget," he said. "Sometimes understanding the 'why' affords more than an editorial."
Jereon Brown also said it is interesting that many of the candidates for political office in Illinois who have weighed in on the situation in Cairo have implied of HUD, 'They should find a way.' "I certainly hope that one day soon they realize they could be the 'they,'" he said.
"That's when tough decisions and ideas are required, not just rhetoric. Not one campaigner has added much outside of volume."
Jereon Brown said HUD is working to preserve as many housing units as possible in Alexander County, while also preparing to demolish Elmwood and McBride. He said the other priority is to stabilize the finances of the Alexander County Housing Authority. Then, HUD intends to turn the housing authority back over to local control some time in 2018, within two to three years of taking it over.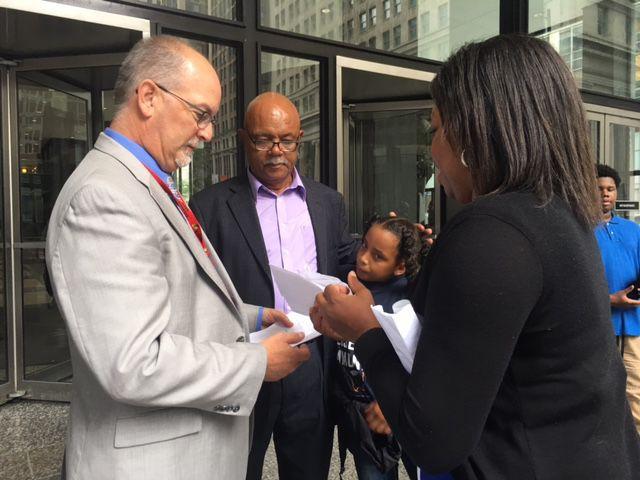 By comparison HUD has been running East St. Louis' public housing affairs for 32 years. In addition to East St. Louis and Cairo, HUD is operating the Wellston (Missouri) Housing Authority in administrative receivership, and has since July 1996; and the Gary (Indiana) Housing Authority, since July 2013. All four of these Midwestern communities — Cairo, Wellston, East St. Louis and Gary, are predominately black communities. All four are fast depopulating communities. All four face harsh economic conditions that manifest themselves in a host of debilitating socioeconomic side effects experienced by the people who live there. In all four, there are people who love their city and want it to survive. 
Gary, Indiana, is the largest of the four, with about 76,000 people. Wellston, which sits just eight miles to the west of St. Louis, and with a population of about 2,200, is roughly the size of Cairo.
HUD takeovers, 1985-2018
| Public Housing Authority | Began | End/Status | Reason |
| --- | --- | --- | --- |
| East St. Louis, Illinois | October 1985 | September 2017 | Physical/management |
| Orange County, Texas | September 1993 | 2004 | Fair housing |
| Lafayette, Louisiana | February 1995 and March 2011 | September 2002 and November 2016 | Fair housing/management and financial management |
| Chicago, Illinois | May 1995 | May 1999 | Physical/management |
| New Orleans, Louisiana | February 1996 | May 2014 | Physical/management |
| San Francisco, California | March 1996 | September 1997 | Physical/management |
| Springfield, Illinois | March 1996 | September 1997 | Physical/management |
| Wellston, Missouri | July 1996 | Current | Physical |
| Camden, New Jersey | August 1997 | 2003 | Physical/management |
| Beaumont, Texas | October 2000 | July 2004 | Fair housing |
| St. James Parish, Louisiana | April 2001 | July 2002 | Physical/management |
| Virgin Islands | August 2003 | May 2014 | Financial/physical |
| Detroit, Michigan | July 2005 | March 2015 | Financial/physical/management/capital fund |
| Miami-Dade, Florida | August 2007 | 2010 | Financial/management |
| Philadelphia, Pennsylvania | April 2011 | 2013 | Management |
| Cocoa, Florida | April 2013 | December 2013 | HUD debt/financial/MOU default |
| Gary, Indiana | July 2013 | Current | Financial/physcial |
| Alexander County, Illinois | February 2016 | Current | Financial/physical/VCA |
In the last roughly 30 years, HUD has placed 19 housing authorities into administrative receivership, though these are the only four that remain in that category. (This excludes judicial receiverships, ordered by a judge). 
Under HUD Secretary Ben Carson, the federal housing agency has been charged with working toward ending the practice of long-term administrative receiverships and transitioning those currently under HUD's administrative purview back to local control. The agency is currently preparing a plan to return the East St. Louis Housing Authority to the city, and that philosophy also seems to be, at least in part, driving the desire for a quick turnaround, relatively speaking, in Cairo.
Kelly: 'I'm dubious of their motivations'
Kelly said he's been hearing rumors for at least seven years about the federal government's plan to return the East St. Louis Housing Authority back to local control. Kelly said he'll believe it when he sees it, and withhold final judgment on the plan until he reviews all the particulars. But he's not optimistic given that HUD has not made the types of significant improvements he believes are necessary for local success — even though the agency has been involved for three decades.
"I think frankly this is just HUD washing their hands of their failure. I'm dubious of their motivations in terms of this process," he said.
"In theory, in theory — I underline that, in theory — local control of community affairs is a good thing. We all want local communities to be engaged in local problems. But this idea of local control that HUD is espousing, to me it's just an excuse for them to hand off the problem, and not be the partners that we need them to be.
"Drive through public housing, go talk to anybody who lives there, walk into any home of public housing, and you'll see the proof that their policy and approach they've taken over both Democratic and Republican administrations has been a failure."
Joseph Brown shared similar concerns about HUD's planned exit from East St. Louis, as well as Cairo.
"If the people they are talking about who would be the ones exercising the local control had financial stability, job stability, decent health care and community policing practices in place, then I would say it's possible to turn it over to local control."
Yet, as it stands, Brown said he's worried the federal government may be looking to walk away from these communities before finishing the job at hand, which as he sees it, is being a true partner in acknowledging and then addressing the root causes of the economic crises at play in Cairo and East St. Louis and other similarly situated communities.
East St. Louis 'a city that survives,' Brown says
"East St. Louis is a city that survives, and they have some political, and civic and business leaders who are working themselves into exhaustion to do more with what they've got, and to do better with what they've got, and I know the civic leaders, political and social leaders in Cairo are doing the same thing," he said.
But without adequate tools to do the job, the federal government is setting these communities — and those living in them — up for failure, he said.
"We are turning over control over something that is in inevitable decline," Brown said. He noted that during the civil rights movement it was often said, as it still is today in churches, that "if one perishes we all perish."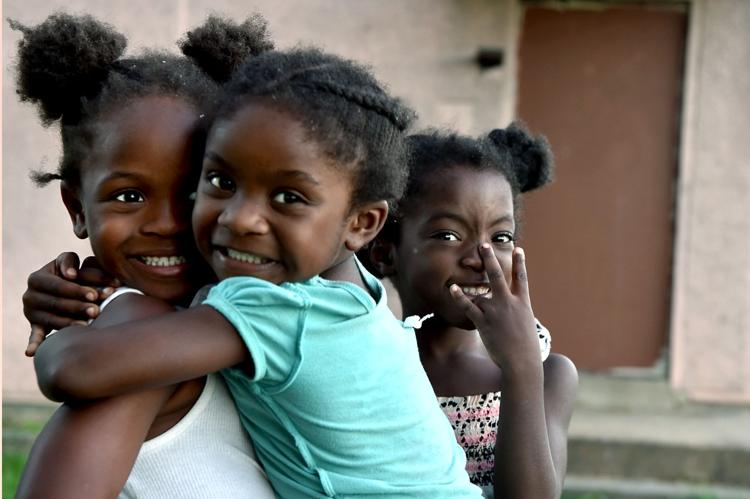 "There is no way you can say it's not my block. It's not my region. It's not my state. It's not my country. They are not my children," Brown said.
"Well then, whose are they?"
Editor's note: This story has been updated to correct the date HUD placed the Wellston Housing Authority into administrative receivership. A previous version incorrectly assigned to the Wellston Housing Authority the date HUD took such action in East St. Louis.