THEBES — In a special meeting Wednesday, federal housing officials told residents living in two public housing developments in Thebes that the complexes they call home are being put up for sale, and that residents will have to move. 
"What you're going to hear tonight is going to be life-changing somewhat. So I want to prepare you for what you're about to hear. But don't be overwhelmed, because that's why we're all here. And I'm not saying that lightly," Towanda Macon, a HUD administrator who has been overseeing the Alexander County Housing Authority for nearly two years, said at the top of the meeting.
Macon and other HUD officials then explained that the housing authority cannot afford to repair the complexes known as Mary Alice Meadows and Sunset Terrace. They laid out a plan to help the residents move with the assistance of relocation specialists, moving expenses and rent subsidies.  
Some of the residents said they expected this news given that the agency earlier announced a similar plan to relocate about 400 people from two public housing complexes in Cairo. While that meeting in Cairo last April was rife with emotion and tears, the roughly 15 or so residents who gathered in a small community room next to their apartment complex Wednesday night in Thebes seemingly took the news in stride.
At least a few had already changed into their evening lounge wear, and one woman explained she could only stay a minute because she had just put color in her hair when she heard about the meeting and rushed over to find out what was going on.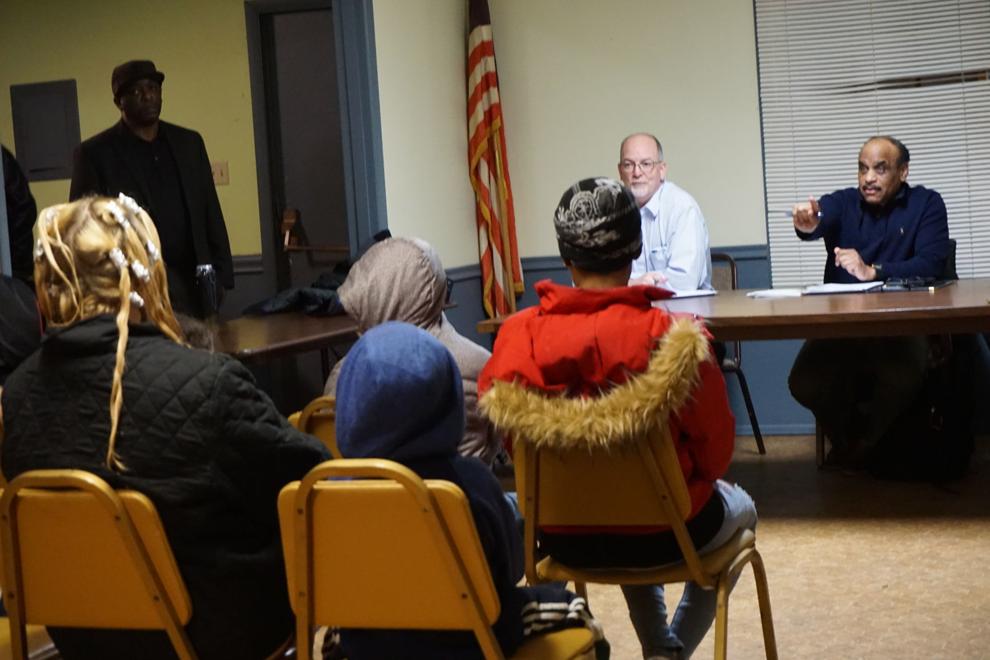 Thebes, which similarly to Cairo is named after a city in Egypt, is a tiny, hard-luck village of about 360 people that sits on the Mississippi River. The river regularly rises too high here, and the economic prospects are low. About 85 people — roughly a fourth of the town — lives in one of the two public housing complexes in the village. Of them, about 25 are school-age children who attend Egyptian Community Unit School District 5, which has a total student population of about 475.  
Heather Toma, who has lived at Mary Alice Meadows for five years with her four children ages 13, 11, 10 and 4, said she's glad that HUD is extending the option to Thebes residents to move. "It's real exciting," she said. Toma said she believes a larger area and school will be better for her children. Toma said she doesn't know yet where she'll go, but she's sure of one thing. "I'm ready," she said, without hesitation. 
Others were less eager about the announcement. Michelle Baldwin said she likes living at the Thebes complex. At one time, she lived in public housing in Cairo, and said she prefers Thebes because it seems quieter, and she likes the small-town feel.  
U.S. Department of Housing and Urban Development spokesman Jerry Brown said before the meeting that the decision to sell the properties came after crunching numbers following a September cost assessment. That report showed that repairing just 10 vacant units — nine in Mary Alice Meadows and one in Sunset Terrace — would cost $648,733.11.
"If you look at that and you look at the capital funding for the housing authority, which is about $670,000, there is no way that we could actually do that and make it work financially," Brown said, adding that repairing the units could "bankrupt" the Alexander County Housing Authority.
The document and assessment was prepared by the Farnsworth Group out of Champaign. Their assessment details a need to repair moisture damage in nine of the apartments because of plumbing leaks, window replacement in some units and second-story unit floor repairs — it describes many as sagging. Brown said the report only addressed livability repairs, and does not take into account any environmental assessments for unsafe building materials.
Brown said HUD is open to a variety of options — it could sell the units outright or enter a public/private partnership like it has for the Little Egypt Village development in Cairo. Brown said while HUD would like for the properties to be rehabbed for use to fulfill the area's need for affordable housing, he has to think about the ACHA's bottom line, too.
CAIRO — When federal housing officials gathered residents of two Cairo public housing complexes into a Baptist church in April and told them t…
"We'd like to have it into affordable property but this really comes down to some return," he said, adding that money from the sale would also benefit those currently living in public housing with or without using the property for housing outright.
Brown said he wanted to be up-front with residents Wednesday.
"We also are going to be truthful with them. The odds of someone buying Thebes and repairing Thebes are low. But we are going to try everything," he said.
In the meantime, Brown said HUD is going to begin working with residents who want to relocate either permanently or temporarily — some may want to return to Thebes if housing units are repaired in the future — by opening up the voucher program to the 31 households living in Thebes.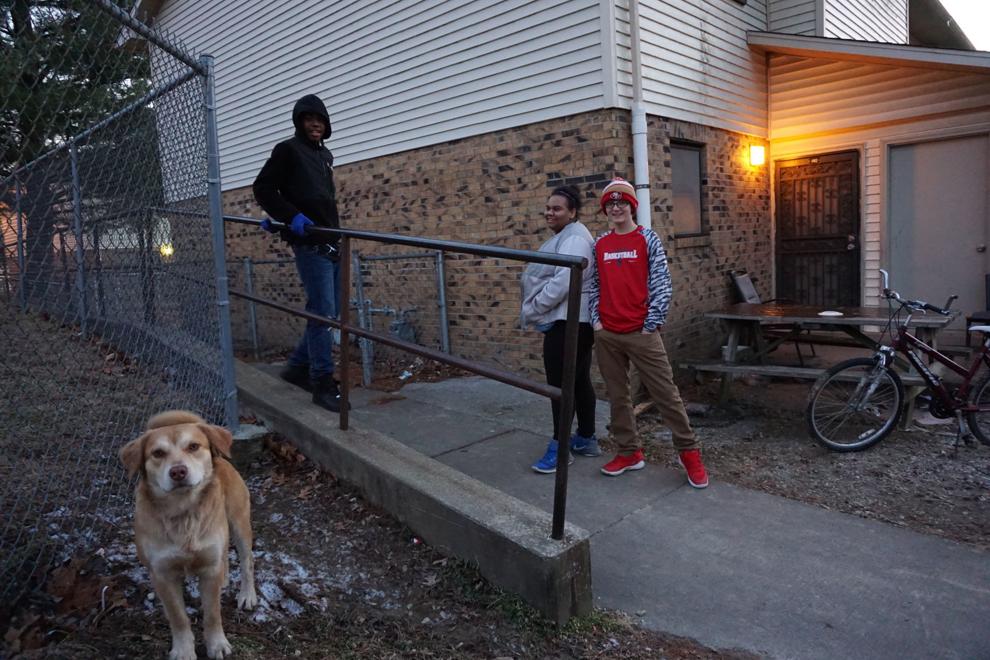 Jim Cunningham, the deputy regional administrator of HUD's Midwest Regional Office based in Chicago, said while there is still some back-end work to do, residents should be able to begin meeting with relocation specialists as early as Friday.
Laverne Williams has lived in Mary Alice Meadows for six years. She said she planned on going to Wednesday's meeting, but wasn't sure what to expect. Williams said she enjoys living in Thebes, but knows nothing is permanent.
"If you got to go, you got to go," she said of the possibility HUD may deliver on Wednesday similar news as it did to Cairo's ACHA residents last year, when 185 families were told they had to move from their homes for safety concerns.
CAIRO — A gathering of Cairo residents erupted in anger Monday night as federal housing officials informed them that close to 200 families res…
Williams said she believed that the housing units could be salvaged if some work was put into them. But, Williams said they don't seem to be doing that, pointing to cracking flooring and crumbling ceilings. She even said that her interior door didn't lock and that no one had come out to fix it since she complained of it two months ago — she spoke on Wednesday through a locked storm door.
Lawrence Lewis also likes living in Mary Alice Meadows. He said that it's quiet and suits him more than living in a busy place like Cairo would. He was previously unaware of the meeting, but said Wednesday afternoon he planned on going — he was later seen walking his neighborhood looking for a copy of the flyer put in residents' doors announcing the event.
Lewis said he would prefer not to move, but would if he had no other choice.
"If they putting us out (I will)," Lewis said.
Speaking before the meeting, Brown said he has been through meetings like Wednesday's a number of times, and he said they are never comfortable.
"It's never a good meeting when you are telling folks that they need to consider moving," he said, adding that he thinks the residents will likely take HUD's announcement as "bad news."
Still, Brown said he would like to think that people may see this as an opportunity to improve their living situations. HUD's vouchers subsidize rent paid to private landlords. Additionally, HUD is paying relocation costs for tenants who are relocating. Brown said there is the possibility of better work opportunities for adults and more educational possibilities for children.
"It's a bunch of tough choices," Brown said of decisions HUD teams have had to make.
"None of them may be the best choice for that individual but overall it's the best choice that we could make at this time," Brown said.
Molly Parker contributed to this report. 
Editor's note: This story has been corrected. The original version stated that about 45 school-age children live at Mary Alice Meadows and Sunset Terrace. It should have said that about 25 residents attend Egyptian Community Unit School District 5, according to Superintendent Brad Misner. 
618-351-5823
On Twitter: @ismithreports