Editor's note: This story was originally published on Oct. 7, 2017. We are sharing it again as the late U.S. Congressman John Lewis' body is lying in state in the nation's Capitol. Lewis died July 17, 2020.
CAIRO — In the summer of 1962, a 22-year-old John Lewis and other young African-Americans knelt in prayer on the sidewalk in front of a "whites only" recreational facility as part of a peaceful demonstration effort aimed at integrating businesses and other public places in Cairo.
Danny Lyon, a Brooklyn native and then-University of Chicago student who hitchhiked to Cairo that summer, captured the poignant moment with Lewis, who would go on to become a longtime U.S. congressman from Georgia and American hero and icon of the Civil Rights Movement.
The image of the spiritual protest was shared around the nation throughout the 1960s as a poster with the words "Come let us build a new world together" inscribed at the bottom.
It came to symbolize a movement for racial reconciliation rooted in Christian brotherhood and Gandhi's philosophy of nonviolence — the principles upon which the Rev. Martin Luther King Jr. founded a movement and inspired countless people to action. That includes Lewis, who became a close friend to King and influential leader of the Civil Rights Movement in his own right.
Recently, that photo circulated widely again, this time on Twitter, as it was originally posted by Lewis, and then shared thousands of times by the congressman's social media followers. Though, with the countless retweets, there was little mention of Cairo, where it was taken — and where decades of civil rights violations against black residents of two public housing complexes has culminated in a current-day housing crisis. But more on that later.
After meeting Lewis in Cairo, and the two becoming friends, Lyon would go on to capture on film some of the most harrowing moments of the Civil Rights Movement with Lewis making sure Lyon, a white man, had the access he needed to do his job. In doing so, Lyon also played a part in helping to fortify a movement by gaining the nation's attention as his photographs spread.
For this and many other reasons, Cairo served a larger role in the Civil Rights Movement than just the historical footnote it often receives suggests.
In Southern Illinois, many seem to have forgotten, or perhaps never knew, of the pivotal role Lewis played in Cairo in the summer of 1962. As field secretary for the Student Nonviolent Coordinating Committee, he and other SNCC workers successfully integrated numerous businesses and facilities including a swimming pool, roller rink, barber shop, restaurants and other businesses.
Last week, Lewis reflected on the 1962 summer he spent in Cairo in a brief interview with The Southern Illinoisan.
"Cairo takes me back. I believe that's where the Ohio and Mississippi meets," Lewis said. "It reminded me of some old southern communities." Lewis said he particularly remembers his time there with a young activist named Charles Koen, who went on to lead nationally noted integration campaigns in Southern Illinois.
Lewis recalled spending that 1962 summer working alongside other SNCC workers to help organize students and local community and religious leaders. "There was this recreational center that didn't allow African-Americans to come in and so we had a kneel-in there," Lewis recalled specifically of the moment captured in the above-mentioned photo. He said that by the end of the summer, the organizers had been successful in integrating most businesses and recreational facilities.
He also recalled SNCC workers helping to organize rallies and nonviolence training sessions, during which SNCC workers taught young organizers how to peacefully respond to hatred and violence with compassion. Koen, who worked alongside Lewis as a teenager, said those training sessions took place in the basement of the Ward Chapel AME Church in Cairo.
"It was orderly and peaceful," Lewis said of that summer campaign SNCC helped wage, which also served to spark a much longer battle for equality in this downstate Illinois town.
According to author and international history professor Kerry Pimblott, who has extensively studied Cairo's role in the Civil Rights Movement, the more significant aspect of Lewis' time in Cairo is that he helped train a generation of young activists who would spend the next decade working to achieve equality for Cairo's black citizens, particularly where it concerned access to employment opportunities. These young leaders faced extreme pushback and violence by white business owners and town officials who waged a resistance effort that was as bad, and perhaps worse, than what black activists faced in any city in the south, she said.
'#Goodtrouble'
Two weeks ago — and about 55 years after photographer Lyon captured the iconic moment — the congressman shared the image of the spiritual protest in Cairo on his Twitter page accompanied by the words: "The young people kneeling today are following a long tradition. #TakeAKnee #Goodtrouble."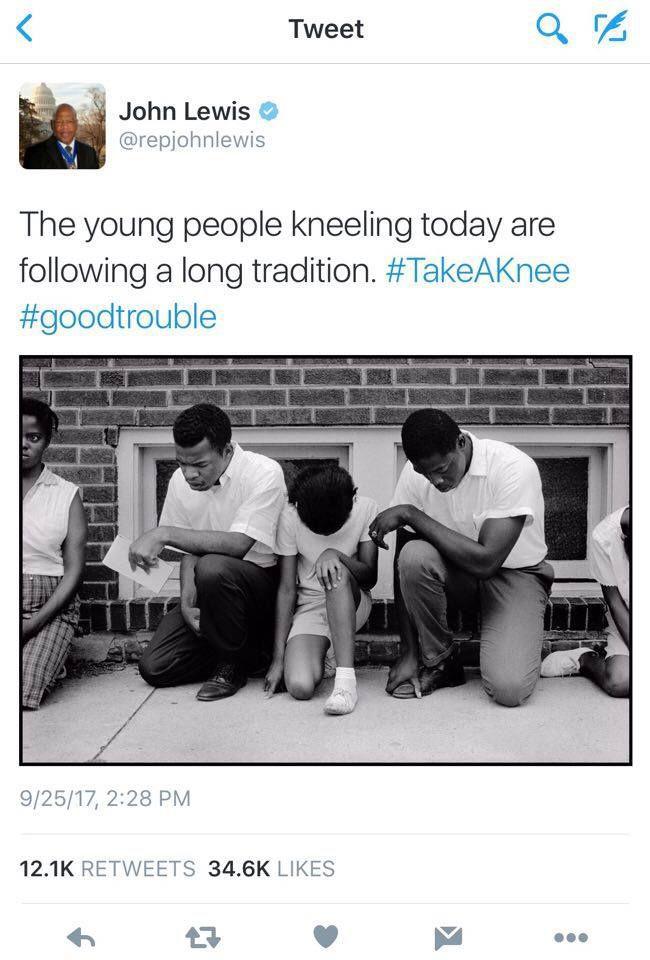 The post came three days after President Donald Trump reportedly said — at a campaign rally for Alabama Republican Senate candidate Luther Strange — that NFL owners should respond to the players taking a knee during the national anthem by saying, "Get that son of a bitch off the field right now, he's fired."
Some professional football players have chosen to silently protest racism and oppression against black Americans, and in particular their concerns about fatal police shootings, by taking a knee or locking arms during the national anthem, a movement that began in 2016 with former San Francisco 49ers quarterback Colin Kaepernick.
The spreading of the movement to other players on teams at the professional, collegiate and high school levels, has touched off a national debate with numerous politicians weighing in. Some of them, including Lewis, have defended the players kneeling or locking arms during the Star-Spangled Banner as a peaceful but visible way to send a powerful message that takes a page from the past. Others, such as Trump, and Illinois Gov. Bruce Rauner, argued that it is disrespectful to service members who have risked their lives to defend America. Trump also has called for fans to boycott games unless NFL owners stop the protests.
Asked why he chose this particular photo of him in Cairo to make his statement in support of the NFL players taking a knee, Lewis said, "We've made progress since 1962, but we still have a great distance to go. The scars, the stains of racism are still deeply embedded in American society."
It received more than 35,000 likes, and was retweeted more than 12,000 times.
Another crisis in Cairo
But few in the vast world of social media — or in the region, if they noticed at all — seemed to realize that the photograph was of Lewis in Cairo.
The image generated numerous comments about the NFL take-a-knee protests and ensuing debate, but none about the housing crisis that threatens to bring this forgotten city to its knees -- or about how several hundred low-income families in Cairo have been living for years with rampant infestation, uncontrollable mold, plumbing problems leading to unsanitary conditions, and unacceptable lead levels in residents' drinking water in their public housing complexes. In total, recent inspections of the public housing properties known as Elmwood and McBride found 1,376 health and safety deficiencies, according to Housing and Urban Development.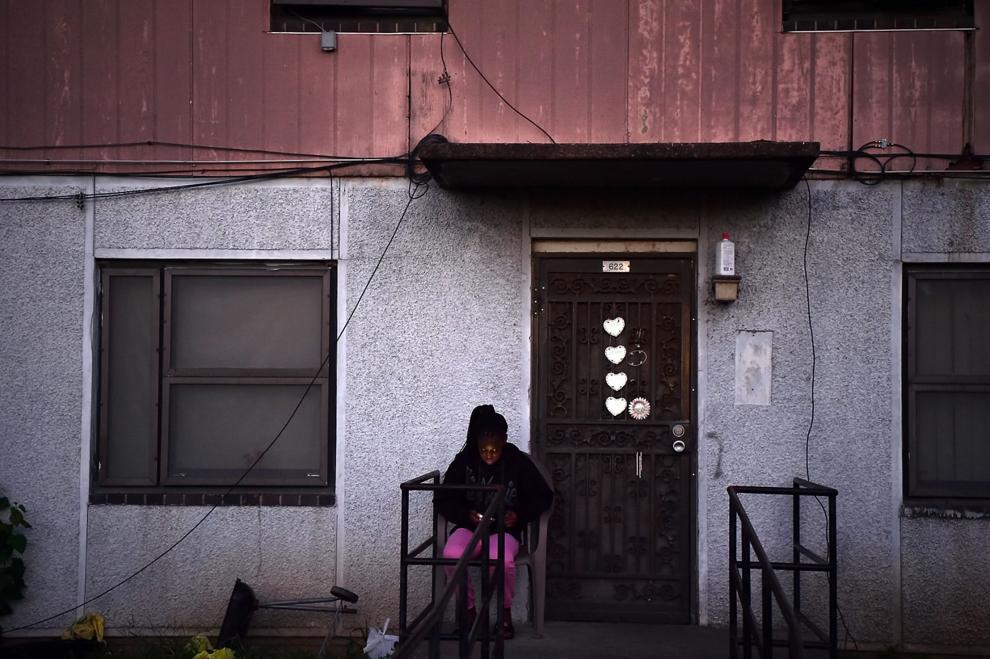 HUD officials are helping residents move by providing emergency relocation vouchers. But with few affordable housing options available to allow people who want to remain in the city, the planned razing of the 75-year-old Elmwood and McBride complexes threatens to further decimate this strife-battered but resilient little city that sits at the confluence of two major rivers. About 15 percent of the city's residents live in these two complexes, and about 40 percent of the schoolchildren.
Lewis said he only recently learned of the housing crisis in Cairo, when his office was contacted by The Southern Illinoisan. Though he did not post the photo for that reason, Lewis said, upon learning of the housing situation, and that there are no plans to rebuild in Cairo, "It bothers me very much." He said the federal government must help rebuild public housing in the city, given that it played an apparent role in its demise by failing in its oversight role.
As Pimblott writes in her book, "Faith in Black Power: Religion, Race and Resistance in Cairo, Illinois" the work of SNCC in Cairo led to many short-term gains, but lasting racial harmony in Cairo proved elusive. In many ways, that continues to be the case today.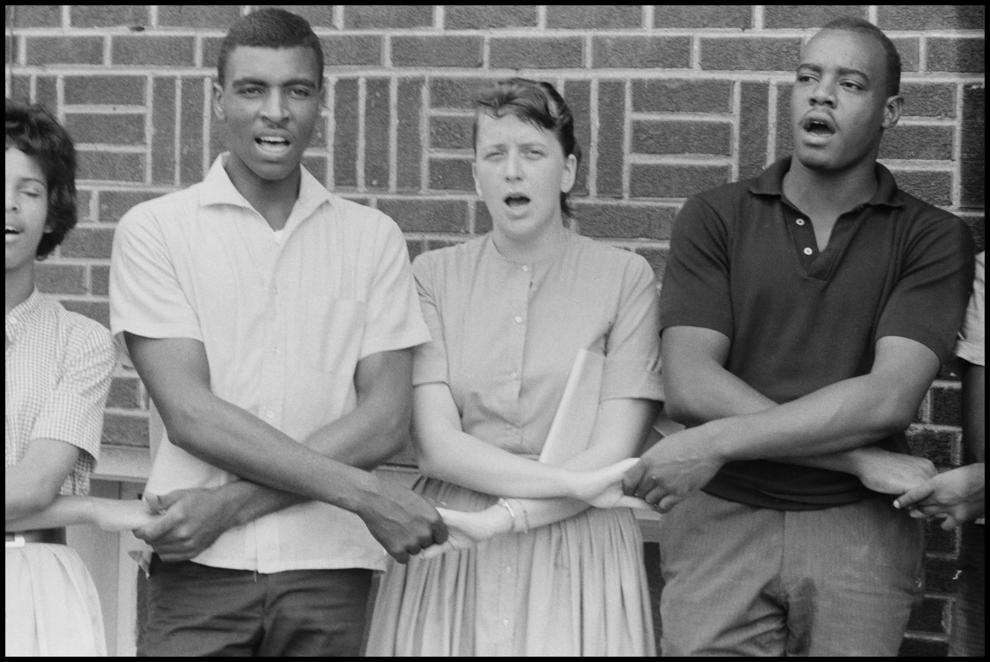 In one of many examples, this was evidenced in the 1960s by the closure of the pool two summers after Lewis led efforts to help integrate it — because white families refused to let their children swim with African-Americans.
When the Cairo Natatorium and Recreation Club reopened the following summer, in 1963, on an integrated basis, the majority of white members refused to go — causing the pool to shut down for the season for economic reasons, according to Pimblott's book. Another entity made a go of it in the summer of 1964, but closed it down two weeks after reopening it because of the ongoing opposition as well. "After the closure, the property was sold to a third party who filled the pool with cement, a powerful symbol of the intractability of local white residents to racial change," Pimblott writes in her book.
That lasting change has proved elusive also is evidenced today by the fact that families have been living for years in derelict public housing conditions while officials at the local level spent generously on their own benefits and neglected upkeep of the properties, and federal officials charged with oversight looked the other way. Federal housing officials say they cannot rebuild in Cairo because the community is so economically destitute that it cannot attract a private developer to partner in the venture.
Part of the reason that Cairo is a near economic desert today is rooted in the racial strife of the late 1960s and 1970s, as many white businesses closed up shop and left town in the face of an economic boycott waged by black activists. After successfully integrating businesses, they set about demanding that black citizens have equal opportunity to jobs. Rather than find a way for the city to move forward together, many white city leaders and business owners apparently conspired to quietly create a limited fief, once they could no longer wage these battles in open.
The sins of the past have come home to roost.
Cairo has continued to shrink in population and slide backward in economically, while struggling to shed an image of racial strife and political graft. But while Cairo can hardly seem to catch its breath between crises both natural and man-made, it carries on anyway, producing both adversity and beauty in abundance — the way only a place this intimate and battle-tested could.
That few in the region seemed concerned enough to sound alarm bells concerning events that led to the most recent housing crisis speaks to the attitude of indifference toward Cairo that has settled in since the Civil Rights Movement brought Lewis to town.
Asked about this situation, Lewis called upon a phrase he often uses, saying it applies here as well. "If you see something that is not right, not fair, not just, you have a moral obligation to say something, to do something."
The south in a northern state
Pimblott, who earned her doctoral degree in 2012 from the University of Illinois at Urbana-Champaign, and is presently a professor of international history at the University of Manchester in England, said Lewis' visit to Cairo in 1962 represented the first integration campaign for SNCC north of the Ohio River.
Illinois is generally viewed as a northern state, and has produced some of the county's most progressive political leaders — from Abraham Lincoln to Barack Obama, state residents who assumed the presidency in 1861 and 2009, respectively. The former signed the Emancipation Proclamation, freeing 3.1 million slaves. The other became the first black president of the United States.
But, it's also a long state with a wide chasm. Somewhere along the drive down Interstate 57 from Chicago to Cairo, one crosses into the metaphysical south. While it's more about a feeling and shifting culture than geographic exactness, Egypt, as Southern Illinois is affectionately known, comes into view as the flat, central miles of farmland give way to the low rolling foothills of the Shawnee, which then slowly melt away into the soggy bottomlands of southernmost Southern Illinois into the headwaters of the Mississippi Delta.
Of the iconic photo of Lewis kneeling in prayer in Cairo, Pimblott said many viewed it as an image of a southern integration campaign — and did not realize it was taken in Illinois during a movement that was known as "Operation Open City" in Cairo. The campaign was modeled on earlier efforts of Lewis and the SNCC in Nashville to overturn segregation in all areas of civic life, she said.
According to Pimblott, when Lewis arrived in Cairo, he had just returned from the Freedom Rides and was invited by Cairo AME minister Blaine Ramsey, a progressive young minister who saw the church as a platform to achieve racial harmony, to help organize the nonviolent action campaign aimed at integrating public accommodations.
Lewis is an American hero, icon
The only one of the "Big Six" African-American leaders of the Civil Rights Movement who is still alive, Lewis, now 77, was one of the original 13 Freedom Riders in 1961 who challenged the lack of enforcement of Supreme Court rulings making segregated interstate buses unconstitutional. In 1963, he helped King and others organize the March on Washington for Jobs and Freedom. He was the youngest person to speak at the Aug. 28, 1963, rally on the steps of the Lincoln Memorial during which King delivered his famous "I Have a Dream" speech.
In 1965, a then 25-year-old Lewis was beaten in the head by a state trooper with a nightstick so severely that it fractured his skull while attempting to lead some 600 voting rights activists across the Edmund Pettus Bridge in Alabama, as they made their way from Selma to Montgomery. The march was intended to bring attention to failed efforts to register black citizens to vote in Selma, and the shooting death by law enforcement of a civil rights activist in a neighboring city. That day, state troopers, local law enforcement officers and deputized white citizens violently attacked Lewis and many others who were hospitalized with various injuries.
The day that became known as "Bloody Sunday" proved a pivotal moment in securing new rights for African-Americans, and further cemented Lewis' stature as a hero of the Civil Rights Movement. It took two more attempts for protesters to cross the bridge. They finally did alongside King, and under federal protection, on March 21. The Voting Rights Act was signed into law five months later.
It was in between these other more highly publicized events, in the summer of 1962, that Lewis worked in Cairo. According to Pimblott's book, Lewis arrived with fieldworkers Mary McCollum, James Peake and Joy Reagon from Nashville in June. Upon arrival, Pimblott said, they found that a then 16-year-old Koen had already formed the Cairo Non-Violent Freedom Committee (CNVFC) and organized 70 high school students to join with SNCC's efforts.
They began integration efforts at a small number of restaurants and hotels, Pimblott said in an interview conducted by email. "SNCC and local schoolchildren staged protests at the Mark Twain Restaurant, which were successful," she said. "But subsequently they were refused service and sprayed with hoses by the owner of Mack's Barbecue." In her book, Pimblott writes that waitresses locked the doors of the restaurant as an angry mob of white men, many of them intoxicated, descended on the business and the children in the parking lot.
SNCC field worker Mary McCollum recalls of that day, as quoted in Pimblott's book: "As we were leaving a man who had threatened me earlier reached out and swung at one of the boys." Trained in nonviolent methods, she quickly moved in between the two and was violently slashed across the thigh, Pimblott writes. But she declined to press charges, saying her purpose was to "change his (the perpetrator's) attitude" rather than threaten him and she was "willing to suffer for that change."
Over the next months, with Lewis and others, the CNVFC "Operation Open City" laid out a 11-point plan calling for, among other things, creation of a human relations council, de facto integration of the city's school — and decent housing for all.
By the second week of protests in Cairo led by Lewis and the other SNCC workers, more than 40 demonstrators, one as young as 13, had been arrested on charges ranging from trespassing to breach of the peace and mob action. Lewis and Koen were among those arrested. They refused bail, and in the county's segregated jail located in Cairo, they sang freedom songs, and staged a hunger strike to protest their conditions, Pimblott stated in her book, and Koen recalled in an interview.
Koen said he will never forget those days in jail with Lewis. "John taught me how to fast," he said, describing the 10-day hunger strike they waged as both a form of protest and religious experience. Lewis served as a mentor and pillar of strength for the young people, most of whom had never gone through something like that before, Koen said.
Pimblott writes in her book of this time: "On July 18, Justice of the Peace Robert Williams, to the astonishment of a packed courtroom, handed down seventeen guilty verdicts on charges ranging from disorderly conduct to mob violence.
"Outside, more than two hundred protesters rallied, signing 'The Truth Will Set Us Free,' 'God Is On Our Side' and 'Black and White Together.' Rev. Ramsey addressed the crowd, saying, 'We are fighting against an evil system, and we shall continue until that system is defeated.'"
King sends telegram to Cairo 
It was around this time that the CNVFC received a telegram from King, according to Pimblott's book. The newspaper requested a copy of the telegram from the Library of Congress in Washington, which was able to locate a copy of King's message included on the top of a CNVFC newsletter dated Wednesday, July 24, 1962. The newsletter discussed the arrests of the young activists and their pending court date. "Does justice wear a 'white only' sign in Cairo, Illinois? …all of America will be watching Cairo to see if there is any justice here."
The telegram from King, which he sent from Albany, Georgia, stated: "Duress of situation here prevented us from contacting you before today. Please know that you have full support of Southern Christian Leadership Conference. Urgently need news of where case stands now. Pray for us here as we shall be praying for you. Faithfully yours, Martin Luther King Jr."
King sent the memo to Cairo organizers on Tuesday, July 23, according to the Library of Congress. Four days later, King was jailed for a third time in Albany, where he was engaged in integration efforts at the time. Koen said he is certain that the telegram from King could have only been in response to communication from Lewis that was shared with the broader group in Cairo.
While speaking with the newspaper last week, Lewis said that although King did not protest in Cairo, the two had discussions about what was transpiring there. He said King was knowledgable of the situation in Cairo.
After working to integrate restaurants, the nonviolent activists moved their efforts toward recreational facilities, Pimblott writes, including the above-mentioned swimming pool, as well as a roller rink. After Illinois' attorney general issued a legal opinion that the owner of the Roller Bowl could not exclude black youth, Koen, recently trained in nonviolent racial reconciliation tactics by Lewis, led a group of 38 students there on Aug. 17, 1962. Pimblott quotes local activist Hattie Kendrick in recalling the scene that afternoon: "All hell broke loose. They were knocked down and beaten like dogs. They were beaten over the heads with iron rods rapped in… [barbed] wire."
The book goes on to say that Kendrick also vividly remembered local police standing by, some laughing as the children were attacked. A man attempted to pursue the children brandishing a bicycle chain as they fled to a nearby parking lot. A 12-year-old girl named Deborah Flowers was struck on the legs and fell to the ground, and others were chased by cars and threatened at gunpoint as they fled to the safety of the basement of the Ward Chapel AME church, Pimblott writes.
According to Pimblott's research, as word of the chaos in Cairo spread, civil rights leaders demanded that then-Gov. Otto Kerner intervene and deploy the National Guard. "Shocked and embarrassed" by what was transpiring in Cairo, Kerner agreed, Pimblott writes. "Despite the city council's efforts, the violence and subsequent outcry signaled a turning point for SNCC and the CNVFC's campaign just as it had in the Freedom Rides the previous year," she writes.
Koen said he has maintained a friendship with Lewis through the years, and is proud of his rise through the political ranks. He said it is encouraging that Lewis has weighed in on the current situation in Cairo, however briefly. Koen said Lewis served an instrumental role in helping African Americans secure rights long after he left town. He said Lewis' remarks also help tell another story about the city that some of the young people of today may not know – one that may give them a sense of pride about their roots in a community that overcomes.
Asked to recall what impression struck him about Lewis when the two first met in Cairo, Koen said, "He was very strong, very enlightening and he was willing to take a risk.
"He believed in nonviolence completely, no doubt about that."
618-351-5079
On Twitter: @MollyParkerSI ​