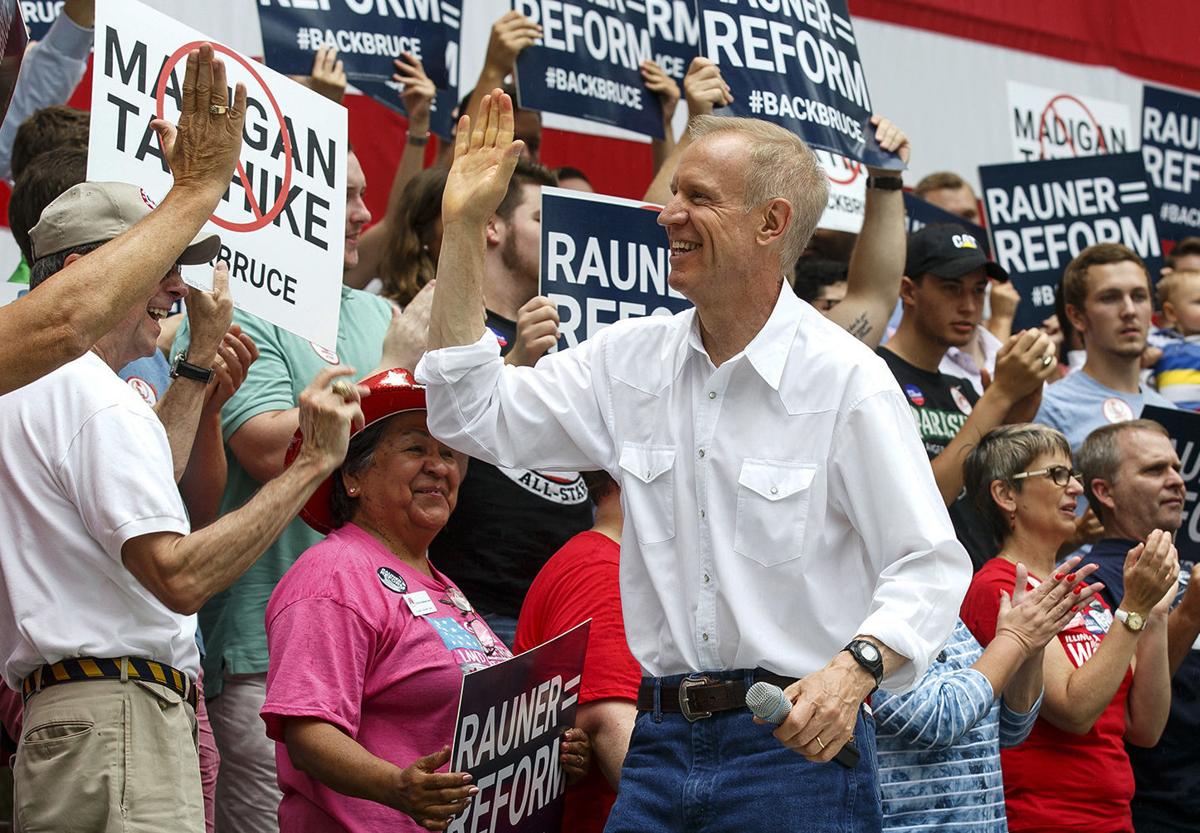 CAIRO — The following political leaders have visited Cairo since the public housing crisis in Illinois' southernmost city came to a head:
• Housing and Urban Development Secretary Ben Carson
• U.S. Sens. Dick Durbin and Tammy Duckworth, both Democrats
• U.S. Rep. Mike Bost, R-Murphysboro
• Delta Regional Authority Federal Co-Chairman Chris Masingill
• State Sen. Dale Fowler, R-Harrisburg
• State Rep. Natalie Phelps Finnie, D-Elizabethtown
• Former State Rep. Brandon Phelps, D-Eldorado
• Former Illinois Senate Republican Leader Christine Radogno, of Lemont
• State Treasurer Mike Frerichs 
• Democratic gubernatorial candidates J.B. Pritzker, Chris Kennedy and Daniel Biss and former candidate Ameya Pawar
Meanwhile, one prominent Illinois political leader has not visited Cairo since HUD announced in April its decision to relocate about 400 people from two derelict public housing complexes that have been deemed beyond repair:
It's also been difficult for The Southern to get much detailed information about what Rauner's administration is doing alongside the federal government to assist public housing residents and the city through this housing crisis, or to address the related health and economic issues facing southernmost Illinois. A shortage of affordable housing in Cairo and access to basic amenities and jobs means most residents are relocating to other communities, generally in excess of an hour away. 
Rauner has said the situation involving the nearly bankrupt Alexander County Housing Authority is largely a federal issue. But as HUD officials have noted, the underlying economic crisis facing the Cairo region is not the sole, nor primary, responsibility of HUD. Also, housing authorities are entities of state and local government. And across the country, many state leaders also are tackling issues of affordable housing as they recognize that solutions to the housing problems facing struggling rural regions and fast-growing urban cities must be multifaceted and require long-term planning. 
Since July, The Southern has discussed the situation with at least seven different officials in Rauner's communications office. There have been numerous staff changeovers since that time, and many of those people are no longer in the governor's employ. 
Patty Schuh, Rauner's current spokeswoman, who recently transitioned from her role as spokeswoman for the Senate Republicans, said that though the governor himself has not been to Cairo since April, the office is plugged in to the situation. She said the issue for the governor's office at this time is that state officials have not been able to obtain the information it needs from HUD to develop the appropriate state response.
You have free articles remaining.
Schuh said the governor's office is seeking information on how many people want to stay in the region who have been unable to locate housing, and what financial needs related to the relocation that the families may have that are not being covered by HUD, such as deposits or replacement furniture.
As well, she said the governor's office needs a clear timeline of when HUD intends to close the McBride and Elmwood complexes, and more overall information on HUD's relocation plans. "Then we can review our options," she said. She added that the governor's office does not want to give false hope about what it can do once it receives the information it seeks from HUD, but stressed that the fact-finding mission is the first step.
Of note, The Southern has published dozens of stories about the housing crisis in Cairo dating back to the fall of 2015, including numerous updates on the relocation effort that began in April.
"The governor's office has been actively involved in the discussions about Cairo but there very clearly is federal action that has to take place. We need information," she said. "We don't feel like we're getting the full story yet."
Asked about the comments from the governor's office, HUD spokesman Jereon Brown said HUD stands ready to work with any public officials in Illinois to provide whatever information is needed. He offered to reach out to the governor's office directly. 
In a follow-up interview, Schuh said that wasn't necessary because during a "task force" meeting on Cairo in July, which a representative of the governor's office attended, it was decided that the federal delegation would handle the communication with HUD so as not to duplicate efforts or create confusion.
Therefore, Schuh said that the governor's office has not directly reached out to HUD, and isn't requesting HUD reach out to Rauner's office to provide the information they are seeking. Rather, she said, Rauner's office has been working through Bost's office to seek the information. 
"I know that request has been made to HUD. I know Congressman Bost did it last. He's (Bost) still pursuing a clear timeline," she said. As of press time, the newspaper was unable to obtain clarity on why the governor's office would not speak with HUD directly for the information it needed when the offer was made, given that's what Schuh said is holding up the administration's response. 
Meanwhile, HUD is moving forward with relocating families from the complexes that have been deemed unsafe and unfit for habitation.
In a letter dated Oct. 19 that Secretary Carson wrote to Mayor Coleman, Carson noted that after his visit to the city in early August, he instructed his staff to re-examine the possibility of salvaging some of the buildings within Elmwood and McBride. "Unfortunately, our latest analysis confirms our prior assessment — rehabilitation is not a viable option and both developments must be vacated and demolished." 
"While the department has not yet established a definitive date for everyone to move from these properties, at some point in the very near future, we will have to set a date certain for all families to vacate Elmwood and McBride," Carson's letter to Coleman stated. Brown has said that if the boilers that heat the units break during the winter months, the agency may have to relocate families temporarily while they continue to look for housing. Brown said the housing authority, which HUD is operating in receivership, cannot afford to spend excessive amounts of money on repairs of complexes slated to be torn down while there are other developments within the ACHA's portfolio also in need of rehabilitation. 
Carson told the mayor that the passion and commitment the people of Cairo show for their hometown, coupled with the city's location at the confluence of two major rivers, "suggests that brighter days may indeed lay ahead for the city." The solution for Cairo's future "must be driven by more than the rehabilitation of federally assisted housing and must harness the private market."
"It also requires creative thinking at the local, regional, state and national levels," the letter continued.
As it relates to the state's response to the dire economic situation facing Cairo and the surrounding region, Schuh there's no one-size-fits all solution. She said the governor's office has been involved in numerous ways in trying to help where it can in the short term, as well as in developing long-term strategies.
She said a representative of the governor's office was part of the delegation that toured the site of a potential port operation in Cairo in May with Masingill, the DRA federal co-chairman. Local officials have been seeking funds to begin engineering work and environmental studies for the port, but no money has been identified to date. The state's budget woes have dramatically slowed infrastructure projects. 
Schuh also said representatives from Department of Commerce and Economic Opportunity helped local officials write grant proposals to the Delta Regional Authority, which were recently awarded. A $161,560 grant was awarded to the city to support road improvements to Bunge, an oilseed production facility and one of the town's largest employers. A $118,489 grant was awarded to strengthen the local health clinic's information technology infrastructure to support an Electronic Health Record system.
Shuch said that representatives of the Illinois Housing Development Authority also visited in the spring to survey the existing private housing market and provided a study to the city about what's available for rent. 
Asked why Rauner has not been among the many regional and statewide officials to visit the city and meet directly with the residents, Schuh said he's been tethered to Springfield as session ran long this summer, and for the current veto session. 
"Given the distance, I'm not sure he's gotten that far down in Southern Illinois in recent months," she said. Since April, when HUD announced the relocation decision, Rauner has traveled on trade and research missions to China, Japan and Israel and announced his 2018 re-election plans.  
618-351-5079
On Twitter: @MollyParkerSI ​
Be the first to know
Get local news delivered to your inbox!