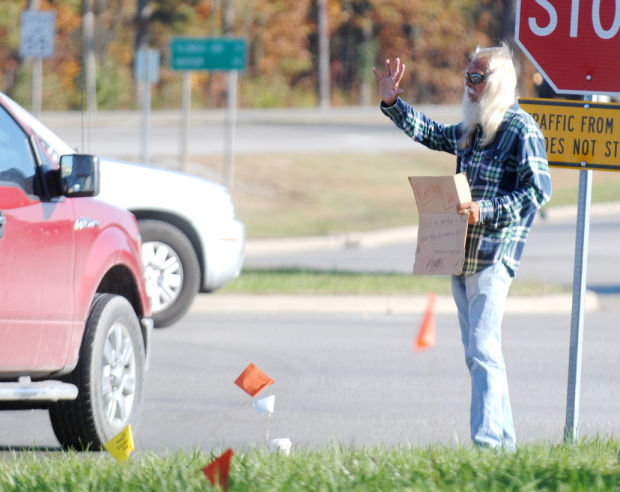 CARBONDALE — About a year after the city received a letter from the American Civil Liberties Union and other advocacy groups condemning its panhandling ordinance, the city has not yet addressed what some consider to be an unconstitutional ordinance.
The city's ordinance prohibits panhandling, or the request for financial assistance, in any public space. It also makes illegal any verbal request for aid and requests made in groups larger than two.
The ordinance also makes a point to prohibit "aggressive panhandling," which it defines as blocking entrances to a car, building or a path of travel, as well as making unsolicited physical contact, among other things.
The city provided minimal comment last year when the request to remove the ordinance came.
"The City of Carbondale has received a letter from the ACLU of Illinois, the Chicago Coalition for the Homeless and the National Law Center on Homelessness & Poverty challenging our panhandling ordinance. At this time, we are reviewing the City's ordinance." Amy Fox, Carbondale's public relations officer, wrote in an email last year.
The ACLU letter, cosigned by the National Law Center on Homelessness and Poverty and the Chicago Coalition for the Homeless, claims that the ordinance on the city's books violates the First Amendment by distinguishing between different kinds of speech that it will and won't allow, namely peaceful requests for aid.
It also makes the point that while banning aggressive panhandling might initially seem to be appropriate, this is actually redundant, as there are already assault laws on the books.
In the wake of the city's crackdown on panhandlers on the town's east side, questions have been raised by concerned citizens and family of one…
The letter sent earlier this month to the city reminds officials that all 25 of the panhandling ordinances that have been challenged in court since a 2015 higher court decision have been ruled against. It also reminds the city that if it does nothing, the ACLU and other organizations will consider potential legal action.
City Manager Gary Williams said in an email Friday that the city is "continuing to review it and will consult with Council before submitting a response."
Addressing the question of whether there is a need for the ordinance and whether it was indeed redundant when considering other laws that may already be on the books, Williams said it was complicated. He said the ordinance dates back a long time but was amended in 2012 when there was an uptick in panhandling complaints downtown.
You have free articles remaining.
"During that time, there were a number of complaints from businesses and residents that facilitated the ordinance being amended to highlight aggressive panhandling," Williams wrote.
He goes on to say that "The City has no issue with passive panhandling, or people that are simply in need and soliciting for help," but that the problem comes when panhandlers become aggressive, follow pedestrians, become loud or abusive, or approach people while parked at a traffic signal.
For the past two years, Kevin Horn has stood, usually near McDonald's, and begged passersby for money in Carbondale. He works that area and ot…
However, the ordinance appears to define and prohibit panhandling and aggressive panhandling separately.
"Panhandling shall not include the act of passively standing, sitting, or engaging in a musical performance or other street performance with a sign or other indication that donations are being sought, without any verbal request for a donation other than in response to an inquiry by another person," the ordinance says.
It then goes on to lay out that verbal requests on any public property are a violation, which in Williams' email he said can carry fines between $50 and $750.
With all this, Williams said there comes a balance that has to be struck between "the feeling of safety that our residents and visitors expect with a person's right to solicit in public."
He also noted that other communities in Southern Illinois have similar ordinances, and that the city works for vulnerable populations, partnering with organizations including Attucks Community Services, I Can Read, Women for Change, Women's Center, Boys and Girls Club, Senior Adult Services, Good Samaritan Ministries, and Jackson County Mass Transit, among others.
In his email to The Southern, Williams said that this is not a priority for law enforcement. He said of 103 calls so far this year, one ticket has been issued.
"Those calls are approximately .003 percent of the total calls we've responded to so far this calendar year," he wrote.
Last year's letter from the ACLU indicated that a 2016 Freedom of Information Act request had revealed 46 arrests for panhandling in the preceding three years.
When reached for comment on the matter, Councilman Adam Loos said he would defer to the city's attorney, but said that he was open to a new look at the ordinance.
Councilman Jeff Doherty referred to the balance Williams discussed, but said "I think there needs to be some sort of something that addresses the aggressive panhandling."
In the letter, the city is asked to respond on or before Aug. 19.
618-351-5823
On Twitter: @ismithreports