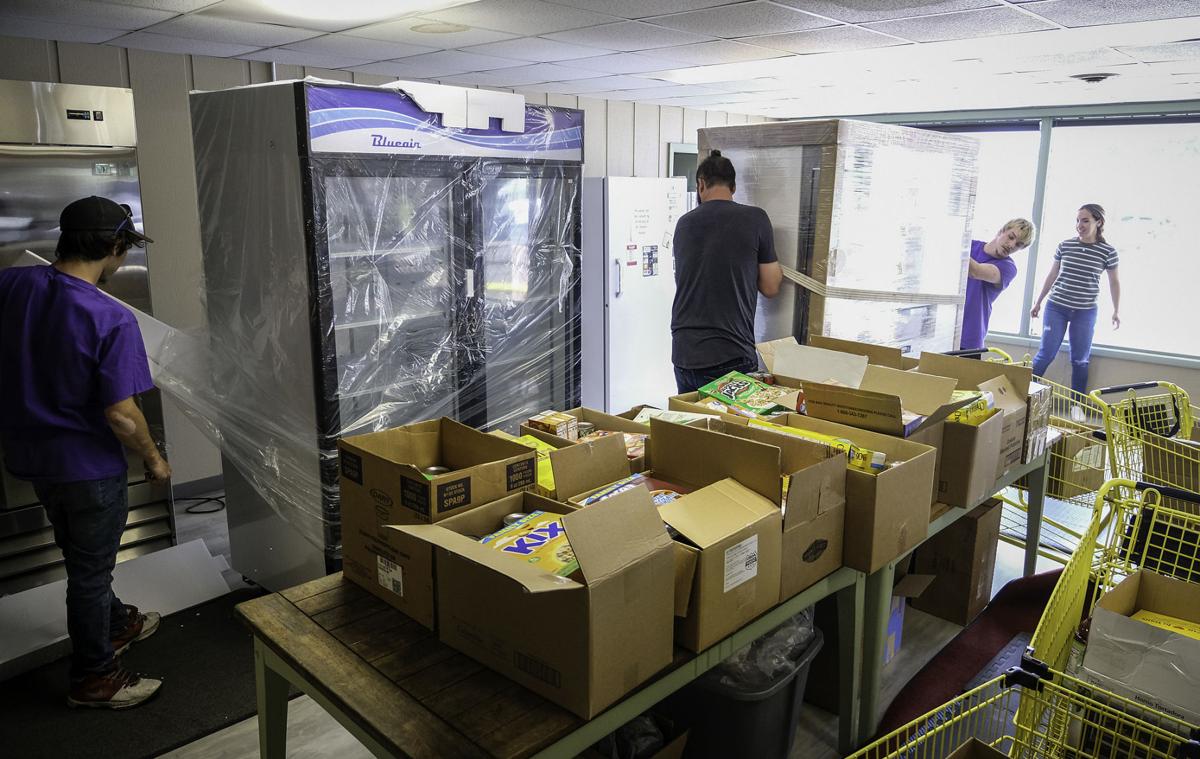 As Mona Crim turned to put another bunch of turnips in the refrigerator Thursday, she couldn't help but smile.
The food pantry director for Harrisburg's Christian Community Compassion Center was not necessarily grinning about the root vegetables she was putting away —rather, hers was a smile of gratitude.
The refrigerator that would house the turnips had arrived at the food bank just the day before, a gift – or "a blessing" as she called it – from Aetna Better Health of Illinois.
The Compassion Center was one of 34 Southern Illinois food pantries being presented this week with a total of 51 new refrigerators and freezers to help the non-profit agencies serve people in need.
Aetna Better Health of Illinois, which handles the state's Medicaid managed care program, is delivering and installing the new appliances in food banks from McLeansboro to Jonesboro at no cost to the pantries.
The company worked through the Southern Illinois Food Pantry Network to award the commercial-grade refrigerators and freezers to food pantries in the 16 southernmost Illinois counties. The total value of the appliances is about $138,000.
"This collaboration with Aetna Better Health of Illinois is helping us achieve our mission to reduce hunger and improve the health of our communities through increasing access to healthy and nutritious food. We are excited to support more than 30 area food pantries in their efforts to increase cold storage and bring healthier, fresh foods to their communities," said SIFPN representative Toni Kay Wright in a statement released by Aetna Better Health of Illinois.
In Harrisburg, Crim said the gift will help her agency better serve clients.
"Before, we were having trouble when the trucks came in. If we got too many eggs, for example, we'd have to find a way to store them," she explained. "Now we have plenty of space. This upgrades us tremendously and is going to be wonderful for the people we serve."
She said the gift is "like Christmas in June."
At the Murphysboro Food Pantry on Thursday morning, Megan Austin, director, was eagerly waiting for delivery of a new refrigerator and freezer. She said the donation literally fills a need.
"We had a freezer that went out on us and now we're able to replace it. We are so blessed to get this," she said. "These will allow us to store what we need up front in the pantry and it's a real help to our volunteers and to those we serve."
Austin said her pantry serves between 60 and 80 area families each week 
In a prepared statement, Aetna Better Health of Illinois CEO Kim Foltz, said, "Food insecurity leads to poor health outcomes. The Southern Illinois Food Pantry Network and its partners provide a critical lifeline to healthy foods for families in hard-to-reach and underserved areas. With 25 percent of residents living in areas designated as food deserts, these pantries provide much needed access to healthy foods."