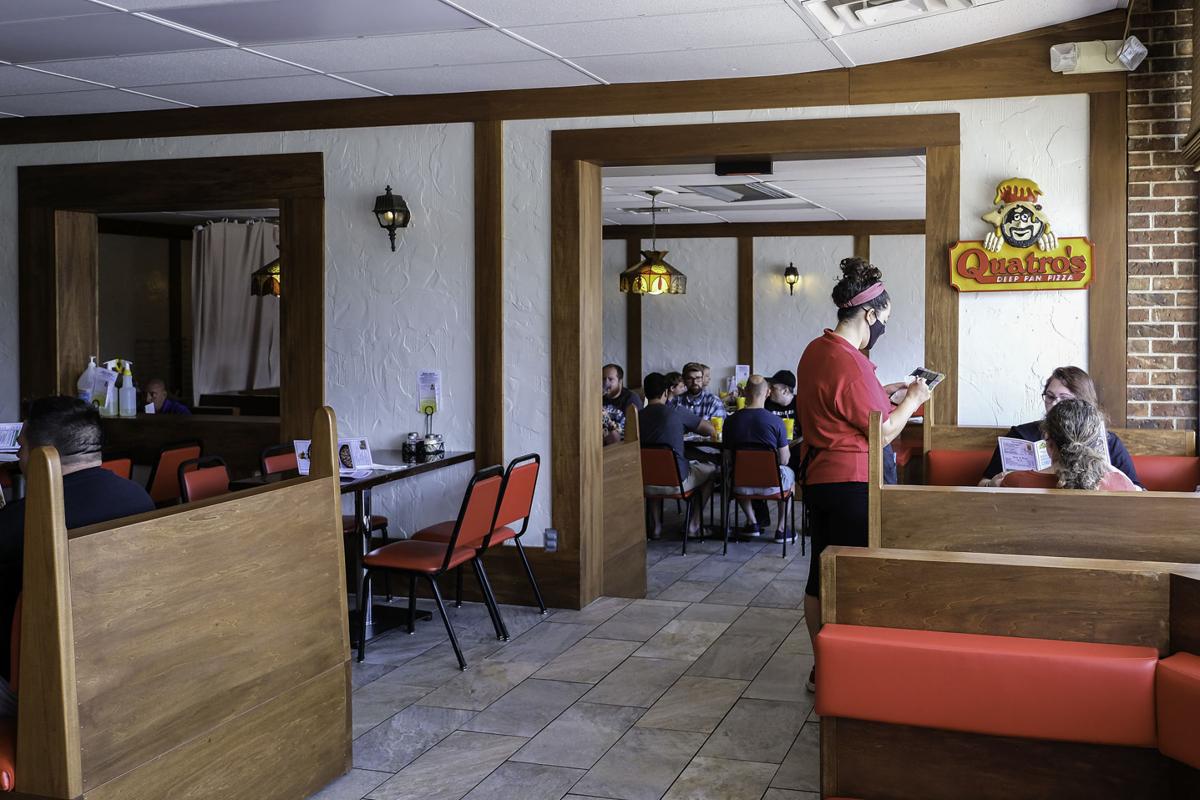 On Friday, the state of Illinois entered Phase 5 of its COVID-19 reopening plan, doing away with capacity limits for restaurants, gyms, retail, and entertainment venues for the first time in 18 months. 
This doesn't necessarily mean your favorite shop, eatery or festival will be at full capacity immediately out of the gate.
Business owners across Southern Illinois and the rest of the state continue to  grapple with labor shortages and some event organizers are taking it slow over worries of another pandemic flare-up in spite of vaccination gains. 
Still, several local businesses welcomed the long-awaited news. 
Sally Carter, owner of Hangar 9 on the Carbondale strip, was a bit relieved.
"It's good news because we've been operating under such a smaller occupancy level for months, years it feels like," she said.
It was only last year that Carter was shut down completely. At the time, she told The Southern, "We're closed and I have ongoing bills that have to be paid, yet no revenue coming in — I'm flat broke. I never imagined this, never in my wildest dreams imagined this."
Now Carter said she's not concerned with staffing levels as things open back up, something other businesses are struggling with. She said her staff have remained loyal. When asked how she's managed to make it these many months, she said financial assistance, from both the state and federal governments, made it possible.
Though she can now welcome 300 customers — instead of the 75 customers previously allowed by state capacity limits — she's not sure how much difference the new freedom will make on her bottom line, at least right away.
"I don't know that we'll see a huge difference right now because the students are gone," she said.
Though customers may be fewer than she'd like, she's confident of her staff's ability to get right back at it.
"The number of people that are going to come down to my door are — I don't think it's going to be a huge number … but, we'll be ready," she said.
Steve Payne, owner of Quatro's in Carbondale, said while the restaurant has added indoor seating, it will not return to full capacity at this time.
"Instead of 50 percent, we will increase seating to 65 percent," Payne said. "It is a function of staffing, not a function of desire."
Likening the staffing issue to an epidemic, Payne said while he has been able increase staffing, those new employees are often new to the hospitality industry.
Quatro's is not only keeping seating capacity below 100 percent, it is also not staying open as late as it was before the pandemic.
Payne said he is thankful for his ability to shift to curbside pickup — and for the customers and staff who stuck it out with him.
Curbside pickup has been popular with older customers not ready to be out in public, and families with young children. For now, Quatro's will continue to offer this service, he said.
"Curbside is still pretty active, but it is labor intensive," he said.
Amy Mills, owner of 17th Street Barbecue, said their Murphysboro and Marion locations will continue operating at current capacity limits. Also, the restaurants will continue to be closed Monday and Tuesday for the next three weeks.
"We are creeping back into business. We are hiring and training employees, and that takes a bit," she said.
Mills and Payne hope the public is understanding as business begins to open up.
"We will be ready to greet people as always, just with fewer seats," Mills said.
Since the start of the pandemic in March 2020, many chains like McDonald's and Starbucks closed their dine-in areas and switched to drive-thru and carry-out orders only.
But with Illinois opening back up Friday, Aaron Wilson, regional director of Starbucks, said their locations are allowing customers inside, including their Marion and Carbondale locations.
"It's good to have everybody back in our stores," he said.
Stephanie Bishop, co-owner of 14 McDonald's franchises in the region, said they plan on opening restaurant lobbies starting Monday from 7 a.m. to 9 p.m., with longer drive-thru hours.
Jill Johnson, owner, Cool Spoons Frozen Yogurt and Treats, Carbondale, said she plans to still have sanitizer stations and gloves available for customers.
"People can use them it if they want to and I'm not going to force them to do it. Before, I was telling them they had to, now it is an option for them," she said. "A lot of people like the sanitation stations, so we are keeping them. We're not going to force it; we're not going to vocalize it."
Murphysboro Mayor Will Stephens had big news to pass along Friday with the move into Phase 5.
"It means the Apple Festival officially announced it will return with all rides, the parade and things we've come to know over 70 years," Stephens said.
On Friday afternoon, organizers for the Murphysboro Apple Festival Facebook page posted about Illinois' move into Phase 5.
"You know what that means … The 70th Annual Murphysboro Apple Festival will be back and bigger than ever!"
The festival will run Sept. 15 through 18, and theme will be "70 Years of Apples, Pies & Rides, Oh My!"⠀
"I'm thankful for everyone who has gotten us through all the phases to this point, especially our healthcare workers. Bart Hagston (of the Jackson County Health Department) did great work," Stephens said.  
Katie Gerlach, associate athletic director for operations with SIU, said this is something they've been waiting for. 
"We are very excited about the possibility of opening up our facilities and inviting the community into our into our facilities and watch our games," Gerlach said. 
She said there are currently no plans for concerts, trade shows, events. However, she's personally ready to hold events, she said. 
"The new normal is that everything is going to look a little bit different, but we are going to have do everything we possibly can," she said. 
Jared Garrison, executive director of The Pavilion in Marion, said the phone has been ringing a lot since Illinois entered the bridge phase "and when vaccinated people didn't count against the limits."
"Now we can have events that were already scheduled because the increased capacity limits or lack of limits allow for that," Garrison said. 
The venue has long hosted trade shows, dog shows, expos, weddings, and holiday parties.
Ed Benyas, director of the Southern Illinois Music Festival, said as organizers were planning for the upcoming festival that July 6-18, they opted on the safe side and required advance ticket reservations only.
But now with Illinois in Phase 5, "the biggest and most important change going to Phase 5 is that you can buy a ticket at the door for any of our performances without advance reservation," he said. 
"One other precaution we took is that we state in our brochure and on our website that all SIFest artists and staff will be fully vaccinated, and that we encourage all of our patrons to do the same," Benyas said. 
Healthcare facilities are still required to follow stricter guidelines during Phase 5 than are required for retail businesses and restaurants.
William Davis, assistant CEO of Heartland Regional Medical Center, said the region and state have made tremendous progress together during the pandemic. Heartland will continue screen every person entering the facility check temperatures. Davis said they will observe social distancing and perform good hand hygiene.
"In alignment with the latest Illinois Department of Public Health (IDPH) guidance, all persons, whether or not they are fully vaccinated, are required to continue to wear face coverings at Heartland Regional Medical Center and our affiliated clinics," Davis said. "Heartland Regional has remained vigilant to ensure the care and safety of our patients, families, visitors, providers and staff is our highest priority."
Rex Budde, president and CEO of SIH, said the state is moving to Phase 5 because people have gotten the COVID-19 vaccine.
"We can't here soon enough. Every step gets us closer to returning to normal," Budde said. "I would encourage people to continue to get vaccinated." 
SIH also will continue to follow state guidelines for masking and screening.
City leaders like Mayor Mike Absher in Marion credited the headway made in vaccinating the state's residents for the ability to move into Phase 5.
In Carbondale, Gary Williams, the city's manager, was enthusiastic about the move to Phase 5.
"It's a bit surreal," Williams said, before adding that it was also exciting.
Williams said the city planned its budget conservatively last year, anticipating big drops in tax revenue from COVID-19 business closures. He said this year's budget was slightly more hopeful but added that the move to Phase 5 makes things look a bit rosier.
"That's all going to result in more people coming to Carbondale and more people spending money," he said.
As for what this means for city business, Williams said the city will follow the guidelines given by the governor.
Starting with its June 22 meeting, city council meetings will be held in person. However, he said he knows some won't be comfortable coming in person just yet so the city is working to find a way for citizens to participate in the meetings from home. What that will look like, though, he's not sure.
"We're going to have to see what the possibilities are," Williams said.