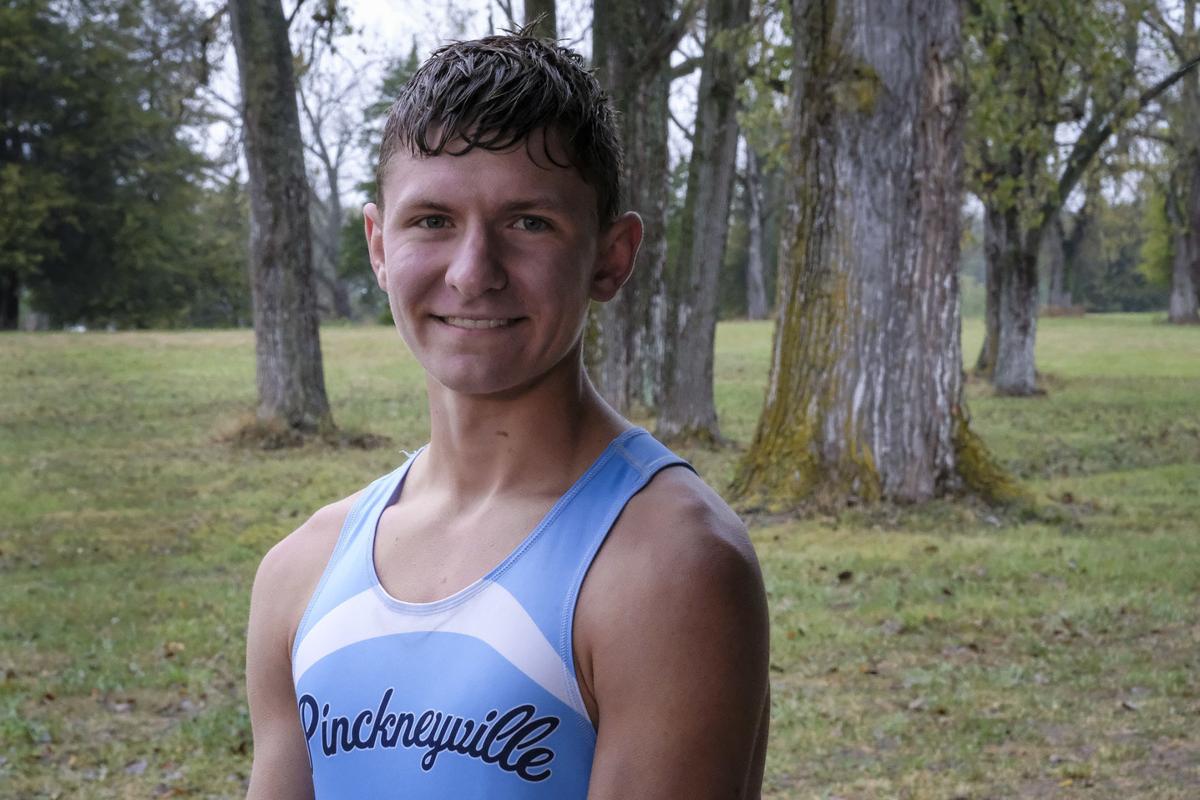 He crossed the finish line Monday in Du Quoin, his white legs splattered with brown mud on a chilly, rainy fall day.
Pinckneyville senior James Robb cleared the chute — the enclosure where all cross country racers end their day's exertion — and bent over, putting his hands on his knees. These 3.1 miles were tougher than most, given the raw conditions, but the feeling was one of satisfaction.
"There definitely is, not only proving yourself physically, but mentally," he said when asked about the race. "The sport is 10% physical and 90% mental. You have to tell yourself that you can push through this, get through this race, get up this hill, pass this runner.
"It's a thrill when you get to the end of the race, especially Monday when the conditions are so dreary."
Then again, excuse Robb if he were to feel that thrill in any race. Heck, any practice.
After all, Monday's race at the State Fairgrounds happened just a month after his second cardiac arrest in 17 months literally toppled him from his seat in class.
'It is everything, really'
Described by his mother, Jennifer, as a laid-back kid, Robb started running in junior high school. It wasn't until his freshman year in high school that the bug fully bit him. He learned what it meant to compete, what it meant to be part of a team.
"I fell in love with the sport," Robb said. "I really learned how to push myself and become a better runner."
Robb's improvement was clear. At the SIRR Mississippi meet, he ran a good time in the Open division, reserved for the runners who aren't part of the varsity team in a particular event.
At regionals, Robb broke onto the varsity team when one of the regulars missed the bus for Carterville. Robb finished 60th with a clocking of 19:47, a respectable showing for a freshman.
In 2018, Robb moved into the starting six as the Panthers graduated four runners. He helped them earn a spot in the sectionals at Benton, where the team finished eighth. It was realistic to expect continued improvement as a junior.
"The best way to describe what the sport means to me? It is everything, really," Robb said.
'I was in total disbelief'
It was May 11, 2019 — a cold, wet spring day. In Southern Illinois that day, Goreville's powerful softball team tuned up for a successful run through the Class 1A postseason by beating Paducah Tilghman. A handful of baseball games never made it out of the dugout before getting washed out.
And in Pinckneyville, Robb was parking his car at a supermarket in town. His mom and dad were with him as he prepared to mail some items.
He never made it out of the driver's seat.
"When my dad handed me the stuff, he said my eyes rolled back in my head and I was unconscious," Robb said.
At that point, after being handed the worst kind of break, Robb got two fortunate ones. EMTs were close by and ready to take him to Pinckneyville Community Hospital, which was just minutes away.
After determining that he needed treatment at another hospital, PCH sent him to Cardinal Glennon Children's Hospital in St. Louis. There, Robb woke up and found out some stunning news.
"An irregular heartbeat and premature ventricular contractions," he said. "A lot of teenagers have them, but I was having them in such high numbers that it caused a major cardiac event."
Robb said most teenagers experience PVCs between 0% and 3% of the time. Doctors told him that in his care, he was experiencing them 50% to 60% of the time.
After spending 11 days in the hospital, Robb finally got to come home — with stipulations. He couldn't run until further notice, and he had to don a wearable defibrillator around his chest that looks a lot like a bra.
"He has a really healthy heart muscle," Jennifer Robb said. "When they told us he was brought in for cardiac arrest, I was in total disbelief."
'I woke up on the floor'
Robb was able to return to the cross country team in the middle of 2019, although he wasn't able to crack the varsity's top six. Given good health after that, Robb was able to train hard enough to earn a spot in the top six at this year's beginning.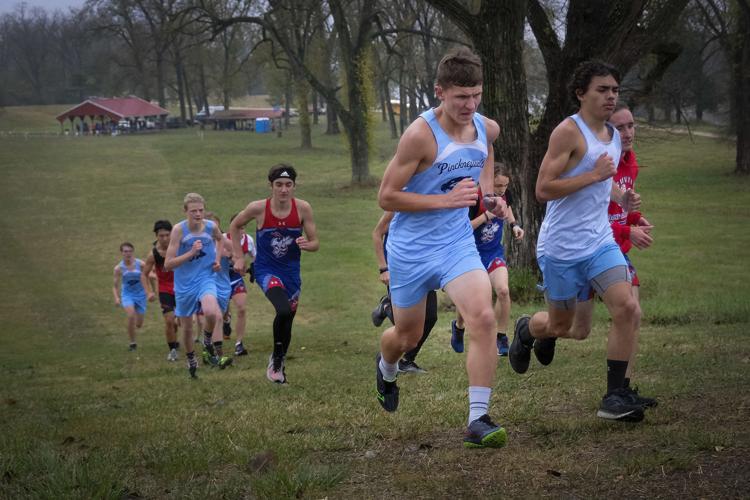 At practice on Sept. 17, Robb was near the end of a training run when he suffered what doctors call an inappropriate shock. This wasn't unexpected. Doctors told him he was at a greater risk for them after his cardiac arrest.
"It wasn't anything new," said Pinckneyville coach Ryan Bruns. "He had one at one of the last practices last year and did a somersault."
The next day, a Friday, Robb was sitting in his social studies class and taking notes.
"The last thing I remember was feeling dizzy and light-headed, tunnel-visioned," he said. "Then I woke up on the floor."
Moments later, Jennifer got a call from principal Tony Wilson.
"I needed to come to the high school," she said. "I didn't realize at that point he had gone into an irregular heart rhythm."
James' ICD (implantable cardioverter defibrillator) told the story. With a transmitter at home, doctors were able to read what it said. The final result was a second cardiac arrest.
"At that point, you realize the ICD is there for a reason," Jennifer said. "It was important in saving his life."
'God has a plan'
Through the travails, Robb has stayed positive, much more so than seems possible. There are no pity parties straggling down Water Street past the high school in his world. There's only possibility and the gratitude another day brings.
Spend about 25 minutes on the phone with him, as this writer did the other night, and one realizes why the adults in his world feel fortunate to still have him around.
"In a lot of ways," Bruns said, "it breaks your heart because because you want to give them as much of what they give you. They will do anything to give their best for you. James just brings a different light to things."
"He is such a great example of having such a great outlook on life no matter what cards you are dealt," said Jillian Lunnemann, his grandmother. "He's a true inspiration."
Robb knows he can't beat himself up for events he couldn't control. His faith has been important to him throughout the last 17 months. He continues to believe that life is to be lived instead of endured.
When Pinckneyville runs in Saturday's Class 1A Marissa Regional, Robb won't be in the field. But his example is bound to course through his teammates.
"Meets are when you get to prove yourself and how good an athlete you are," he said. "But what's helped me the most is knowing God has a plan for me, to test me and make me a better person.
"The power of prayer is real."
In the 2010 movie "Secretariat," Diane Lane's character, Penny Chenery, the owner of the legendary horse, is seen counseling jockey Ron Turcotte before one of the Triple Crown races.
"Run your race," she says.
Two cardiac arrests aside, James Robb is running his race.
---
Everything you need to know about the 2020 General Election in Southern Illinois
Everything you need to know about the 2020 General Election in Southern Illinois
Take a look at a sample ballot for your county, check out our election previews, and more. 
Visit elections.il.gov for information about voter registration, polling places, early voting and more.
Get local news delivered to your inbox!
Subscribe to our Daily Headlines newsletter.