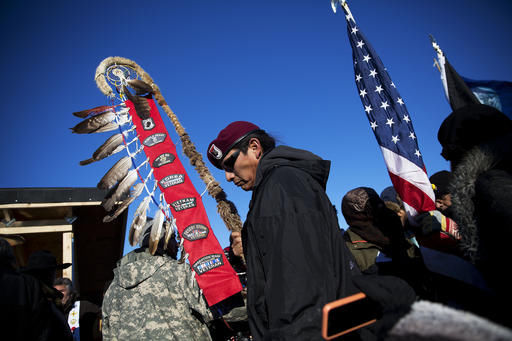 Local activist groups are reassessing how to help protesters at Standing Rock now that the Dakota Access Pipeline project has been suspended.
Despite harsh winter weather, thousands of Native Americans and allies remain in encampments outside Cannon Ball, North Dakota, in protest of Energy Transfer Partners' proposed $3.7 billion, 1,172-mile pipeline.
Last weekend, the U.S. Army Corps of Engineers rejected an easement for the pipeline to cross a reservoir on the Missouri River at the Standing Rock reservation, effectively stalling the project.
The decision marked an apparent victory for protesters, who say the pipeline will destroy sacred Standing Rock Sioux burial sites and threaten the tribe's drinking water.
"I think the battle is long from being over there," said local activist Georgia de la Garza, who helped organize a fundraiser for Standing Rock at Alto Vineyards on Thursday night.
The event pulled in over 150 people and raised $3,400, de la Garza said.
De la Garza and her fellow organizers, Kate Bursell and Fran Jaffe, had planned for proceeds to go toward shelter items — a teepee with a liner, a floor and a wood-burning stove — along with medical supplies and gift cards for stores such as Sam's Club and Menards.
But after the Army Corps of Engineers' decision, there might not be as much of a need for housing, so the group plans to reach out to people they know in the encampment.
"Their needs are changing every day. Whether it's medical supplies, wood, propane — whatever they need, we'll work directly with someone in the camp to help get them through the winter," she said.
On Monday, Standing Rock Sioux Tribal Chairman Dave Archambault II called for protesters to return home rather than risk their lives in the bitter conditions. In a statement released Thursday, a camp coalition — comprised of the groups Sacred Stone Camp, Indigenous Environmental Network, Honor the Earth and International Indigenous Youth Council — urged people not to travel to Standing Rock and to "instead take bold action in your local communities to force investors to divest from the project."
"I don't want to second-guess Archambault. I understand him worrying — the elements out there are really harsh, and a lot of people aren't used to it. On the other hand, when you take a stand, you take a stand," de la Garza said.
Ross Bauer, an organizer with Southern Illinois Stands with Standing Rock, said that that group is still planning to host a fundraiser and to make at least one supply trip every month "until the pipeline is no longer a threat."
The grassroots organization Southern Illinoisans Against Fracturing Our Environment (SAFE) has previously brought supplies out to the encampment. SAFE member Tabitha Tripp said that for now, there are no plans to make another trip.
"We're just kind of sitting back and waiting to see what happens," Tripp said, noting that on Friday, a federal judge set a court hearing for February in the Energy Transfer Partners' bid to force the government to approve the project.
Fears about what will happen under President-elect Donald Trump, who has expressed support for the project, have led many protesters to opt to stay in North Dakota.
Even as Archambault asked people to leave, another tribe leader, Native American rights activist Chase Iron Eyes, asked them to stay, saying in a social media post earlier this week that pipeline opponents "are not in the clear by any means whatsoever."
Tripp said that she and other SAFE members hope to organize local events geared toward educating people about economic issues related to the pipeline. Some community members might contribute to investments like 401(k)s with banks that are funding the project. She hopes to work with people to teach them how to divest their funds.
Meanwhile, people shouldn't be afraid to get involved in issues related to local communities, such as fracking and strip mining, she said.
"I think it's important for people to realize that … we don't have to drive 17 hours to North Dakota to see the extraction issues that are causing so much pain to people in our communities," Tripp said. "We don't have to look far to find issues to work on locally that have to do with water rights and protecting our environment for the next generation, which is what the people at Standing Rock are doing."
618-351-5082
On Twitter: @janis_eschSI