VIENNA — In a year's time, the Shawnee Wellness Assistance Therapy Training Program has grown from training three dogs to six, and program director Angela Galbraith said that not only doubles the dogs helped, but the people helped, too, namely their inmate trainers and veterans.
The milestone was celebrated Thursday during a graduation ceremony in the Shawnee Correctional Center gym. Galbraith brought out as much pomp and circumstance as she could for the ceremony.
"It's a nice opportunity to be able to show the outside world that even while we are in prison we can do something positive and pay back some dues."
Dignitaries from the Illinois Department of Corrections were invited. The IDOC Correctional Officer Honor Guard marched in to bagpipes playing, and the Southern Illinois Music Festival Brass Quintet provided music for inmates' entrance and exit with the dogs.
First Lt. Nicole Justice is a behavioral health officer for the Army National Guard, and spoke to the importance of companionship for veterans returning home, and of the significance of the gift of a well-trained dog.
After reading the soldier's creed, a mission statement  for military members regarding their duty to themselves and their country, Justice asked a question.
"But who guards us when we get home?" She said many veterans come home and struggle to find purpose, and suffer from invisible wounds.
However, a dog can go a long way to providing a much-needed connection.
Every 90 days, Galbraith welcomes a new cohort of inmates at SCC who will work with animals provided by Project Hope, a no-kill animal shelter in Metropolis. She said she has received help from other dog trainers to guide the inmates in their training for the dogs.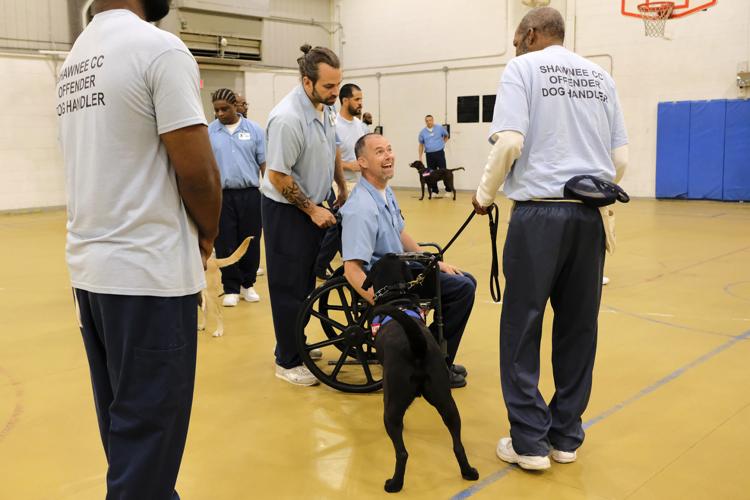 Galbraith said she has seen a tremendous impact on the inmates who come through the program, but was reluctant to say too much for the men.
"They're the ones doing all the work," she said.
Robert Hunter served in the U.S. Army from 1973 to 1976 where he was stationed in Panama. Since arriving at SCC, Hunter said he's been in other programs, including working in the kitchen, but said the SWATT program stands apart.
"It's given me more hope," he said adding that it's also given him more patience.
Hunter said much like the people training them, the dogs come from different backgrounds. That's something he appreciates, he said. He recognized the impact on him and other inmates and said he wishes these types of programs could work with more inmates.
VIENNA — "No one dies alone," Karen Smoot said.
"Unfortunately there's not enough of this," he said of prison programming aimed at reforming the soul of the inmate. Galbraith said the program is one of the first times some of the men have been forced to think beyond themselves.
Hunter on Thursday walked the spunky black medium-sized dog Sampson in front of the gathered crowd, and gave a display of the skills the he had learned: heel, sit, stay. He was proud of the animal he had trained. The others in the graduating class were, too.
After exiting the ceremony with their animals, inmates took one last moment to say goodbye to the friends they had made. Hugs and kisses were given, parting words lovingly imparted just moments before leashes were to be handed over to their new owners — four of the six dogs had been adopted before the graduation.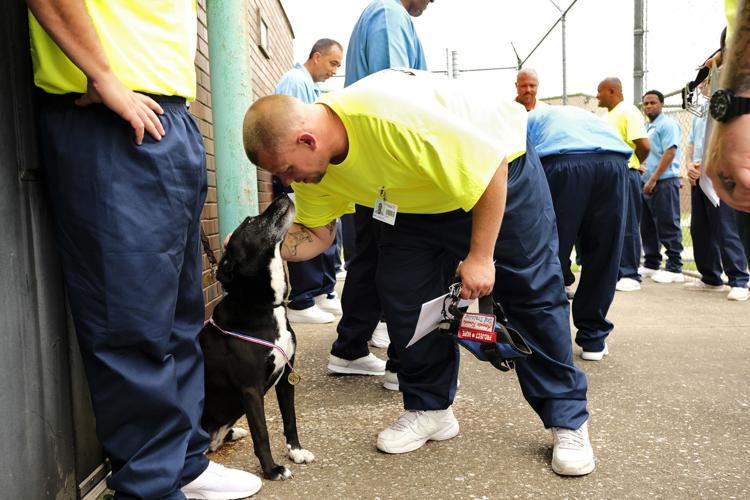 Jennifer Johnson watched her husband, Matt Johnson, beam over Sampson when Hunter brought him over. The dog licked his face and smiled at his new owner.
"I think this is going to give him a sense of being," she said. The two already have dogs at home in Tunnel Hill, and she had said no more. But when the program came up and she saw Matt's face light up at the possibility of having a dog trained just for him, she couldn't say no.
Jennifer said her husband returned from a tour in the Middle East in 2009 with a traumatic brain injury and other problems, and she hopes Sampson will help ease that burden.
"He's been really emotional about it," she said of the adoption. Still, she doubted Matt would say much about the healing Sampson will give him.
VIENNA — Part of the programming for offenders sentenced to time in Shawnee Correctional Center, a medium security prison in Vienna, is education.
"He's going to help out a lot," Matt said without going too much further. He said he looks forward to having another companion around the house.
Just before Matt shook Hunter's hand one last time and thanked him, Hunter was busy telling him all about Sampson's personality and training — though Matt and Sampson would be coming back the next week for a full lesson. But, before parting ways one last time, Hunter said one last goodbye.
"You're going to a good home," he said, looking the smiling animal in the eyes.