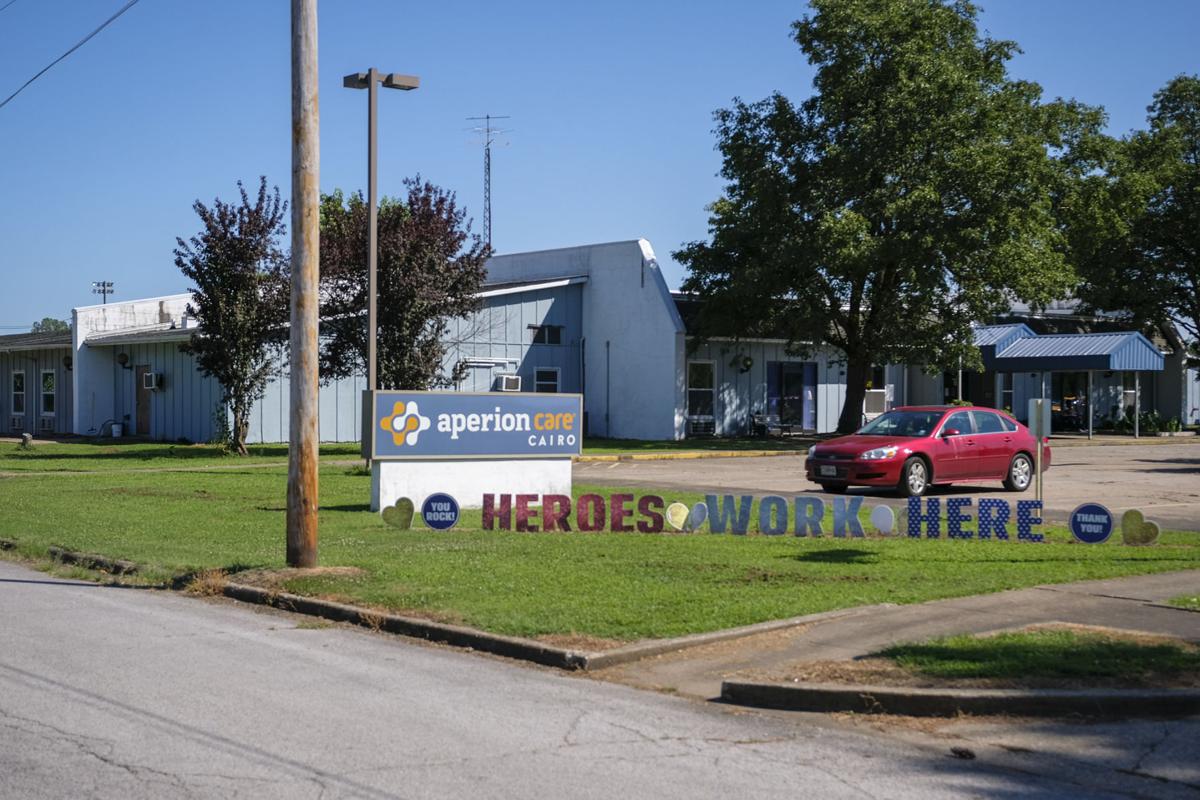 CAIRO — An Alexander County judge issued a temporary restraining order on Wednesday against Aperion Care Cairo, barring the nursing home from involuntarily relocating residents for at least 10 days.
Alexander County State's Attorney Zach Gowin, in seeking the temporary restraining order and injunction, argued in a court filing that the company has failed to provide adequate notification to residents and their family members or representatives about the closure plans and their appeal rights as prescribed by the Illinois Nursing Home Care Act.
This failure comes as the company is placing undue pressure on residents to move quickly based on the nursing home's "imminent" closure, the court filing argued. Gowin's filing said his office was informed that Aperion Care Cairo had set targets for staff to relocate five to 10 of the facility's roughly 50 residents per day beginning this past Monday.
The "tragic effect" of the company taking shortcuts with its closure, Gowin argued, has resulted in "haphazard placement of residents into alternative nursing homes without appropriate discharge planning or a reasonable opportunity to investigate whether the alternative nursing home is a suitable placement, in direct violation of the language and spirit of the Nursing Home Care Act."
In one instance, the court filing said, the alternative placement identified for a resident was a facility more than 150 miles away in St. Clair County that is battling "unacceptable levels of COVID-19 infection." Aperion Care Cairo has not reported any residents testing positive for COVID-19, and family members say they are terrified that their loved ones may have to transfer to a place currently experiencing an outbreak. Family members also have been restricted from visiting residents since March, making the closure even more difficult to navigate.
Further, Gowin argued that the company's omission of required notices and misrepresentation of other facts violate the Illinois Consumer Fraud Act. A person found to have violated the law by deceiving a person over age 65 can face a fine of up to $10,000 per infraction.
Aperion Care General Counsel Fred Frankel said that the company is working with its attorneys to "meet all the requirements to close the facility." "While this (temporary restraining order) may delay it or change our time frame, it's not going to, unfortunately, change the outcome," he added.
According to Gowin's court filing, Aperion Care Cairo is also required to submit a closure plan to the Illinois Department of Public Health for its approval outlining a process for a safe and orderly transition of residents. As of close of business Wednesday, IDPH had not received any documents from the company about its closure plan, but has been notified "via telephone/email of their intent to close," said spokesperson Cristobal Martinez. IDPH is awaiting official documentation to declare this an official matter, Martinez said.
While the decision has come unexpectedly to residents and staff, Frankel said Aperion Care has been weighing this option for a while. "These decisions don't come lightly," he said. "I don't know if people believe me when I say that, but it doesn't." Frankel said that major drivers in the decision are the state's historically low Medicaid reimbursement rates for nursing homes and challenges with recruiting staff — registered nurses especially — in a rural, depressed area. Another factor is that the nursing home has also not been full for some time, he said. About 30 beds in the 83-bed facility are vacant. "It's just time — time to move on," he said.
Family members of residents say they were taken aback by the decision, and frustrated by the lack of clear communication from the company.
Trudy Morris said her 82-year-old mother has lived at the nursing home in Cairo for 12 years. Morris said she's received no communication from nursing home staff about the closure plans, but instead had to hear about it from others in the community.
"I'm very upset about it because if my mother needs to be moved, I would like to know rather than waiting until the last minute to try to move her," Morris said. "I don't want her too far, and I'm worried about them moving her someplace with COVID." Prior to the COVID-19 pandemic necessitating the restriction of visitors to nursing homes in March, Morris said she frequently went to see her mom. She lives only about 12 miles from Cairo in the Pulaski County village of America. She's concerned about how difficult it may be to visit her mom in the future if she has to move to a nursing home several hours away.
Aperion Care Cairo is the only nursing home in Alexander and Pulaski counties that is certified to accept people enrolled in Medicare or Medicaid.
Pat Comstock, executive director of the Health Care Council of Illinois, which represents about 300 long-term care facilities, said that she wouldn't be surprised if the closure of Aperion Care Cairo "is just the first of what could become a trend in smaller communities" in the wake of the COVID-19 pandemic.
Illinois' Medicaid reimbursement rates "have long lagged behind the rest of the nation" resulting in nursing homes that operate on "pretty slim margins," she said. Small facilities like Cairo's where the majority of residents are Medicaid recipients, struggle more compared to those with a diversified payer mix. In 2019, the Illinois Legislature increased Medicaid reimbursement rates for nursing homes, but Illinois' rates are still low compared to peer states, she said. Before the increase last year, the Medicaid support rate for skilled nursing facilities was based upon 2004 costs, according to the Health Care Council.
The global pandemic has further squeezed operating margins, Comstock said. Even facilities that haven't experienced an outbreak have had to take extraordinary infection control measures to protect vulnerable seniors. These costly endeavors, she said, have eclipsed the raise facilities received from the state beginning in late 2019, just months before COVID-19 hit Illinois.
When Aperion Care took over the Cairo nursing home, previously Daystar Care Center, around early 2018, Frankel said the company did it to help out the then-owner. "I don't want to get into the whole long story, but we didn't go into this deal looking to take over this building," he said. Frankel said that when Aperion Care stepped in, the previous owner had a group of facilities that he could no longer operate financially, and he was in poor health. The nursing home was "not in great shape" when Aperion Care took it over, he said.
The facility has faced about $421,000 in fines by the federal government since 2017 for care-related issues. In 2018, health investigators found that the facility failed to notify a physician about a worsening pressure ulcer on a resident's foot, which resulted in the resident having to undergo a leg amputation that may have been avoidable. 
The facility is part of the Centers for Medicare & Medicaid Services' Special Focus Facility Program because of its "history of serious quality issues." Though the facility employs many dedicated certified nursing assistants, those care issues stem from an inability to recruit and retain qualified senior medical staff, Frankel said. 
"We stepped into that and we tried and we kept on trying and it was time to move on," he said.
Frankel said the facility was shopped around internally among regional nursing home operators, and no one expressed interest. But others are praying for a Hail Mary. The nursing home is also the second largest private employer in Cairo.
"I'm going to stay hopeful until the end. I've got to for people depending on that," said Judy Simpson, field representative for the Laborers' Local 773, which represents most of the nursing home's workers. "It's a heartbreaking situation." Simpson said there are people working together to try to identify another operator, but it's unclear if it can be pulled off in time.
Deb Conti said the decision is devastating for her family. Her 80-year-old father, a resident there, has dementia and will be startled by the move, she said. He is nearly deaf, and she and her sister are unable to talk to him about it over the telephone.
They also can't visit him because of the COVID-19 pandemic. Conti said that adding to the frustration is that the facility has "really gone about this entire situation the wrong way." As of Wednesday evening, she said that neither she nor her sister had received any communication from Aperion Care Cairo about its plans for their father. She clarified that her frustrations are entirely with management — not the employees who have been good to him since he moved in about two years ago.
In response to the pandemic, she said, "they have really gone above and beyond to make sure that place was kept safe for the elderly people and the residents of the community, and I believe they have done a fantastic job."
"But if they take our parents and they move them to another facility — I looked on IDPH's website at all the nursing homes they could be transferred to, some with hundreds of cases and deaths in double digits — that is probably my biggest concern, and also upsetting my dad with regards to his mental state," she added.
618-351-5079
On Twitter: @MollyParkerSI ​