Editor's note: This story has been updated to reflect that Daniel Johnson, one of the protesters, asked why, if Rauner was so worried about the state's finances that he gave his wife a job and staff. Rauner spokesman Lance Trover said that Diana Rauner does not receive a salary, and has one employee, a chief of staff. She is paid $100,000, according to earlier media reports. 
MARION — A war of words erupted in Marion on Tuesday between a Republican House candidate taking a "Fire Madigan" pledge and his supporters, and a group of people who came out to protest the event with a message of their own: "Fire Rauner." 
The protesters – about a dozen of them – held their "Fire Rauner" signs to the window of Dave Severin's campaign office, where inside the Republican from Benton challenging Rep. John Bradley, D-Marion, read prepared remarks about what he deemed the "defining issue in this campaign."
Severin was flanked by a handful of supporters at the news conference, which was attended by one reporter, as he announced, "I pledge to fire Mike Madigan."
He then went on to say that "Bradley's loyalty to Mike Madigan has dire consequences" for the people of Southern Illinois, and closed his prepared remarks by signing a giant pledge card sealing his decision not to cast a vote for Madigan as speaker should he be elected to the House this November – not that Madigan would have been counting on his vote anyway.
Pressed on who Bradley and other downstate Democrats should support for Speaker when the 100th General Assembly is seated in January, Severin offered up zero alternatives.  
The whole ordeal -- including a heated exchange between a Severin supporter and a "Fire Rauner" protester stationed outside, with both trying to talk over one another, and neither even attempting to acknowledge the other's point of view -- seemed to mimic the events playing out in Springfield that have led to a protracted budget stalemate.
It was if a mini-Capitol had sprouted in an otherwise ordinary Marion parking lot strip mall housing offices, a tattoo parlor and Mexican restaurant. 
That's even more so because the sharp political exchange that began at noon was sandwiched between two other events -- of social service providers in the morning, and higher education leaders in the afternoon -- where local leaders discussed the devastating effects the budget impasse is having on the region, economically and socially. 
As the days march toward Friday's start of another fiscal year with a budget tangled up in bitter partisanship and politics rooted in demagoguery, social programs for the poor, sick and disabled are contracting, and the future is uncertain for economic and educational drivers such as SIU and John A. Logan College.
At a gathering of social services providers on Tuesday morning, William Mills, who works at Choate Mental Health and Developmental Center in Anna and is chairman of the Local RC23 represented by the Illinois Nurses Association, said the situation is growing so dire that, soon, when emergency rooms call needing help placing someone who is suffering from acute mental illness in a facility for care, "I'm gonna have to tell you that there's not a bed."
Nurses across the state are troubled by the inability of lawmakers to reach a compromise given that the effect is the continued erosion of essential human services that are the primary safety net for communities across the state, he said.
Mills made his comments at the top of the Southern Illinois Human Services Symposium held Tuesday at John A. Logan hosted by Family Counseling in Vienna, and several others echoed his concerns during introductions. "Pretty terrifying," another attendee said of the continued cuts. 
Lawmakers return to Springfield Wednesday. They are expected to begin working on several Band-Aid budgets for K-12 schools and higher education, social services, road construction and a few other items deemed essential. But political leaders say it's unlikely there will be a full budget deal anytime soon, and it's yet to be seen what sort of stopgap budgets will emerge – if any. The new fiscal year begins Friday.
"I think with Mr. Rauner and Mr. Madigan, yes, I think you've got to put them both in the same boat," Sen. Gary Forby, D-Benton, said on Tuesday, in an interview outside the social services symposium. "I think they're fighting each other and they're playing politics … The bottom line is you're making everybody else suffer."
Forby said it's not ideal, but he intends to vote for the stopgap measures proposed by the Democratic leadership in his chamber, saying that, at the least, lawmakers have to find a way for schools to open on time in the fall and operate through the school year.
Rep. Brandon Phelps, D-Harrisburg, said he doesn't think anything substantive will happen until after July 4th. But, he said, rapidly snapping his fingers, "What's going on in Springfield changes every single minute."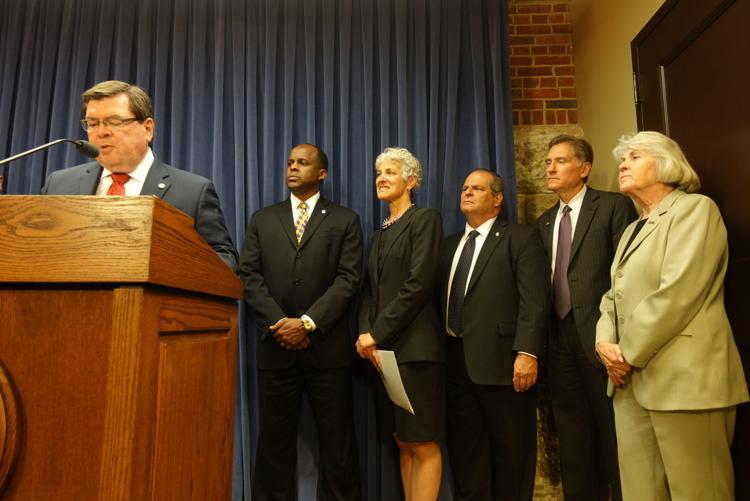 SIU President Randy Dunn, who spent Tuesday in Springfield lobbying for a release of funds – at least enough to carry the university through January – said these next few days are "critical times" as far as the future of higher education in Illinois is concerned. Dunn was among public and private university leaders who participated in a press conference in Springfield, pleading with lawmakers and the governor to take action – now.
But the divisiveness in Springfield is making action an uncertainty – and that same divisiveness was what was on display in Marion at the press conference and accompanying protest.
Ty Petersen, a staff representative with the AFSCME Council 31 union, said Severin is wrong to portray Madigan as "being the problem here." "All the governor has to do is compromise a little bit," he said.
At that, James Patrick, of Crainville, who came out to support Severin as he took the "Fire Madigan" pledge, countered that this whole budget ordeal could be settled if the Democrats would propose a responsible, balanced budget that their Republican House and Senate colleagues also could support – and then Rauner's position wouldn't matter.
One protester said it's impossible to get Republican support, and Patrick countered that's because the last budget House Democrats pushed was $7 billion in the red. "That's just your numbers," someone shouted. Daniel Johnson, a member of the Local Laborers 773, then questioned why, if Rauner was so concerned about the budget, he gave his wife a job and a staff. "Rauner is the worst thing that ever happened to this state," he said.
Holding a large sign bearing John Bradley's name over his head, at one point during this ordeal, another protester said, with gusto, "We're here for John. John Bradley and Mike Madigan. Whoooo!"
As the back-and-forth continued, primarily between Patrick and Johnson – both wearing camouflage hats, but apparently worlds apart on their views – another protester suggested they shouldn't lose their cool over someone who is "misinformed." Everyone went their separate ways.
As for Bradley's part, he declined to comment on Severin's pledge, or request that he make the same one. Through a spokesman, Bradley relayed that he doesn't "want to get into anything that distracts him from focusing on the budget talks right now." Bradley also did not return a call seeking comment related to budget talks.