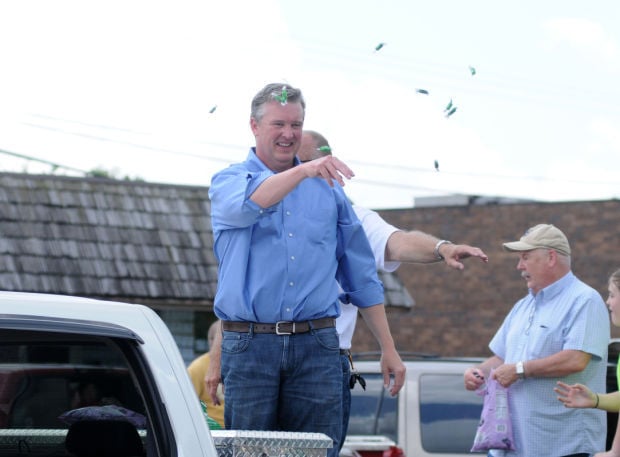 BENTON – It didn't take long for House Speaker Michael Madigan's team to launch an in-depth investigation into Benton business owner David Severin, a Republican running for the 117th House district seat long held by Rep. John Bradley, a Marion Democrat.
After months of speculation about who the Republicans would front, Severin announced his intentions to run on Oct. 20 at stops in Marion and Benton.
The day before, on Oct. 19, the superintendent of the Benton Grade School, where Severin has sat on the board for more than 25 years, received two FOIA requests, one seeking records under the Freedom of Information Act on all payments over the years to Severin or his business, All Stars-n-Stitches, as well as records regarding work and salary history for his wife, Penny Severin, who is a third grade teacher at the school.
The other request was aimed at records related to Severin's son, Travis Severin, who also sits on the board. That request sought records of any payments made to Travis Severin, as well as to banks with which he has been associated, Regions Financial Corporation, where he worked previously, and U.S. Bank, where he is employed as a mortgage sales manager. The requests regarding Travis and David asked for all records of electronic correspondence regarding school business using either their school board or personal email addresses.
A third request sent to Superintendent Jay Goble on Oct. 21 – the day after his announcement – sought all records or payments made to Centerstone of Illinois, Inc., a comprehensive social service agency for which David Severin also is a member of its board.
Judging by history and the exhaustive nature of the requests – there have been three in total thus far – it appears Madigan's team on behalf of Bradley is looking to dig up political hand grenades to lob at Severin should Bradley find himself in a weak position moving closer to November 2016.
Bradley's vulnerability
Bradley's close personal association with Madigan has made him particularly vulnerable in Southern Illinois, where many view Illinois politics as a game of "us" against Madigan's Chicago where the region regularly comes out on the losing end.
In office since he was appointed to the post in 2003, Madigan tapped Bradley in more recent years to serve as assistant majority leader. And while Marion Mayor Bob Butler and other elected leaders have said Bradley's clout can help the region, Bradley irked a major voting bloc of state employees and teachers when in late 2013 he joined Madigan's call to support the pension-cutting Senate Bill 1.
The other members of the Southern Illinois delegation all voted no, and the law signed by then-Gov. Pat Quinn was later ruled unconstitutional by the Illinois Supreme Court.
Bradley has sought to shake the stereotype that he takes all his marching orders from Madigan, and has more recently attempted to get out front – by hosting forums and sending press releases – on crowd-pleasing topics in this region such as his support for gun owners' rights and the recent concealed carry law. But it's been an uphill public image battle.
Questioned about this latest investigation into his newly announced opponent's public service record, Bradley sought to distance himself from the Madigan-funded sleuth hound who sent the letters to the school board.
Reached by phone this past week, Bradley was unable to immediately say what, if any, association his campaign had with Julia Larkin, the Chicago woman who penned the Freedom of Information Act requests to Benton Community Consolidated School District No. 47.
Bradley offered to find out, and then return a phone call to the newspaper. A few hours later, he sent an email stating that Larkin is "not one of my staff members, nor is she on my state payroll." The newspaper attempted to reach Bradley for further comment about whom she is working for, if not him. The newspaper requested Bradley call back as he stated he would, for further discussion about the nature of the campaign he intended to run, and what if any specific information Larkin was attempting to uncover, or had uncovered, about Severin on his behalf.
Politics' ugly side
On one hand, opposition research by opposing candidates or the parties on their behalf is standard campaign fare. When used to draw attention to malfeasance, or show distinctions between candidates and as a launching point for an opponent to say how he or she would have responded differently, this type of conversation can benefit the voter. 
But when the hired guns and the money pours in – most of it with little ties to the area – campaigns have a way of quickly turning extremely negative, even when the opposition research fails to unearth a true scandal. The constant barrage of personal attacks leave questions about who is really in charge of a candidate's message – the candidate or his or her backers.
CRAB ORCHARD – A third person is seeking the 117th House District seat: Libertarian Scott Schluter.
The race becomes about painting the other as a person of questionable reputation or morals via out-of-context sound bites and manipulative hit pieces. History has shown that the path to victory is rarely paved with civil discourse when candidates lose control of their message to outsiders whose job it is to win at all cost.
After the race is over, these party-paid operatives leave town, and leave in their wake a community feeling rather bitter about the whole process, discouraging potential future candidates from seeking public office, and many people from even voting at all.
Mark Minor, of Ewing, who is president of the Benton High School board, said he got a taste of it himself in 2012 when he unsuccessfully ran as a Republican against incumbent Democrat Sen. Gary Forby, D-Benton. At that time, he said, a campaign worker on behalf of the Illinois Democratic Party also sent public records requests to the high school, seeking 24 years of board minutes.
Minor said what was used against him were two votes he'd taken more than 20 years prior, one to raise school lunch prices by 20 cents in early 1990s at the request of the superintendent, and another later vote to give that same superintendent a roughly $100 a month mileage allowance because he was commuting from Harrisburg.
A commercial aired saying he voted to take food out of the mouths of hungry children in order to give exorbitant raises to administrators, he said. Minor said he doesn't have a problem with people reviewing and questioning his record, but felt this was not done to encourage debate but to disparage his character. "That seems to be the mode," he said. "They take these isolated things and turn them into a political hack job or hit piece."
Though in this area the long-term incumbents are Democrats, and incumbents almost always have larger purses to fuel this kind of advertising, both parties engage in this type of activity, taking advantage of the electorate's short attention span and a shrinking media force. It's the kind of negative campaigning at the national, state and, increasing, the local level that people complain of disliking. And yet, because it's effective, continues on.
Who is Julia Larkin?
While Bradley refused to return a phone call to the newspaper for further discussion, it would be highly unusual if he didn't know who Julia Larkin is or who she works for, as she's been a state employee since 2007 working as a program specialist for the Illinois House majority, of which Bradley is third in command.
Both her years-long employment by the state and party are matters of public record. Though because Larkin did not return a message seeking comment, and neither Bradley nor Steve Brown, who is spokesman for Mike Madigan and the Illinois Democratic Party, would disclose her association with the party or Bradley's campaign, the newspaper had to go on a bit of a fishing expedition to clarify who she's working on behalf of at this point.
That shouldn't be necessary, said Sarah Brune, deputy director of the Illinois Campaign for Political Reform. While it appears Larkin and the party are following the prescribed state laws regarding leaves of absence for state employees who do political work, Brune said both Bradley and Brown should be up front about that.
"If she's on the payroll of a campaign, they're legally required to disclose," she said. "Why not be forthcoming? There's no need to hide. People campaigning for public office should take on an attitude of transparency from day one."
Instead, Brown was dismissive about the question, saying only that Larkin is not working for the state. He would not say whether she was on a leave of absence while working for the party, or had permanently severed ties with her taxpayer-funded job. In fact, he wouldn't even say whether she'd sent the FOIA request as an employee of the party. "That is what I would view as a strategic area," Brown said, adding he didn't know how disclosing that information "benefits a conversation in the news media."
According to the Comptroller's Office, Larkin began her state employment on June 1, 2007. Her gross monthly salary is $5,500 monthly, or roughly $66,000 annually. State employees are allowed to take leaves of absence, including for campaign work, and records show she's taken leaves of absence for varying lengths of time every year since 2008. State employees can retain their health insurance benefits but must pay their own premiums while on leave.
MARION — The Illinois Republican Party officially has a candidate to run against state Rep. …
State records do not indicate the specific reasons for her leave, but campaign finance records show she has received payments from the Illinois Democratic Party dating back to May 2008, coinciding with her first leave of absence from her state-paid job working for Madigan. More recently, she has been paid twice monthly $1,989.98 by the Democratic Majority committee, and $579.20 monthly for insurance, presumably to pay her state health insurance premium.
The committee has a stated purpose of electing Democrats to the House and is chaired by Madigan. Records show Larkin began her latest personal leave of absence on June 7.
What the records show
In addition to seeking the FOIA requests Larkin sent the district, the newspaper also requested via its own public records request the district's response, which was voluminous and has not been reviewed by the newspaper in its entirety at this stage.
One of the main records that stand out from the request is that the school regularly does business with All Stars N' Stiches, an athletic supply store that Severin co-owns. Severin said state ethics laws allow schools to do business worth up to $5,000 annually with a business that has ties to a board member.
He signs an annual statement to obey that rule, and also discloses before any votes to make payments to his business that he is the owner, Severin said. A review of records shows that the school has spent under that limit at least in the last several years. "If someone is looking for something bad, they're doing me a favor showing I'm willing to forfeit money into my pocket, into my business, by serving on this board," he said.
The records also show that the school district contracts with Centerstone, formerly The H Group, for janitorial services, and has for years. Severin also sits on that board. Centerstone presently has a three-year $847,845 cumulative contract.
Records also show that the school does business with David Severin's son, board member Travis Severin's employer, U.S. Bank, of Benton; Travis is a supervisor but not owner at the bank. Again, neither Larkin nor Bradley nor Brown would discuss whether the search is for something particular in the records, or whether they found something of interest. Most likely, it was meant to be a broad request in hopes of finding anything that might stick.
Running against the machine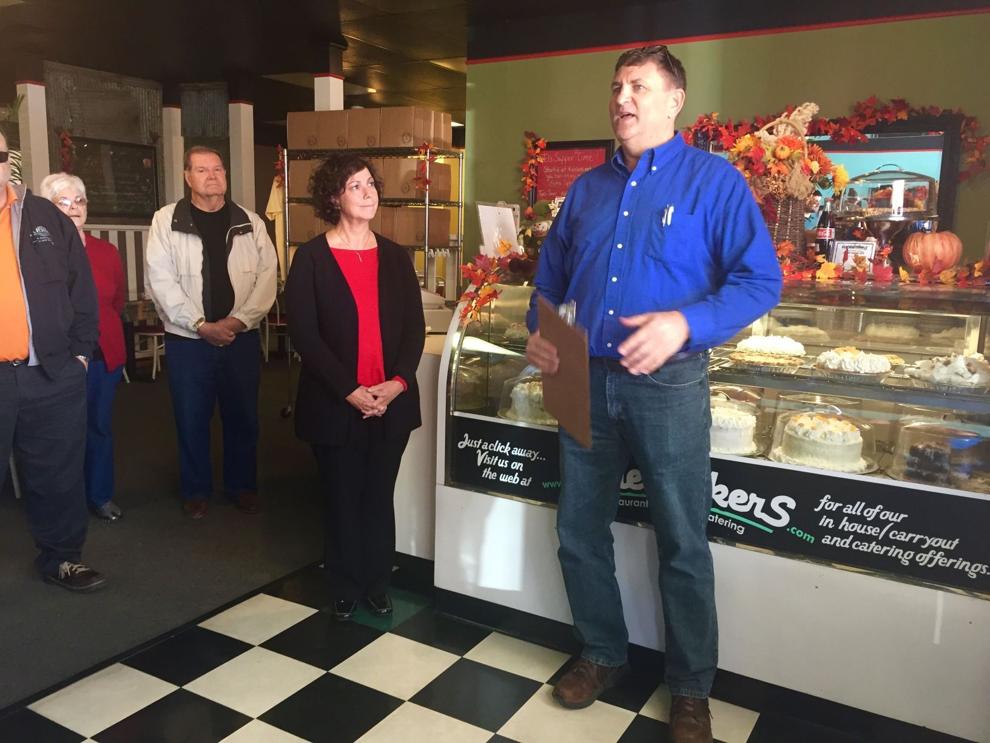 Severin said he's been prepared from the beginning of deciding to enter the race to face both Bradley and Madigan. "If I said I was only running against John Bradley, I'd have my head in the sand. The same could be said if I believed I was running against Mike Madigan. It's two in one. Here's how I know that. Everyone I talk to says you know you're running against John Bradley and Mike Madigan and you're running against Chicago."
Brown, who is Madigan's spokesman, said that when it comes to Bradley's campaign, the newspaper should speak to Bradley, who did not respond to requests for an interview.
Brown added that although he had heard someone might be circulating petitions in the area, he's "not even sure there's a campaign." Yet, both Severin and Bradley have filed this past Monday with the Illinois State Board of Elections to appear on their respective March 15 primary ballots. Libertarian Scott Schluter also has announced his intentions to run as a third-party candidate.
Bradley's big donations
There is no record that Severin or Schluter have raised funds to date, but Bradley's political committee is a Top 10 earner in the past 30 days, according to the Illinois Campaign for Political Reform's Illinois Sunshine database. Having brought in $198,890 in a month, Bradley's fund has only been outraised by party, party leaders, or union committees, and a candidate for Chicago alderman.
Among large recent contributions, Bradley received $53,900 from the Laborers' Political League Education Fund on Nov. 3; $50,000 from the Southern Central Illinois Laborers' Political League Fund and $25,490 from the Chicago Land Operators Joint Management PAC on Nov. 20; and $35,549 from the Illinois Laborers' Legislative Committee and $27,000 from Foresight Energy on Sept. 30.
Illinois Republican Party Executive Director Nick Klitzing said Severin has the party's support and backing, but it's too early to say what type of financial commitment will be made available to him. Regardless, it is likely more money may be made available to Republicans in competitive districts this year with Gov. Bruce Rauner in office. His campaign committee, Citizens for Rauner, has the highest current funds at roughly $19.6 million.
Klitzing did say he was surprised Madigan dispatched Larkin so early in the season to "dig up dirt" on Severin. "Their goal is to talk about anything other than John Bradley's record," he said. "He's voted with Mike Madigan in lockstep. They can't talk about that. That doesn't play in Southern Illinois."
Brune, with the campaign reform group, said she expects an unprecedented amount of money to be spent in races across the state in 2016. Over $153 million already has been spent in 2015, and "it's not even an election year."
"The independent committees and super PACs make it that much easier for the spending to be more anonymous and less local," she said. "I don't think anybody benefits from that."
618-351-5079
On Twitter: @MollyParkerSI ​