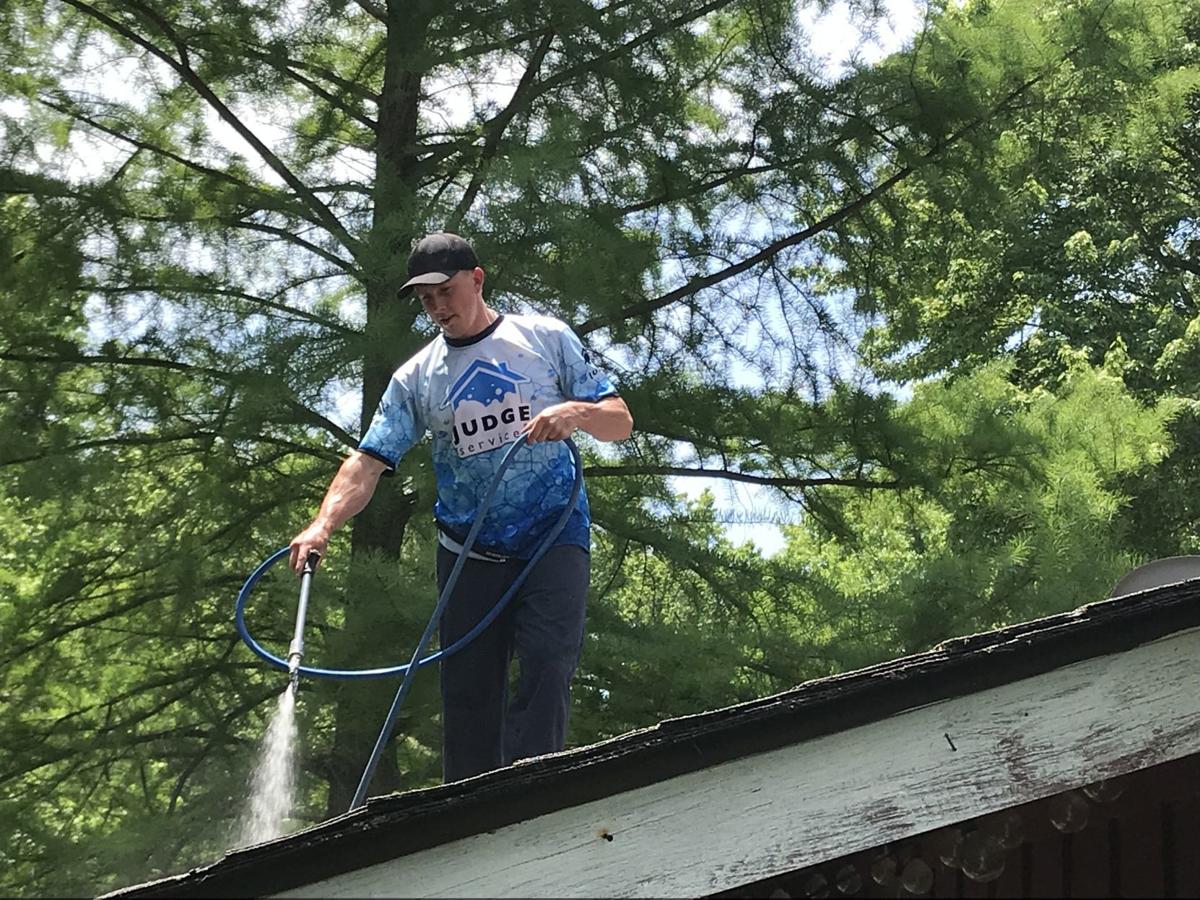 CARBONDALE — Josh Judge of Carbondale has a dirty job. He wouldn't have it any other way.
Armed with a degree in graphic design from Southern Illinois University, Judge was working at a local print shop and remembering a job he had while growing up in Olney with a painting and pressure washing company. Armed with a family history of entrepreneurship and a desire to work for himself, Judge decided to start his own service company, Judge Services, in 2014.
"I remember telling my wife that I had everything I needed, because I was going to do painting and maybe a little pressure washing," he recalls. "I told her, 'I have a brush, I have a roller and I shouldn't need to buy anything.' Looking back, maybe I was a little bit naïve."
Judge says over the course of the next three years, he's had to buy quite a bit — more brushes, pressure washers, trucks and trailers — as his business has grown.
"Of course we've had to buy a lot of things, but we've done so slowly over time, trying not to take the business into any debt and it's worked out pretty good so far," he says.
He's grown the company to include two full-time employees and several part-time staff members. In fact, the business has already grown larger than he ever anticipated.
"From the beginning I expected the company to just be a one-man show and keep it small," he explains, "but we've seen the potential for it to grow and I've embraced that."
Today, the company offers house and building washing, no-pressure roof cleaning, concrete, deck and patio washing as well as gutter cleaning. One item missing from the list of services offered is painting.
"Actually, just this season, we decided to drop the painting services because we are solely now an exterior cleaning company," Judge says, adding that his goal is to be client-centered. "We don't really necessarily focus as much on the cleaning that we are doing as much as we do making the customer feels comfortable and satisfied through the whole experience."
Judge says an expansion into interior cleaning could be possible in a few years. Right now, he is working to balance working in and working on the business.
"It's kind of a juggling act, trying to be in the field and help get jobs done and also trying to manage everything on the back end," he says. "There's definitely been a learning curve as the business has grown."
He explains that his "bag of tricks" has also grown.
"Within the last couple of years, I've really started to delve deep in the professional industry of exterior cleaning, so I'm not just someone who has learned from YouTube or by reading articles," he says. "I've started to attend professional training events and learn from the titans of the industry and gain their tips and tricks. That's been an absolute game-changer. I'm not just a guy with a pressure washer."
Judge says the company developed a unique community service project earlier this year.
"In February we were having some family issues with flu and sickness and while I don't know where that all started, it gave me the idea to start cleaning playgrounds at schools," he says. "It has been a big hit."
The playground equipment cleanings are free and done as the company's schedule will allow.
"We just clean and disinfect the playground equipment," he says. "It's a big job and definitely school custodians already have their hands full. We've got the equipment and it takes us a lot less time than would for them to do it. It's just been something really nice that we are able to do and the public feedback from it has been remarkable."
Judge is obviously proud of the company's work for schools and he's proud that he's been able to make it as an entrepreneur.
"My grandfather who started his own company told me once that he loved the work he was doing so much that he really never felt like he was working," Judge says. "I feel the same way. I love what I do."