Ninety years ago, the deadliest tornado in recorded U.S. history sliced a diagonal swath across Southern Illinois, practically obliterating the towns of Gorham, Murphysboro, De Soto, Bush, West Frankfort and Parrish.
The storm, which came to be known as the Tri-State tornado for its three-state path of destruction, changed forever the lives of thousands in Southern Illinois, including then 7-year-old Betty Moroni, of De Soto.
A warm and windy day
The 97-year-old De Soto resident remembers March 18, 1925, as an unusually warm and blustery spring day, recalling her 14-year-old brother Herschel and the other boys at the De Soto School throwing their caps in the air to see how far the wind could carry them.
Moroni, who was wearing her Easter dress because her other clothes became soaked while walking home in the rain for lunch, went outside with her class at 2:30 p.m. for recess.
She could barely stand against the strong winds that were already blowing ominously from the direction of Murphysboro.
As the skies surrounding the school turned black, her teacher led the students back to the classroom, where she instructed the girls to take their seats and the boys to shut the windows.
'It was all blown away'
Moroni barely sat down in her front row desk next to her 10-year-old sister, Marie, when the tornado struck the school at 2:38 p.m., killing 19 students in her classroom, including Moroni's sister.
With glass shattering around them, few of the boys shutting the windows survived the storm.
"There were only three boys left in my class," Moroni said. "They were all killed in the tornado, all but three."
A total of 33 students died in the tornado, which was reportedly more than a mile wide.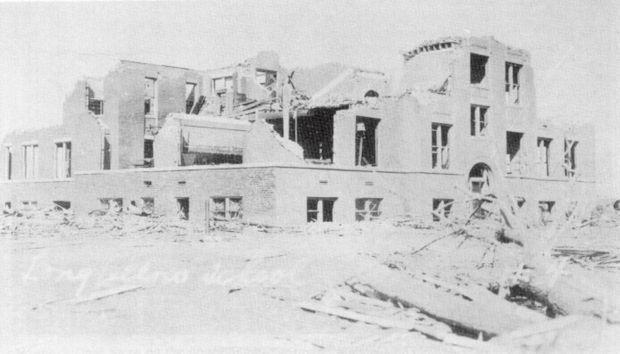 "I was happy that day of the tornado and, just in a flash, I was desolate," Moroni said. "I didn't have a home, didn't know the way home. It was all blown away."
Losing a second and third sister
Moroni stumbled through the bricks, wood and tree limbs the storm had strewn across the town, finding her parents with the help of a man she calls Mr. Tippy. He held her hand while carrying his son in his other arm as they walked through the rubble.
But when she met up with her parents, she knew the storm had injured her dad and her 6-year-old sister, Elsie, who had been at home with her mom and Moroni's 6-month-old sister, Ruth, during the storm.
"Someone had tied what looked like a sheet around his (her dad) head, and it was bloody," Moroni said. "Elsie had a cut in her head and it was bleeding, and they took us to Du Quoin Hospital. When we got there, they had to put us in the basement. The hospital was full."
BROOKPORT -- It was a Sunday afternoon when the town of Brookport was changed dramatically.
Moroni learned later the tornado had blown her mother, Minnie Barnett, against a tree moments after picking up Ruth, who suffered "just three little scratches on her head."
But the storm had flattened their house on what is now Cherry Street and Moroni's 12-year-old sister, Tina Mae, failed to return home from school after the storm.
"After the tornado was over, nobody knew where anybody was," Moroni said. "You could be blown forever."
Two days later, searchers found the bodies of three girls in an outhouse that had been blown across the railroad tracks that run today along Illinois 149 between De Soto and Hurst.
Moroni's sister, Tina Mae, and two other girls, Ruth Taylor and Nellie Bell, sought refuge during the storm in the school's outdoor toilet.
"My mother never talked about the tornado in our house, just never, but I overheard her talking to somebody about that incident and momma said, 'You know it's worrisome to think that maybe they weren't killed, maybe they starved to death.'"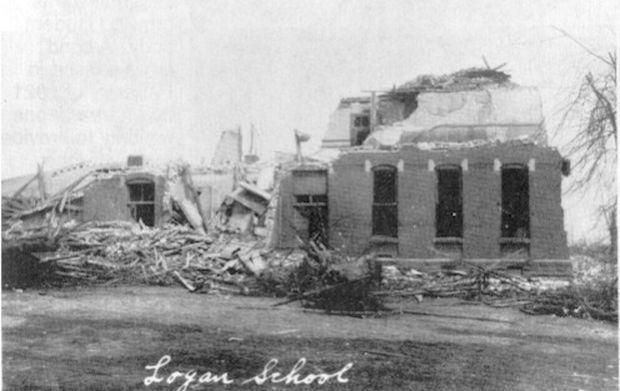 The week of tragedy continued two days later on March 22 when Elsie died at the hospital, becoming the third sister Moroni lost in a span of five days. 
'It was a nightmare'
In the months following the tornado, Moroni's family lived in a quickly-built, one-room shack-like structure, but Betty was sent to live with her aunt and uncle while finishing up the school year in Hurst. 
Several months later, the family finished building a new home with help from the Red Cross, but shortly after moving in, more tragedy struck.
Her father survived the tornado, but suffered serious head injuries and wasn't well after the storm. He died the next spring, leaving his wife, who was three months pregnant, to raise Betty, Herschel and Ruth by herself.
"That was 1925," Moroni said. "We didn't have Social Security; we didn't have any government handouts, and you just did it the hard way. My mother wasn't the only one that lost family. Our family had the most that were killed, but there were people who lost two children and several that lost one."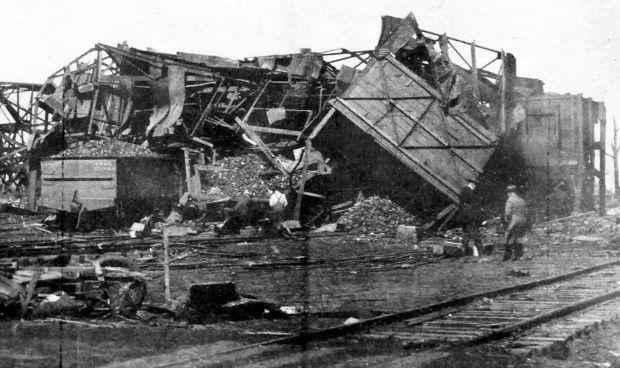 Moroni called the whole experience a "nightmare," but said her mom never felt sorry for herself or said, "Poor me."
"She just always tried to make us feel good," Moroni said.
Searching for loved ones
The storm wreaked havoc within the small community, with many families living for months in tents and others searching for loved ones and friends missing in the aftermath of the storm.
Moroni's friend, James Morrison, who was 5-years-old at the time, went missing for two days after the tornado. His father had been working out of town during the storm and didn't know his son was staying at a home in Du Quoin.
"Now, imagine having a little boy, 5-years old, and you couldn't find him," Moroni said.
A 'freight train'
John Parrish, then 5-years old, was with his dad on the back porch of their home on what is now Walnut Street in De Soto, cutting off the power to prevent a fire, when Parrish heard what he describes as a "freight train" coming from the southwest.
CHAMPAIGN — An Illinois weather expert says the phrase "tornado season" has lost some of its…
They went inside and, along with John's mother, were only able to reach the basement door before the tornado hit. Parrish said his father purposely fell on his mom and him to shield them from the debris.
"He was hurt pretty bad, but we didn't get hurt because of him," Parrish said.
His grandfather didn't fare as well, with the violent winds burying nails and pieces of wood in his head that doctors weren't able to "work out" until a month later, Parrish said.
Pictures document how the indiscriminate storm left the Jackson County town a wasteland, with dirt roads stripped empty of the houses that hours before had lined the village's streets. 
"All I remember was seeing all the houses torn down," Parrish said. "It tore 90 percent or more, I'm sure, of the houses down."
Parrish's 9-year-old sister, Lucy, was able to escape the De Soto School by crawling through the shattered windows and piles of fallen bricks, but seeing many of her classmates die left a permanent mark on her life.
"She was scared," Parrish said. "I can remember every time a dark cloud would come up if she was out playing, she would run into the house and get under the bed. She couldn't stand it. I always felt so sorry for her. All the rest of her life she was upset whenever they had a storm."
'Everything was on fire in Murphysboro'
Gorham was the first Illinois community impacted by the storm, which began in Annapolis, Missouri, and ended near Princeton, Indiana, with 34 in the community of 500 meeting their death at the hands of the tornado.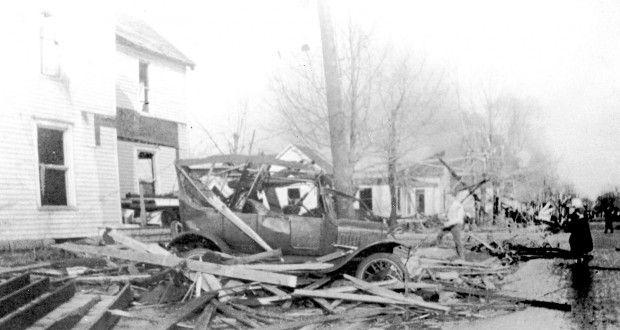 Six minutes after passing through Gorham and four minutes before the storm killed 69 people in De Soto, the tornado passed through Murphysboro, killing 234 and injuring more than 600 as it sped through the west end of the town at more than 60 miles per hour.
Eileen Jones, who now lives in De Soto, was 6 and playing with her classmates on the Washington School playground in Murphysboro when "the cloud started coming up," she said.
As teachers rushed students toward their classrooms, the school principal told them to instead head immediately to the basement.
"We had just started down the basement steps when the thing hit," Jones said. "There were chunks of stuff falling in all around us. I wasn't hurt. It was a miracle that somebody wasn't hurt."
But the schools on the west end of town bore the brunt of the storm, with 17 students killed at Longfellow School, five students failing to escape the Logan School, which was almost completely leveled, and another three dying at the high school.  
Reports estimated about 100 blocks of homes and buildings were destroyed in Murphysboro, with resulting fires ruining another 70 blocks of the town.
Jones' home on the east end of town wasn't damaged, but she was told to get a change of clothes and be prepared to leave in case the fires that could be seen on the west side of town continued to spread.
"The west end of Murphysboro was all afire," Jones said. "We had to get a change of clothes, and be ready to cross the river because the fires were coming. We could hear them dynamiting, trying to stop them."
Parrish, who spent the night after the tornado at his uncle's farm on New Era Road, remembers looking to the southwest and seeing the light from the fire.
"The whole sky was lit up," Parrish said. "Everything was on fire in Murphysboro."
The fires were eventually contained and Jones and her family didn't have to cross the river, but 90 years later storms still rattle the 95-year-old who now lives in De Soto.
"Every time it would get a little dark, I'd get hysterical," Jones said. "Still, if it gets a little black, I get to worry. They used to have to threaten me to settle down. I just thank the Lord every day that I made it through that."
A tragic 90 minutes in Southern Illinois
Five minutes after sweeping through De Soto, the storm killed seven in the mining community of Bush before continuing on to West Frankfort, where coal miners coming to the surface to figure out why they lost electricity were shocked to see the carnage the storm left behind.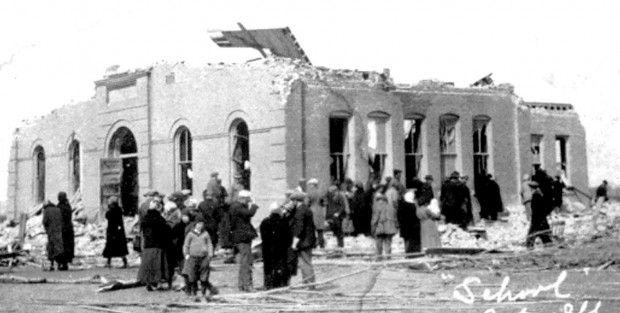 With many of the men underground during the storm, most of the 148 who died and 410 injured in the Franklin County community of 8,000 were women and children.
After leaving West Frankfort, the tornado killed 46 in Parrish and another 65 in rural areas of Hamilton and White counties before moving on to cause more destruction in southern Indiana where the powerful storm mercifully sputtered just east of Princeton. 
The F5 tornado's three-and-a-half-hour trek cut a 219-mile line of destruction that left 695 dead in its wake, including almost 600 Southern Illinoisans in what is probably the deadliest 90 minutes in the region's history.