VIENNA — Jericho, Bowzer and Sinatra had lived at Project Hope Humane Society in Metropolis for a long time — five years for Jericho. Hope was one thing in short supply for these dogs.
"They probably did not have a good chance of being adopted," Diane Winding of Project Hope said.
That is until Shawnee Correctional Center started a new dog-training program. The program is not only changing the lives of these three dogs, but also the offenders who work with them.
Kema Fair and Bowzer, Jaime Cornejo and Jericho, and Joseph Ruiz and Sinatra demonstrated some of their new skills Wednesday afternoon in a classroom at the prison. All of the men had dogs before they were incarcerated at Shawnee.
Dogs live at the prison for the duration of the three-month program. They have their own room with kennels for each animal. Their room opens to a separate fenced yard with agility equipment and a town-house-style dog house built by the construction class at the prison. The yard is illuminated at night with LED flood lights.
"We were fortunate to get into an LED program last year," Warden Jeff Dennison said. "The fencing was donated by Terrace Fence Co. in Marion, and the only thing we had to do is install it."
The yard is equipped with an agricultural lime potty area. Offender-handlers are responsible for picking up after the dog and depositing waste into a buried barrel.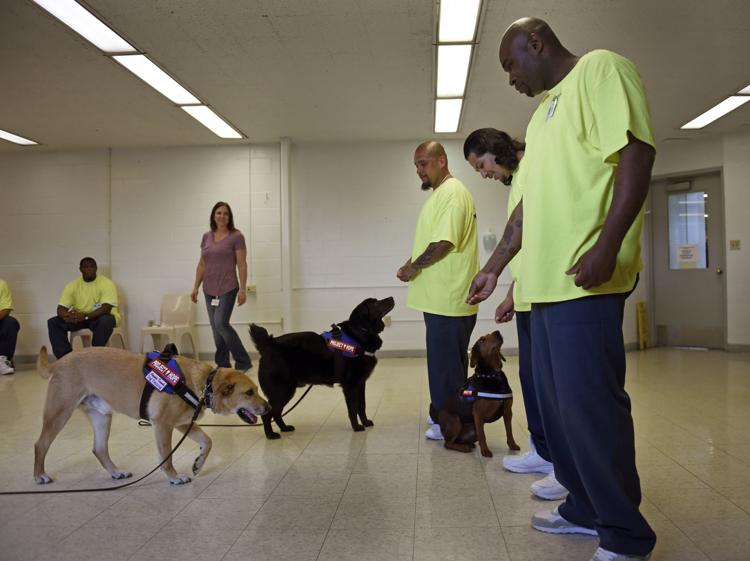 This first class includes three dogs, but Amy Galbraith, SWATT dog program administrator, said they plan to eventually train six dogs per class. Dennison said they hope to eventually expand the program to include training in dog grooming.
The dogs learn basic obedience skills and socialization, and are house-trained by offender-handlers under the supervision of volunteer trainer Amy Cline. Two offenders work with each dog, trading off so they don't get too attached to each other. One offender works overnight in the dog room, so the dogs are not left alone.
In addition to the offenders, several staff members also work with the dogs. Offenders had to apply to the program to become handlers. Staff members volunteer to work around dogs.
Fair worked in the law library at the prison when Lu Walker, assistant warden of programs, told him about a new dog-training program.
"It was kind of exciting," Fair said.
Cornejo worked in the commissary, but there is a different pace to being a dog handler.
"I have to get up early to make sure the dogs have all their needs met," Cornejo said.
He estimates that his workday has now increased to about 16 hours each day.
"We have unlimited access to the dogs," he said.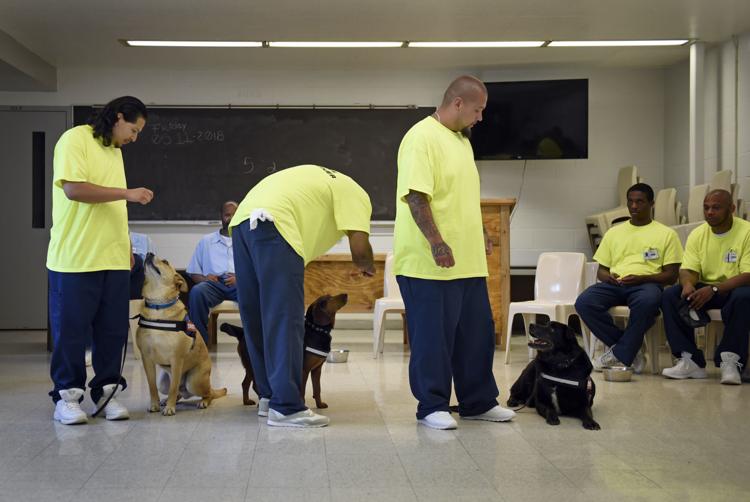 Fair applied to the program to not only get experience as a dog handler, but also to show a different side of an offender.
"I also wanted to show appreciation for veterans — the guys who protect our freedom," Fair said.
"It's a nice opportunity to be able to show the outside world that even while we are in prison we can do something positive and pay back some dues," Ruiz said.
After their June 6 graduation, the dogs will become therapy dogs for veterans. Fair said it will be a little like losing a friend.
Dennison said it is amazing to know and see the changes that have taken place in both the dogs and offenders.
"The offenders came up on the street with little experience working as a team," Dennis said. "Now they have to work as a team to care for the dogs."
He added that it also is amazing to see their patriotism.
"I think it's very rewarding for the offenders to make a positive change in a dog's life," Dennison said.
Bowzer, Jericho and Sinatra are available to be adopted by veterans, but they are not the only adoptable animals at Project Hope.
"We have a lot of animals that need homes. We have a lot of senior cats and dogs," Windings said.
For more information, contact Project Hope Humane Society at 618-524-8939 or visit projecthopehumanesociety.