MILLER CITY — Beans and corn usually grow in the fields farmed by Sean Pecord and by Elliott Rafferty near the Mississippi River at Miller City, but the only things in most of the fields today are mounds of sand, driftwood and flood debris.
A field near Pecord's home is the exception — it also has two barges sitting in it.
The barges are about three-quarters of a mile from the river, and a total of six barges were sucked through the breached Len Small Levee in early July. The barge company was successful in removing four of the six barges, but was unable to retrieve the last two. In the process of removing the barges, they took out a few power poles.
U.S. Rep. Mike Bost, R-Murphysboro, toured the site Wednesday.
"We haven't even seen a Corps of Engineers person down here," Pecord told the Congressman.
As if on cue, a tug boat pushing barges down the Mississippi came into view.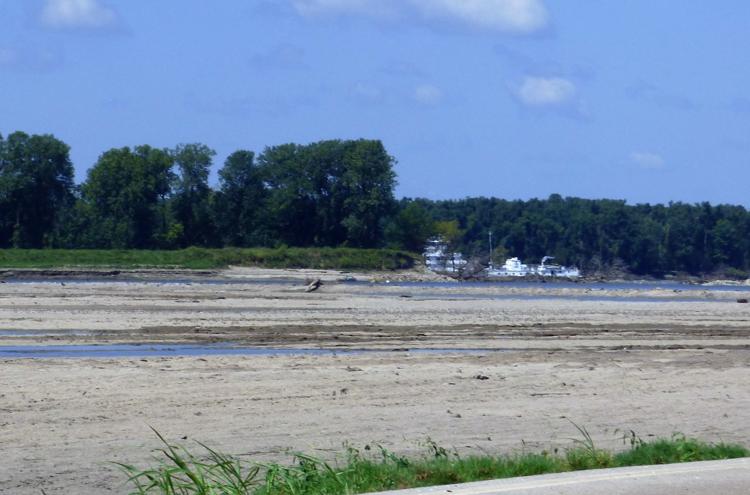 Bost fears the river may be trying to cut a new channel. He says Army Corps of Engineers, as well as barge owners and operators, need to travel to Alexander County and see the site.
"I can actually see with my eyes what is going on," Bost said, "and deal with the bureaucrats in Washington who don't understand."
The Len Small Levee was breached in 2011, leaving a 5,000-foot hole. It was repaired only to breach again in 2016 in a different spot. The Army Corps of Engineers declined to fix that breach because the threat to farmland wasn't great enough to justify spending $16 million repair price tag.
At this point, Bost said the breach has created a deep lake and deposited sand up to five or six feet deep in fields. Yet, most of the lower level Army Corps people don't see a problem with navigation.
The way laws about levee repair are currently written, it allows a total amount of damages to include restoration of farmland and value of homes and businesses, but not costs from a changing navigation channel.
You have free articles remaining.
The Mississippi River is a major commerce route in the U.S. for goods like grain, chemicals and coal from northern producers to New Orleans. A typical barge carries 1,500 tons of cargo, which is 15 times greater than a rail car and 60 times greater than one trailer truck.
"If this (the river channel) changes too much, a lock and dam will be the only way to fix it. It will not only affect our future, but the futures of our children and grandchildren," Bost said. "If you want the course of this river to change, do nothing."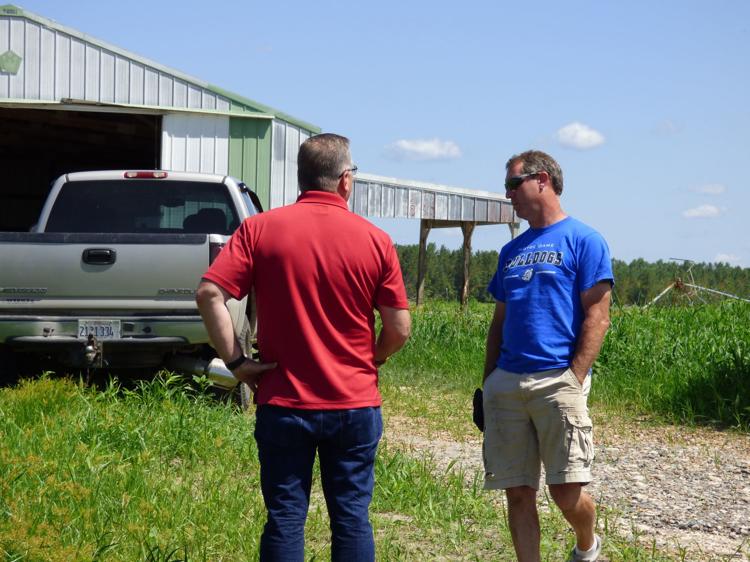 Bost said he has not spoken to President Donald Trump about this issue, but he has talked to the president's "people," including Assistant Secretary Rickey James.
"Trump can weigh in, but we in Congress control the budget, and this is a budget issue," Bost said.
He hopes to get legislation passed in the 2020 water bill that would change the current language to include navigation and commerce disruption, but he does not believe the repairs to the Len Small Levee can wait that long.
He hates to think about what another flood will do.
Elliott Rafferty farms 2,500 acres in Alexander County and is very familiar with the problems floods cause in the area. Like Pecord, he has no crop this year, as all 2,500 acres were under water.
He added that flooding destroyed the drainage system, so he expects water to stand in some fields for months.
"It's all part of it. If we had this levee back, we wouldn't be standing here today," Rafferty said.
He believes Bost is headed in the right direction, but they need the levee repaired. Even then, Rafferty said he would be dead before the land is recovered.
Earlier in the day, Bost hosted two roundtable discussions, one with local officials who have to deal with Illinois Emergency Management Agency and the Federal Emergency Management Agency and a second with farmers affected by flooding.