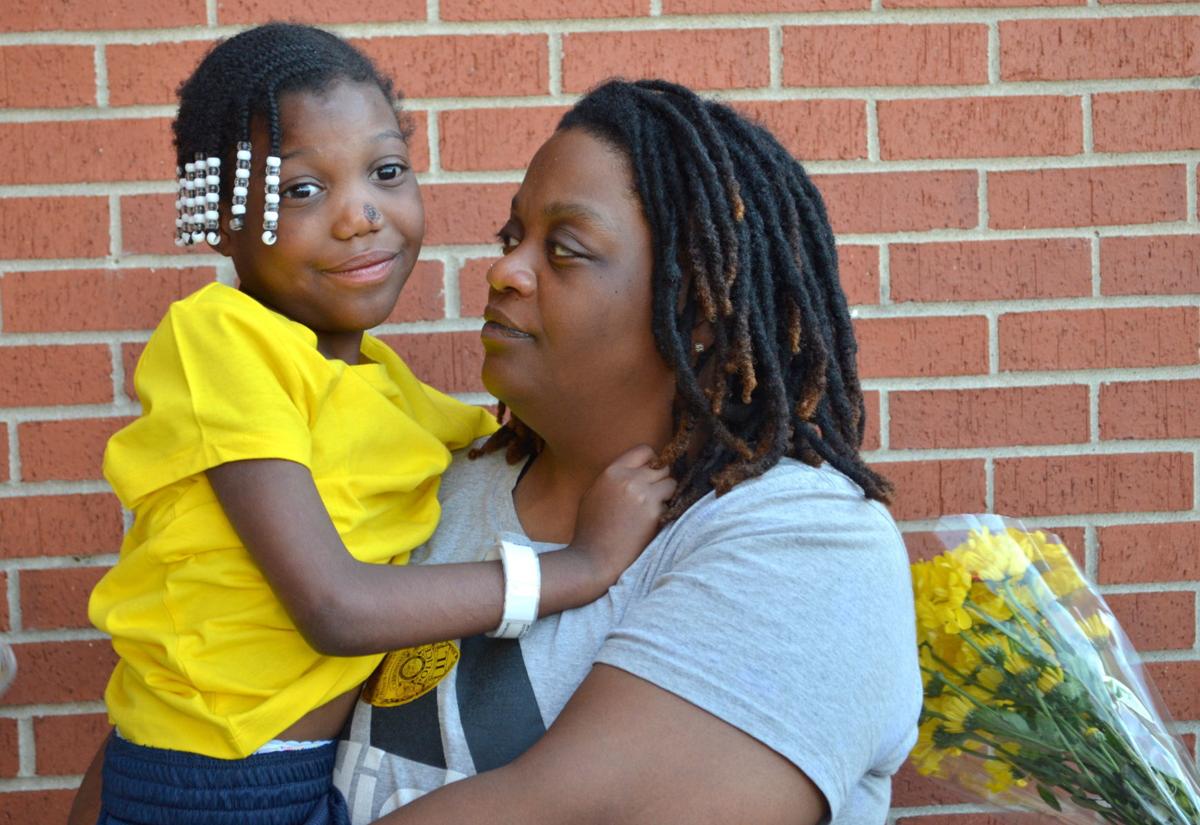 CARBONDALE — "I am so elated," said Barbara Dotson as she walked out of Memorial Hospital in Carbondale Tuesday afternoon. "You have no idea."
She had just seen her 7-year-old granddaughter, Patrice Dotson, alive and smiling 20 hours after she was reported missing.
Miss Barbara's eyes were swollen from tears and a sleepless night; she'd left Chicago at 9 p.m. Monday to come help search for Patrice.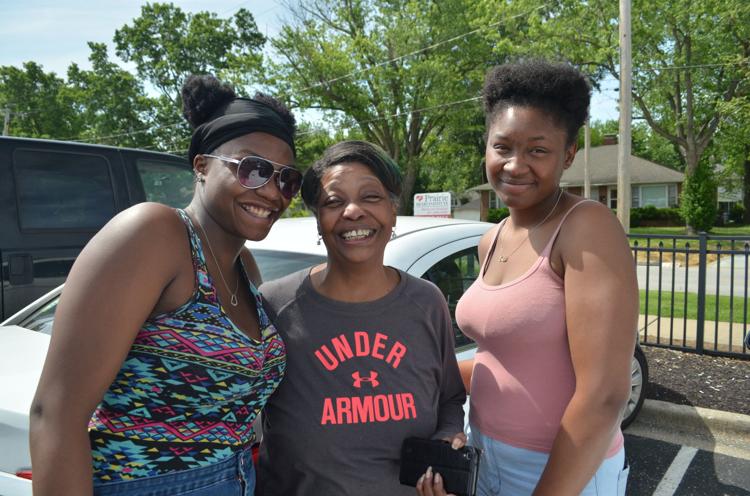 But outside the hospital she was full of energy and joy, thanking God and all the people who came together to help find her granddaughter.
"This town showed up and showed out," she said. "These people came from Marion, they came from St. Louis, they were putting up posters all over this city. I've got to hug everybody."
Patrice disappeared around 6 p.m. on Monday from the area of her home, at 613 W. Cherry St., according to a news release from the Illinois State Police.
She had gone outside to look for her sister, the ISP reported. Her sister came back home, but she didn't.
Dotson walks with a pronounced pigeon-toed limp and has some mental challenges, too. In places where she feels comfortable, like her home and the Boys and Girls Club, she can communicate with others, family said. In other situations, she struggles to speak clearly or is nonverbal.
Around 1:45 p.m. Tuesday, Patrice was found down a long gravel road off North Marion Street, on the north side of Carbondale. The road runs about a mile back to the deserted site of the former Koppers Wood Treatment Facility.
She was found dirty and soiled, her grandmother said, and it was clear that she'd spent some time outside.
But she was uninjured beyond some scratches and a sunburn, said her mother Sincearae Dotson at an impromptu news conference Tuesday evening.
"She's strong," Sincearae said. "I just want to say thank you to the community, to everyone that was involved. I promise you I appreciate all of you guys from the bottom of my heart. I'm just glad that she's home safe. I almost lost my mind."
Patrice didn't say much when her family asked her what happened, Sincerae said.
But what little she shared has them convinced that she was abducted by a woman, who dropped her off near the Koppers site.
"Now my grandbaby, she's a little slow, but she's far from stupid," Barbara Dotson said. "It was a lady who took her."
Police have not given any official account of how Patrice Dotson disappeared.
You have free articles remaining.
Dotson was found at about 1:45 p.m. by Carbondale city employees, who participated in the massive search alongside the Carbondale Police and Fire departments, and officers from the Jackson County Sheriff's Office and the Southern Illinois University Police Departments.
A helicopter provided by Black Diamond Aviation scoured the skies, as officers and dozens of volunteers combed Carbondale neighborhoods, parks, fields and forests, calling Patrice's name.
Isaac Hill spent the morning outside his home, at the corner of Oakland and Willow streets, flagging down every car he could to hand out missing person flyers.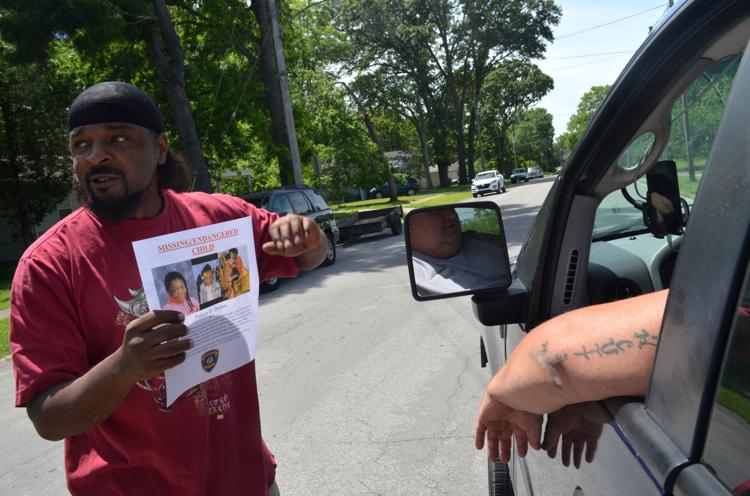 "I'm just asking please don't anybody hurt that baby," said Hill, who has daughters of his own. "Seeing all these people out here, this means the world."
Tuesday brought out the best in Carbondale, Hill said: A spirit of brotherhood that he hopes will outlive the search.
"That's what we should not move past, because at a time like this, people see that there's no difference between us," he said. "You are me. There are no barriers. This could be anyone's baby."
Schkiera Humes, of Carbondale, rose at 3 a.m. Tuesday to begin searching for Patrice, who attends Parish School with her daughter.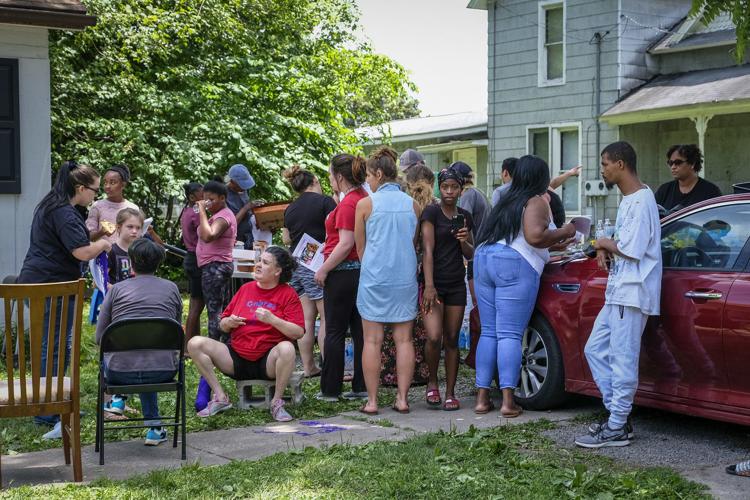 She rushed to the old Koppers site with relatives Tuesday afternoon, the second she received a Facebook notification that Patrice was found.
"I'm a mother before I'm anything. That's why I was out here," Humes said. "Now it's tears of joy. The entire town came together on this. Nobody was left."
An ambulance left the property after 2 p.m. Tuesday. Bystanders said the girl was inside. Behind it followed an unmarked police car with two small children in the back seat, identified by bystanders as Dotson's siblings, Cameron and Madison.
Sincearae was on the scene, too, she told The Southern.
"When we got there I ran til I couldn't run no more," she said.
Miss Barbara will spend the rest of the week in Southern Illinois, with her daughters Sincearae and Ariel, and all the friends and family who helped bring her granddaughter home.
"I'm good now," she said. "When I go to sleep, I'ma sleep good. My baby is home."
Law enforcement have not released any information about how Patrice Dotson ended up at the Koppers site, two miles from her home. The investigation is still open, according to a news release from the Carbondale Police Department.
The Illinois State Police, Federal Bureau of Investigation, SIU Aviation Department, Franklin County Emergency Management Agency, SAR K-9 Unit of Fairview Heights, Jackson County Emergency Management Agency, Jackson County 911 Office and the Jackson County State's Attorney's Office also aided in the search, according to a news release from the Carbondale Police Department.