CARBONDALE – What started as a fairly innocent Halloween party on South Illinois Avenue almost 50 years ago – marked by the freewill exuberance of the early 1970s and loud, colorful costumes – eventually ballooned into a rowdy, dangerous nightmare for city and SIU officials. For years, city officials made various attempts to regulate and capitalize on, kill and forget, and then optimistically and naively, as history proved, reopen Halloween activity in 2000 after a few quiet years on The Strip.
On Tuesday night, the issue of Halloween in Carbondale is back before the City Council, along with this unspoken question: Is the city ready – finally – to move beyond its troubled past on this issue?
The last major Halloween event in the city, in 2000, cumulated in multiple injuries and arrests, rocks thrown through business windows, clothing lit on fire and hurled into large crowds, beer cans chucked at police officers, women being groped and young people throwing up along the sidewalks after police, unprepared for the riots that ensued, dropped a tear gas bomb and sent people scrambling.
A journalist who was there described the scene as a war zone.
Though many of the rabble-rousers were from out of town, SIU students played a big role in the destruction, and the bruise it left on the university's reputation was deep and long lasting.
Fifteen years later, City Manager Kevin Baity is recommending a complete lifting of restrictions for bars in that area – something that the city has allowed for the past two years on an experimental basis without serious problems.
Approval of the ordinance that is before the council on Tuesday also would lift a ban on keg sales on and around Halloween, which has remained in place even as the affected bars were allowed to open. Possession of kegs were not banned within the city limits, just their purchase. Because of a decline of businesses along The Strip in recent years, the restriction only currently applies to three establishments: Hangar 9, Styx Bar & Billiards and Sidetracks.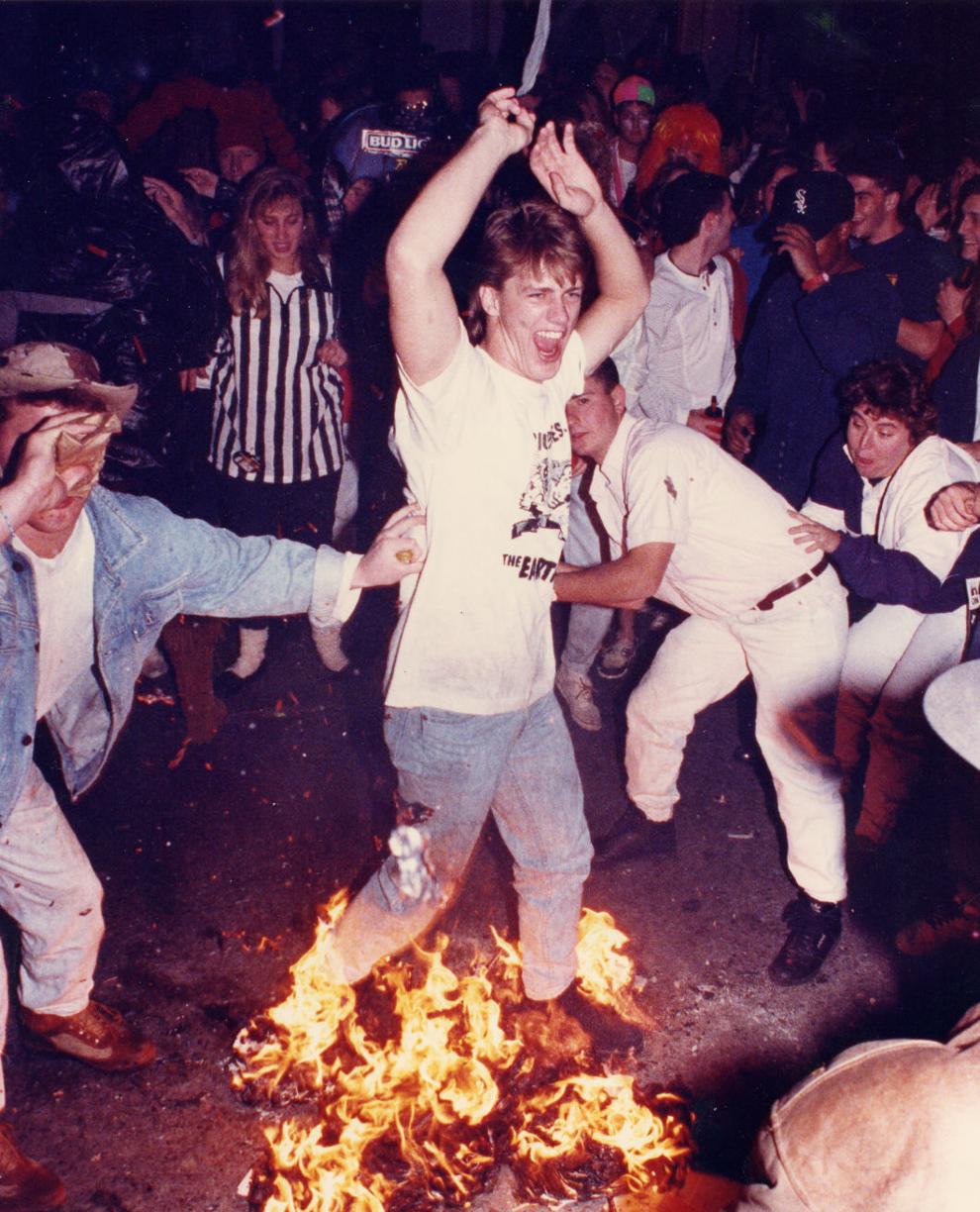 With the experiment in place for several years, the ordinance before the council is rather innocuous in nature, changing little in reality. But the real question is whether the passing of 15 years – coupled with The Strip's decline into a struggling business district – has proven the equivalent of an exorcism of the ghosts of Carbondale's troubled Halloweens past that have for years haunted this debate. Or, whether a complete reversal on restrictions sends the unintended message, as it did in 2000, that Carbondale Halloween is back and anything goes.
For his part, Baity said it's time to move on. It's unfair, he said, to have an ordinance on the books that unfairly targets a handful of businesses and hurts their ability to make money by closing them down for several days.
"Each year at this time, we have to re-discuss it and it opens old wounds," Baity said Monday. "If we can put it behind us and not deal with it, we're all the better for it."
According to the proposed ordinance, several years have passed since street parties erupted after bars closed in the targeted area from West Elm Street to Grand Avenue and University Avenue to the Canadian National Railroad tracks. The restriction has been in place since 1994, with the exception of the 2000 lifting of the ban that resulted in mass rioting and a 2007 change that moved the north boundary line from Walnut Street to West Elm. That allowed PK's Bar to remain open under the justification that the bar followed a voluntary 21-year-old entry requirement.
The experimental lifting of restrictions during Halloween weekend followed a May 2013 public hearing of the Liquor Advisory Board. Discussion at the meeting was prompted by a request from Hangar 9 owner Sally Carter to lift the restriction "and that all bars be treated equally regardless of their location."
Reached by email Monday afternoon, Carter said she was unaware the issue was on the agenda for Tuesday night, and had no immediate comment. Several high-level city and university officials during the 2000 incident expressed confidence in the city broaching the subject again, but still warned against naivety.
"I'm skeptical about relaxing the rules too much and not preparing just because of two years of nothing happening," said then-SIU Chancellor John Jackson. "I don't think you can necessarily count on it. While I understand the need to open bars downtown and would vote to do that, there are other things the city and university need to do to be prepared."
That includes limiting or banning visitors in university dorms during that time, Jackson said, noting many of those who caused problems in 2000 came from other universities. Jackson believes the keg sales ban should remain.
SIU President Randy Dunn said on Monday that the university has not issued an opinion on the ordinance, as it is a city decision, but will be watching the debate and outcome. As was the case in 2014, Dunn said he expects, if the ordinance is approved, the university would keep visitor restrictions to dorm rooms in place during that time. This past year, students were limited to two visitors per room.
Though a decade more has passed, the discussion in 2000 was similar to what it is now. The belief was that it was time to move beyond Halloween debacles, and that enough time had passed to offer a second chance. In March 2000, the council voted 3-2 against any restrictions on The Strip. According to a history of events compiled by then-City Manager Jeff Doherty, then-Councilman Larry Briggs was quoted in The Daily Egyptian saying, "The last three years there has been no violence, so let it stay open."
After the multi-day eruption, Briggs was quoted in The Southern Illinoisan saying, "I think all the students screwed up. They had a great chance to prove to a lot of people that they could pull this off. I think with some help from the outside, they chose not to do that."
It was, in fact, a dangerous screw-up.
Kate McCann, a 2002 SIU graduate who worked at The Daily Egyptian and covered the 2000 Halloween riots as a stringer for the Chicago Sun-Times, remembers being in the middle of the seemingly unreal events that unfolded during her sophomore year of college. As a student, she was barred from a roped-off area of The Strip where other media members and SIU administrators gathered safely, and was instead forced into the middle of the mob scene.
"I ended up with some pretty detailed accounts of what happened during the next several days," said McCann, who is presently a freelance writer for Chicago Tribune Media Group.
McCann said in the first two nights, police hung back and didn't do much even as young people were shattering bottles and lighting fires. "There simply wasn't enough police to diffuse what was going on," she said on Monday, recalling the events. At one point, McCann said police shouted at students to go home, and despite asserting her rights to be there as a reporter, she was sprayed in the face with Mace.
The headline of one of her stories was "SIU Halloween party becomes horror story" and the lead described onlookers screaming in "half-delight, half-fear" as a male launched a flaming sock into a 2,000-plus crowd just before dawn on a Sunday.
"The last night of rioting basically turned The Strip into a war zone," she recalled Monday. "I remember police tossing smoke bombs into the crowd to try to disperse them and one kid picked up a (smoke) bomb and tossed it back through an open window into a squad car. All hell broke loose after that and the Illinois State Police drove right into the crowd, dressed in riot gear, and set off the tear gas.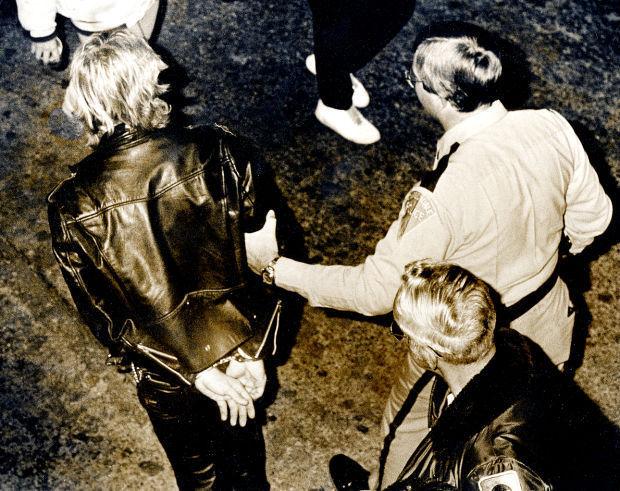 "It was total chaos with 1,000 people running and I couldn't really see where I was going. Some other people were lying down in a parking lot trying to get underneath the gas. I remember interviewing a student on the ground of that parking lot and we were both vomiting because the gas was so strong."
Jackson, now a visiting professor at the SIU Paul Simon Public Police Institute, remembers the sheer horror of facing the aftermath of such insane destruction of downtown businesses, and the huge cost to the university's image. Believing it could never happen again is a mistake, he said.
In 2000, "It had been a whole student generation and everybody thought they'd forgotten, but the mystery and aura lingered still and the younger generation wanted to see what they were missing."
618-351-5079
On Twitter: @MollyParkerSI ​