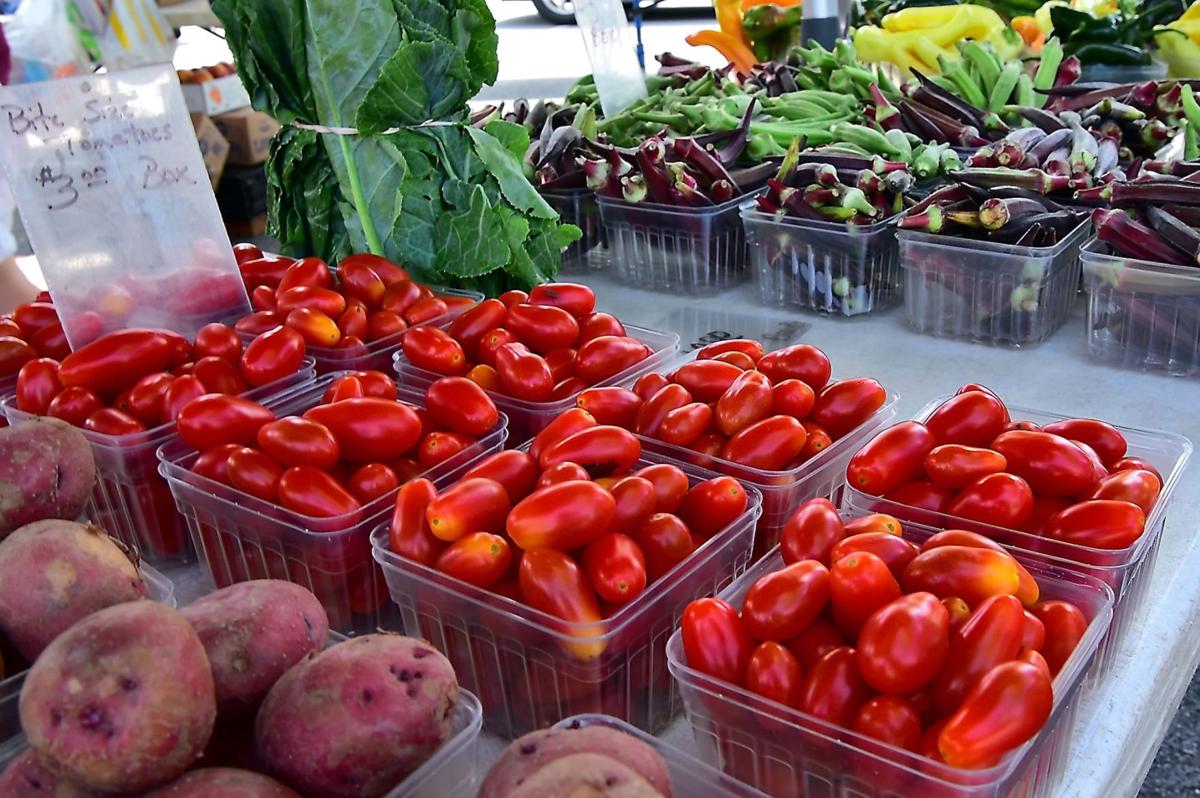 CARBONDALE — Seven weeks into its 45th season, the Carbondale Farmer's Market will, again, make changes to its format.
At the opening of the season, concerns over COVID-19 were ramping up and with Illinois Gov. J.B. Pritzker's executive order shutting down nonessential businesses and restricting travel for residents, the market had to come up with a way to adapt.
To do this, it developed a drive-through market with limited vendors.
This Saturday it will return to normal — almost. A Facebook post made Wednesday announced that the open-air market will return, but with some changes. Vendors will be spread further apart and customers are asked to keep six feet from one another and to wear masks.
Market Manager Ann Stahlheber said Wednesday that there would be about 20 to 30 feet between vendors, enough space for them to spread out their wares but also enough room should a line form. She also said selection will be limited to products the governor has deemed "essential" — things like produce, meat and garden starts. Market organizers said there is only so much they can only do to keep the public safe.
"We really need the public's help with this thing," said Kurt Sweitzer, market board president and architect of the new market layout. "You can't physically hold everybody's hand and lead them away from each other."
Stahlheber said vendors will be doing their part to manage their stalls safely, wearing masks and keeping things clean. But, she added, public cooperation is key.
Sweitzer said the popularity of the drive-up market, which saw as many as 350 cars on a given Saturday, made him and others realize that the model wasn't sustainable. Wait times could exceed a 90 minutes and even reach two hours.
"That really amazed me that they would stay that long in the line," Sweitzer said.
However, he could tell it wasn't ideal for many.
"You could just read it in their faces," Sweitzer said of customer frustration, adding that he thought they hid it pretty well.
Sweitzer said finding a way to get the market as close to normal as possible was important not just for customer satisfaction but for financial reasons, too. He said of the four markets his farm goes to each week, Carbondale's is the biggest. He said for many vendors, their farm is their primary source of income.
That said, he was impressed with the support the community showed in those seven weeks the market was drive-through only. He said it was "really cool" to see cars backed up to Illinois 13, all waiting to get into the market.
"Now this is a good problem to have," he recalled telling vendors about the line.
But, Sweitzer said as the season wears on, he knows there will be more and more people coming and this change was needed — 350 cars could turn into 700 to 800 quickly.
With the current plan, Sweitzer said he knew there would be problems and kinks to work out but he is nonetheless excited to see shoppers out, even if the circumstances are challenging.
There was a point he reiterated more than once, though, and that was cooperation.
"We really need the public to help us," Sweitzer said, asking that all shoppers keep their distance and wear a mask.
Meet the 'Mask Committee,' making masks for Southern Illinois police, health care workers
Photos: Meet the 'Mask Committee,' making masks for Southern Illinois police, health care workers
On March 20, I made a mask for my husband, who is a health care worker, because there was a shortage of personal protective equipment, or PPE, at his workplace. Then, I made more masks for my elderly neighbors, elderly local people and local friends, as well as friends from New York and Florida. I was using leftover fabric I had in my workshop — holidays patterns like Christmas, Valentine's Day and Fourth of July.
I was running out of material and then Calico Country Sew store in Carbondale started donating fabric. I picked up some yards, and I was able to make masks for the police officers from Carterville. But, that was it: I ran out of material, and Amazon wasn't shipping until May. As soon as I announced on my Facebook page that I had run out of material, people started donating fabric, metal wire, machine needles and threads. With that donation, I was able to keep making more masks to donate, and I completed a group of masks for Herrin police officers.
Then, Dr. Amanda Brazis Cook from Southern Illinois Healthcare approached me asking if I can reuse operating room drapes to make masks. She brought the material to my house, and at that point, I realized I needed extra hands to mass produce masks for area health care workers. 
I asked the president of Carterville Rotary Club to help me find ladies who know how to sew, and Mary Slider and Louise Humble joined the effort. I also asked the president of my Woman's Club in Herrin, and she was able to help me find three more ladies: Patty Cox, Carla Shasteen and Tienne Kollar, all of Herrin.
Another doctor joined the team: Dr. Danielle Tomevi brought material and also found a lady to help us, Dorene from Murphysboro.
And that is how the mask committee was formed. We named it "Mask Committee: Keep Calm and Sew."
After that, Joni, a nurse at Herrin Hospital, joined the committee, too, then Mary Russell, one of the managers from Dillards, Nancy, one of my neighbors, and Mirna from Murphysboro.
We have been sewing our hearts out since March. April was the busiest month for us. We have made hundreds of masks to donate.
Then, we had a request of a new pattern and we had to divide the committee in two to work the requested pattern. Dr. Sara Altamimi provided us with more OR drapes to use, and we have been working making two different masks for area health care workers.
Ninety-five percent of the masks have been donated to SIH, and 5% to community members and police officers. We have received several selfies of health care workers wearing the masks in different departments. It really made us happy that we can give back and help the community in time of need.
618-351-5823
On Twitter: @ismithreports
Concerned about COVID-19?
Sign up now to get the most recent coronavirus headlines and other important local and national news sent to your email inbox daily.