CARBONDALE — There was a big plate of crow waiting for doubters when Mike Day sank that last eight ball.
Day, of Carbondale, was competing in the third and final game in the Skill Level 3 regional eight-ball pool championship in Marion March 4 — it was down to him and one other competitor. The first to win two-out-of-three won a slot in the World Championship in Las Vegas this May.
A video shows his final shot — a shot most of the length of the table into the right corner pocket. When the ball reaches the pocket, a roar of applause erupts from the crowd and Day throws his head back and is squeezed by a hug from a fellow teammate.
Going to the championship would be reason enough to celebrate, and Day's situation was even more special. Because he uses a wheelchair, teammate Michelle Templeton said many people have discounted Day's abilities.
She said she has heard people tell him not to worry too much about tournaments — it's not like he could win them.
"They underestimate him," she said.
They had to eat their words when he won.
Though Day has special needs when it comes to shooting pool — he has a caddie who he directs to help him set up shots and takes extra time shooting — his teammates and their home bar, the Carbondale Eagles, have been very accommodating.
When he came to his current team, he had been turned down by several others because of how slow he shoots. He is only able to shoot with his left hand, and uses a billiard bridge to make his shots.
Templeton said many competitive matches are a timed affair — if a team isn't on its fourth match by a certain time, they are forced into sudden death, and other teams didn't like to be put in this position. However, she said what is a weakness to some is a strength to their team.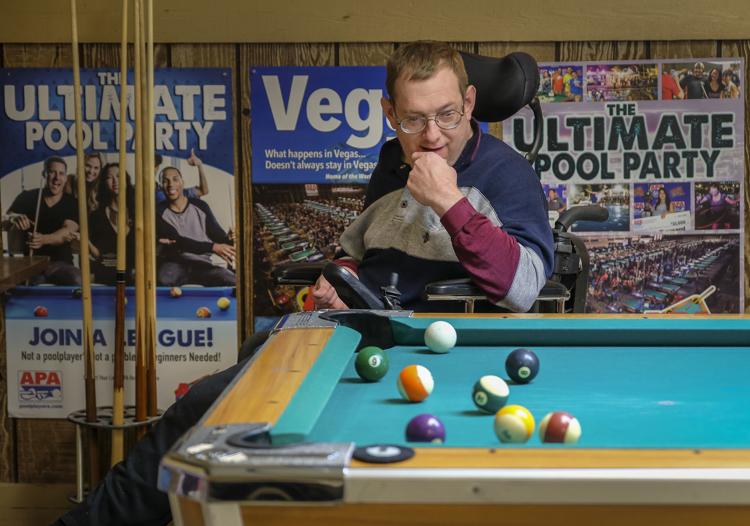 "We will purposefully save him to the end," she said, adding that he is good enough and calm enough to come away with a win regularly.
The tournament on March 4 was into its 10th hour when Day made his final shot. He won the first game and lost the second. This was the big moment.
"There were a few moments in the beginning when the lady I was playing had me really nervous, but I was able to calm myself down," Day said of his competition.
"I cried … I literally sat there and cried," Templeton said, thinking back to seeing Day make that shot.
You have free articles remaining.
She and and fellow team member Lesley Gould said Day has been an influence on them. Templeton remarked of his ability to coach other players; she said he may shoot at a Level 3, but he thinks at a Level 6.
"He listens to the person first to get an idea of where their mind is," she said. "He's a really good coach because he puts himself on the level that you are on."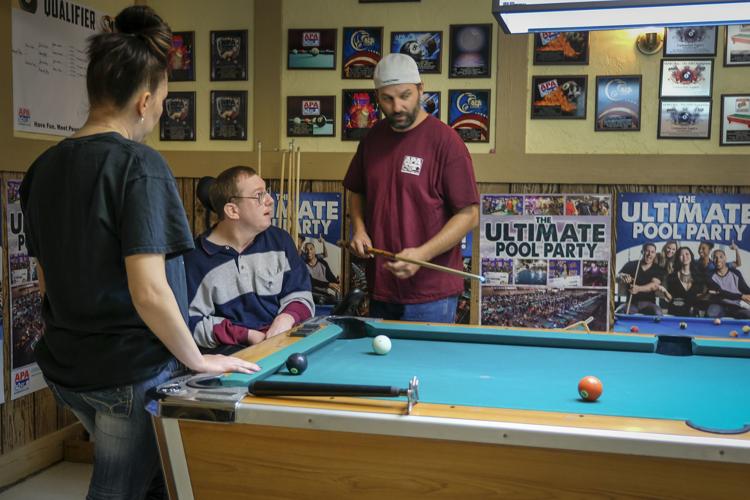 Day said his game has greatly improved recently. Unfortunately, his improvement grew out of a sad situation. His pool cues were stolen last year, but his team captain, Chris Templeton, stepped in, and fashioned a special cue that was shorter than any Day had previously shot with.
He said this has been a big boost to his ability — it's much easier for him to shoot with from his chair.
"I used to have a problem shooting over a ball, but with the shorter cue I've gotten a lot better at that," Day said. He said it "almost worked out better" that his old cues were taken.
Since winning, it became clear that there would be some monetary hurdles to get over for Day to make it to Nevada to compete. It costs a lot more for him to travel than many others. However, Michelle Templeton set up a GoFundMe page to raise $2,000 for the trip.
The page met its goal in 18 hours. Professional player Billy Thorpe even donated, and Skylar Woodward, another pro player, recently surprised Day to play three games and wish him luck in Vegas.
His team is also hosting a special tournament April 6 to also help cover Day's trip.
Day said his place on the team and the support of his teammates has meant a lot to him these last 10 years, and the overwhelming support since his advancement to the championship to Vegas has been incredible.
"It made me feel really good know that I have a lot of support," he said.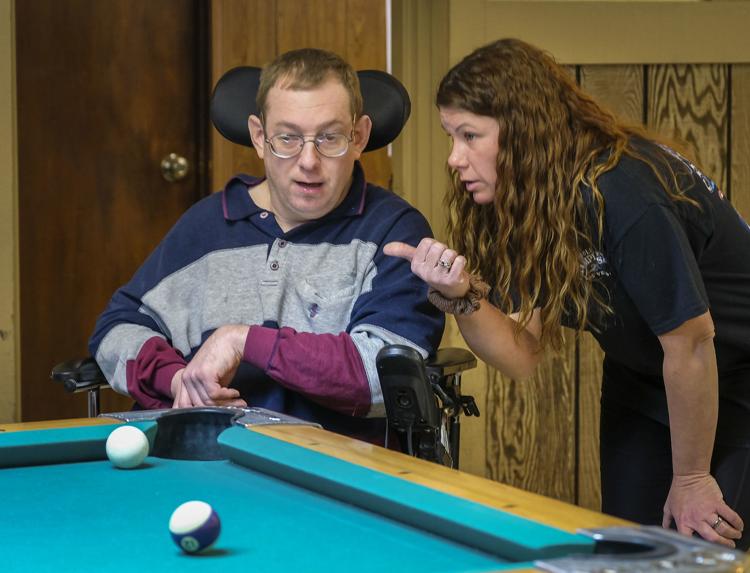 Talking to his teammates it was clear that Day's victory was more than the potential for another team trophy — it was seeing him get something he deserved.
"It was more like watching my little brother accomplish a really big goal," Templeton said.
"It felt great because he is so deserving of this," Gould said.