CARBONDALE — When Dre'Shean Payne was growing up, the basketball courts at Attucks Park were like Carbondale's Rucker Park, the world-famous streetball court in Harlem.
On any given night there were pickup games with a hyped crowd and a roster of playground legends.
"It used to be packed, people along the fences," he said. "It has a sentimental meaning to me because of me being out here watching all the great Carbondale pickup players: Justin Dentmon, Michael Dewalt, Phillip Fayne, Maurice Gibbs."
Payne remembers being one of the youngest kids on the court, showing up early alongside his dad or older brother to boost his chances of getting picked.
"It was always something to see out here. Always," he said. "Dunks, trash talking, stuff like that. And once I got of age and started to fill out a little bit more then I was on the court with those guys."
Even after he moved to Murphysboro in high school, Dre would bring his teammates to Carbondale to hoop at Attucks.
Those pickup games helped propel him to regional accolades, a college basketball career at Southwestern Illinois College, and then, last year, the head coaching job at Carbondale Middle School.
As he helped his young players begin their basketball careers, Payne saw Attucks through their eyes. It wasn't a place his players felt safe or wanted to hang out, working on their game.
In recent years, the courts had fallen into disuse and disrepair.
"When we came down here and looked at it the first time, the cracks were big enough to stick your hands down in 'em," Payne said. "There was grass all up on the courts, rocks, broken glass."
In his head, he sketched out a vision to refinish the three courts near the park's north end: A red and white court to represent Carbondale Middle School, a black and white one for the high school Terriers, and a maroon and white court for the SIU Carbondale Salukis.
Now, with the help of the Carbondale Park District, Payne and his friends and family are realizing that vision.
They started painting on Wednesday, and should finish by early next week, he said. Then a contractor will lay out the sidelines, end lines and three-point lines.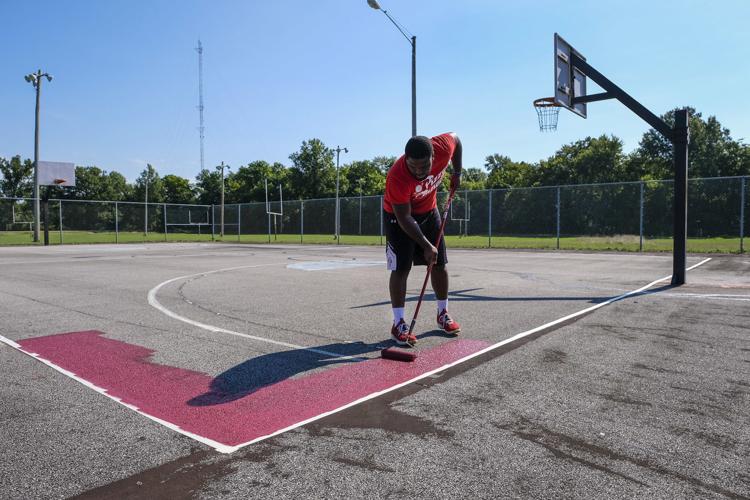 The progress began in late May, when Payne met with Kathy Renfro, executive director of the Carbondale Park District, which maintains Attucks.
She pledged her full support for the effort, which she expects to cost less than $4,000.
"The Park District is kind of supplying materials and technical support but really the energy and drive is coming from Dre and his group," Renfro said. "For the overall betterment of the community and to support volunteers we wanted to make this happen."
Dre'Shean and his younger brother Devontavius Payne worked alongside Park District employees to pull weeds and sweep the court clean, so that a contractor could fill the cracks in the court.
Once the painting and lining is finished, the same contractor will apply a sealant to preserve the work for years to come.
"It feels like progress," Payne said.
But to restore Attucks to its former glory, Payne has another, perhaps bigger, challenge: bringing the community back.
He sees violence as a major obstacle.
"A lot of kids want to play out here, but it's so much stuff going on," he said. "The majority of players I had this year, they live on this side of town and they still can't come down here and play. I would go and pick them up and take them to the middle school gym because their parents wouldn't feel safe with them walking to Tatum Heights," another local pickup court, about a mile south.
Payne, 27, remembers hearing gunshots while playing at Attucks back in his day.
You have free articles remaining.
Keep reading for FREE!
Enjoy more articles by signing up or logging in. No credit card required.
But somehow the atmosphere feels much more dangerous now, he said.
"I feel like now everybody has access to guns, unfortunately, and a lot of parents just try to keep their kids away from here," he said.
The Tuesday before the crack repairs began, Payne got to work on restoring the atmosphere that the Attucks courts once had.
He and Devontavius, a high-school standout who now plays professionally in Europe, put out a Facebook invite to old friends and teammates for a nighttime pickup.
Soon there were 20 players waiting to get on the court.
The parking lot filled with cars. Dozens of spectators watched from the fences as Devontavius threw down dunks. Someone fired up a barbecue.
It was just like old times.
"We're trying to do that every Tuesday," Payne said.
The next step, he and others agreed, is a tournament.
In decades past, thousands flocked to Attucks in the summertime, for tournaments like the "Mike T" and the "Troy Hudson," organized by the longtime NBA point guard born and raised in Carbondale.
In some ways, Carbondale's pickup basketball culture was just different back then, Payne recognizes: more active, and more playground-oriented.
"There were runs everywhere," he remembers. "Cell phones weren't big so you just had to be out riding your bike and see the park starting to fill up."
But Payne and his friends believe new tournaments can bring excitement back to Attucks, and they trust Attucks' atmosphere will bring excitement to any tournament held there.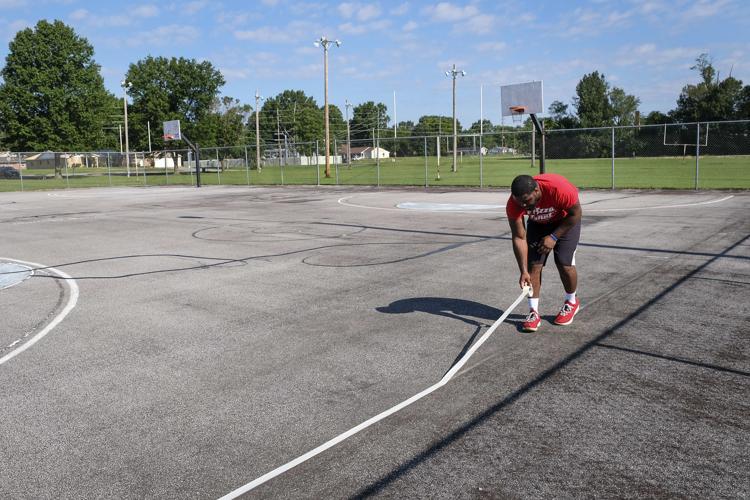 Their theory will get its test Aug. 9 to 11, when the newly renovated courts host the first-ever Southern Illinois End of the Summer Classic youth basketball tournament.
The event is organized by Caleb Cobb, another Carbondale Community High School alum, who now coaches at Unity Point elementary, and is helping Payne fix up Attucks.
"I'm hoping to get the same type of energy that those tournaments brought, where it's a fun atmosphere," Cobb said. "People love basketball in Southern Illinois. When you can get a group of kids together, and bring in guys that's pros like Devontavius, that's a big thing."
All participants will receive complimentary school supplies to help them start the year right, Cobb said.
So far the enrollment is smaller than those classic tournaments were, but he expects it to grow over time.
"I want this to be a yearly thing that will bring the community together and bring some excitement back to Attucks," he said. "We need that."
To Renfro, whose staff at the Park District is supporting the tournament, it's another positive step for the park.
"With the introduction of the sprinkler pad, it has changed our daytime users, bringing more young children and caregivers to the park. And we've seen a positive trend in what people are using the park for," she said. "The more positive activities that happen in an area, the better a place looks, the less undesirable behavior occurs in the same place. There's a lot of data that supports that."
And when it comes to basketball, she sees Cobb and the Payne brothers as a new generation of local leaders.
"It happens naturally. The people that ran the tournaments in the past, not for lack of desire, but they kind of aged out of it," she said. "Now hopefully this is the first step in a new group providing things for the young guys and girls who play ball."