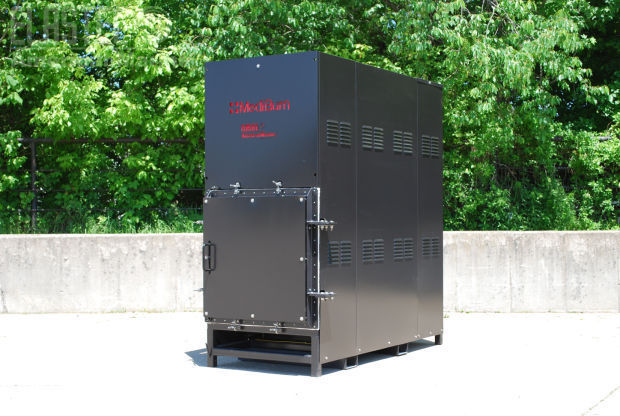 A portable medical waste incinerator made in Southern Illinois may become one of the tools used to fight the spread of the deadly Ebola virus.
The ELASTEC MediBurn, made by Elastec/American Marine in Carmi, is a diesel-fueled incinerator used in the disposal of infectious and pathological waste, company sales manager Jeremy Pretzsch said.
Those involved in the response to the Ebola virus, which has killed more than 1,350 people in the West African nations of Guinea, Sierra Leone, Liberia and Nigeria, are considering the use of the MediBurn to help with the effort.
The MediBurn is environmentally safe, compact, portable and easy to use and maintain, he said.
"Nothing escapes into the atmosphere, everything is contained inside," he said. "It is also easy to install and operate and totally portable, making it ideal for use in remote locations."
The MediBurn is made in Carmi, where more than 600 units have been sold in the past 15 years.
The units are used primarily for medical waste disposal but have also been used to destroy illicit drugs and active pharmaceutical ingredients to prevent their entry into wastewater streams, according to information provided by the company.
The incinerators have been used during military operations including Iraq and Afghanistan; during relief efforts like those following the Haiti earthquake; by governments, police agencies, healthcare facilities, corporations and more, he said.
"We've shipped them to almost every continent," he said.
Pretzsch has discussed the incinerator's potential with those involved in the Ebola response, including a representative from the United Nations, and hopes the units are called into service.
618-927-5633
On Twitter: @beckymalkovich
Get local news delivered to your inbox!
Subscribe to our Daily Headlines newsletter.