CARBONDALE — News in the year 2020 often needs a trigger warning label — but word of a new chicken joint in Carbondale has been a bit of good news, especially for Chicago transplants.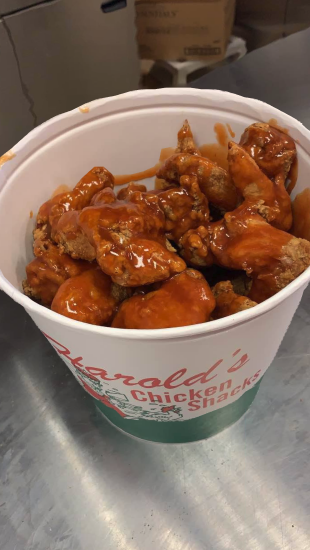 The world is burning, literally, and the country seems to be divided along some very polarizing lines. But in the midst of all this, local Facebook feeds have been filled with exclamations about the opening of Harold's #29. Pictures posted to Facebook of fried chicken wings glossy with thick red-orange sauce are enough to make the tongue tingle with anticipation.
"Please be the best, we need you so bad," one person wrote in the comments of one such post.
"SO READY!!!" another wrote after sharing one of the Carbondale Harold's Facebook posts.
A popular franchise in Chicago, Harold's Chicken Shack is slated to open sometime in October next to New Kahala on East Grand Avenue. Franchise owner Nick Walker said when he was in school at Southern Illinois University in the early 2000s, he often found himself wanting a taste of home.
"I used to always want to have some Chicago home food," he said. Walker didn't mince words about Harold's when he said it was "the best chicken" the city had. He might be a bit biased, though — his family runs several Harold's locations, which is partly how he got plugged in to the business.
For those who aren't familiar, Harold's is known for its fried chicken slathered in sauce — Walker said it's their mild sauce that keeps many people coming back. Writing for Chicago Magazine, comedian and author Hannibal Buress, who also went to SIU, described the Chicago-staple sauce as a combination "barbecue sauce, hot sauce, and ketchup."
Walker said his ideal order is a basket of six fried wings with mild sauce, and he said that's a good place to start for newcomers.
Walker said he's been working on the restaurant for about half a year and said he wanted to give people a smile in the middle of such an uncertain time. He said a good meal can be exactly what people need.
"It's therapeutic sometimes," he said of eating food that puts a smile on someone's face.
For those interested in following Walker's progress, he said to follow the restaurant on Facebook. He will announce opening dates and post hiring announcements there — those interested in jobs are encouraged to message the page, he said.
Walker said he knows that many of the big city transplants in Carbondale are going to be excited to finally have a flavor they could previously only find in Chicago. In fact, one Facebook commenter addressed this fact.
"SIU should use this as a (recruitment) tool," they wrote.
If all goes well, Walker said he might be looking to Portillo's for his next venture.
618-351-5823
On Twitter: @ismithreports