CARBONDALE — Mike Chervinko had last Monday off, so he headed to Cedar Lake with a borrowed kayak. He is a nurse at Southern Illinois Healthcare. 
"I went to kayak on Cedar Lake with completely different purpose in mind," Chervinko said.
He headed north on the lake. Way off in the distance, he could see two dots in the lake.
"I thought maybe it was an otter because of the way it was laying, but that would be strange for Cedar Lake," he said. "It was so far away it was impossible to tell if it was moving."
Chervinko began to paddle closer to the object but still wasn't sure if it was an animal or branches in the lake. When he got within 100 feet, he could tell it was an animal. At that point he believed it might be a raccoon.
He continued to paddle toward the creature. He could see its face, but not in detail.
"I'm about 50 feet away, and it looked at me. I could see its eyes and whiskers," he said. "At that point, I stopped getting close to it."
Chervinko was pretty sure he was seeing a bobcat swimming across the lake. He remembered he had his "good" camera in his lap.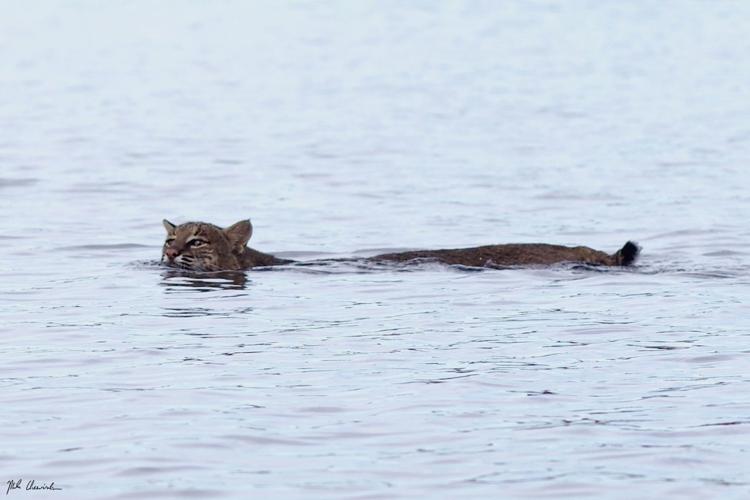 "I started taking a couple pictures of it. It turned toward me and came toward me. It got to 15 feet away before I decided it was too close," Chervinko said.
He waved his hands above his head and yelled at the cat.
"As soon as I moved, it switched directions and swam toward the shore," Chervinko said. "I got a couple more shots of it going up to the shore."
You have free articles remaining.
Keep reading for FREE!
Enjoy more articles by signing up or logging in. No credit card required.
He added that the bobcat disappeared within two seconds after hitting the shore.
"I had no clue where it went," he said. "It was a pretty unusually high-quality encounter with a bobcat."
Chervinko estimates he watched the bobcat for 15 minutes from a distance, then another five minutes at closer range. Since he did not know where the bobcat went, he decided his best plan of action was to leave and paddled toward the shore.
He says he had to tell somebody about the encounter. He showed his pictures to a couple fishermen in the lake parking lot, but said they did not seem too impressed.
He went home and posted his pictures on Facebook. They generated quite a buzz. The Audubon Society of Lake County shared it with Illinois Bobcat Association.
After a conversation with Jennifer Kuroda, founder and president of Illinois Bobcat Foundation, Chervinko learned that bobcats are known to swim.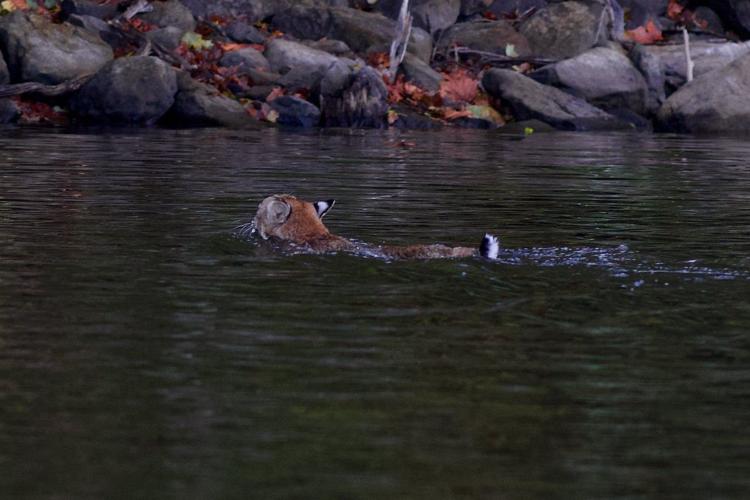 "It's not rare for them to swim. It is rare to be able to see that site in person and have a camera to capture that image," Kuroda said.
Chervinko's pictures are the first photos Kuroda has seen of a bobcat swimming in Illinois. He shared high resolution images with the foundation.
Kuroda said other images of bobcats swimming may be out there in private photo collections, but these are the first she has seen.
She added that the habitat in the southern part of the state is so different than central Illinois that it lends itself to a larger population of bobcats.
"Mike had this incredible encounter that most of us will never be able to see. It's great that he's sharing the pictures so we can all see that," Kuroda said.